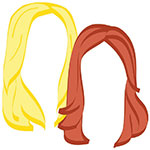 The morning after our day with the Newkidz on the Block, Hands Up Holidays had us up bright dark and early. Yes, correct: up before the sun, on vacation, the morning after a full day of manual labor.
Who the hell are we?!
Animal lovers with a long-time dream of going on safari, that's who. And this was it! This was the day! After one van ride, two flights (grumble), and one badass jeep excursion, we would find ourselves at an oasis in the middle of Kruger National Park.
Fair warning: majorly photo-heavy post ahead.
To say we were exhausted by the time we arrived at the Earth Lodge at Sabi Sands is a major understatement, but no matter. As soon as we walked into the lobby, welcome drinks in hand, we felt immediately at ease.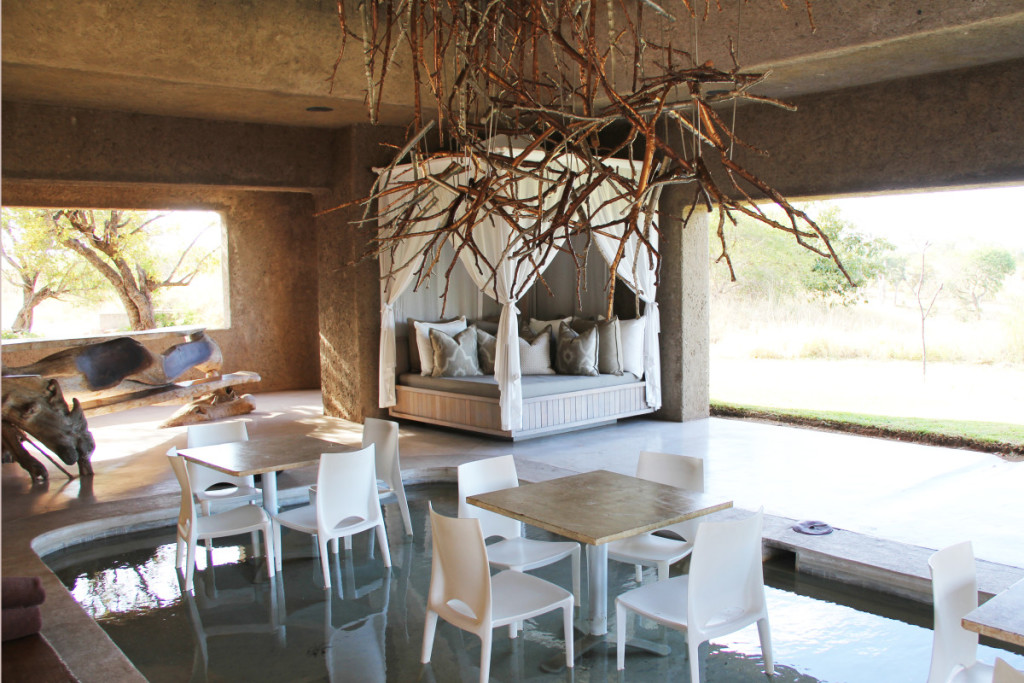 We were led to our individual abodes, and though we were all in a row, we couldn't have felt more remote. Each guest has their own private lodge, with complete and total privacy.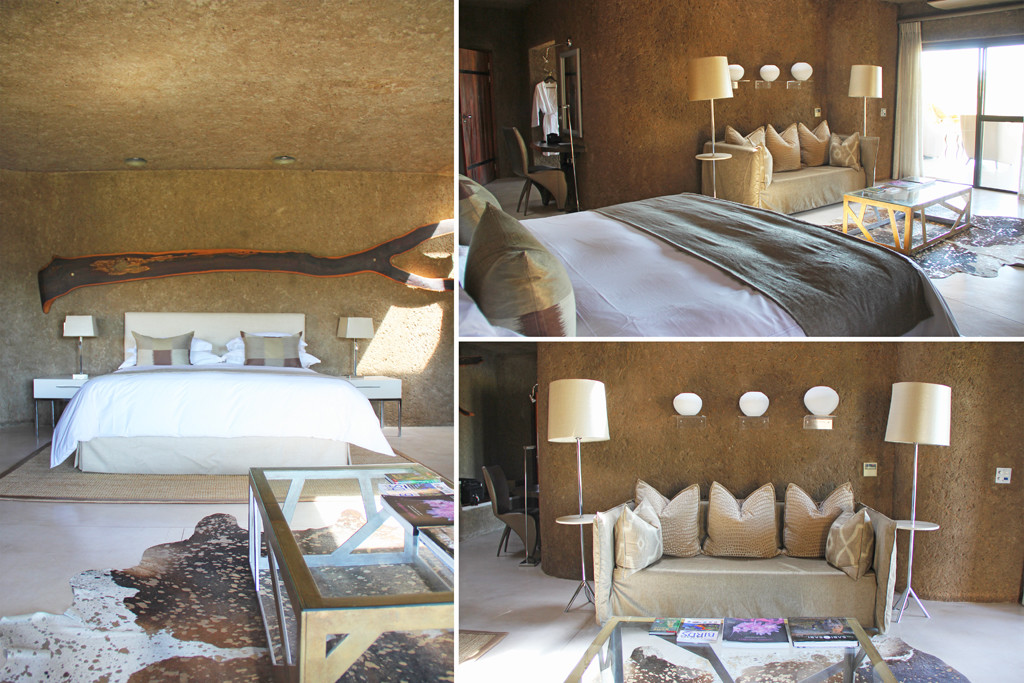 This is both calming when you decide to go for a quiet dip in your private pool, and terrifying when you wake up at 4 AM to find a scorpion in your sink (true story, happened to the romantic).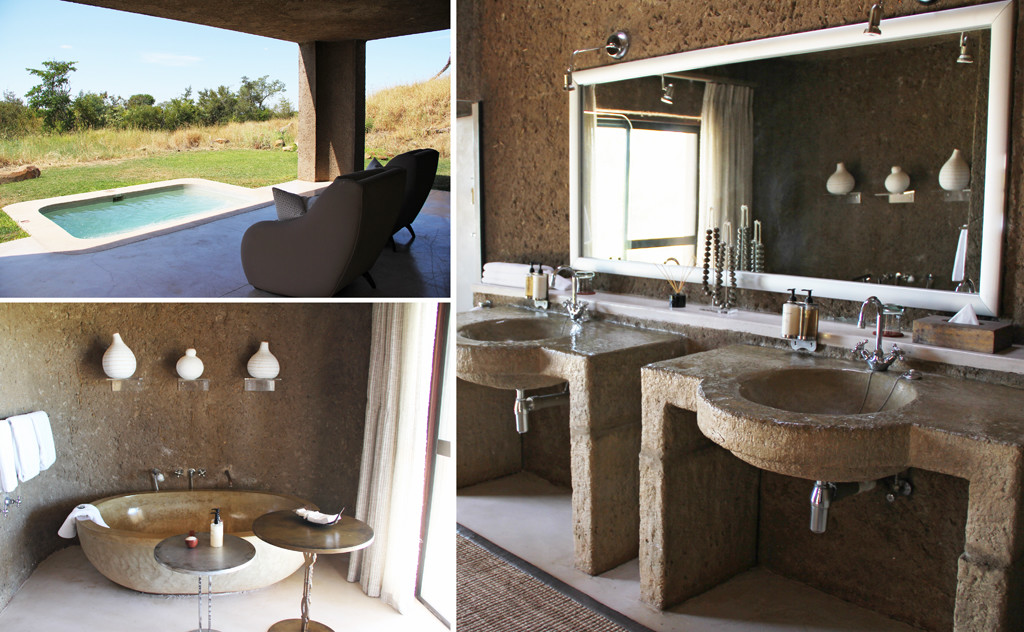 It also might be where you have some of your earliest animal sightings, as was the case for the wino, who spotted some antelope roaming around her backyard within the first few minutes of exploring her room. Naturally, like the good little bestie she is, an urgent call was made to the romantic, and a lot of "OMG LOOK OUT THE WINDOW THEY'RE HEADING YOUR WAY" shrieks were heard 'round Kruger.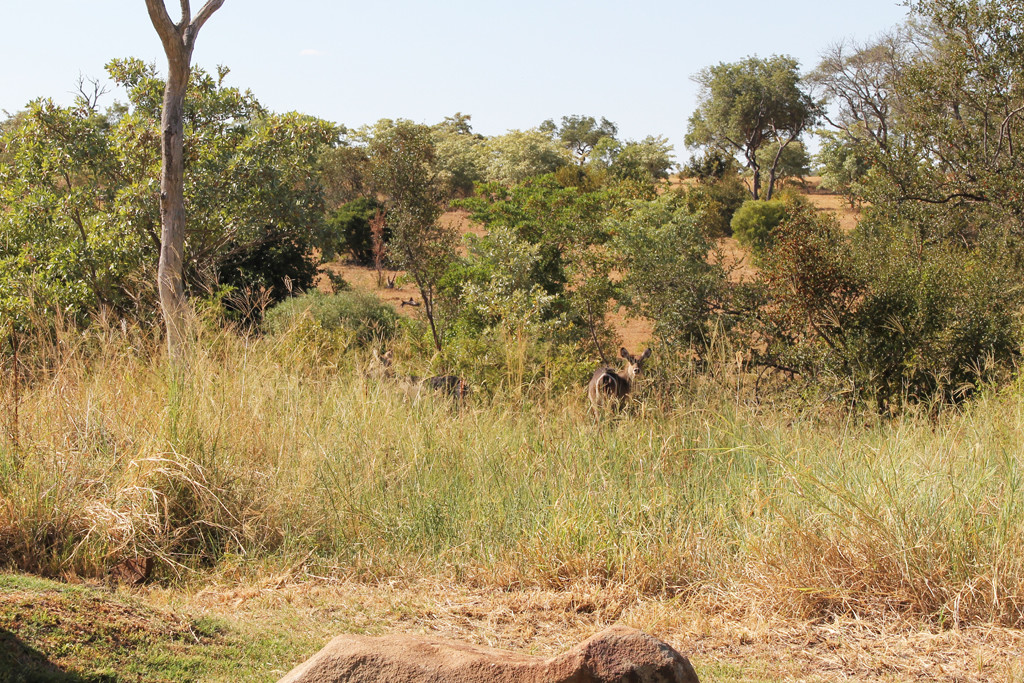 We didn't have much time before our game drive (!!), but we still managed to fill it with trips to the spa for some absolutely necessary massages to work out the kinks in our prime painting muscles. Then, shortly before 4 PM, we congregated back in the main lodge for afternoon tea and snacks, where we were introduced to private ranger, FW, and our official game tracker, Patrick, who had picked us up from the airport.
It was finally time to hit the road! Err… bush.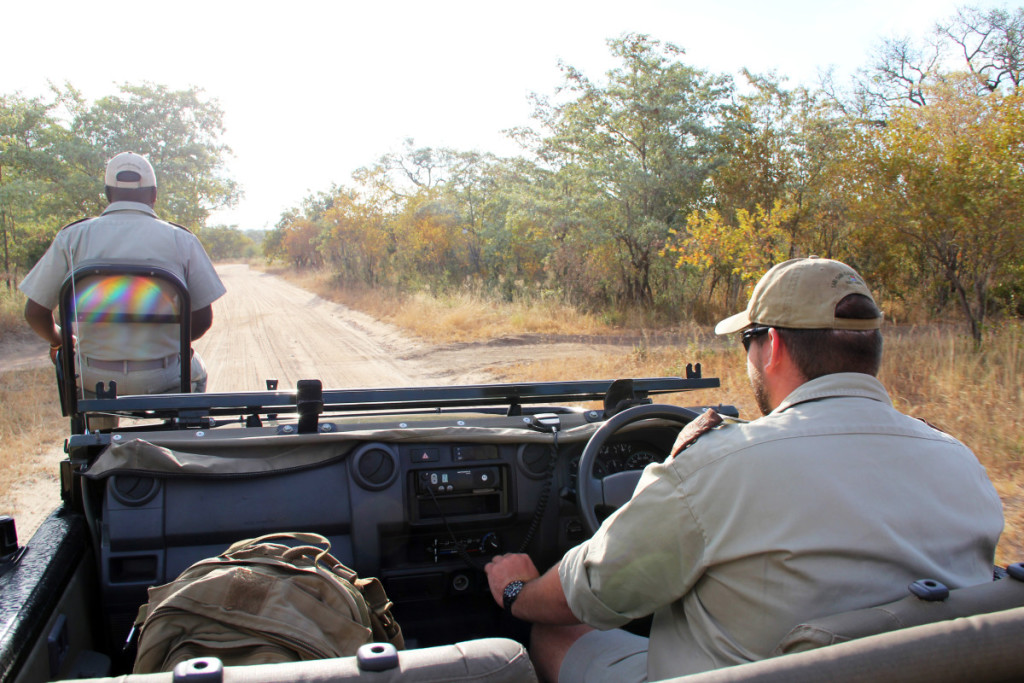 Decked out in our finest safari gear, we hopped into our open air bush vehicle (think Land Rover without a top and with way bigger wheels) and headed off with high hopes of spotting the "Big Five." We learned very quickly into our adventure that only the luckiest safari-goers spot the Big Five on their first trip into the bush: the lion, buffalo, elephant, leopard, and rhino. Having waited years for our safari dreams to become a reality, we were determined to see them all, and made sure FW and Patrick knew it. FW asked us all what we most wanted to see. For the romantic, it was elephants, and for the wino, it was lions.
FW took the wheel, while Patrick perched on a high seat at the front of the vehicle — a prime location for scoping out the territory in front of us. As we drove, we breezed past approximately 800 different types of antelope (rough estimate). As a herd of impala ran past us, FW explained that these are called the McDonald's Antelope. This is partially because of the M markings across their butts, but mostly because they always serve as a quick and easy snack for the bigger animals of the bush… whomp whomp.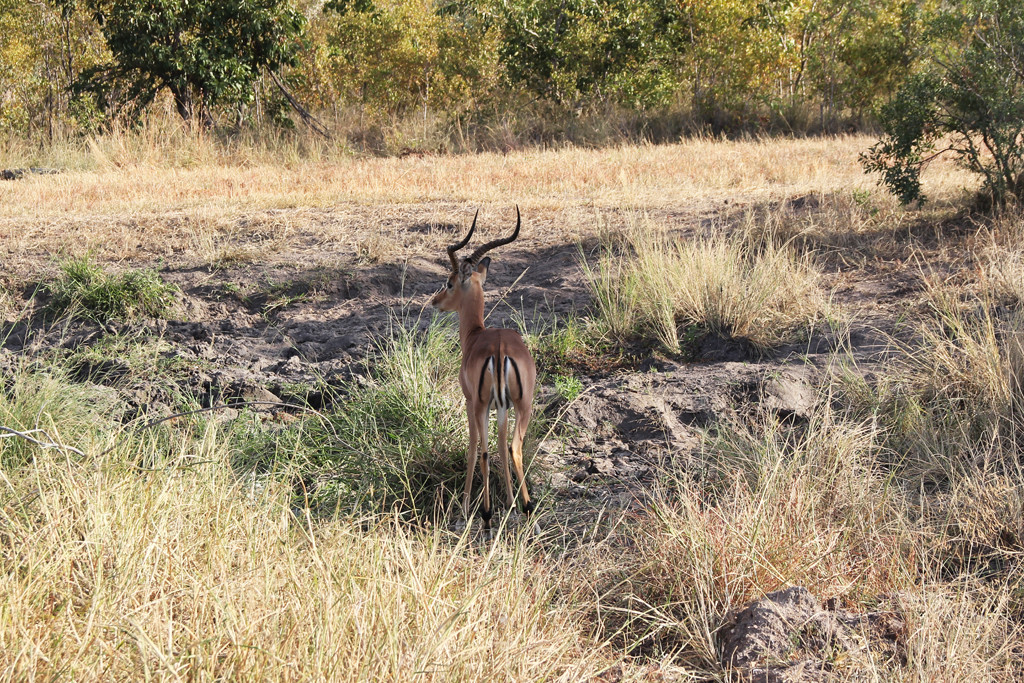 Growing up in Pennsylvania, seeing these felt akin to seeing deer. Cute and all, but we wanted the crazy stuff! Luckily, it wasn't long before we spotted a pack of wild dogs. While dogs don't seem like the most exciting animal to spot on an African safari, an excited FW let us know that this specific breed is highly endangered, and less than 500 packs remain across the entire continent of Africa.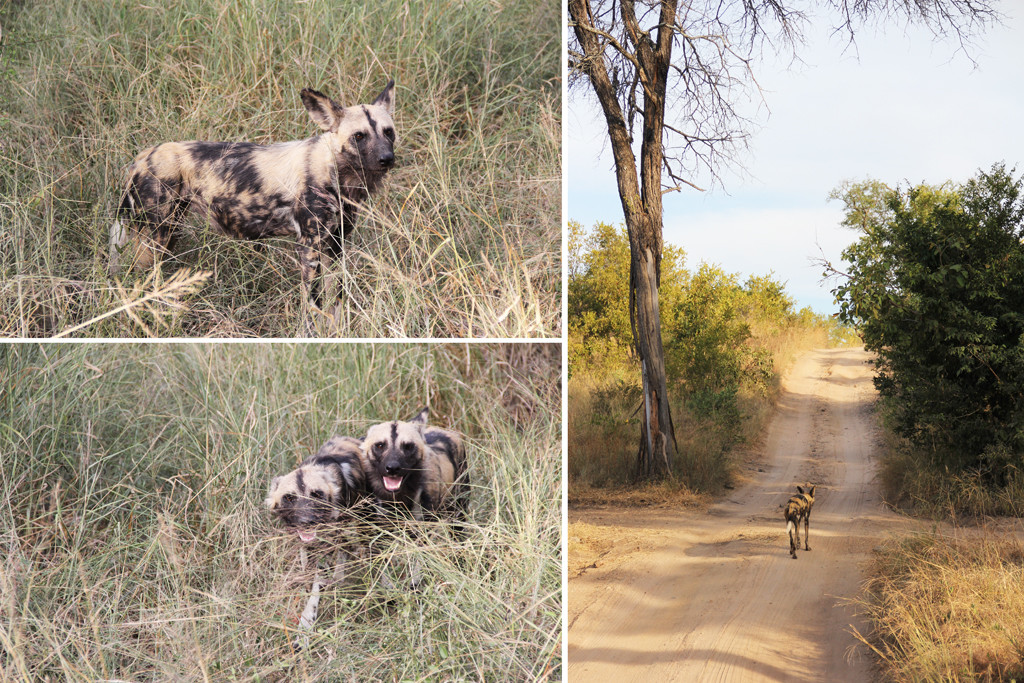 Next, FW took us in the direction of a watering hole with hopes of stumbling across some water buffalo. As we rounded the corner, we had to keep ourselves from screaming in excitement as we spotted two white rhinos (our first of the Big Five!), cooling themselves in the shallow pond.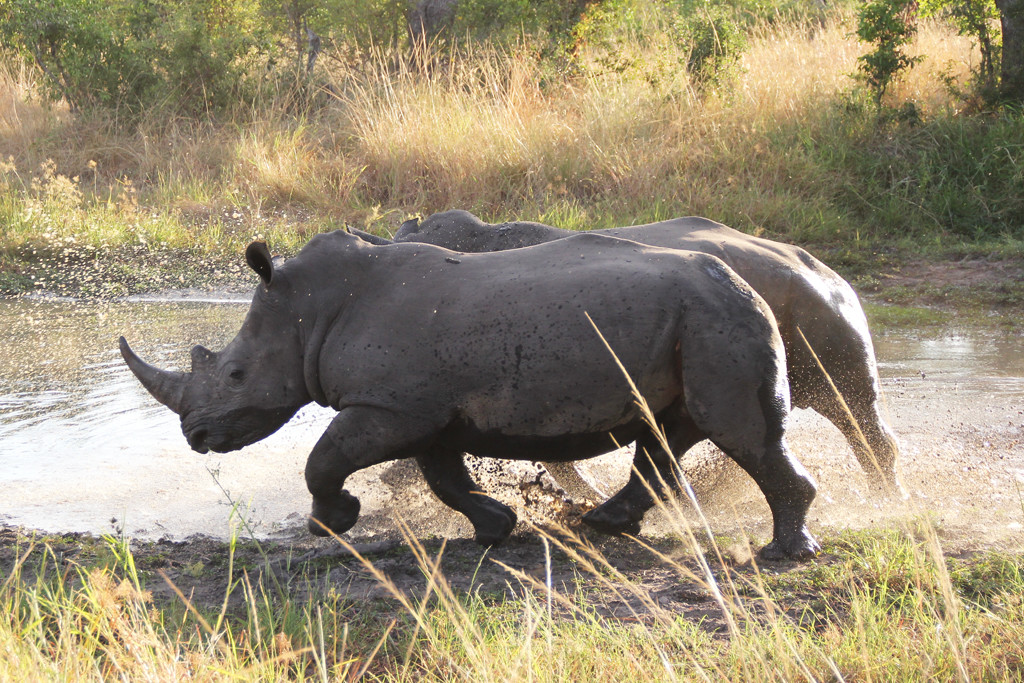 Though we were warned never to stand and to avoid making quick movements, we couldn't help squirming over to the side of the truck to get closer to the animals. As we watched the rhinos in awe, FW filled us in on the atrocities of rhino poaching across the continent and the efforts that have been made to stop it. Later, he even suggested avoiding geotagging any Instagram photos of the rhinos, as poachers are turning to new ways of tracking their prey.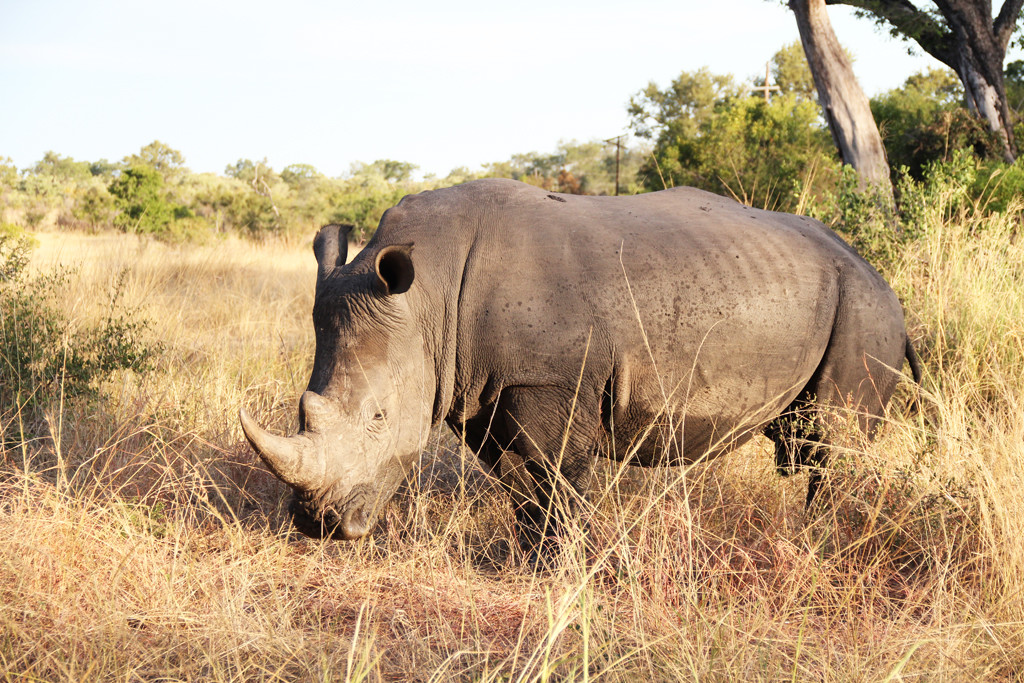 As the sun set over the bush, FW drove us to the top of a hill overlooking the hills of Kruger. We snapped pictures of the sunset while he and Patrick unloaded a cooler of drinks and snacks, and set up a spur-of-the-moment happy hour on the hood of our trunk. We sipped our cocktails, beers & wine (because they seriously had everything on hand!), watched the sun go down over Africa, and decided life probably couldn't get much better than this.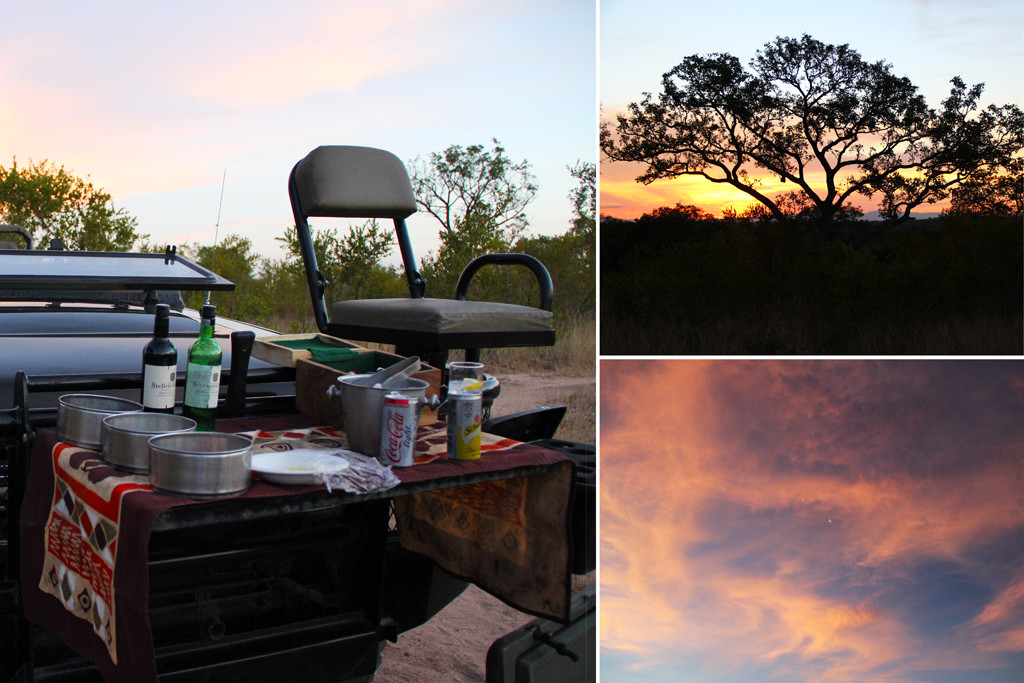 If you thought game watching was over once the sun went down, you were dead wrong, our friend! Most animals are more active at night, coming out to hunt, roam the bush, and socialize. With the time ticking for FW to make good on his promise to find us more of the Big Five, he sent a call out to some of the other rangers to see if anyone had made any sightings. It wasn't long before a ranger radioed us back, saying a pack of lionesses were gnawing away on a kill not far from where we had watched the sunset.
We zipped off in search of them, and will kindly spare you the more gruesome photos of the actual kill…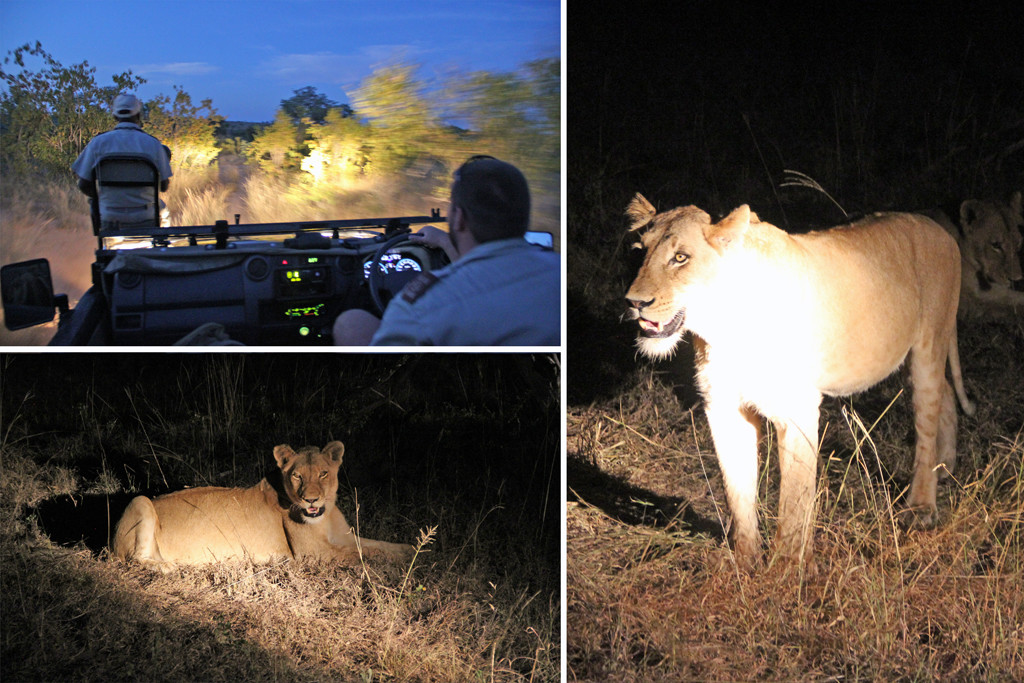 When we reached them, two other trucks had parked nearby to catch a glimpse of the lionesses, who by then were tucked behind some brush and tearing at a wildebeest. Hyenas circled us in the distance, waiting for the ladies to abandon their feed and making it kind of (read: very) scary to have our open backs to the dark night. The wino, however, could barely keep herself from bouncing up and down in her seat in excitement. Sighting #2 of the Big Five: success.
We still hadn't spotted elephants for the romantic, but as FW and Patrick drove us back to the lodge, they promised us they'd be on the lookout the next day. When we returned, we quickly changed for dinner and were under strict orders not to leave our rooms without FW. Because Sabi Sabi is in the middle of the reserve, animals are free to roam the grounds as they please, and a leopard had been spotted a few times on the path outside our rooms. Happy to oblige, we waited to be escorted to the bar for pre-dinner drinks and appetizers, where we discussed our excitement from the day. After, we were led to a candlelit table in the open air, where we settled in for our dinner.
Halfway through our four-course meal, one of our servers told us she heard an elephant walking through the tall grasses beside us. Not sure if she was joking, we watched in silence as she went to grab a flashlight and proceeded to walk us to the edge of the bush. Flicking on the light, a massive elephant was taking a quiet night time stroll in the direction of some of the villas. Apparently, they often stop by the pools for  quick drink of water before heading off on their merry way!
Because it was too dark, we don't have any great photos. But trust us when we say that when we saw the elephant for ourselves, our reactions went a little something like this…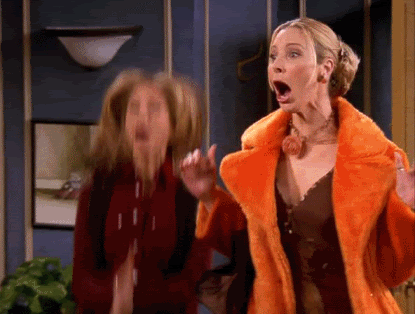 After an exciting (but long) first day, our 4:30am wake up call on Day 2 came waaay too soon. FW again came to collect us one by one and bring us up to the main lodge, and we spotted leopard tracks not far from our front doors! With the sun only barely starting to rise, we climbed up into our truck and headed off for our second game drive, determined to find the missing two animals in the Big Five: the leopard and the buffalo.
We got easily sidetracked from our mission when FW found lion tracks along one of the main roads, and we headed off on a slight detour to track him down. It wasn't long until we happened upon a lone male lion, lying out in the morning sun, seemingly oblivious to our truck as we parked as close as FW deemed safe. It took pretty much 100% of the wino's self control not to reach out to pet him (FW didn't think it was a "good idea.")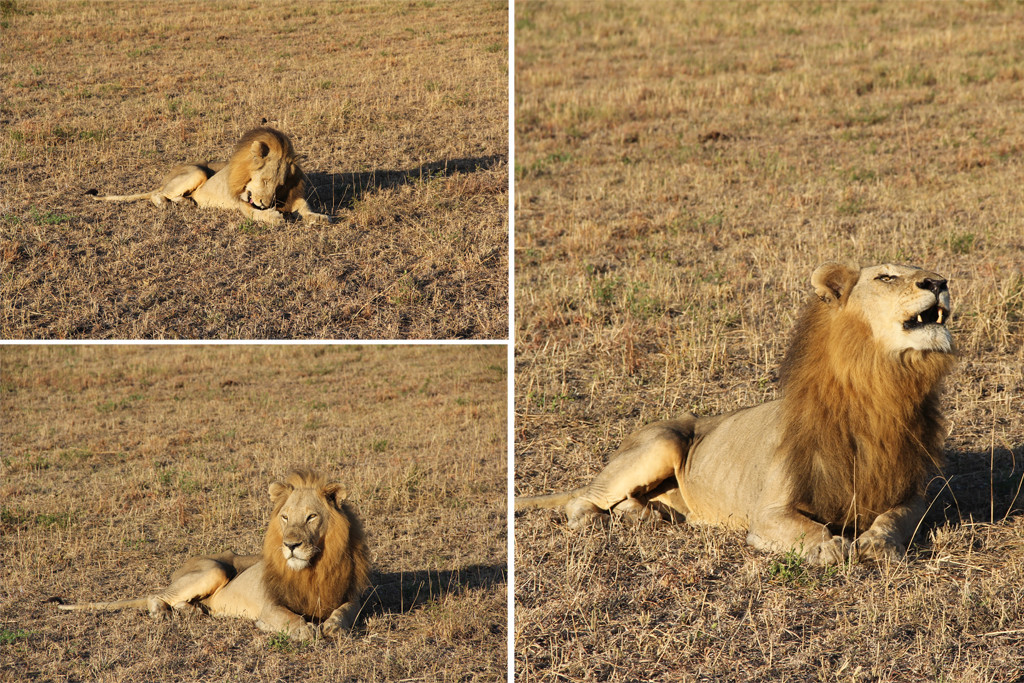 After a few minutes, we noticed Simba wasn't alone, and that two other lions lay off in the tall grasses beside the clearing. We watched wide-eyed as the original lion opened his mouth and roared, something you THINK you know the sound of and yet sounds completely and utterly different in the wild. Mrs. O posted a video here.
After he was done lazing about, chatting with his brothers, he noticed our vehicle provided a pretty nice amount of shade… so he wandered over and flopped down, oooh, JUST RIGHT NEXT TO US NBD. His brother watched from his own shady spot, completely disinterested in the goings on of the four girls trying not to scream with excitement.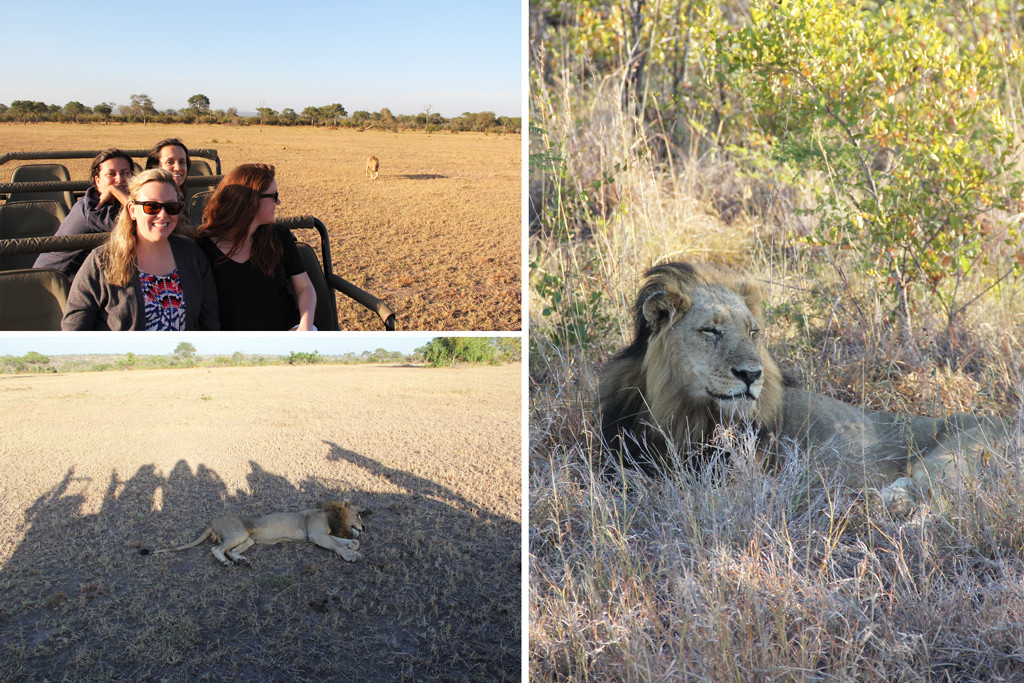 Next, we continued our search for the missing pieces to our Big Five. Though we had little interest in birds (sorry, FW) we had to stop when he mentioned something about  the undertakers of the bush, which turned out to be a hideously large stork that was perched in a far off tree. We took turns looking through the binoculars, all of us audibly gasping when we got a up-close look at the bird. Not pretty. Not pretty at all.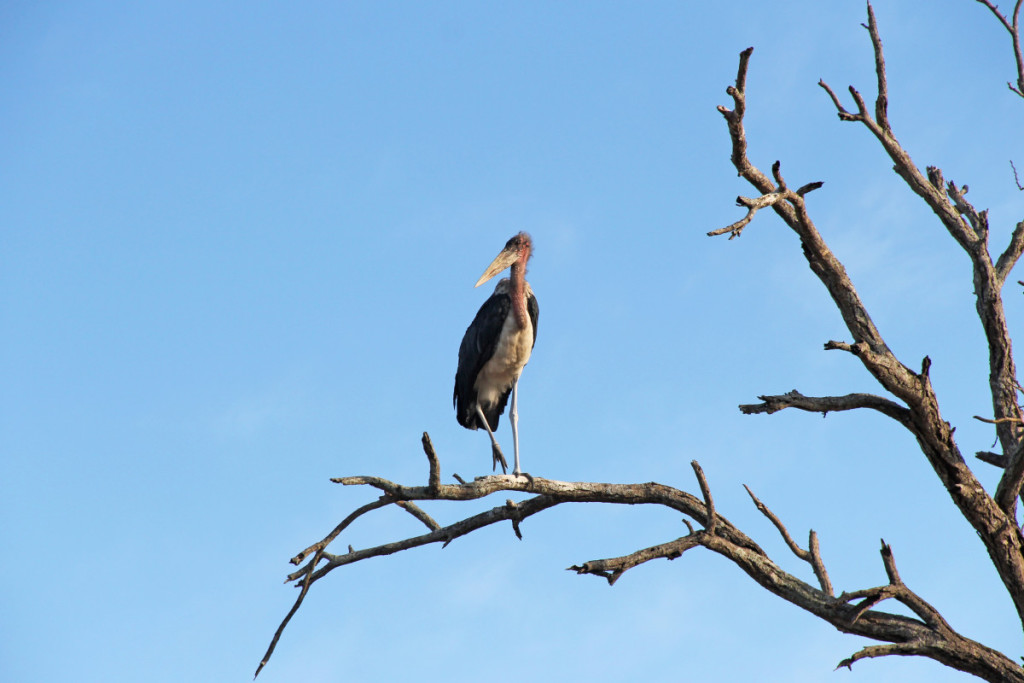 As we drove along what we thought was a completely open clearing, FW suddenly pulled the truck to a stop and ordered us out, loading his gun as he did so. Nervously, we followed him through the tall grass and down a hill until we saw where he was leading us: toward two massive giraffes, grazing on trees in the distance!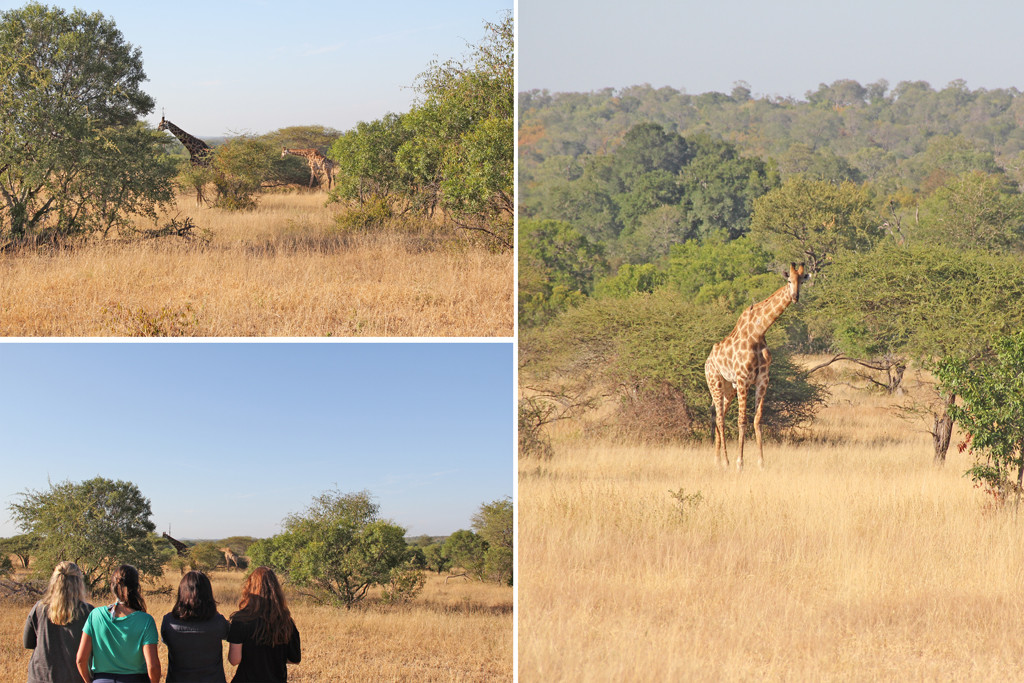 Though not officially part of the Big 5, we climbed back into the jeep and agreed that watching the giraffes amble about was still pretty magical. We drove along a bit further, before stopping again — this time for tea and snacks, again arranged by FW and Patrick on the hood of our truck. Those guys!
After tea, we were sadly nearing the end of our drive. We rolled through a portion of the bush that was charred from a recent brush fire, and were thrilled to spot a herd of zebras, who at first were perfectly hidden amongst the blackened branches.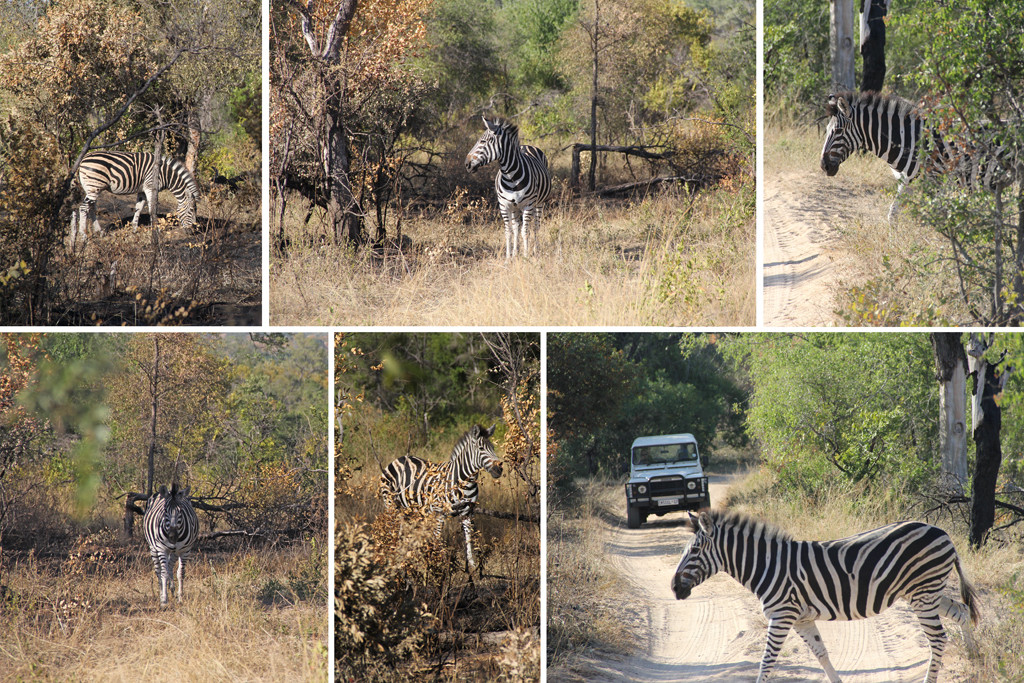 Alas, our morning drive came to an end without spotting a leopard or buffalo, meaning the wino sadly wouldn't be completing her Big Five on her first trip to Africa. When we returned to the lodge, we settled in for a leisurely breakfast, and spent our remaining hour together by the romantic's pool, taking in the serenity of the landscape before the wino headed off with FW to the airport to start her long journey back to the US.
On day 2, the remaining three were up early again for one more go. We took off with a clear destination, though FW wouldn't really tell us much about who we were tracking.
Finally, it was pretty obvious: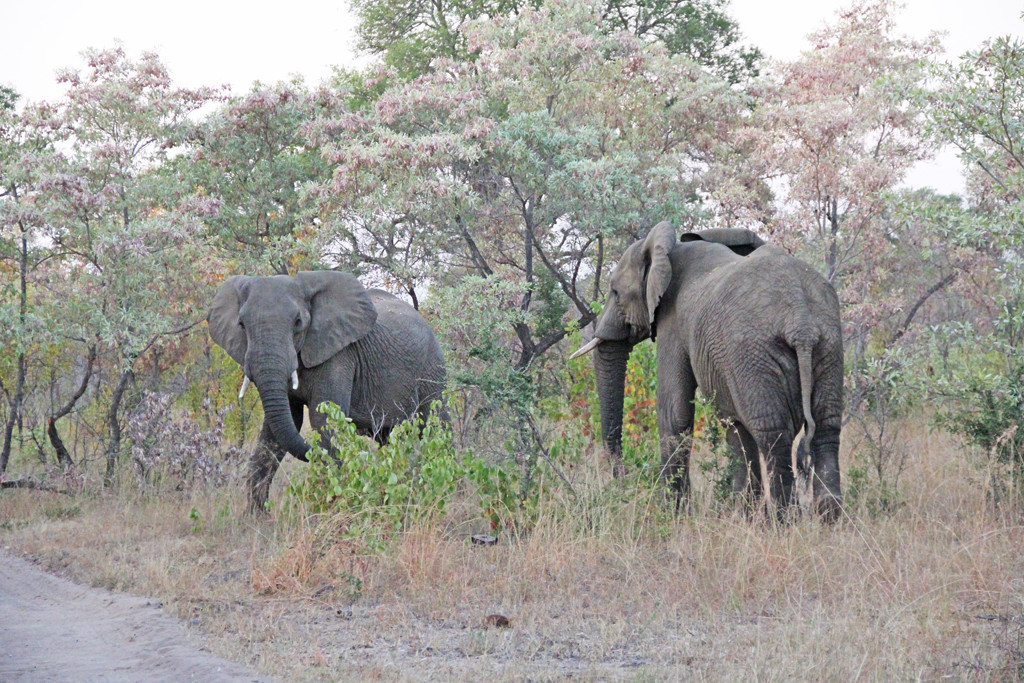 ELEPHANTS!
After we sat in their midst for awhile (but not nearly long enough, if you ask the romantic), we were off once more. This time, we slowly approached a small wooden hut, and drove around the side. We were about to get out and walk into the observatory, when the 4th of our big 5 lifted his head up to see what the commotion was all about.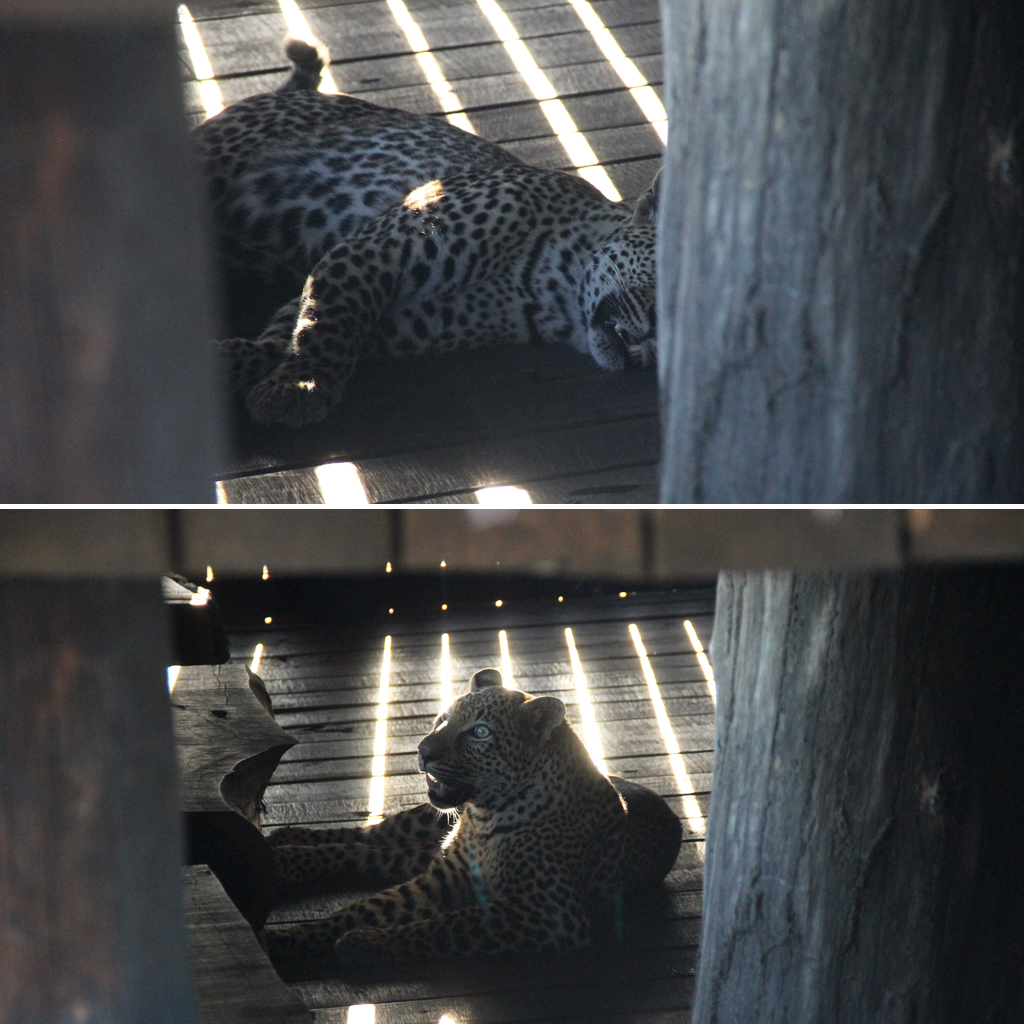 Probs a good idea we stayed in the vehicle for this one (arms and legs, too!). Later, we returned to see if he was still hiding out, only to find that he'd been rushed out and pushed up a tree by the lion brothers we had seen the day before! Rude, guys. Seriously rude.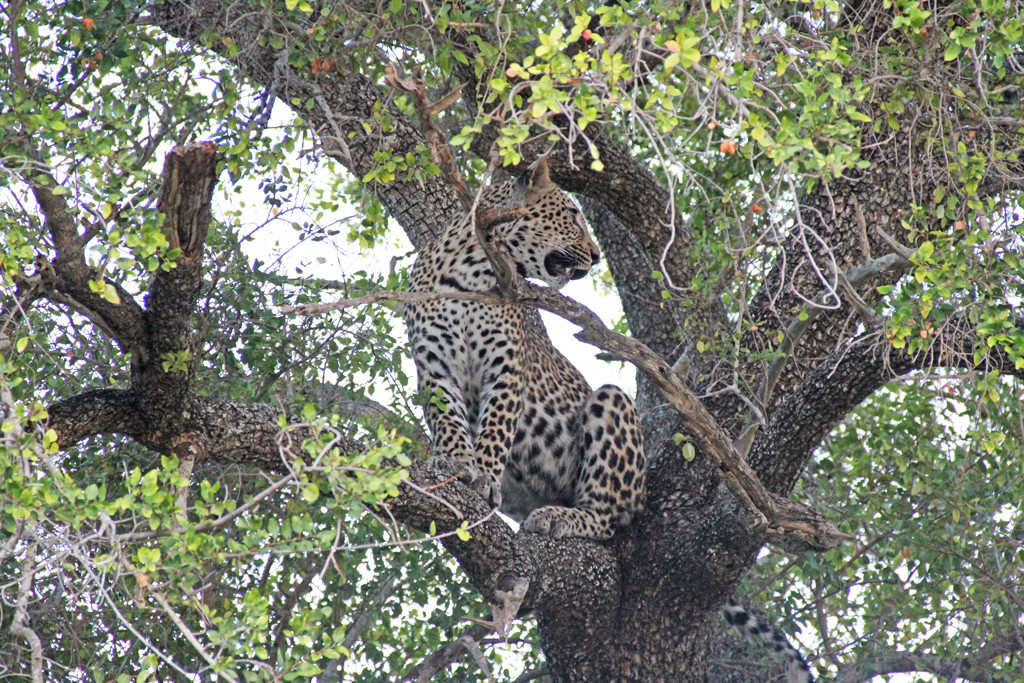 We drove off once more… this time in a search for?? Seriously, four game drives, and FW remained as mysterious as ever. When he pulled over, grabbed his gun, and told us to stay put while he wandered off with Patrick, we couldn't help but be a little nervous?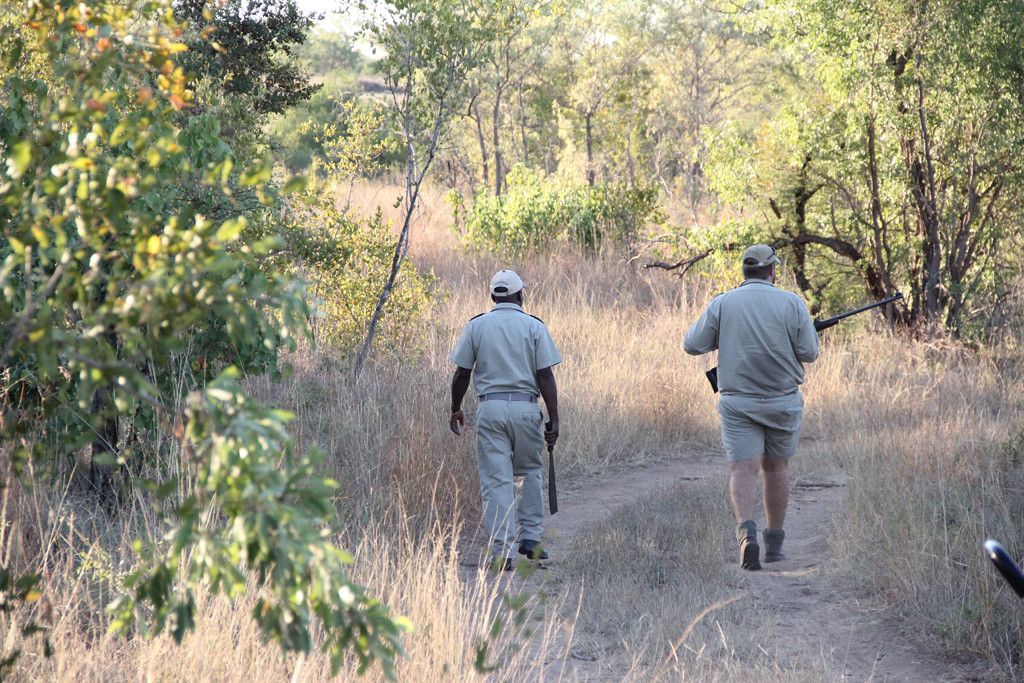 We tried to relax, but we were definitely relieved when they came back and motioned for us to follow them. We were even more pleased when we realized why: a quick glimpse of the elusive hippo!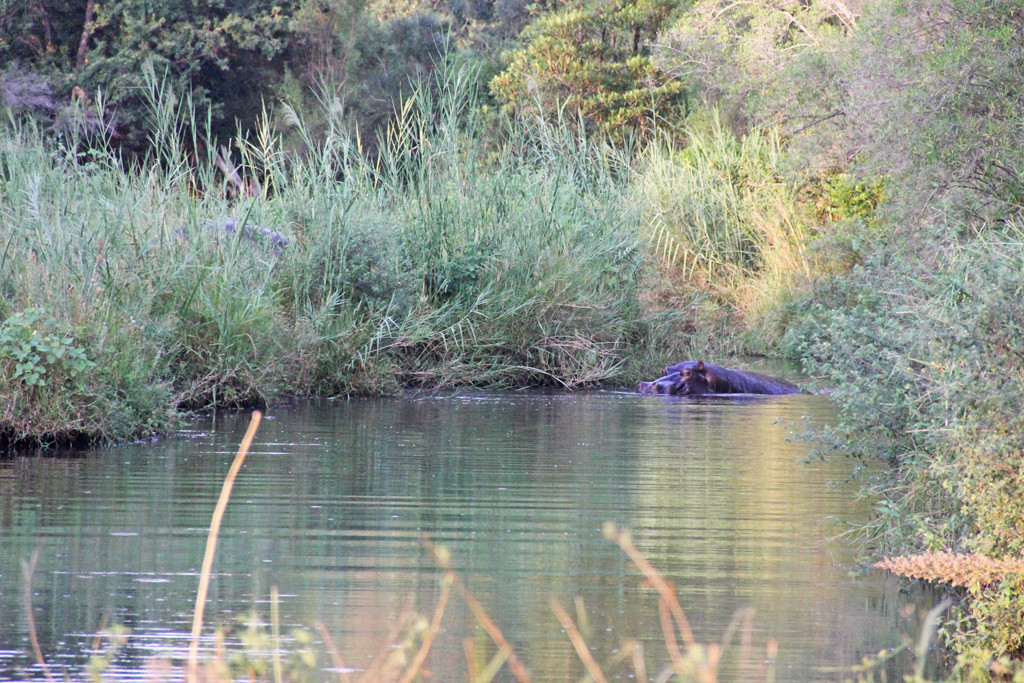 Feeling satisfied, we were officially ready to head back to the lodge, where a quick lunch was waiting for us before our return flight. We zipped back through the bush, spotting a few more antelope and impala along the way… and!
One surprise buffalo, grazing all by his lonesome!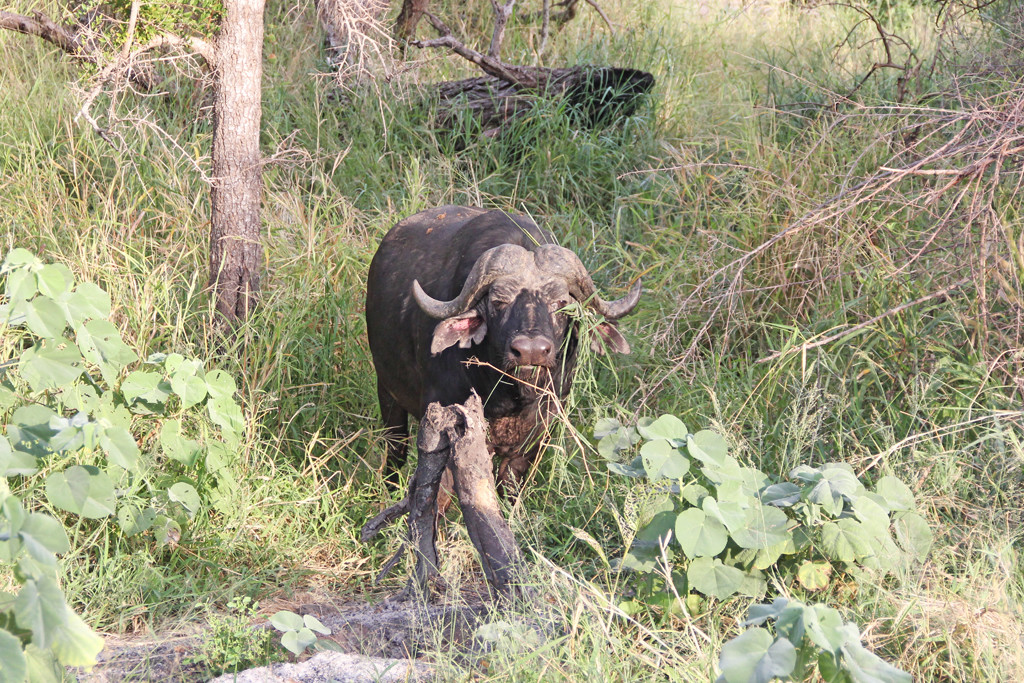 It was official: 5 for 5 on the big five!
We were sad to leave the comforts of Sabi Sabi, but a few more nights in Cape Town were calling. We loaded up the jeep for one more ride, this time to Skukuza Airport. We kept our eyes peeled for more animals, when Ana's sister, Renata, impressed us all and proved herself to be a tracker-in-training. She had spotted one final leopard, trotting off in the distance: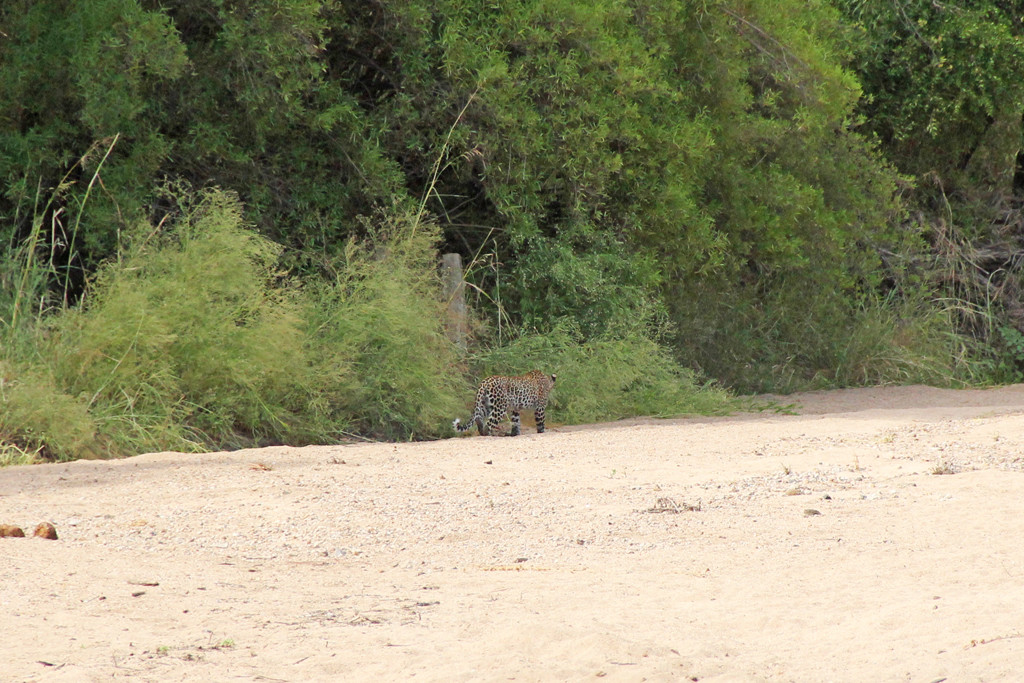 It's safe to say that our first safari experience was everything we dreamed it would be and more — and just one more reason we'll be back in South Africa as soon as we have the chance.
xo!
the romantic & the wino
– Thank you to Hands Up Holidays for arranging our trip and Sabi Sabi for hosting us at the Earth Lodge. All opinions are, as always, our own!