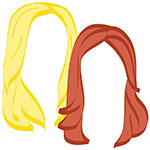 The days are flying by, and we're getting closer and closer to our big Swiss adventure. A few weeks ago, we kicked off the first ever LT Giveaway and asked you what you wanted to see us do while abroad. We got some… interesting suggestions, to say the least.
Oddly enough, most of the tips submitted fell into one of two categories: adventure (uhh, do you know us at all?) or embarrassing photos, mostly taking place in or around a bar (there you go).
Adventure
Not sure if you've picked up on this, but our M.O. is laziness, sooo, not sure how these suggestions found their way to us? But never say never, we guess?
Reagan suggested the First Flyer Zip Wires in Grindelwald. Considering the romantic is now a pro at ziplining, this might actually be do-able.
The Hubs wants us to go to Lucern and hike around Mount Pilatus (but only if we take the world's steepest cog railway to the top) AND visit Alpamare, Europe's largest covered water park. Thanks, dude, for submitting the least likely suggestions to ever come to fruition.
Kristin asked us to slip and slide down the canyons in Interlaken. We'll blame the fact that we're going in winter as the reason that we probably wont' do this.
Val wants us to tobaggan at Relleri-Schonried while drinking Swiss Miss. Substitute the Swiss Miss with red wine, and we're down.
Embarrassing Photos
UB demanded a photo with chocolate, a watch,  skis, AND a swiss army knife, all in front of a bank (preferably a secret bank with secret Swiss accounts). In lederhosen. Highly doubtful that we'll get anywhere close to a secret Swiss Bank if we're carrying all of the aforementioned items, but we're going to try, damnit. We will try.
Lola wants us to braid our hair and drink Swiss Miss in front of a snowy mountaintop. Could probably get behind this.
Expat Edna wants to do our best Usain Bolt impression at the IOC Headquarters in Lausanne. Considering the wino didn't know who Usain Bolt was until Edna submitted this tip, this might be a little hard. But we'll work on it.
Brittney dared the wino to break out her old Halloween costume and wear it to a Swiss bar. Consider it done, Brit.
And others…
In addition to all of the adventure and photoshoots it looks like we'll be partaking in, we got some other great suggestions for things to do on our trip:
Mrs. O Around the World wants us to put our feet on Lake Geneva without shoes AND find an open restaurant in Geneva on a Sunday. This tip makes us nervous because we will, in fact, be in Geneva on a Sunday…
Heaven Publicity gave us loads of great tips, including:  head to Annecy for the day, enjoy some apres-ski activities in Verbier, stay at the St. Bernard Pass with the monks, take a boat ride down the the mines of Bex, and visit the Rochers de Naye rack and pinion above Montreux to sip champagne while enjoying the spectacular views. HINT: one of these things already made it onto our itinerary…
Stay Adventurous wants us to open a Swiss Bank account, which he will fill with money. Right, Craig?
I Live to Travel wants us to eat fondue in Geneva at Les Armures and explore old town Geneva. You don't have to ask us twice.
Eileen wants us to enjoy an evening of Swiss wine in Zurich, and then re-hydrate at one of the 1200 crystal clear drinking fountains across the city. Chances are we will be enjoying A LOT of Swiss wine, and will definitely have to re-hydrate come morning.
Sean wants us to visit "the best bar in Switzerland," La Clemence. Like chellllooooo, definite.
We don't know how we're going to choose a winner when it comes time, aaand its likely that we'll actually do way more than one of these. The best news: you have until December 1st to suggest an #LTSwissTip. We know you want to. Just follow the steps below, and you could win a Swiss surprise, courtesy of yours truly!
TO ENTER
Step 1. Post a travel tip or recommendation on our Facebook wall, making sure to "Like" our Facebook page (we're not quite sure why you haven't already)
Step 2. Tweet your Facebook post to us using the hashtag #LTSwissTips.
Step 3. Wait with baited breath until December 1, when we announce our winning tip.
Step 4. Enjoy a delicious Swiss surprise courtesy of The Lazy Travelers.
xo!
the romantic & the wino
Save