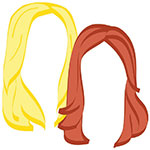 In case you missed it, we are officially one week away from our grand tour of Switzerland and Ireland! If you did miss this, welcome! You are clearly new around here, because we've been managing to work that tidbit into every conversation since, like, September.
ANYWAY, way back when we first booked our trip, we decided to turn our first foray across the pond as The Lazy Travelers into an Official Giveaway. You can tell it's serious because we rarely capitalize our names (because we rarely take ourselves that seriously).
In exchange for the chance to win a Swiss souvenir from yours truly, we asked you guys for your best/craziest/most delicious recommendations in and around the Lake Geneva region. And we must say: round one delivered. Since then, we've had a few more dares thrown our way:
Ted would like us to climb the Matterhorn… or at least take a picture of it. Clearly he would have been disqualified for mockery without that addendum.
Kieu wants to see us yodel while wearing mink hats. This is likely to happen once we have enough red wine, so she's really setting herself up for a win.
The folks over at Bespoke Traveler also had yodeling in mind, but would like us to ride up to a mountain peak via gondola and yodel for half an hour–with photo evidence, of course. Bonus points for the specificity! This also assumes that the Swiss police will not arrest us for noise pollution… so we'll see how that goes.
Anita has requested a photo with James Blunt while we're in Verbier, because apparently he lives there. There is one small issue with this dare, and that is this: we're not sure we'd recognize James Blunt walking down the street? This doesn't mean we don't have it in us to go around asking random 20/30-something brunette guys if they are, in fact, James Blunt. In other news, does everyone else now have "You're Beautiful" permanently stuck in your head?
AC would like to see us, and we quote, "spend a relaxing spa day in Zermatt, followed by an 8 hour ride on the Glacier Express to the glamorous alpine village of St. Moritz to see the "White Turf" horse race." She also mentioned a "3 course lunch and lots o'wine," so we would like to nominate this as the winner and also ask anyone who would like to fund this dare to please step forward. We are IN.
Lastly, Pola–perhaps the one who knows us best–has asked that we sip spiked hot cocoa by the fireplace in the mountains. Le duh, this was like the only thing on our itinerary until about a week ago when we realized you guys would not want to read about us getting drunk in cute sweaters for five days straight. (Doesn't mean it won't happen anyway).
The competition is getting fierce, but you have until December 1st to submit your very own #LTSwissTips! Then, we will pick a winner and be on our way to making complete fools of ourselves. Fun for everyone!
AS a reminder:
Step 1. Post a travel tip or recommendation on our Facebook wall, making sure to "Like" our Facebook page.
Step 2. Tweet your Facebook post to us using the hashtag #LTSwissTips.
Step 3. Wait with baited breath until December 1, when we announce our winning tip.
Step 4. Enjoy a fancy Swiss surprise courtesy of The Lazy Travelers.
xo!
the romantic & the wino