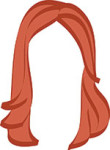 Since our first trip to Morocco just before Christmas 2013, I had been itching to return. Our tour of Marrakech and our roadtrip out to the Sahara sparked something… and that something was a real need to properly shop the souks.  Because we had flown EasyJet the first time around, there was no possible way anything we would have bought was going to make it back with us — namely because their €60 baggage fee wasn't in the cards, due to both budget and PRINCIPLES.
Fast forward to earlier this year, when an invitation to crash a girls' weekend popped up. If you've been around for awhile, you probably remember the wino's closest friend from her study abroad days, who was deemed "the scholar" (you know, back when we were super secretive and anonymous). Her real name is Amy, and as she's currently living in Geneva, we've been making our own memories across the pond. It's all part of a larger campaign to get the wino to move here and start our own European Bestie Row, but, as per usual, I digress.
Amy and her colleague Amanda were zipping off to Morocco for work, so I was going to fly down and meet them on the tail end for a whirlwind three nights — Marrakech, Essaouira, back to Marrakech.
Night 1 // Riad Kheirredine, Marrakech | After a hellacious wait at passport control and the general unpleasantness of the Marrakech airport, I was more than pleased to find a driver waiting. We wordlessly zipped off toward the Medina, and after 20 minutes or so, we stopped in a busy square. This was Sidi Ben Slimane and would become our main hub while in Marrakech — our final riad of the trip was just around the corner from here, as well. My driver handed me off in the square, and we, also silently, walked the last five minutes to the riad. It was all a little intimidating as I was led through the winding streets in some back part of the Medina, but as soon as we arrived at Riad Kheirredine, all was right in the world.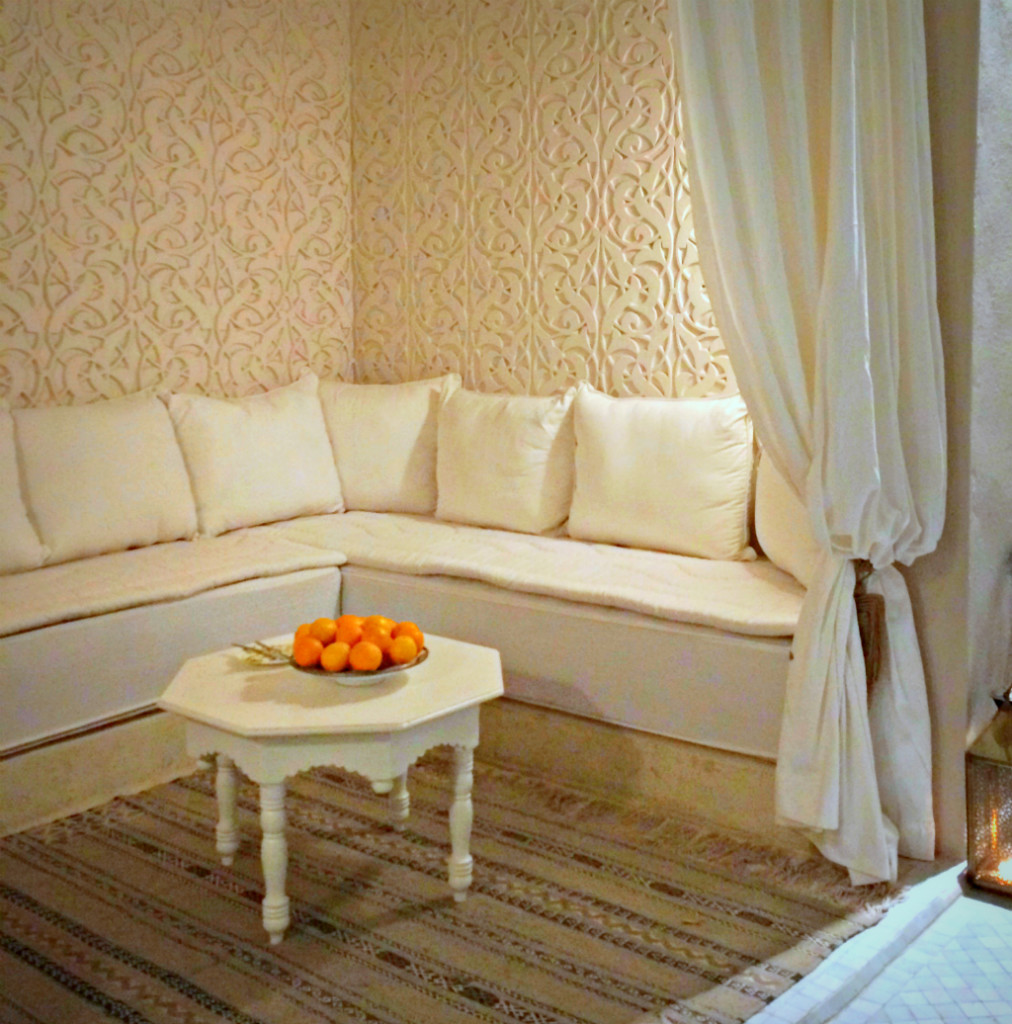 I had learned on our first visit that, though there are plenty of beautiful resorts in Marrakech, the real charm is found in the boutique riads. Owned by a businessman who splits his time between his home in Italy and this riad in Morocco and operated by a team of Italian expats, Riad Kheirredine more than fit the bill. We were taken care of from the moment we entered, and the decor alone was enough to make me want to permanently relocate.
We opted to stay in the for the night, using their rooftop terrace as the perfect excuse to catch up over bottles of rosé as the sun set over Marrakech before relocating to a table for a cozy dinner by candlelight.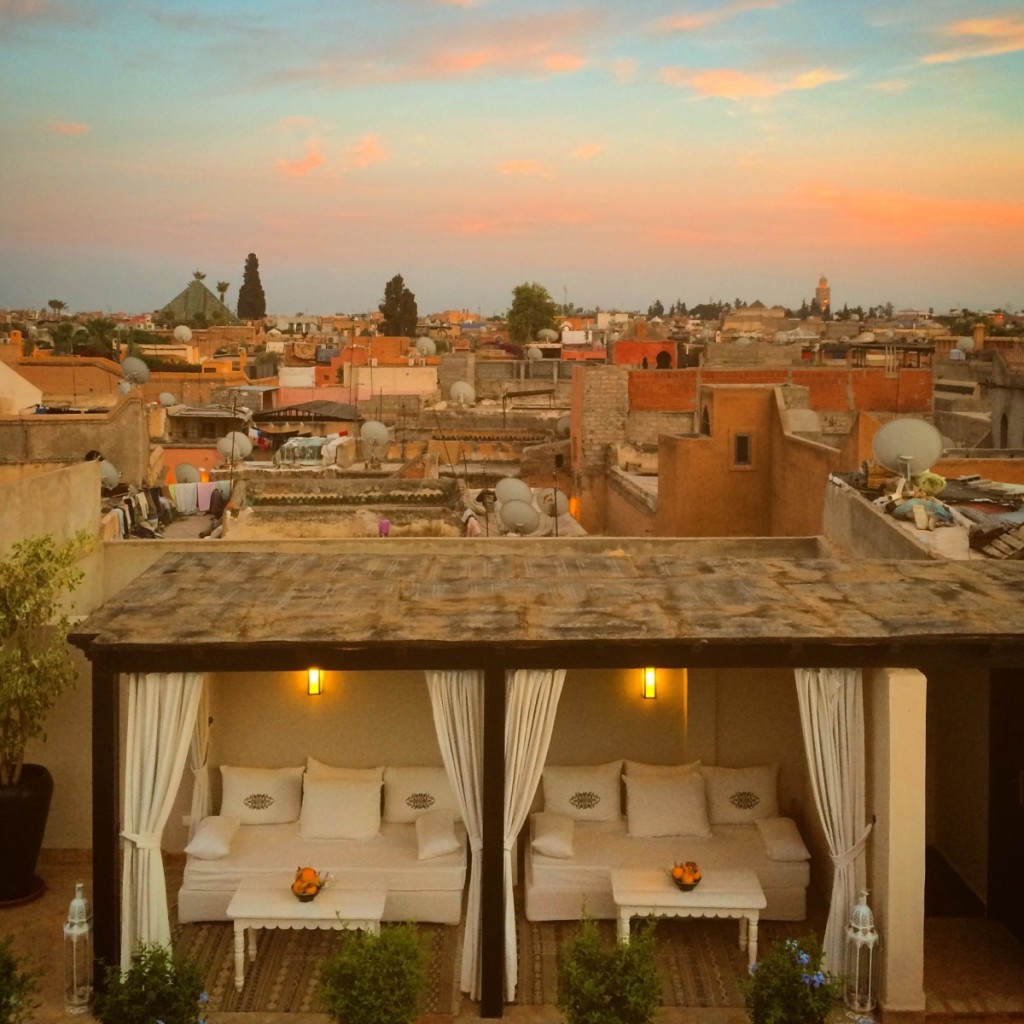 The setting was all very romantic, which prompted our waiter to ask if he could pretend we were his wives… and aside from that slightly awkward moment, it was perfect. Though there were only a few other tables set on the rooftop (including the owner and his friends), the additional tables downstairs were full.
We were served a set menu of local fare, including an assortment of Moroccan salads, chicken tajine and a strawberry shortcake type situation that I wanted to climb into and fall asleep. Instead, after a few more glasses of rosé, we scooted down to our suite — Verveine — and promptly zonked out.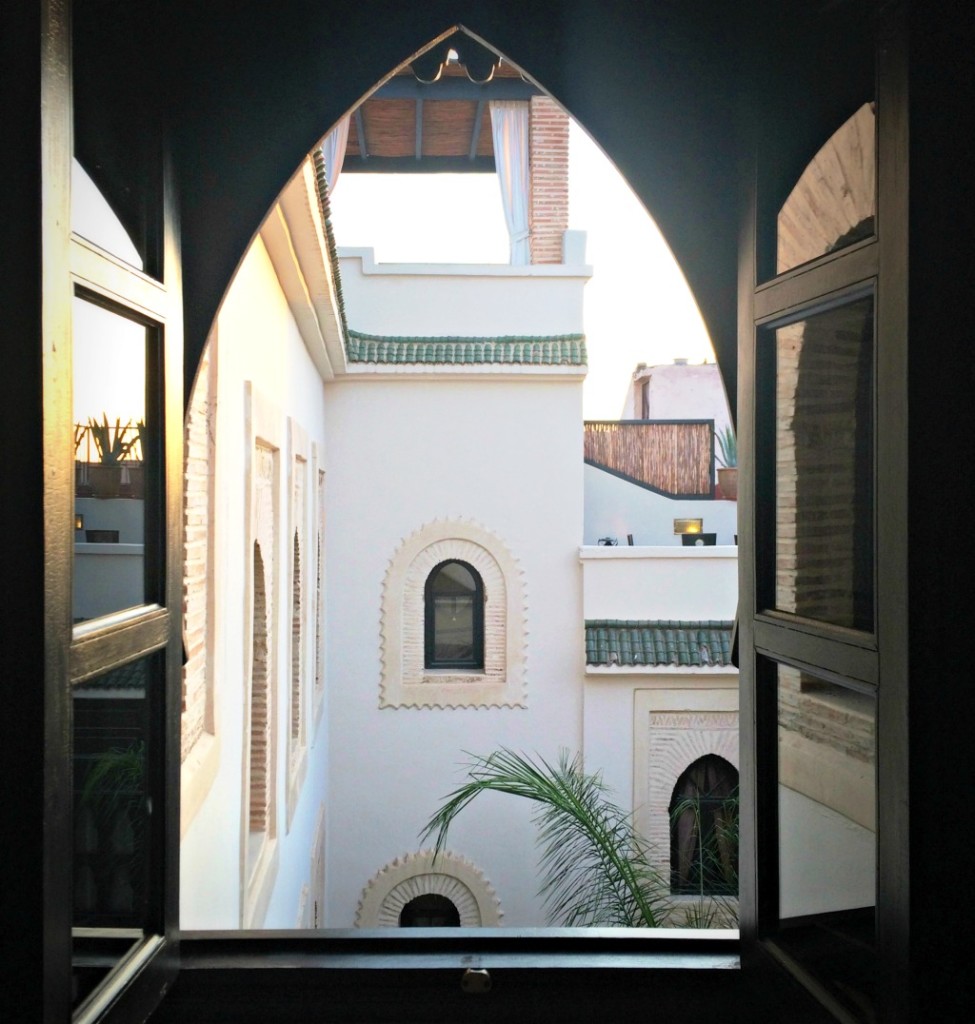 The next morning, we awoke bright eyed and bushy tailed, ready for another meal on the terrace. Breakfast with a view is no joke at Riad Kheirredine, and it was delicious to boot. Shortly after we had finished, the team called up to let us know our taxi driver had arrived to take us off to Essaouira. The souks of Marrakech would have to wait until our return, but our first relaxing night was perfect.
Night 2 // Riad Baladin, Essaouira | The drive to Essaouira was just under two hours, taking us through rolling hills and tiny towns. We arrived in Essaouira just in time for lunch, but headed off to our riad in the hopes of getting a few solid recommendations after we had dropped our bags.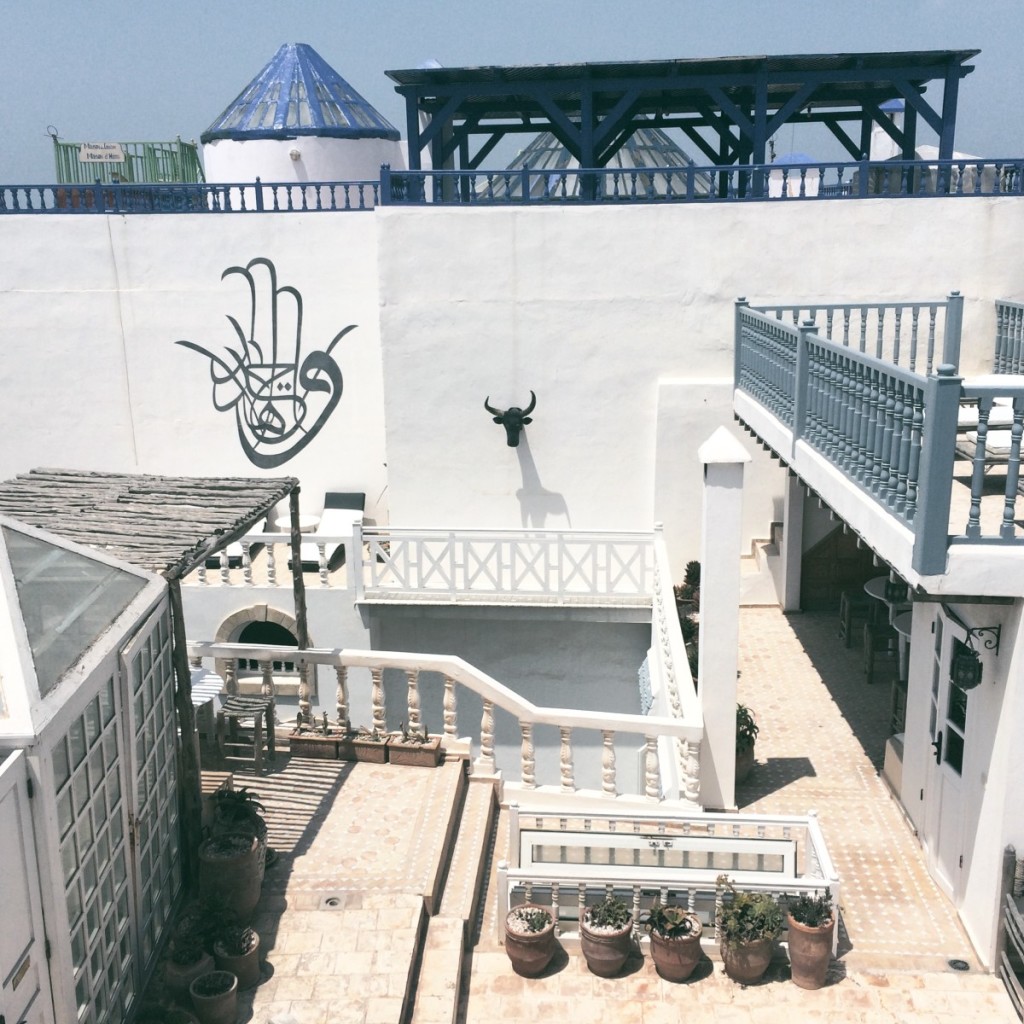 The terrace at Riad Baladin
It seems to be a worldwide dream to abandon your life and take up a riad in Morocco, as Riad Baladin is owned by Nicole, a Swiss expat who moved to Essaouira for just that reason. She's married to the police chief, which, she assured us, meant our belongings were extra safe. Baladin was definitely a bit more rustic than our first night — it felt more akin to a casual guesthouse, with funky decor and a very laid back vibe.
We had the top floor to ourselves, which was lovely, and, just as we had hoped, Nicole gave us a ton of amazing recs around town. Seriously, her advice alone was invaluable.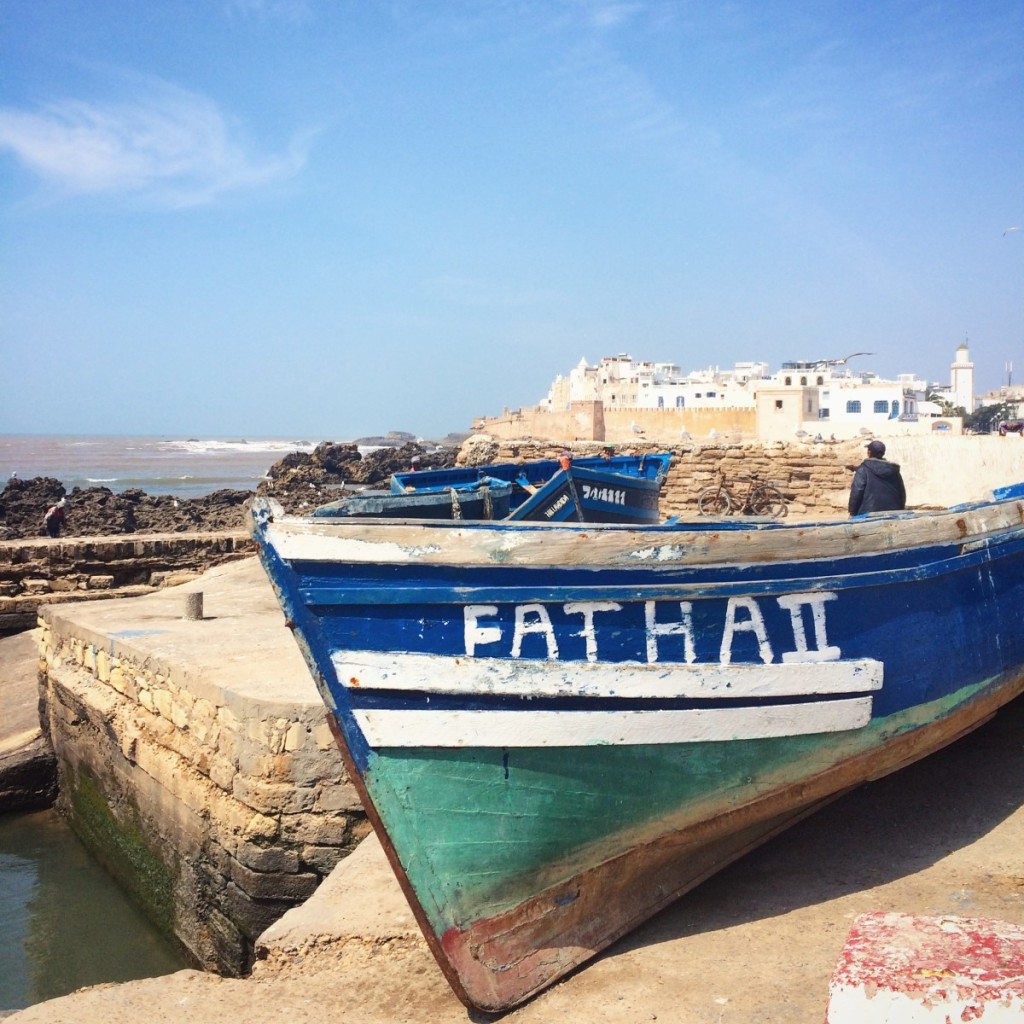 Once we dropped off our bags and freshened up, we hightailed it for Taro's Cafe. They don't have a website, but it's pretty much THE spot for rooftop drinks, and we managed to visit twice in our short visit. First, for lunch and later, for more rosé. We were on a rosé kick, if you couldn't tell.
We spent the rest of our day wandering around the souks, halfheartedly bargaining, but mostly just taking in the sites and enjoying the relative calm compared to Marrakech.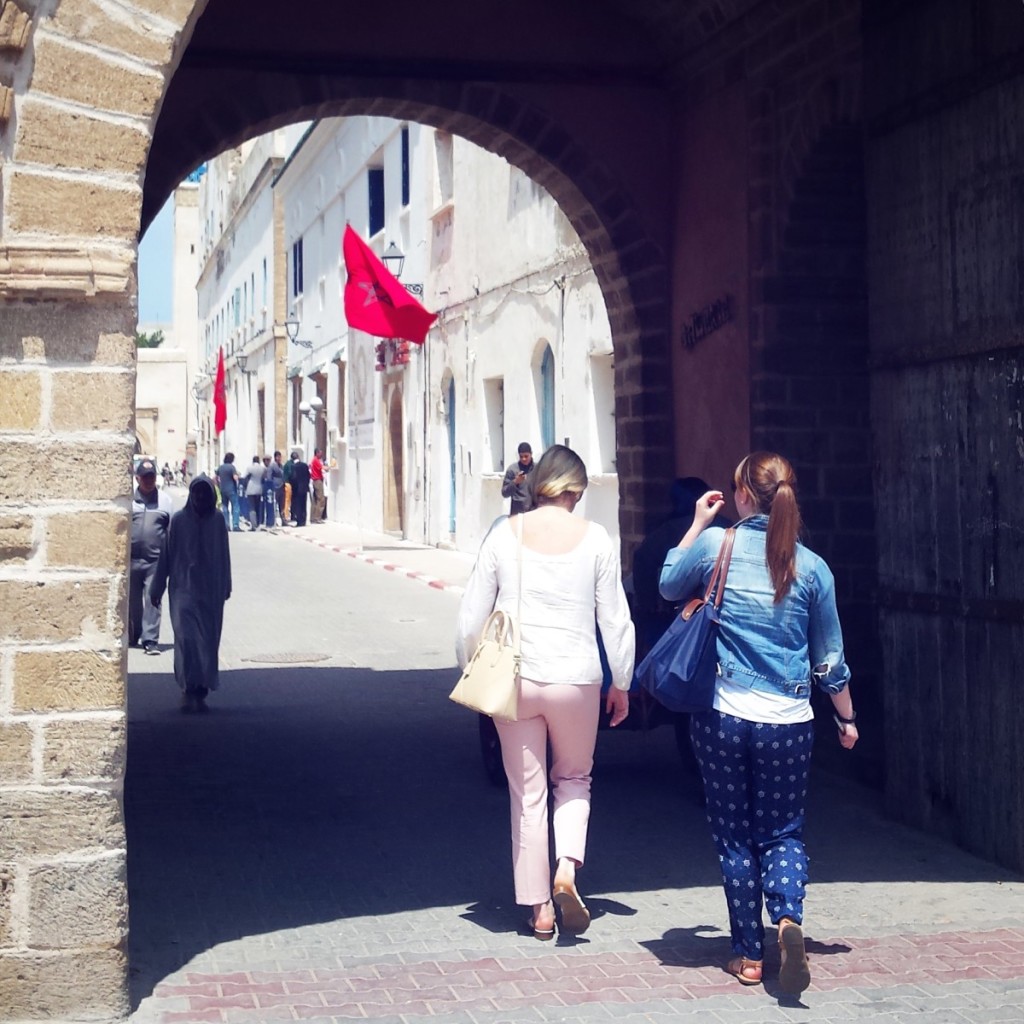 That night, we treated ourselves to dinner at Caravane Café, another recommendation from Nicole. She sold us on it by gushing about the decor (owned by a French couple, one of the men is a local artist), the food, and the after-dinner show.
She made a reservation for us, and as soon as we arrived, we were whisked up to the terrace for bubbles before nestling in back downstairs at a cozy table.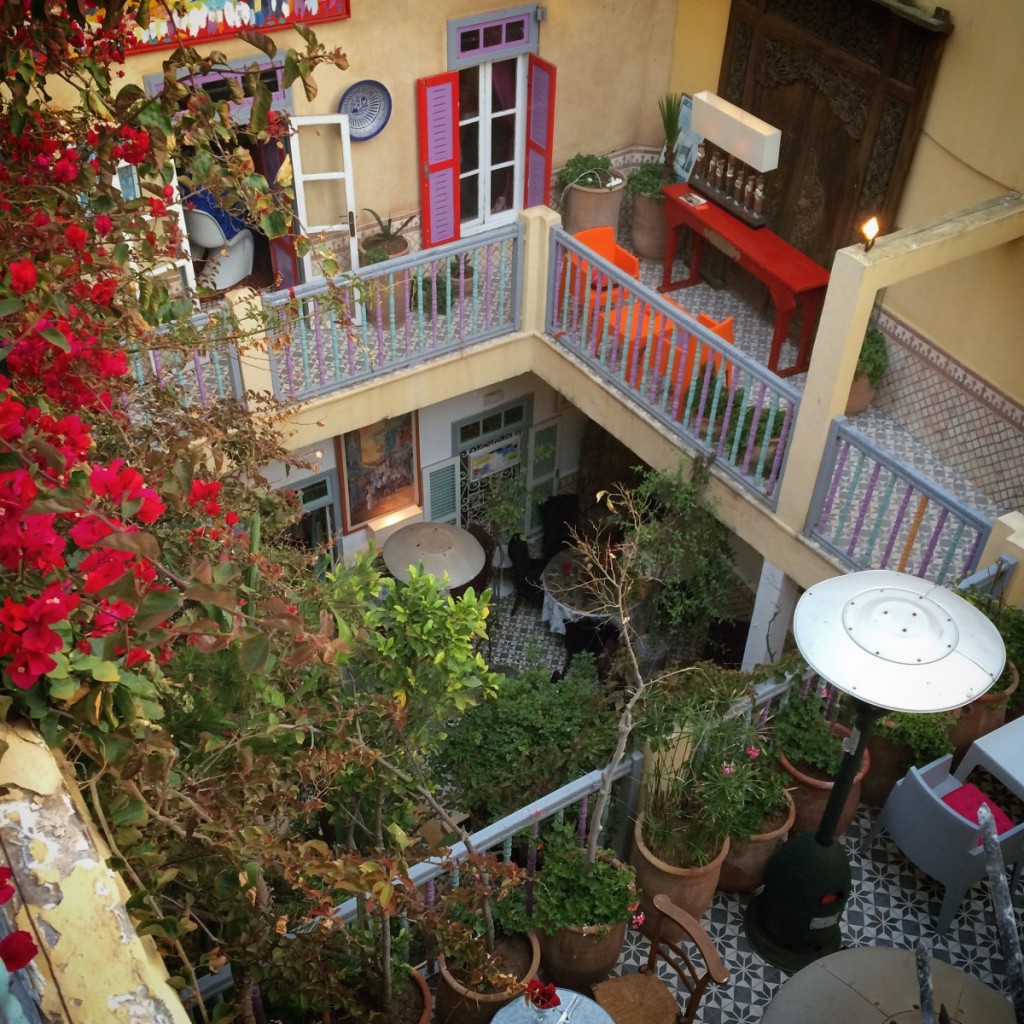 We ordered up a few plates to share, and just as we were tucking into our main dishes, a drum circle started up.
The rest of the night was a blur of music, a MAGICIAN and FIRE DANCERS, and this was definitely a highlight of our mini escape to the sea. That's why there are capital letters involved.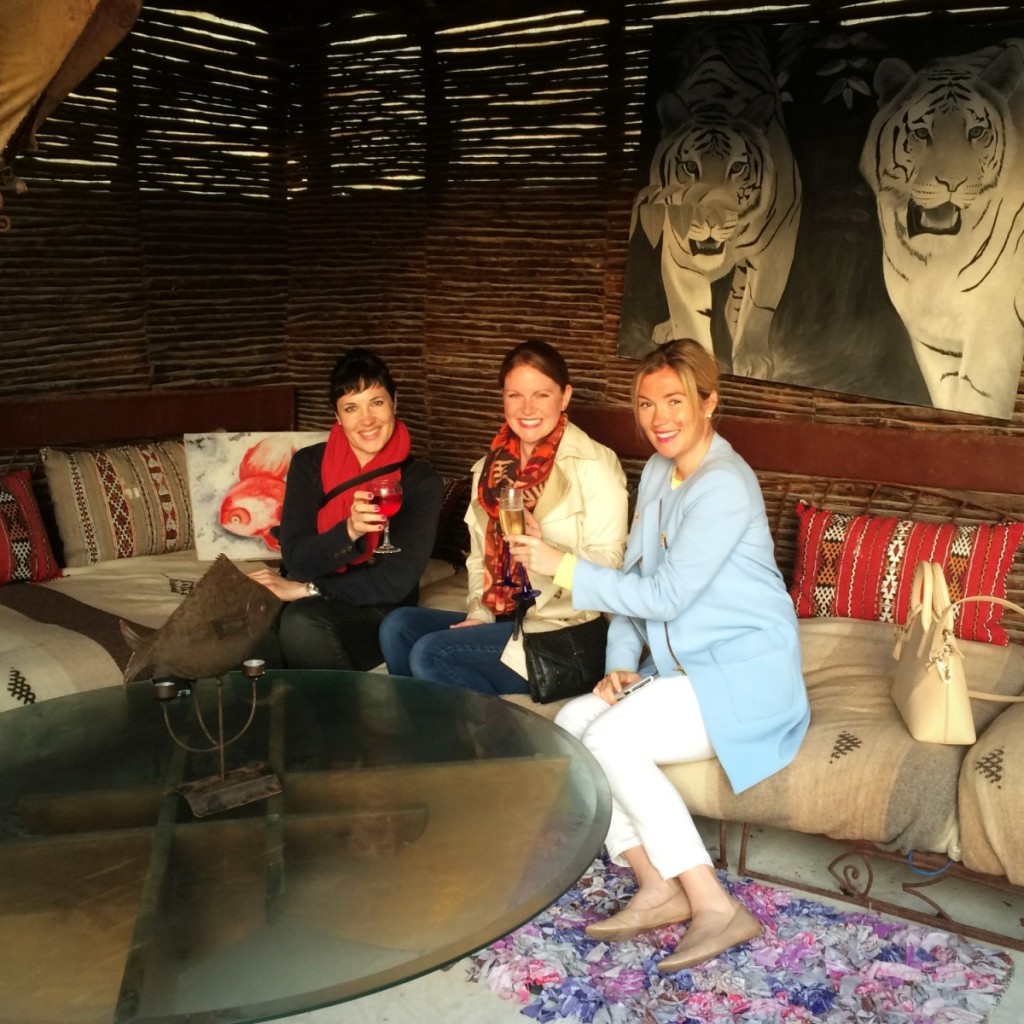 We wrapped up our time in Essaouira with a morning of souk-shopping that should be admired. Pillows, rugs, mini decorative tajines… somehow, we fit everything into our suitcases, and we each still had a few things on our list for our last day in Marrakech.
The picture on the top right is an assortment of hand-painted dishware that we fell in love with, and below that, my rug conundrum. I ended up going with the one laying down closest to the frame, and now I kind of regret it?!
We stopped back at Riad Baladin to grab our bags, as well as a few bottles of Argan oil, which had just arrived and can be purchased directly from the Riad. I still have yet to give mine a whirl, but we were glad to find a good place to buy the real stuff since we had seen it literally everywhere around the souks, and you can't be sure which are authentic.
We said our goodbyes, and soon another driver was ready and waiting to escort us to our next destination.
Night 3 // Dar Seven, Marrakech | Two hours later, we found ourselves back in Sidi Ben Slimane, this time waiting for someone from our next riad, Dar Seven, to come meet us. We followed a few of the same streets that we took on the first day, but after a few turns, we were promptly lost once more. When the door opened into Dar Seven, however, we immediately felt at home.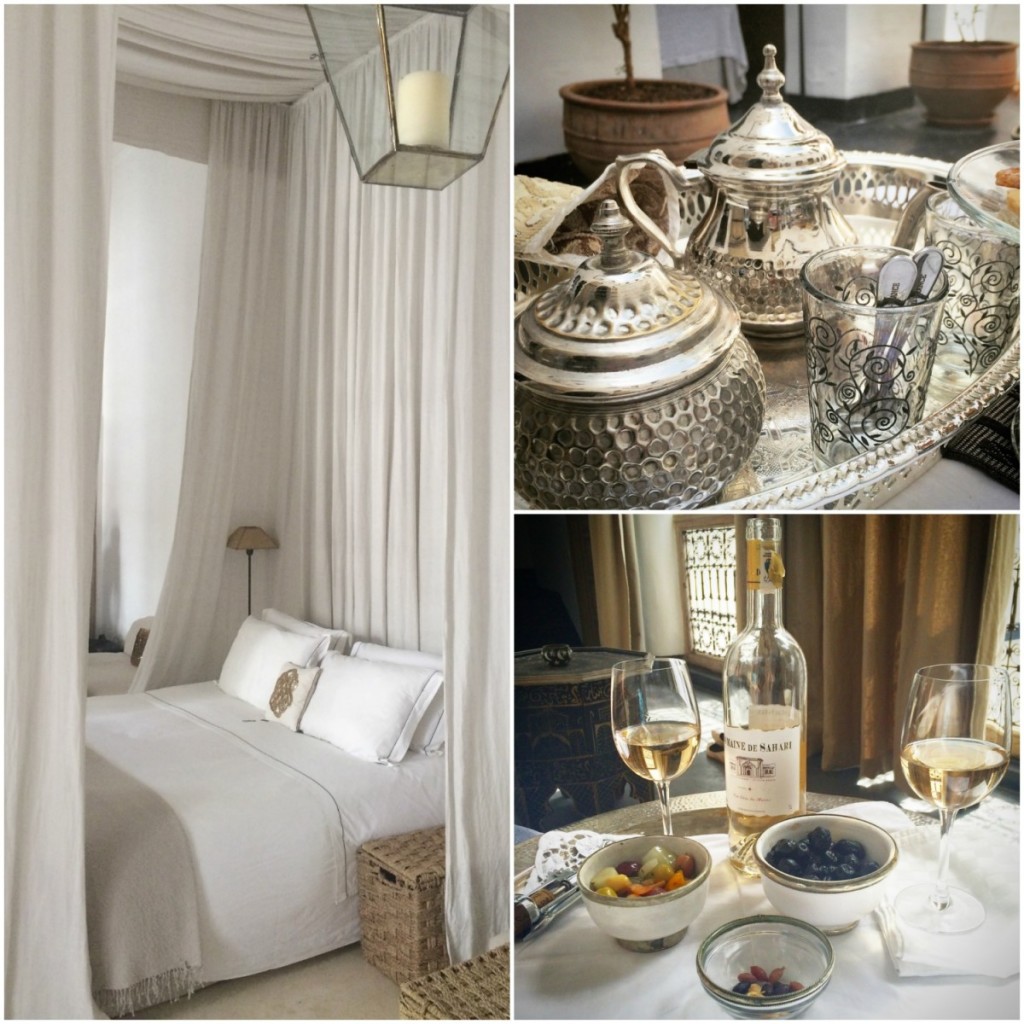 We checked into our rooms over Moroccan mint tea and cookies in the courtyard. With only four rooms, you can rent this entire riad for €900/night, and it's a major contender for a future Friendsgiving. Shortly after, we zipped up to our rooms to unload our bags and freshen up… before reconvening on Amanda's terrace for, YEP, more rosé.
The girls had visited Nomad earlier in the week and were still dreaming of the food, so we decided a return was in order for our final night. We shopped a bit on our way, and stopped in Chabi Chic, a little boutique shop just below the restaurant. You can shop their stock online, and though the prices are a bit higher than elsewhere in the souk, their stuff is adorable. We walked away with a few little souvenirs, before settling in on the terrace for our last meal of the trip.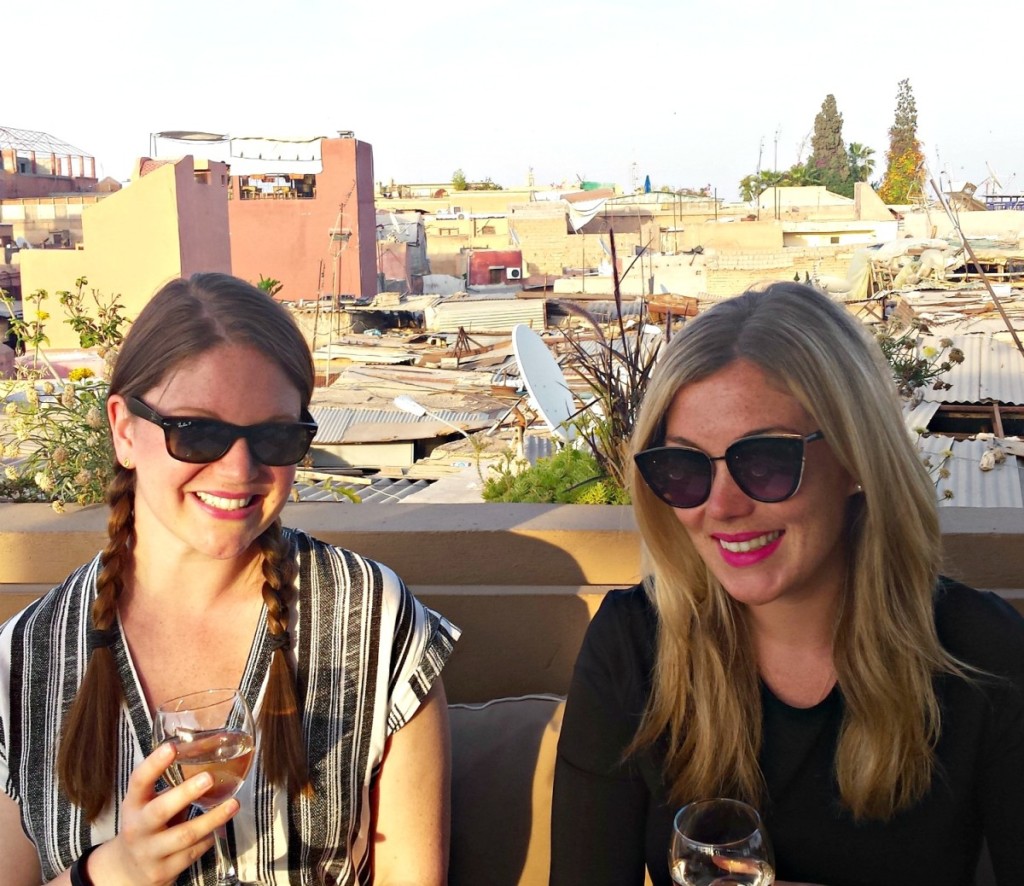 Along with a delicious meal, we were also surrounded by an older couple to our right celebrating a birthday, and two sisters to our left who were on a girls' trip of their own.
We ended up joining tables, and after we finished our meals, we hopped in a cab and went to Le Comptoir Darna for more wine and their famed belly dancing show. A Marrakech institution, it was the perfect cap to our little escape.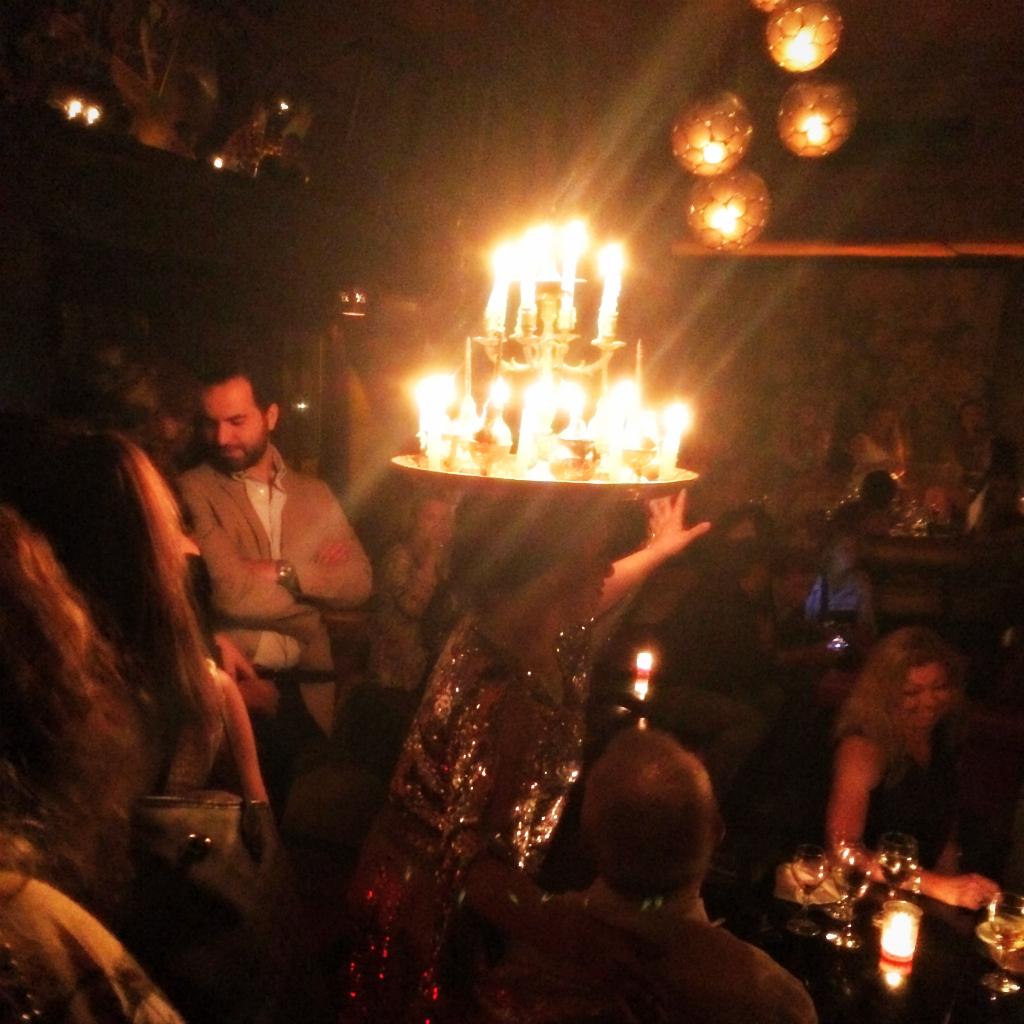 The next morning, we went out for one final trip around the souk, stocking up on even more goods to add to our overstuffed suitcases. We stopped for one more meal, this time at Café Des Épices, Nomad's sister restaurant just across the spice market.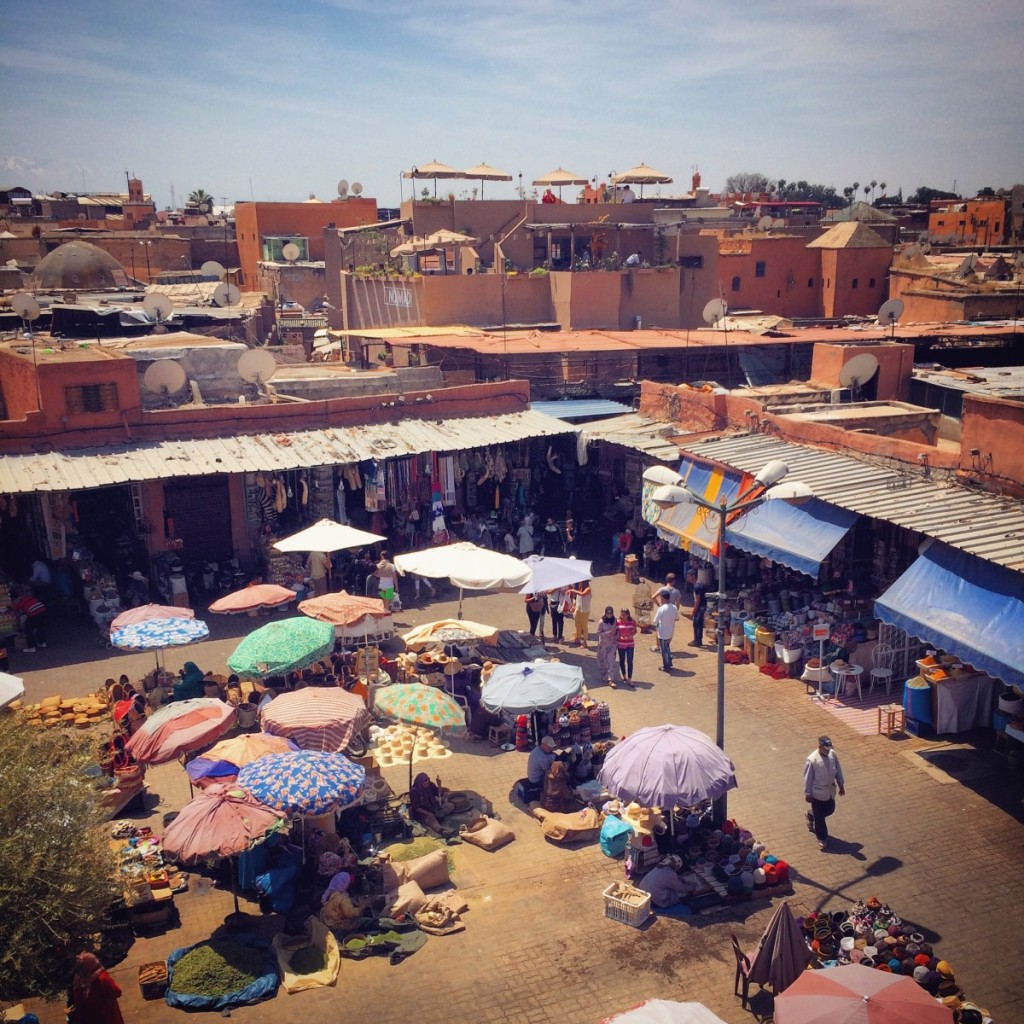 With tired feet and heavy arms, we made our way back to Dar Seven (after maybe taking a wrong turn and ending up in Riad Kheirredine… not important), grabbed our bags, and sadly said goodbye to a place that somehow, over less than 24 hours, had started to feel like home.
I will say that airport might just be the worst in the world, and leaving on a Sunday evening is enough to make you wonder if it was even worth it.
With my feet up on my new Moroccan pouf while I look through all our photos, I can officially say: it is.
xo!
the romantic
– Thank you to Riad Kheirredine, Riad Baladin, and Dar Seven for hosting us. All three are high on the list of places I'd visit again, and all opinions are my own.