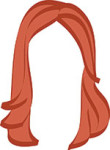 Just outside of London, about one hour by train, there's a little town called Henley-on-Thames.
I've had the pleasure of visiting this pocket of England three times in my life: the first, on a Beatles bus tour of England when I was in the eighth grade. You're jealous already, I know.
That, however, is a different story for a different day. George Harrison's former estate might be what introduced me to Henley, but there are now two far more VIP residents making themselves known in the area: Mr. & Mrs. O, of Mrs. O Around the World fame.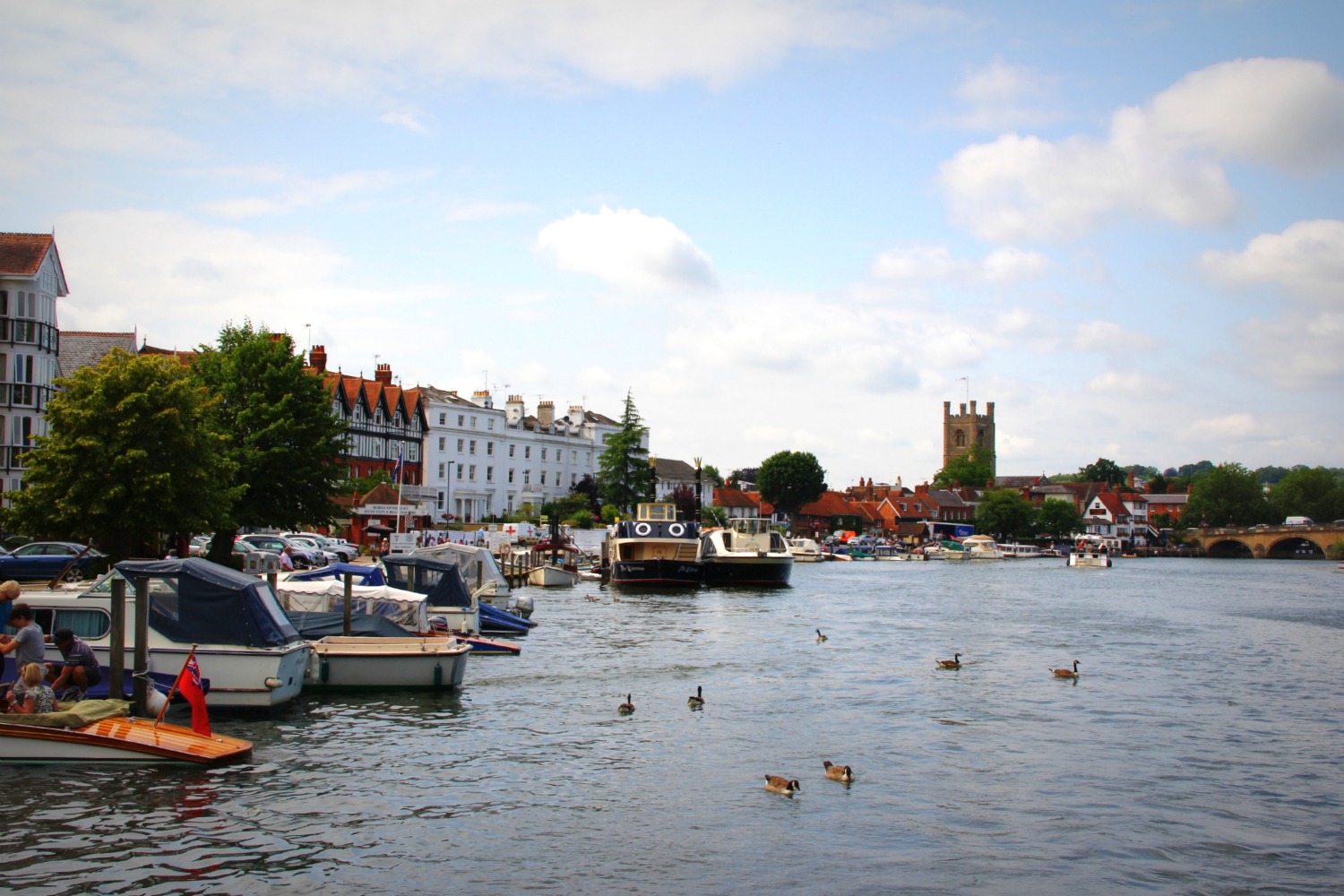 My first visit to their home (which is so exclusive I am legally bound from telling you its proper name, but trust that it does, in fact, have a proper name) was this summer. When I was invited back again this past November leading up to World Travel Market in London, I felt it wouldn't be right to take the O'Reilly's up on TWO free stays without credit where credit is due.
And thus, in the style of Mrs. O herself, I present to you:
a hOme away from hOme: the cOttage in Henley-on-Thames
Please note that all of the below questions are pulled directly from Mrs. O Around the World's regular my hOtel feature, with express permission. (…and by "with express permission," I mean, I drunkenly told her I'd be doing a my hOtel feature on my stay and she laughed in amusement, possibly not thinking I was serious.)
Pre-Arrival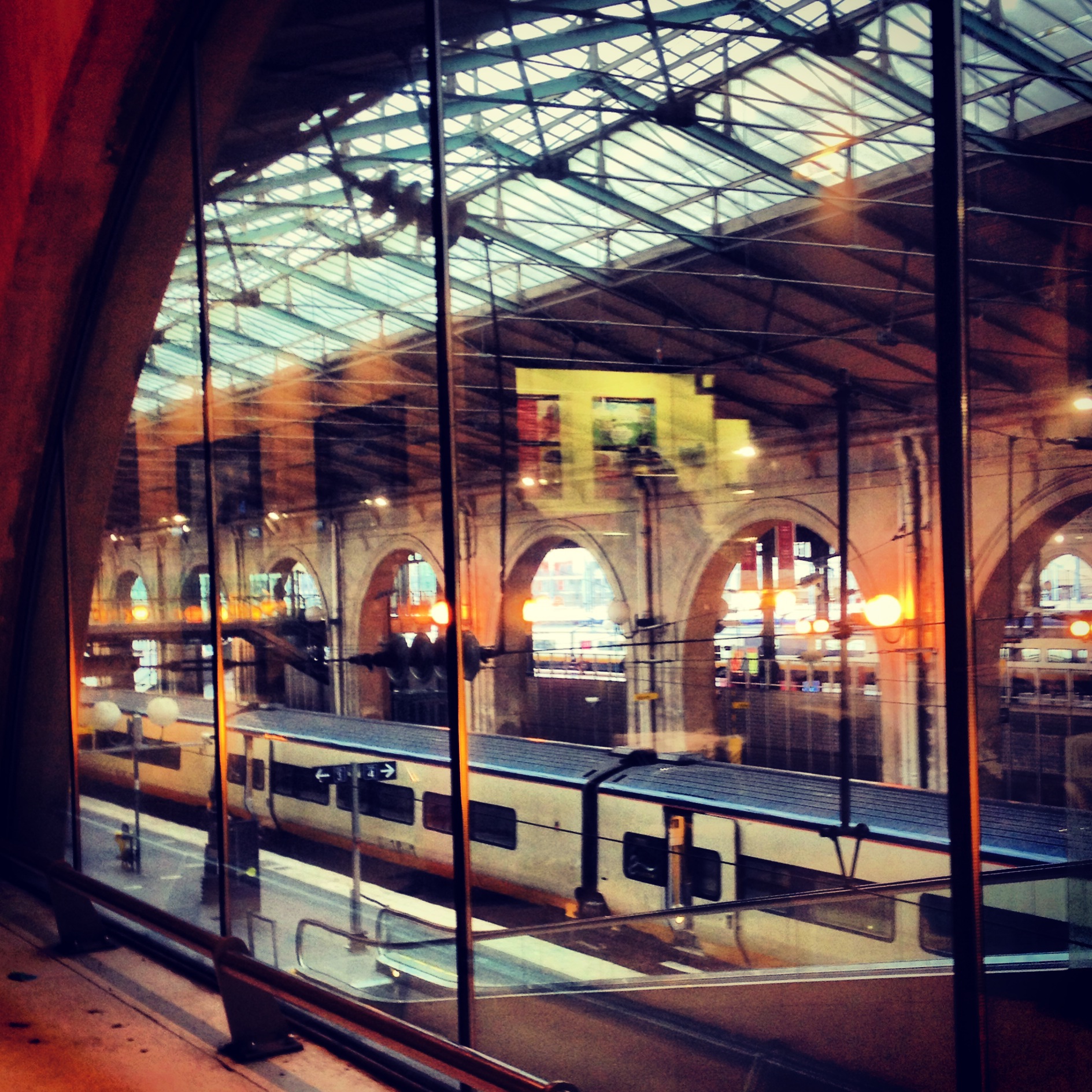 Was there any pre-arrival communication by the hotel with myself via email or social media?
Via e-mail, Twitter, Instagram, Facebook… I mean you name it, these people were on it.
However, I will say, on my first visit, Mrs. O requested that I bring her a very specific Pierre Hermé macaron: foie gras with dark chocolate. She only wanted four, but I believe she mentioned in passing that if I didn't deliver, I would have to sleep outside.
Unfortunately, it turned out that these specific macarons are a wintertime exclusive, so you can imagine my panic in JULY. It was exactly like when Meryl Streep demanded an unreleased copy of Harry Potter in The Devil Wears Prada, except I failed. Fortunately, she accepted a variety box and my sincerest apologies. (Even if I did drop them and they got a little crumbly, but shh.)
The lead-up to my more recent visit was far less stressful, though, as Mrs. O had accepted that these macarons are simply unavailable 11 months out of the year.
Did I try to engage the hotel via Twitter? Did the hotel interact with me and make me feel welcome/special?
She tweeted me all the way from boarding my train in Paris up until I got out of my cab in London! Very welcome, very special.
Had the hotel tried to gather any personal information (e.g. preferences) prior to my stay?
It would certainly appear so! The house was stocked full of wine and we had an entire meal based on cheese! Yes, night two was all about fondue and raclette, which Mrs. O pronounces VERY traditionally, with the harsh R and C and everything. See also: roquefort. I've tried, but I sound less fab/more like a kitten coughing up a hairball.
They also gave me the same room as my first visit, which they knew I liked.
Arrival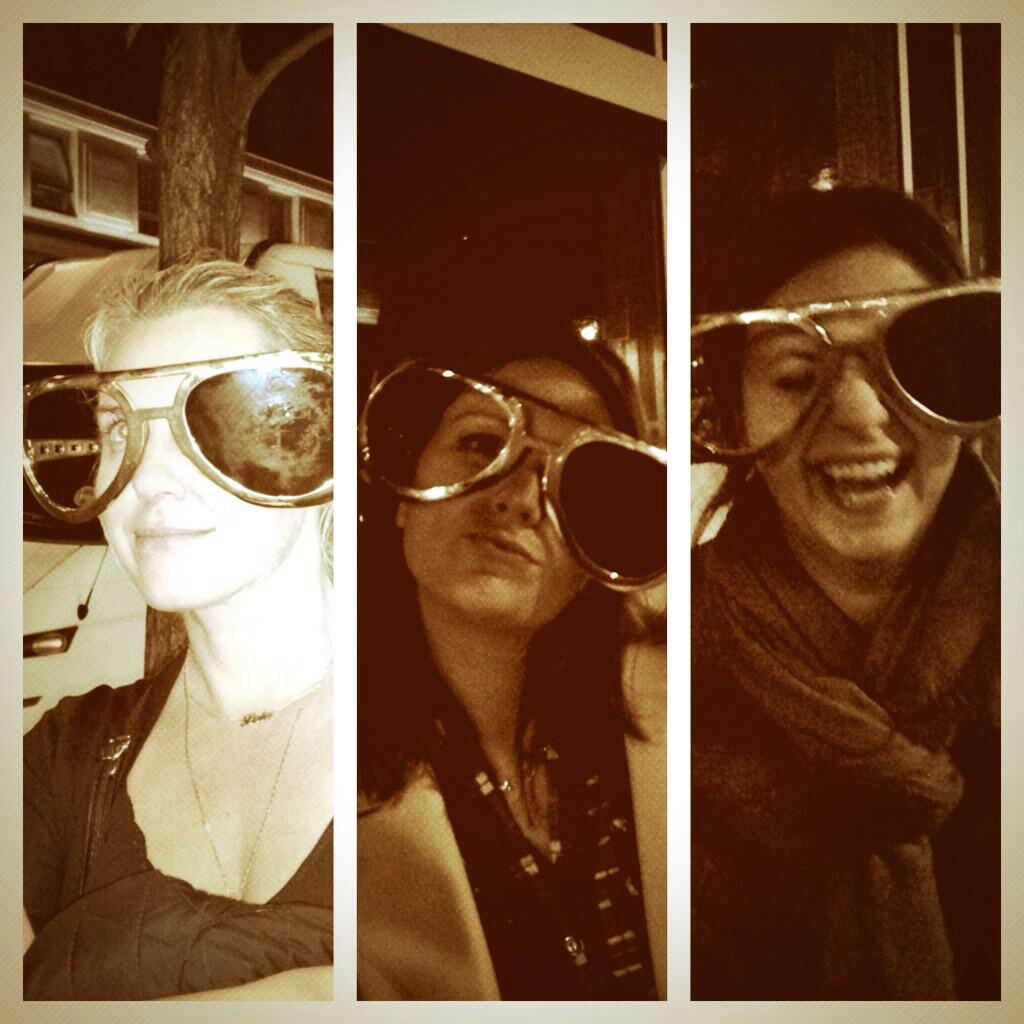 The wow factor! What was the hotel décor style?
Calming, comforting, and classy. Exactly what you would expect of Ana Silva O'Reilly, and nothing less.
How quick and efficient was the hotel check-in?
So efficient that Mr. O came INTO the city to check myself and Lola in. Over drinks! Very progressive, I think more hotels should do this. Mrs. O, Lola & I then arrived at the cottage around 4 AM and there were no problems getting into my room quickly and efficiently.
I mean, as far as I recall. I was pretty drunk, and it was 4 AM.
Was I addressed by name once reservation has been located? 
Yes, but it would have been very awkward if I wasn't.
Did I get an upgrade from my confirmed pre-booked room type?
Now that you mention it, I did not. I thought it was nice I was in the same room as last time, and you could argue that every room at the cottage is special, but next time I think I'll request an upgrade. They have something called "the blue room" downstairs where, it seems, their most esteemed guest always stays.
Lola got it both times I was there, which is starting to feel unfair, so perhaps next time I will battle it out for that one.
Did I feel genuinely welcomed by the hotel staff? 
I'm assuming by "the hotel staff," we're talking about Mr. O, so yes, definitely. Although, there was some confusion one morning when I mentioned I had been up early getting work done in my room. Mr. O looked concerned and very seriously told me, "Oh! I wish I had known! I would have knocked you up!"
Apparently that has a very different meaning in British English than American English, so it was a teaching moment.
Luggage – how many people did I have to tip before the luggage made it safely to my room? This is cultural, I know.
You know, Mr. O took my luggage all the way back from London for me while Mrs. O, Lola and I hit the town and I didn't even think to tip! Well, now I feel terrible. Especially because it was after he brought my luggage all that way that I accused him of offering to impregnate me (which, as we've already covered, is not what he meant.)
Man, this questionnaire is now making me feel like I might not get invited back…
Wi-fi – was I told anything about it? Was there a charge?
I was told all about it, free of charge! I was even offered the password without asking, and it was both fast and reliable. WELL DONE, O's.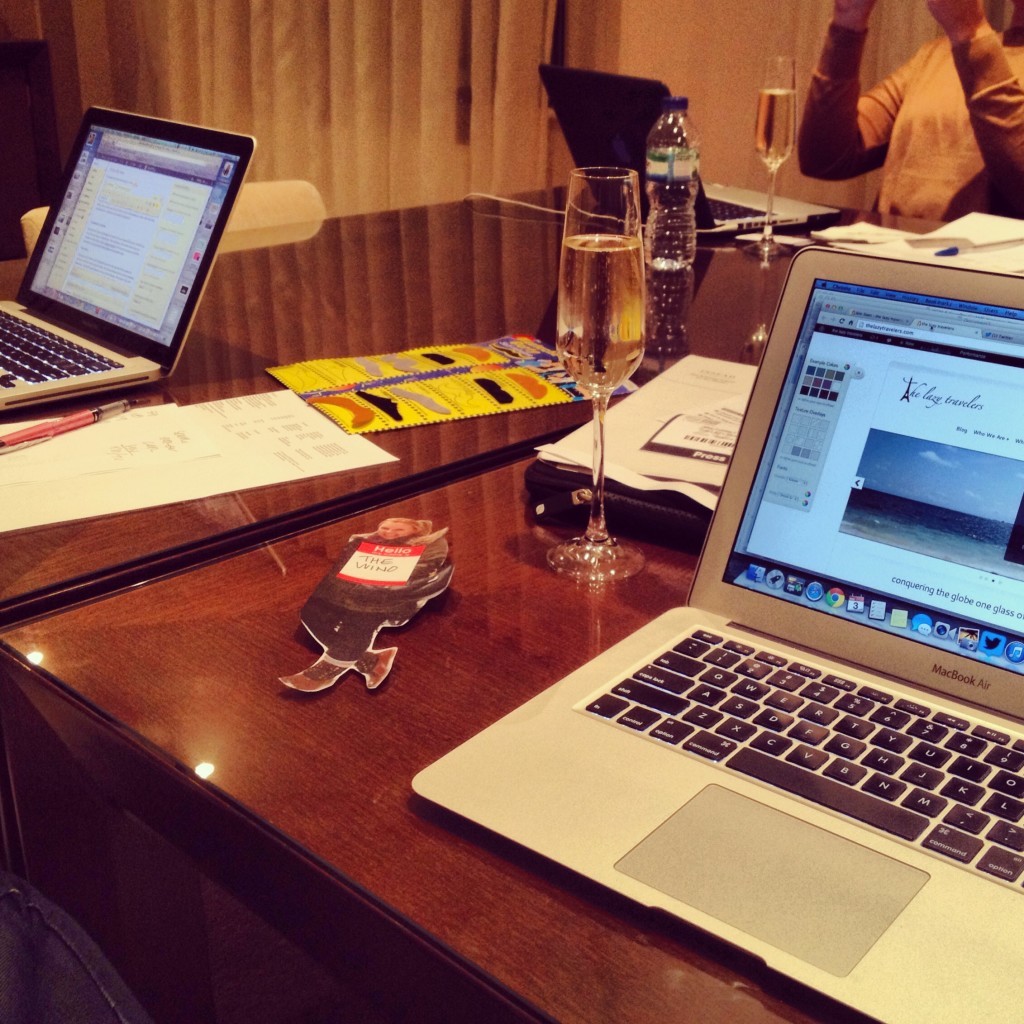 We made use of the wifi (+bubbles) as we prepped for WTM. And do you spy #flatwino!?
­Room Experience
First Impressions – décor, size and wow factor
My first first impression in July was pure bliss. The hubs and I had been sleeping in everything from a campervan to twin beds in seedy hostels in the months leading up to our stay, so we were just pleased to know we didn't need to check for bed bugs.
My second first impression confirmed that the room really is lovely AND complete with a view of what Mrs. O calls "the quiet neighbors"… aka a graveyard.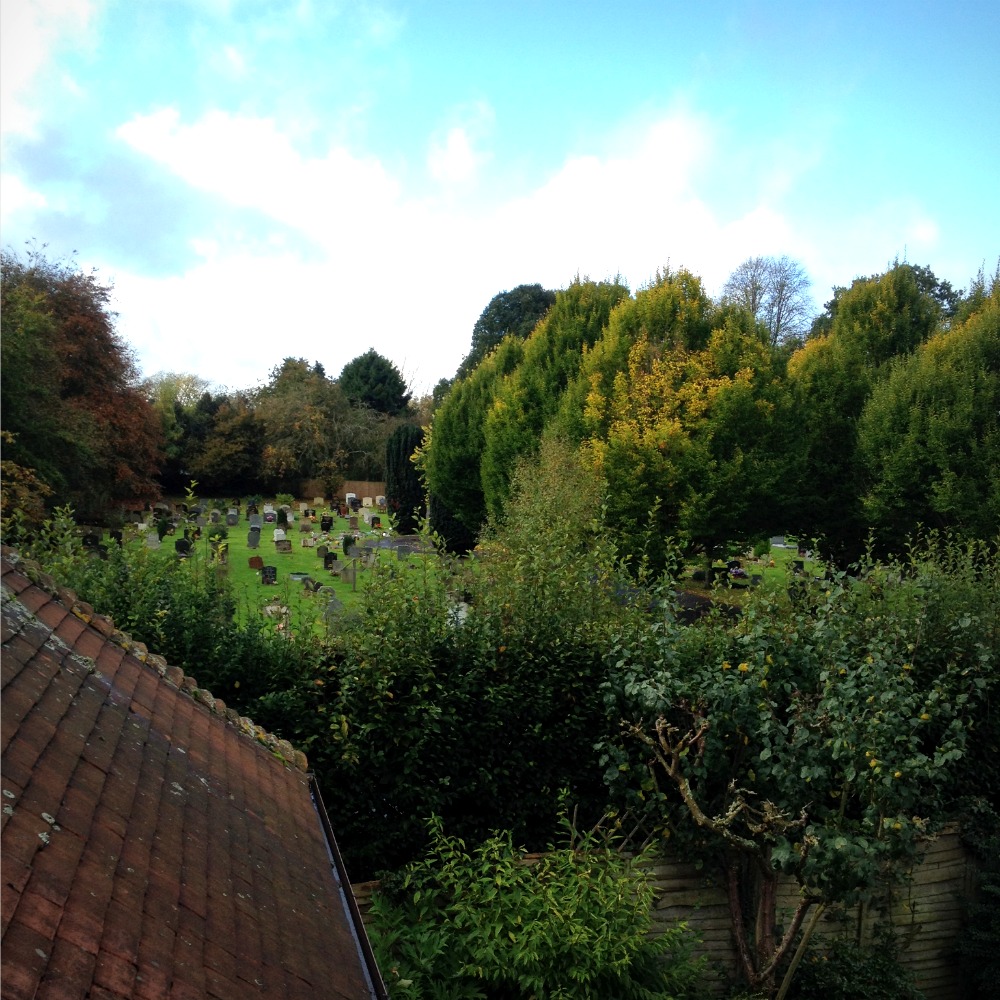 But a pretty graveyard, so I can't complain.
Welcome amenity
Hmm, nothing in-room, though there was almost always a drink in my hand immediately upon arrival on the first floor. Oh! Unless you count the hot pink toilet paper in the all-white bathroom on my first visit. I didn't notice it in any of the other bathrooms, so I feel like it was special, just for me.
But then it wasn't there on my second visit, so it must be a one-time thing. Or else Mrs. O really was upset about the macarons.
The bed
Très bien. Cozy, comfy, fluffy pillows. I forgot to pay attention to the brand of linens, but we know Mrs. O loves her Frette, so I wouldn't be surprised.
Closet/Wardrobe – proper hangers or those annoying ones where you need a PhD to get them out one by one? This is a personal pet peeve of mine. I can't stand them.
Seeing as the above question was worded by Mrs. O herself, you can see how important hangers are to the woman. And she's not joking! It was even a debate while I was there! The Great Hanger Shortage of 2013 was in full swing, and she ordered 80 hangers from Amazon, to be delivered tout suite. Though I didn't see the hangers themselves (I'm generally not fancy enough to require hangers when traveling), I'd wager that they're the proper kind and no PhD was required. Possibly an MBA, though.
iPhone Charger/Dock
I brought my own but there was always one available in the kitchen if need be. And the plug in my room was right next to my bed!
Bathrobes and slippers 
No and no, but I'm not really in the habit of donning other people's bathrobes and slippers when I visit, as that is exceptionally weird behavior.
Coffee and tea
Every morning, via Nespresso. Cha, yeah. Only the best.
Free bottled water 
On my nightstand upon arrival! Seriously! Helpful for my hangover the morning after our 4 AM arrival. More always available, too.
Magazine selection – had some nice surprises and doesn't happen often enough!
I didn't even notice. I'm sure I could have poked around a bit on this, so really, what this Q&A is teaching me is I need to be way more of a snoop.
Power sockets in useful places – we have more and more devices and we know where want them! By the bed, by the working area.
You might notice that Mrs. O has conveniently left "in the bathroom" out of her question above, just like they did IN THEIR HOME.
I was appalled, and let management know immediately. Mr. O explained that, apparently, the British government doesn't trust its people not to electrocute themselves, and as such, power sockets are not allowed in UK bathrooms. I'll take it up with the Queen, but in the meantime, I did my hair downstairs, where I could stretch the cord just far enough to see myself in their powder room mirror. This was my only socket-related complaint, though.
** Upon further inspection, I now realize that there is a separate "Bathroom" section where this might be better suited, but I stand by my words above.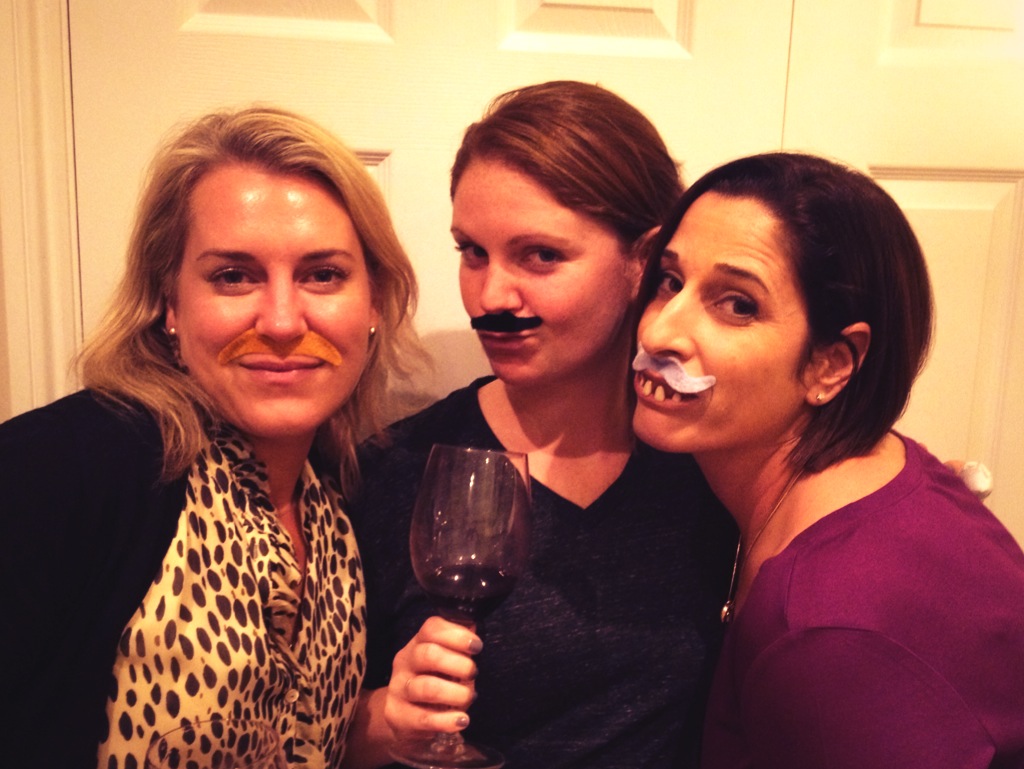 It just felt time for a picture.
Bathroom 
First impressions – décor, size and wow factor
Big, clean, and all white with the wow factor of hot pink toilet paper! The first time only, as you'll recall.
Bath, shower and taps – I am looking for Duravits and Hansgrohes (or other fab brands) around the world. How fab was the shower? And a little pet peeve… was I able to operate the shower without asking Mr. O for help?
I have no idea what a Duravits or Hansgrohes is or looks like, so can't help you there. But the shower was, indeed, fab. And I didn't have to ask Mr. O for help, which is lucky, because we'd already had one awkward miscommunication and "can you help me in the shower?" seems like it could have very easily been another.
Towels – yes please! How many and how soft and lovely? 
Holy crap, the towels. Big and white and soft and lovely and before I even planned on doing a review, the hubs and I asked Mrs. O about them. They're John Lewis and I will be buying, like, 30 sets as soon as we settle into our next home.
Toiletries – own brand, super brand, baby ones or proper ones? I shall find out! 
Shoot, I forget. I'm PRETTY SURE they were mini bottles of Acqua di Parma, but now I seriously can't remember.  Very nice, though.
Amenity kit – I don't want more sewing kits thank you very much, but I will need a shower cap.
There wasn't anything in my room, but on the full tour, Mrs. O proudly showed me her shower cap supply. I'm sure if I needed one, she would have had one for me, but I'm a wash-my-hair-everyday kinda girl.
Hairdryer – is it a human one, or just something stuck to a wall that only makes noise?
It was normal and worked great, and wasn't stuck to the wall. I'm assuming that's what a "human one" means, and not like, a person who came and stood next to me and blew on my hair. Because that definitely didn't happen… but if that's something luxury travelers like Mrs. O love, maybe I should research. Her hair does always look so nice.
Breakfast
Breakfast is served anytime you want it—be it when you get home after a night out, or wake up at 12 PM. Bonus points to Mary Anne, who made us all pancakes & syrup from scratch on her first jetlagged morning.
Bar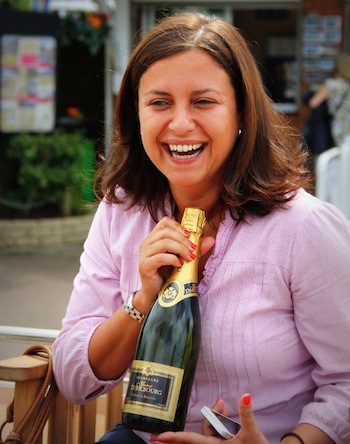 Champagne, check. Prosecco, check. Wine, check. Liquor? Mrs. O is a cocktail maven, of COURSE there's a full bar. And she's quite the mixologist! Not a very good cocktail namer, though. I asked her what she called one drink, and she said it was a "ginger lychee apple rosemary martini." Which, if we're being perfectly honest, is just a list of all of the ingredients.
 General Thoughts
How good and reliable was the wi-fi?
Perfect all around, and with four bloggers in the house, it had to be.
Did the hotel interact with me via Twitter during my stay?
Yes, as did the guests! And also Instagram, and maybe even Facebook? We were all very connected.
Location
Available by direct invite only, sorry Charlies. Like I said, very exclusive.
Cost – rooms starting from…
A minimum of four limited-edition Pierre Herme macarons (or their rough equivalent) for the first stay, complimentary each time thereafter. Additional gifts are always welcome.
Would I recommend it to my best friend?
Yes, and I'm sure the O's would love to welcome the wino! Probs can't just go about recommending the cottage willy nilly though. It is a private residence, after all. Instead I recommend you befriend the O's and get an invite yourself. You should be their friend anyway, they're tops.
Would I stay again?
Assuming I'm asked back after posting this, then yes, without a doubt.
—
Should you find yourself in Henley, either as an O'Reilly guest or not, I can also recommend the below local establishments (all introduced to me by the O's, natch):
For a taste of local history // The River & Rowing Museum
For a luxury cruise down the River Thames // Hobbs of Henley
For a modern take on pub fare // Orwell's at Shiplake
Stay tuned because after Henley (and a few businessy days in London) we took this show on the road! Next stop: Amsterdam. Actually, Paris first, then Amsterdam. Just bear with me here, this was all last year (ba dum chaaa).
xo!
the romantic
Disclaimer: I was a guest of Ana & Simon, but all opinions are my own. Thanks for welcoming me into your home, O'Reilly's! I SHALL RETURN.
…I didn't mean for that to sound so threatening, but like, can I still come back?