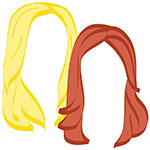 Call us predictable, but one of our favorite things about summer is drinking outdoors. Really, is there anything better than a cool drink under the hot sun? Our fair Irish skin may disagree with us, but we consider this perfection.
New York City has no shortage of amazing restaurants and bars, but where in this concrete jungle can you enjoy the outdoors whilst getting your drink on? The Lazy Travelers investigate (aka, spent many summer months in the past getting drunk at these locales).
The Standard Biergarten, 848 Washington Street // Ok, so techniiically this biergarten has a roof and is hidden away from the sunshine, but in the summer months it's completely open air. Connected to the ultra hip Standard Hotel in the Meatpacking District and directly beneath the High Line, it's got more of a scene than The Lazy Travelers can normally cope with. But, any place that specializes in liters of German beer and soft pretzels the size of your head is A-OK in our books.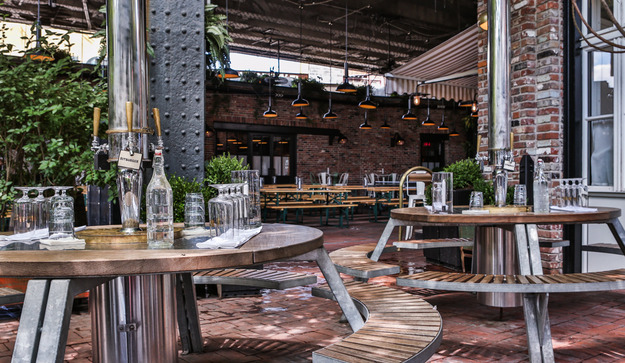 Photo courtesy of The Standard
Also of note: The Standard Biergarten has something called the Stammtisch Table, where you pay by the hour and they serve you as much unlimited beer as you can handle. We can get behind that.
Boat Basin Cafe, West 79th St in Riverside Park // This outdoor restaurant and bar is perched on the edge of Riverside Park overlooking the Hudson. Open daily for lunch and dinner, it's the perfect spot to cool off with a cold drink after a walk through Central Park or the streets of the Upper West Side.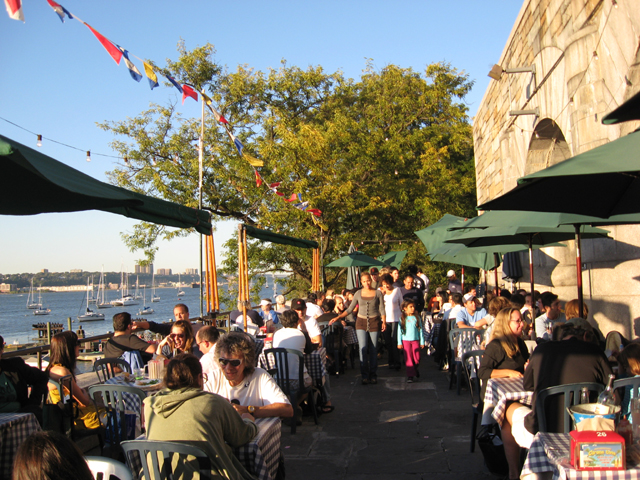 Photo courtesy of Biking in Manhattan
Added bonus? It's pup friendly, which means you can bring-your-own-pug or just spend time staring at other people's dogs.
Birreria, 200 5th Avenue (at 23rd St) // There are many places within Eataly that we could waste away the day (mmmm, pizza) but if you're looking to spend time in the fresh air, head upstairs to the restaurant and brewery, Birreria. The rooftop bar is covered with a glass ceiling which retracts in the summer months to let in the cool breeze.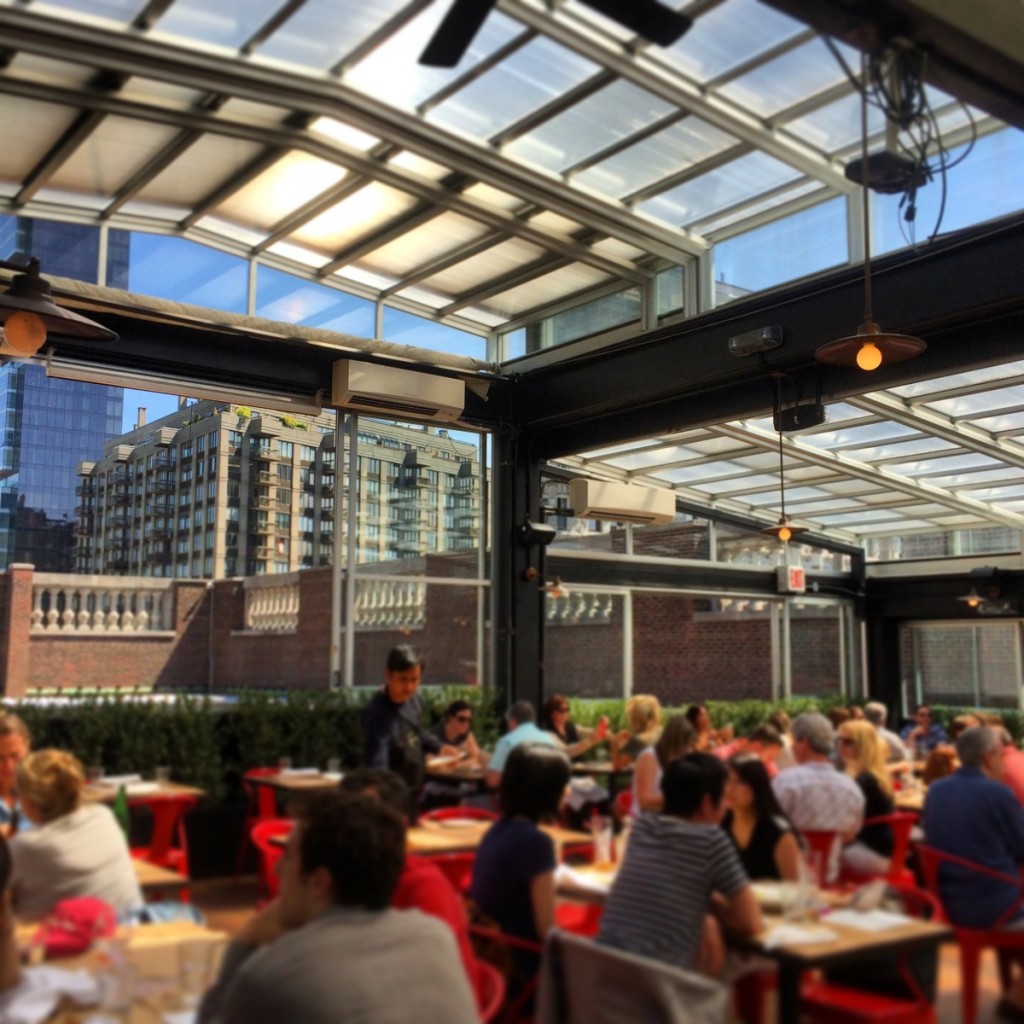 If you're a craft beer lover, you'll adore the unfiltered cask ales brewed in house and served through traditional hand pumps at room temperature. If you're NOT a craft beer lover, that's ok too, because they have plenty of delicious Italian wines on hand and a menu that reflects all the delicious Italian delicacies downstairs. Come hungry and thirsty, for sure.
The Frying Pan, Pier 66 at West 26th St. in Hudson River Park // All New Yorkers know that it's not really summer until happy hour pics from The Frying Pan start flooding your newsfeed. It gets jam packed here on nice days and is a little out of the way, so get there early or have a back up plan. Lord knows you won't be able to just stumble into the bar next door if you can't find a table. If you luck out and claim a space of your own, order a bucket of beer, sit back, and relax.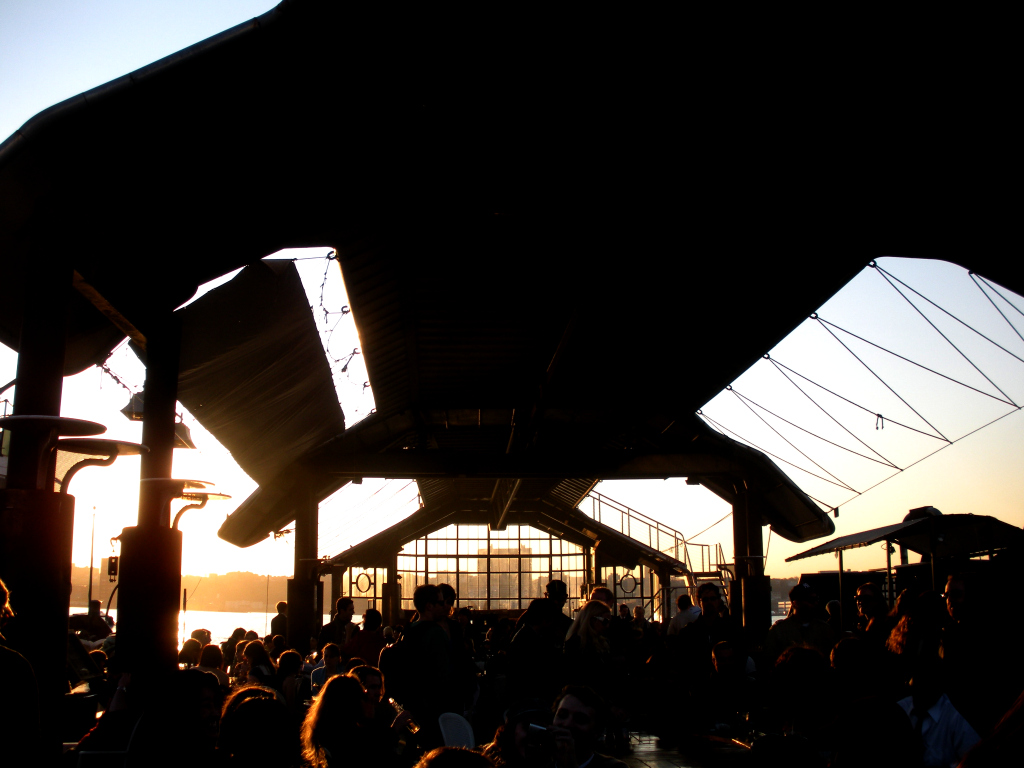 Central Park Great Lawn, Central Park West & 79th Street Entrance // Ok so, this isn't technically a bar… and, actually, technically you're not supposed to drink here. But everyone does it, and we'd be remiss not to mention it. Central Park is the city's backyard, and Manhattanites treat it as such. Grab some blankets, call your friends, and set up a meeting stop somewhere in or around Belvedere Castle.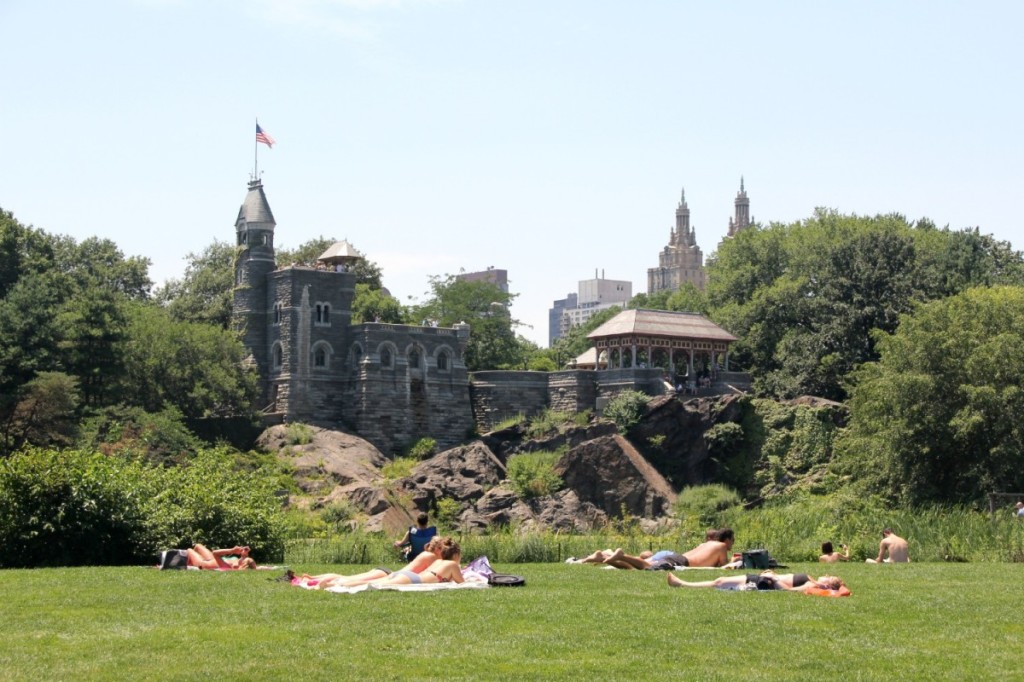 It's prime for people watching and sunburning, so what more could you really want?
Humphrey at Eventi Hotel, 839 Avenue of the Americas // Located on the very bottom border of central Midtown, Eventi Hotel is an absolute gem in the rough. We've walked by the modern Kimpton Hotels property more times than we can count, and finally had a chance to peek inside during #LTnyc. The decor is right up our alley, as is the 30 foot TV screen they have set up directly outside the windows of this second floor hot spot — particularly perfect for special event viewings.
One of the best parts, though? Even if they weather isn't compromising, the floor to ceiling windows, all white + natural wood decor, and mass amounts of greenery lining the walls make you feel like you're in the great outdoors. We were there on a chilly evening in March and as soon as we walked in, it was one big dose of instant springtime. If that's not some New York magic, then we don't know what is.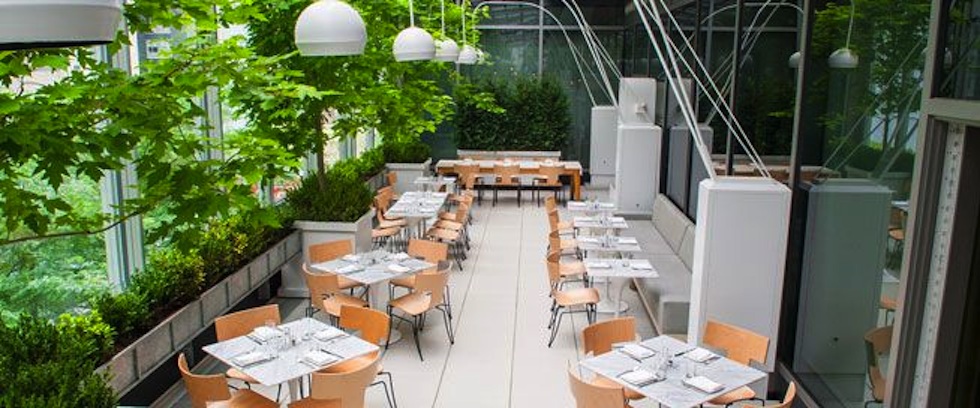 Photo courtesy of The Eventi
Also, they have wine on tap: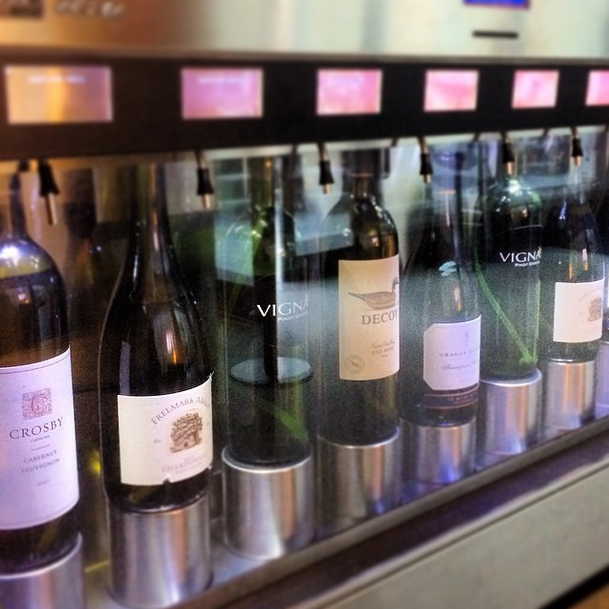 And popovers.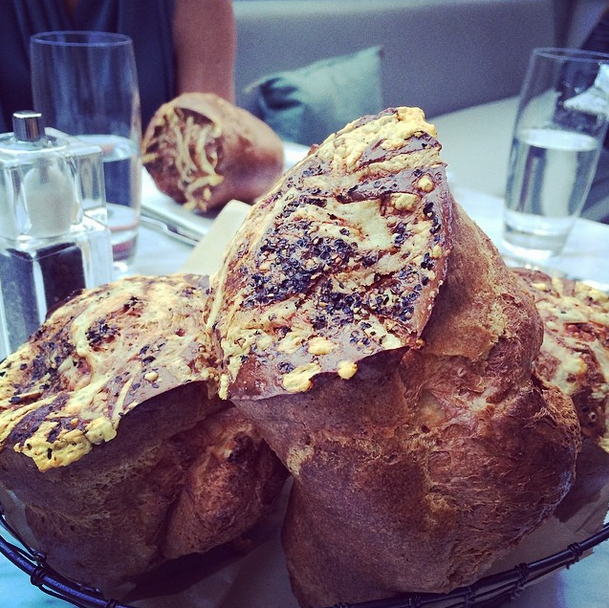 Basically it's our new favorite place.
And there you have it, little darlings. The very best places to imbibe outdoors, in our humble opinions. Any you'd add? What's your favorite city for such madness?
xo!
the romantic & the wino
– Special thanks to The Eventi team for inviting us to check out Humphrey. Neither the popovers nor the lovely company were bribes — this place is the real deal and we can't wait to return. All opinions, as always, are our own.