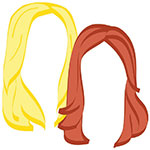 OH MONDAY. It's the day of the MET Ball, which means the romantic is a little preoccupied, but otherwise, we're doing a-okay.
Enjoy your daily round-up!
Thoughts on tattoos as a souvenir from your travels? If you're for it, here are a few places to visit! 20 iconic tattoo shops around the world
Oh. My. God. Love your job!
We love this, always! 7 Ways to Travel for (Almost) Free
The romantic is going to think of this the next time she's waiting in line at Fairway:
xo!
the romantic & the wino