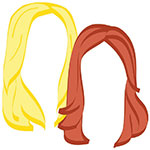 If our mornings looked a little more like these, we might be a little more excited to get out of bed. 40 Breathtaking Examples of Serene Sunrise Photography
We didn't hear about this supposed "supermoon" until after it was already over! These photos kind of make up for it. Best Shots of the Year's Biggest Full Moon
Loving this photo essay of Michael Hodson's trip though Italy: A Small Photo Journey
We vote gondola for your first time to Venice or as a big romantic gesture, and no to gondola under any other circumstance due to the outrageously expensive fares. To Gondola or Not to Gondola?
Not exactly a travel photo, but in honor of the wino's Month of Me and the romantic's crazy work schedule this week:
Photo courtesy of Sash Photography
Happy Travel Tuesday to everyone!
the romantic & the wino