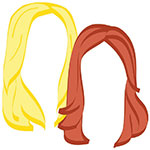 How we both managed to come down with sinus infections on the same day while being 200 miles apart from each other is baffling. Let's just attribute it to our peculiar (if you ask the hubs and the BF, they might say "uncomfortable for others") sense of ESP that typically leads to us reading each other's minds and finishing each other's sentences.
Anyway, what this means is that we both were too lazy sick to arrange for our weekly jetsetter. However, Wine Wednesday remains strong and true, and we can foresee a little self medication in our near futures.
Enjoy our daily roundup, brought to you rain, shine, or sinus infection.
Scotland is a serious contender for our Lazy Travelers European Adventure in Fall 2012. We're keeping these suggestions on record until then: Edinburgh Farmer's Market & Specialty Shops
We might switch out a few activities in favor of more day-drinking and eating, but hey, to each his own. 36 Hours in New York
Interesting read, to say the least. Why Social Media in Travel Sucks and 20 Things You Should Now Do About It
Also: How Mobile Technology is Changing World Travel
And, one of the many places we wish we could be today:
Panoramic view of Machu Picchu
xo!
the romantic & the wino