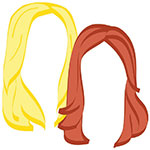 This is both gorgeous and unsettling. Wow! Lightning striking the Eiffel Tower.
Apparently if you want to see this in real life, you have to be an experienced cave diver. We'll settle for photos. Underwater wonderland: Divers take the plunge to reveal stunning images of beautiful crystal cave in depths of Russia
Warning: do NOT Google image search "Island of the Dolls." The scariest spots around the world
We'd add Philadelphia to this list too! Boat House Row looks best against the changing leaves. America's Best Cities for Fall Travel
Lastly, some Thursday cute for you: This totally stole our hearts this morning.
xo,
the romantic & the wino