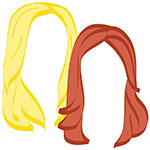 So this article from the New York Times? It spoke to us. Vacation Sabotage: Don't Let It Happen to You!
We're actually pretty surprised. We'd expect the worst to come from Middle America. What We're Reading: The Worst-Dressed City in America
Nerds, we're 0 for 0. Anthony Bourdain's "13 Places to Eat Before You Die"
Looks like the Seaport is climbing its way to the top of our summer bucket list. South Street Seaport and the Brooklyn Bridge.
xo!
the romantic & the wino