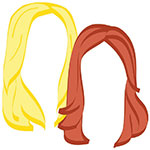 Oh hello, Wine Wednesday. We know you well. Raise your glass and let's get reading!
Yeeeahhh, we know the feeling isn't mutual, but we REALLY want to snuggle with a polar bear. An Arctic Encounter With A Polar Bear
Interesting. We usually go for "one million months" in advance, but that's because we're easily excitable. How far in advance should I book my flight? Here's what the numbers say
More details about the run-ins with the law, please and thank you. Also: that last picture. 365 Days of HoneyTrek
Ok, seriously. WHAT IS WRONG WITH PEOPLE? 10 Gross Things Flight Attendants Have Seen On Airplanes
Yep, pretty much all we want to do all day, from now until June.
Follow us for more @_theromantic & @_thewino!
xo!
the romantic & the wino