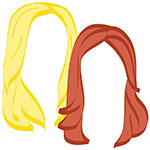 Hallelujah, travelers! It's Friday afternoon! C'est le weekend!
Both of us are just about ready to drop to our knees and cry tears of relief and joy after abnormally tiring and stressful weeks. For those of you that can relate to our pain and suffering and want nothing more than to zone out for a few minutes to enjoy some #frifotos, we're here for you. Enjoy these colorful photos from the wino's trip to the National Zoo this week (we know, its kind of a stretch).
Happy Friday! Here's to a good weekend.
the romantic & the wino