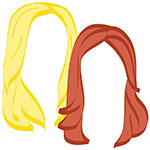 Would it surprise you even a little if we revealed that we were overly excited that this week's FriFotos theme is festive? Umm hello, we're practically honorary Santa's elves at this point, we're so damn festive. Except… when we went to gather our photos together and start our post, we realized: we've already been so festive around here that we've used up a lot of seriously festive material. Case in point: this and this.
Never fear: we accept your challenge, FriFotos panel. LET THE FESTIVAL BEGIN. Tell us: what's more festive than Christmas lights?
Are you pro-colored lights, such as these beauts on St. Stephens in Dublin?
Or do you prefer a more subdued & classic light display, as seen below at Foggy Dew, also in Dublin?
Or maybe you prefer to stay monochromatic while still glitzing it up, a la this NYC Christmas tree at the Bloomberg building?
No matter where you stand on the lights spectrum, I think we can all agree on one thing: there IS a line between festive and tacky. It may be a thin, thin line, but we think this house in PA managed to cross it the teensiest bit:
Happy Friday, loves!
xo,
the romantic & the wino
– all photos are our own