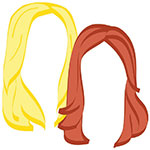 There's a lot happening around here, and on top of all of it, it's also FriFotos day! Today's theme is pools, and it's kind of a tease. The weather took a real turn for the worse this week, and we're not loving that we can't wear sundresses and flip flops for our reunion weekend. Not loving it all.
We are, however, loving the photos we've been seeing all day (by "love" we mean that it's been really difficult not to book a trip and jet ourselves off to somewhere tropical immediately). While we never tire of endless photos of infinity pools and fancy resorts, we're here to show our loves for the backyard pools. You know the ones. There's always an assortment of random pool toys on hand, and it always smells like the perfect mix of chlorine and fresh cut grass, and you can lounge around in your most absurd bathing suit without feeling judged.
If you're extra lucky, someone will provide you with necessary pool snacks (and drinks!) and these are the kinds of pools where it doesn't even matter if there's not a tiny umbrella floating in your glass.
Seriously, summer. Hurry up.
xo!
the romantic & the wino