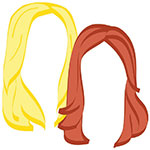 TGIF, it's true! The wino has already had a few DC summer-like days this week, and the romantic is crossing all fingers/toes/eyes that the weather in NYC turns itself around this weekend and allows for at least one day of sundress wearing.
Things that aren't helping? This frifotos theme of "flowers." We just want to spin around in a meadow, is all. The romantic is finding solace in the curb side gardens in her neighborhood:
And the wino is pro-free daffodils from her mama's garden in Bucks County:
Tell us your weekend plans?
xo!
the romantic & the wino