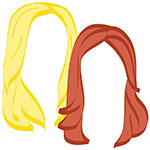 Alright, guys. Every week, we love looking at everyone else's "FriFotos" posts on twitter. We want in on this. So now, every Friday's NTR is going to be just a little bit different. That's right, we're switching it up. Getting crazy. Jumping on the bandwagon.
This week's prompt: yellow.
The Eiffel Tower in all her glory.
The walls of Toscana Saporita in Tuscany
The tagline for our most favorite burger place in all the world
(only to be consumed in Dublin)
And the cutest little candy shop in Vieux Nice
If you want to see more #frifotos this week, check them out on twitter.
xo!
the romantic & the wino
P.S. Just in case you need to be weened off of our usual link-heavy Friday NTR's, we'll appease you once more. Check out our latest for Broke Girl's Guide!: Classic (and Not-So-Classic) New York City for the Holidays