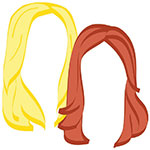 Oh hey! How was everyone's long weekend? Well, not everyone. Only you fellow Americans and you Brits, as far as we know. But now that we're all back in the swing of things, shall we get reading?
Ok, perfect.
Save your pennies. 'Dracula's Castle' On Sale for $80M
We want to travel on all the dates. Best and Worst Dates to Travel this Summer
None of these things seem weird to us? 36 reasons Philadelphia May be the Weirdest City
Good thing we live in modern times where pictures are in color, otherwise how would people have known who was the blonde and who was the redhead, ya know? Are Colorized Photos Rewriting History?
We'll take two please! The Private Island is Up for Sale and it Looks Just Perfect
In case you blinked, the romantic spent a few days in Capri last week.
Keep a better eye on us here, here and here!
xo,
the romantic & the wino