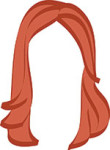 There's no question: part of the allure of Fiji is the feeling of being completely and totally remote. If ever there was a place to encapsulate that feeling, it's the Yasawa Island Resort & Spa.
 Some of the best advice we got when planning our Fijian takeover was to go as far out on the Yasawas as possible—which is one of the main reasons we chose to visit both Nacula and Yasawa Island.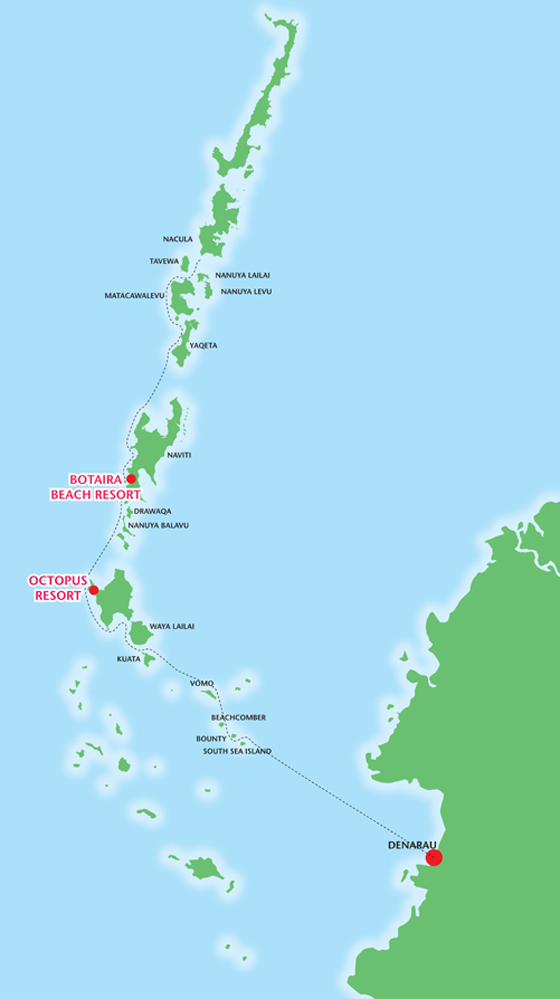 Map of the Yasawa Islands thanks to SSC. Yasawa Island is just past Nacula Island at the tippy, tippy top…
Yasawa Island is so far out that SSC doesn't even offer transfers to the island. The only way to get to and from the resort is via the resort's own private seaplane or a charter. I've never felt more separated from the rest of the world… and it was amazing.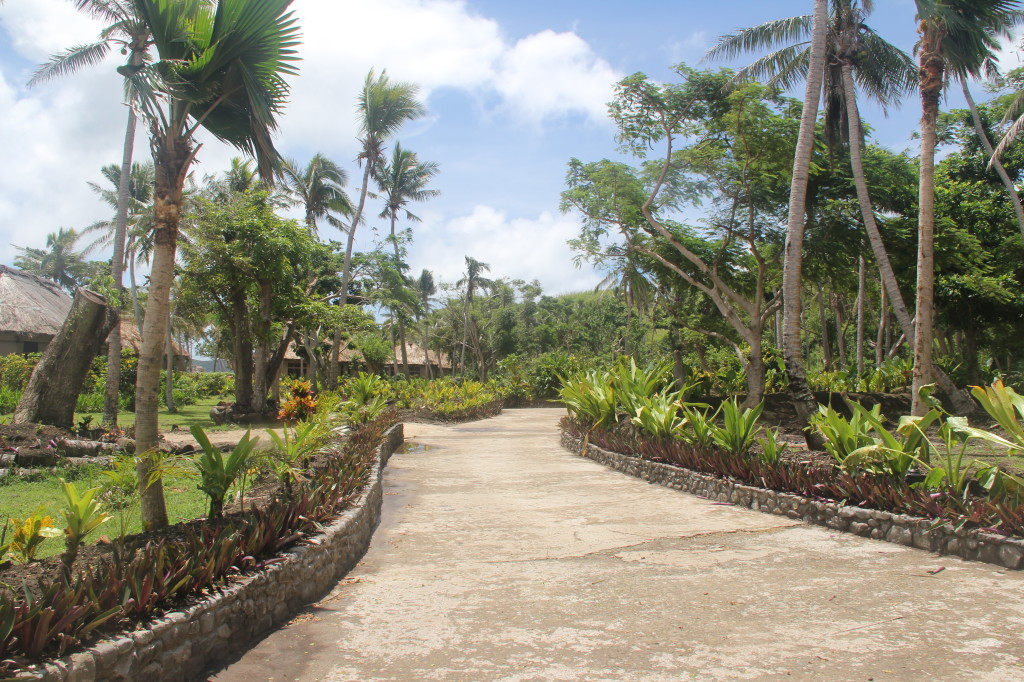 You may remember this dreamy walkway from the wino's inaugural Style Spotter post, and don't worry: the resort only got more gorgeous at every turn.
In keeping with our Fijian experiences, we were greeted immediately upon arrival with a cheerful song, a hearty "BULA!" and two fruity welcome drinks. Most importantly, this guy was on hand for some serious tail wagging and head scratches: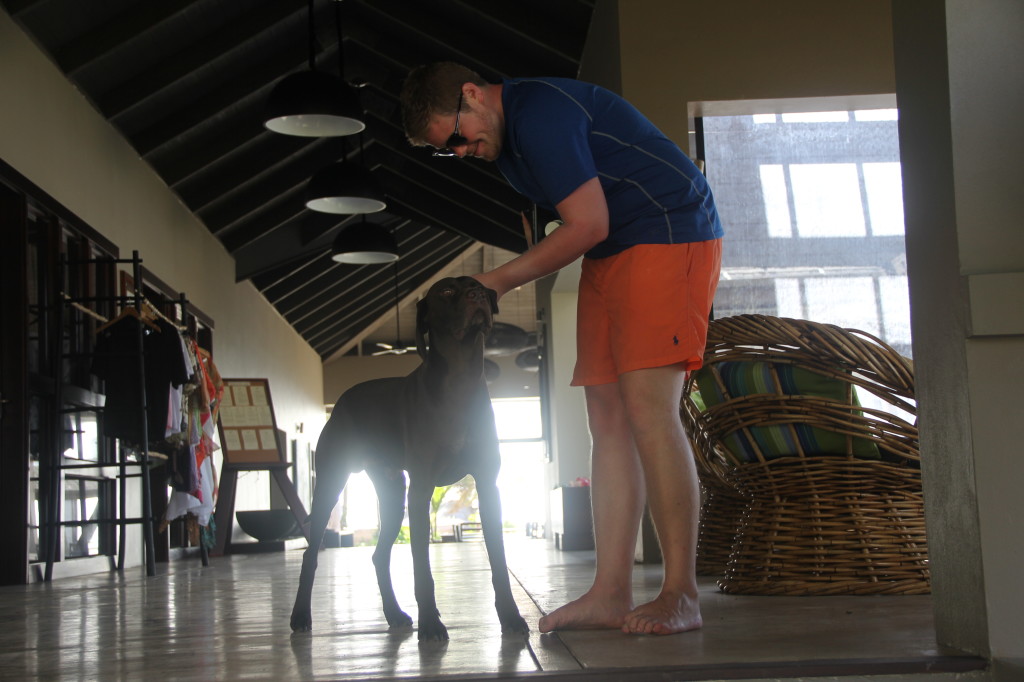 Puppy love automatically wins me over, I can't help it.
As we had arrived via a chartered boat from Oarsman's early in the morning, we were invited to enjoy breakfast while they prepped our bure. Meals at Yasawa Island Resort & Spa are included in the nightly rate, and we could tell from breakfast that these would be our best meals throughout our time in Fiji. To be honest, Fijian food hadn't impressed us much, but this resort definitely turned things around.
From there, we were led to our beachfront bure: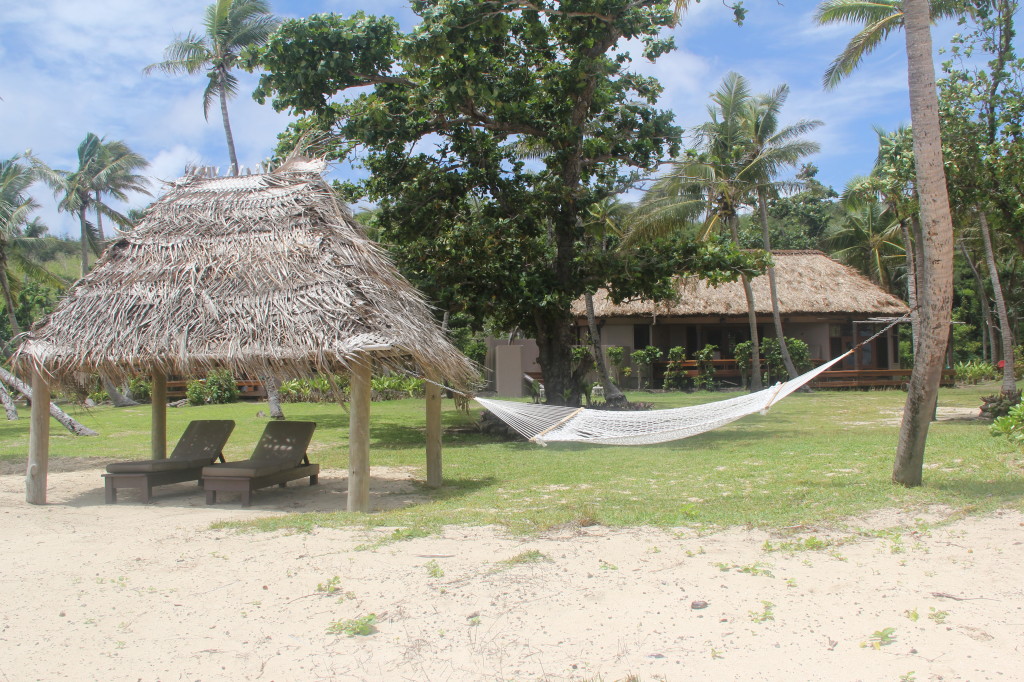 Huge bonus points for offering each bure their own shaded loungers AND hammocks.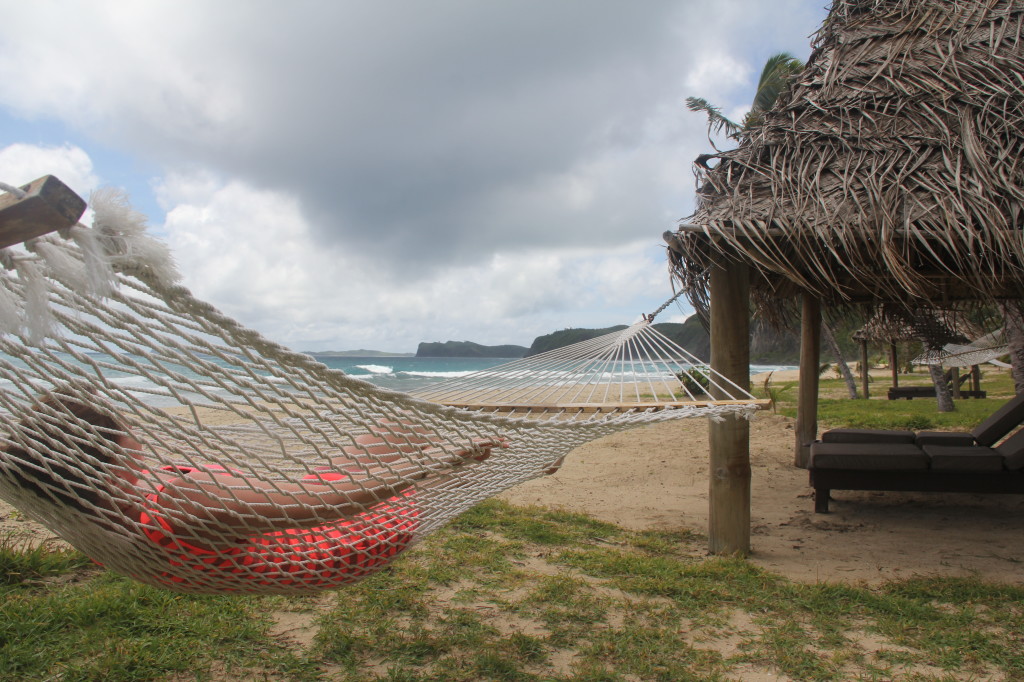 Mine all mine.
Though we opted to spend most of our day poolside (the beach was a little rough and choppy during our stay), I can imagine that not having to worry about beating the crowds to a spot on the sand is the perfect motivation to stay in bed just a little longer.
Oh, and in case you were wondering, this was the bure-front view from our private porch: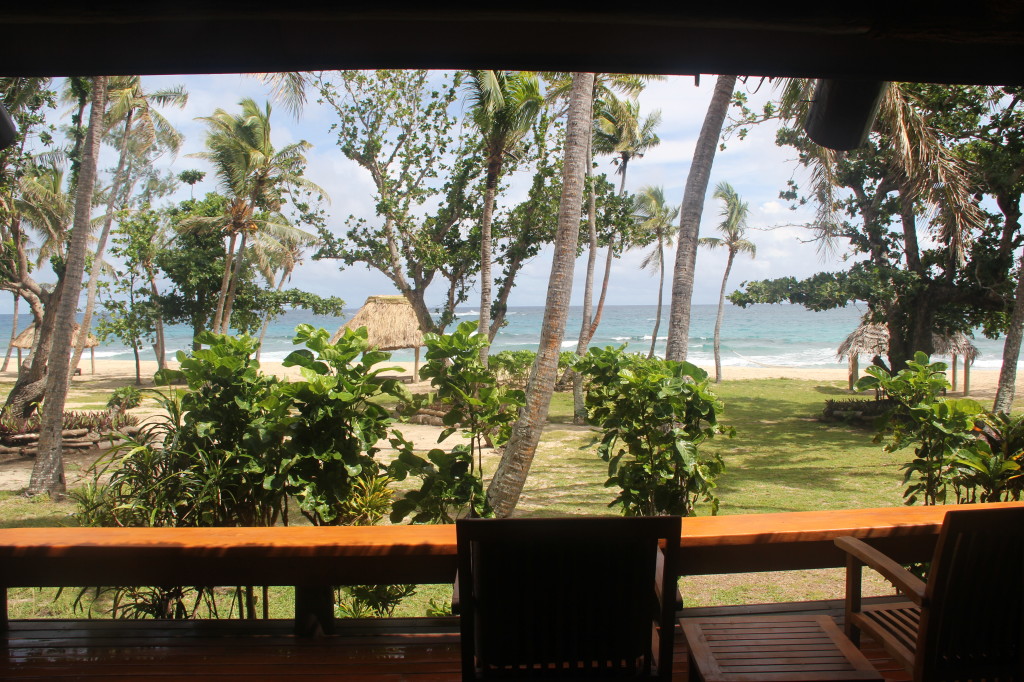 I don't know what squatters' rights are in Fiji, but I'm trying to figure out how to make this view mine forever and ever. Will get back to you.
The bure only got better as we walked through our front door, and found a bright and sunny villa waiting for us: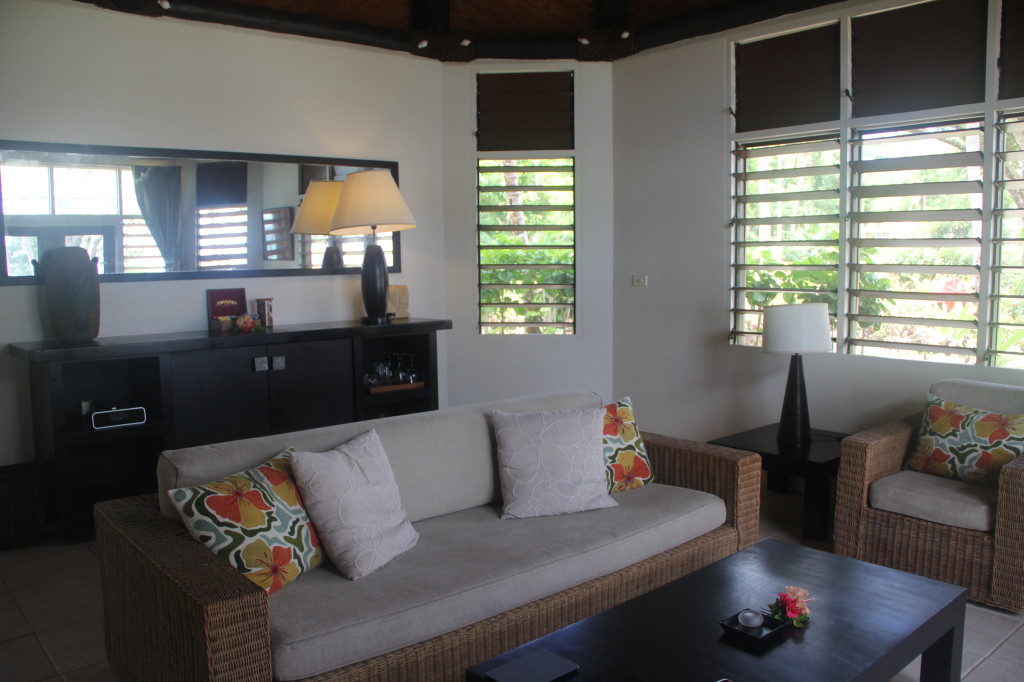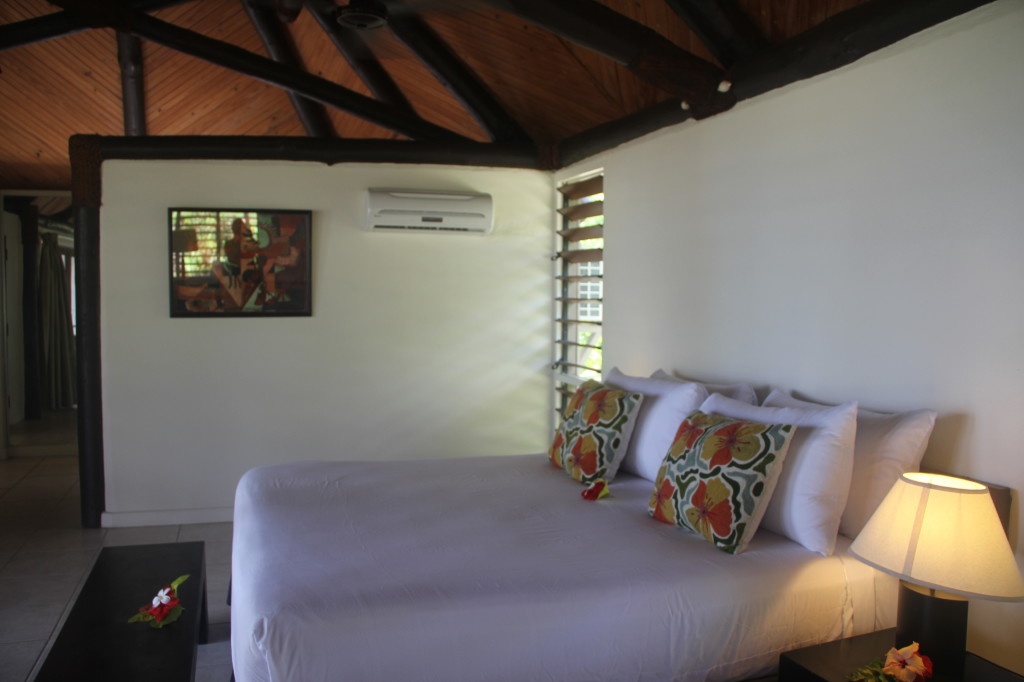 If you're going to call yourself a beachfront anything, it should be a law that you have perfectly billowing curtains on the premises: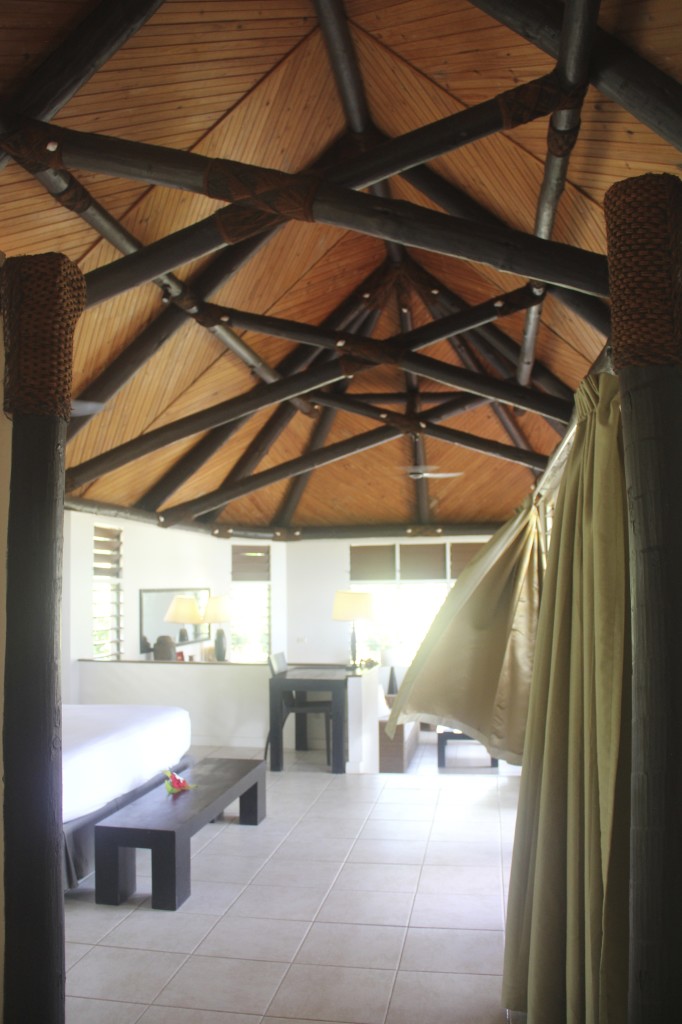 Though the bed might have been the comfiest on our trip to date, my most favorite part? The private outdoor shower: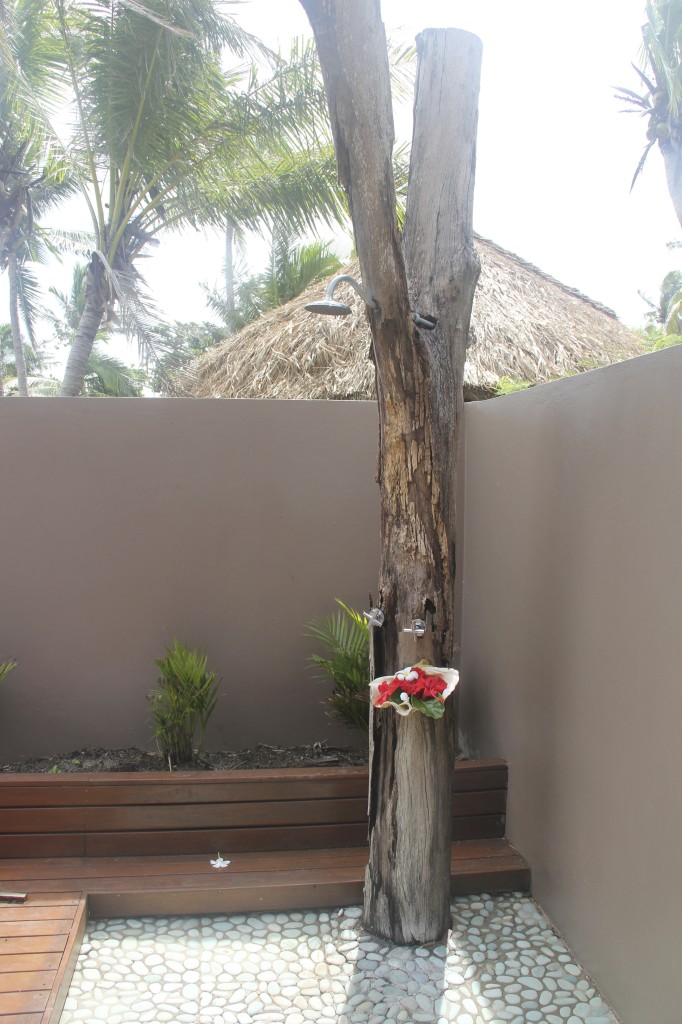 Don't worry, there was an indoor shower in case it rains during your stay (or you're too sunburned to bear anymore UV rays on your shoulders, ahem).
After we explored every corner of our bure (and maybe jumped on the bed, I don't know, it was all a big blur of crisp white sheets and lots of sunlight), we strolled down the white sandy beaches.
This—THIS—is what Fiji is all about. Are you sold yet?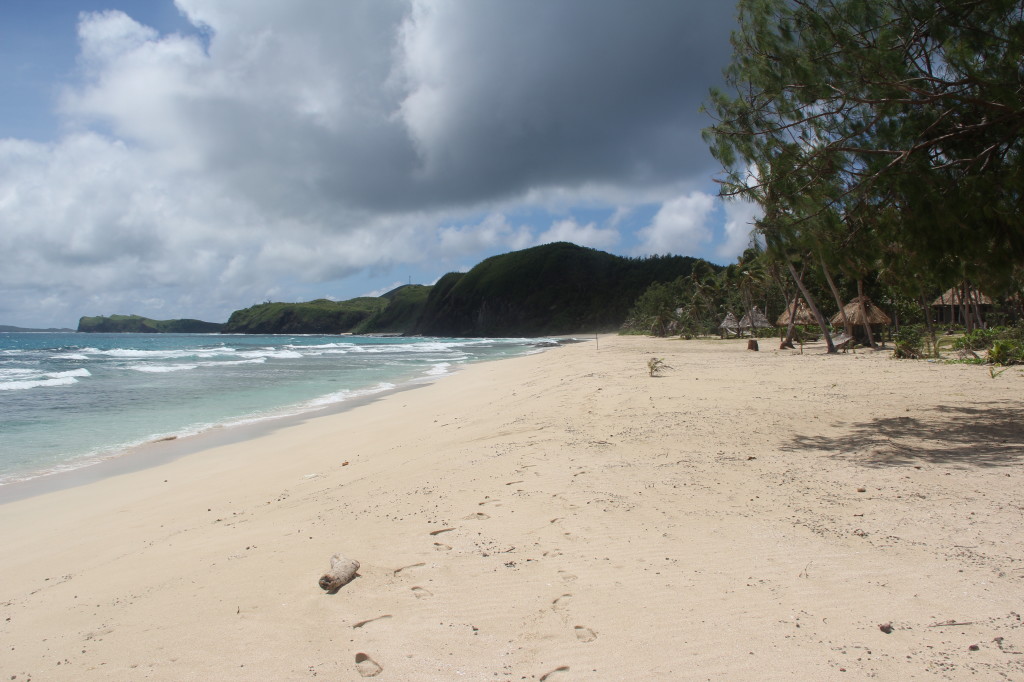 Though we didn't have enough time to sign up for any activities, we did stop to admire the little beachfront activities hut and perfectly perfect turquoise kayaks (to match the perfectly perfect turquoise ocean, I'd guess):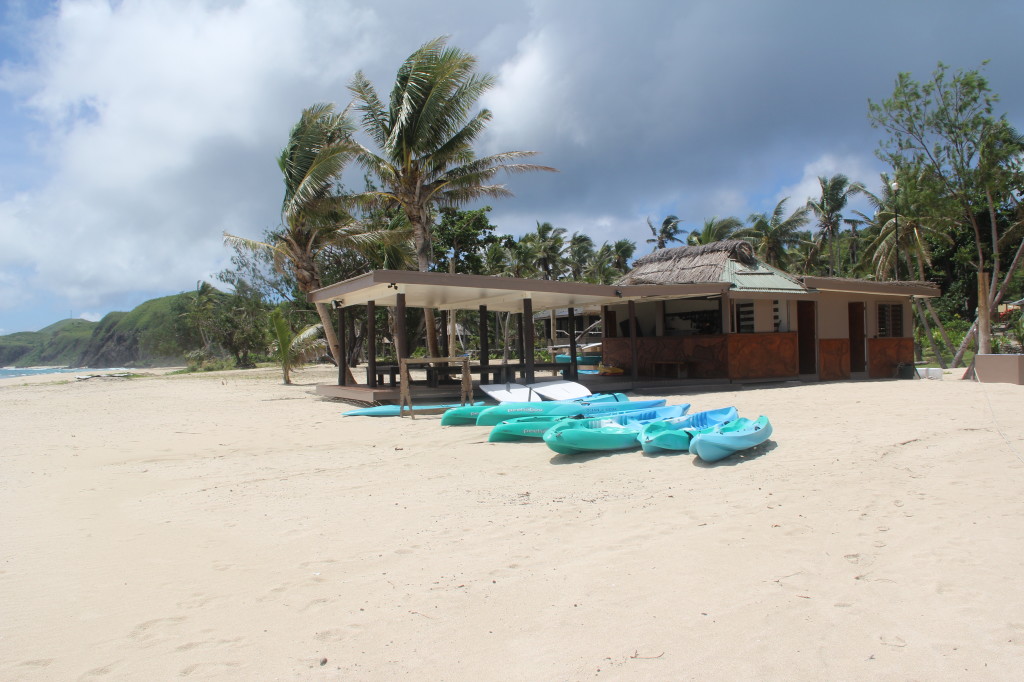 Along with kayak rentals and daily snorkeling excursions, the resort will also take you on a local village tour to meet the chief, attend a church service, or visit the school. Most of the activities are included in the nightly rate, and the guests we spoke with all raved about their own experiences.
One activity that isn't included is a visit to the spa, but after our own tour, it's clearly a worthwhile splurge: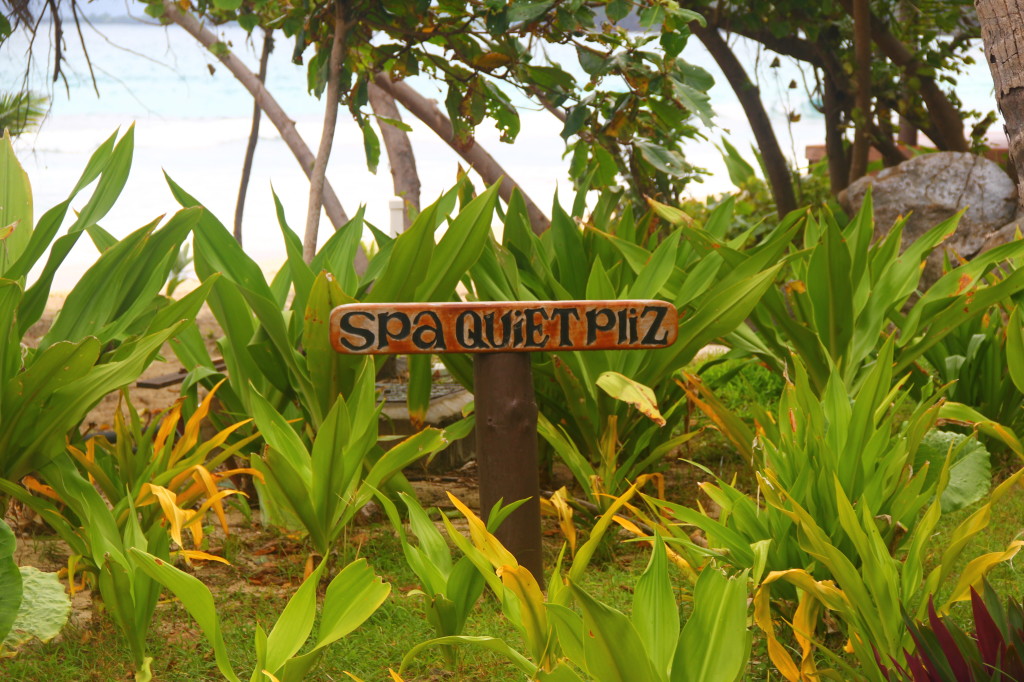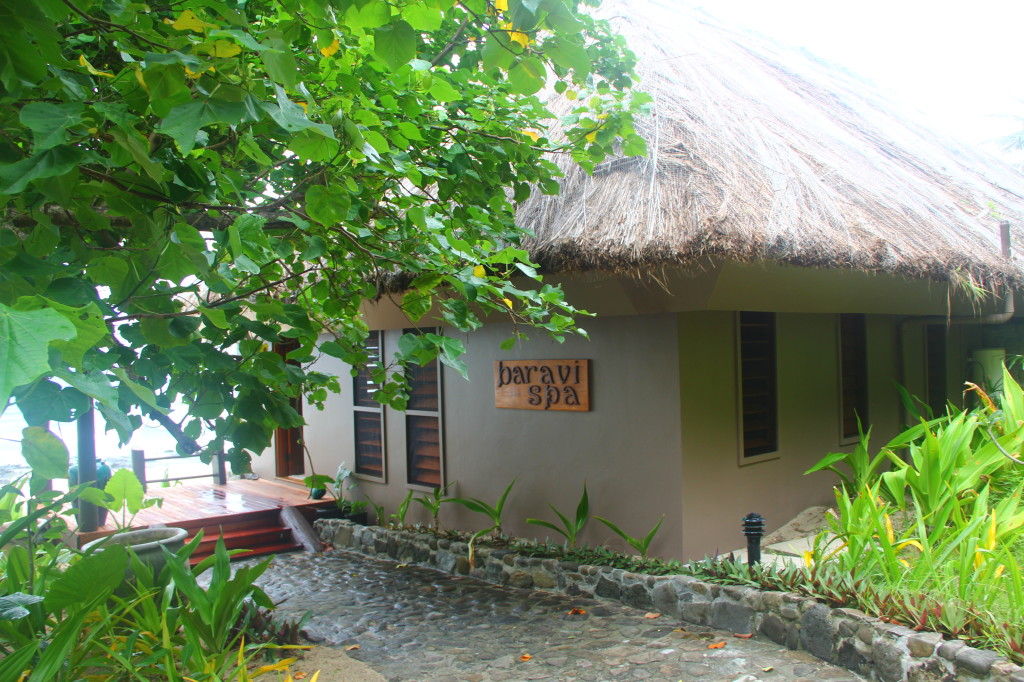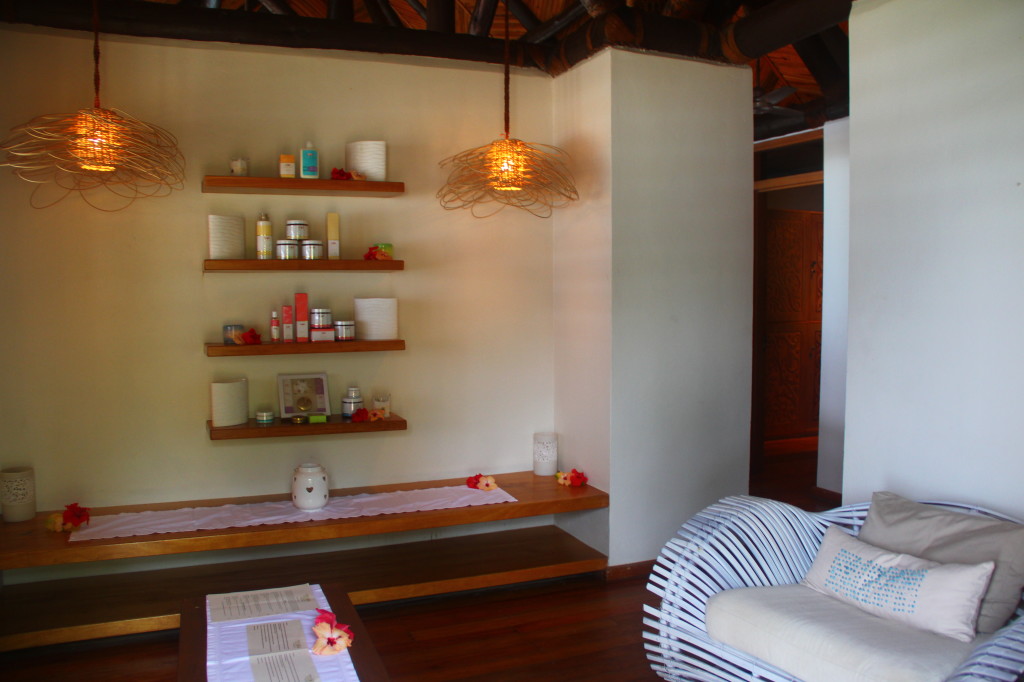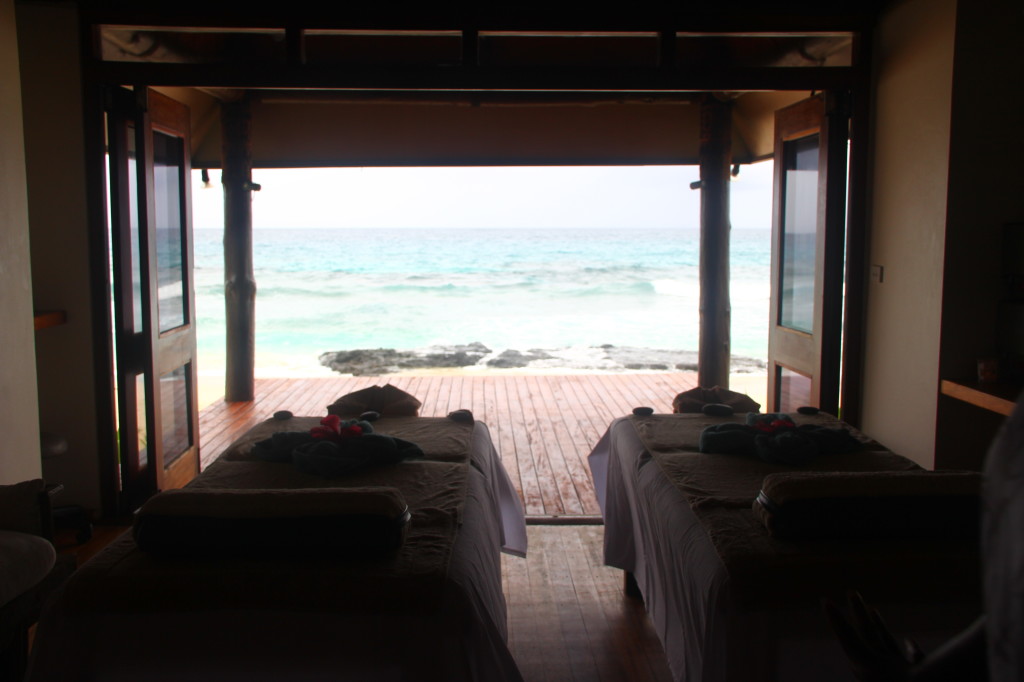 View from the couples massage room. Uh, yeah.
The spa uses exclusively Pure Fiji products, all of which are made from only the finest Fijian ingredients… and smell incredible. Though most of the products are featured exclusively in spas in Fiji, Australia, and New Zealand, we did hear that they're also available at one spa in Las Vegas. Our spa attendant couldn't remember which one, exactly, but I'm willing to go on a spa-trying hunt through Vegas if anyone would like to join.
Though there were a ton of activities to choose from, we kept it simple. The beachfront infinity pool was calling us, and I'm sure you can see why: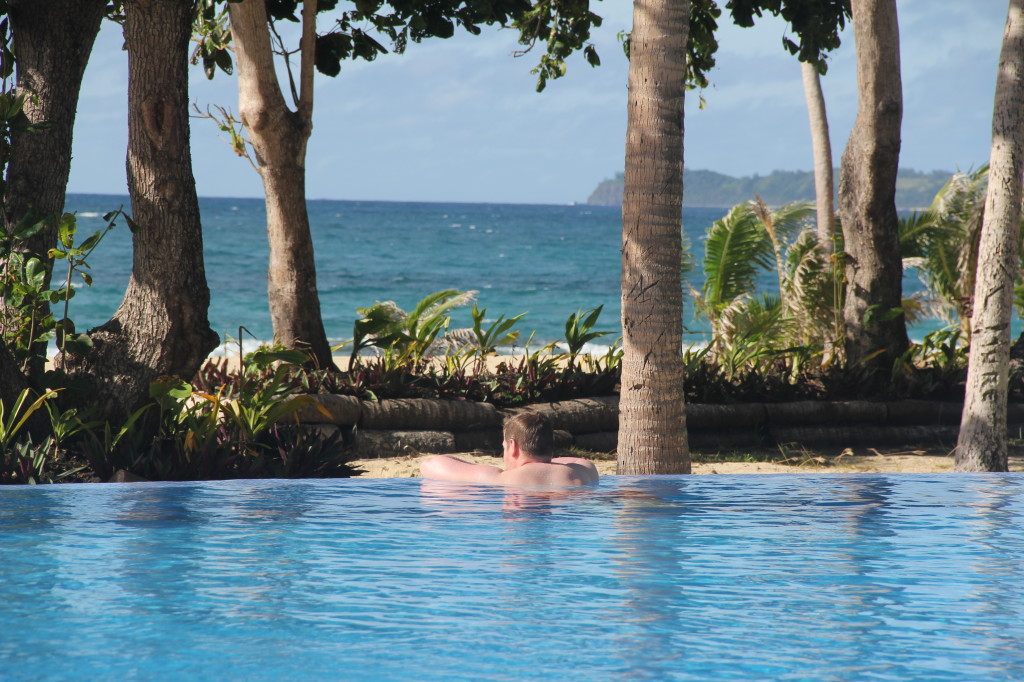 Oh just the hubs, soakin' up some rays in paradise.
After a full day of sun and sand, the hubs and I made our way back to the beach for happy hour… and were promptly greeted with traditional necklaces: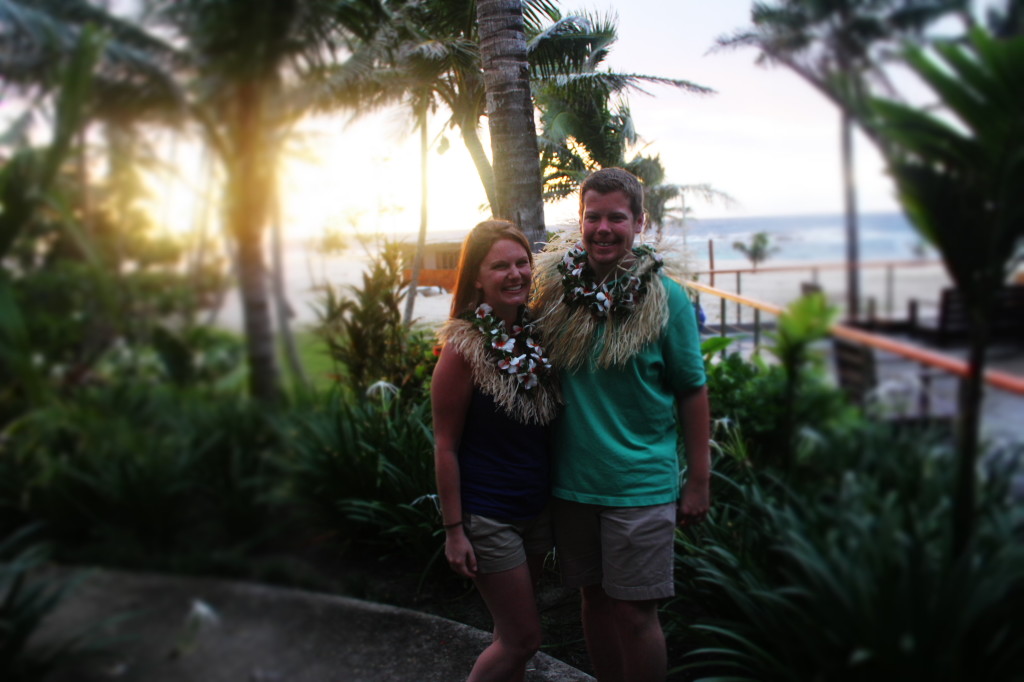 Donned in our finest backpackers' (err, flashpackers') attire, we watched the sunset turn to a vibrant pink and purple. So very Lisa Frank, no?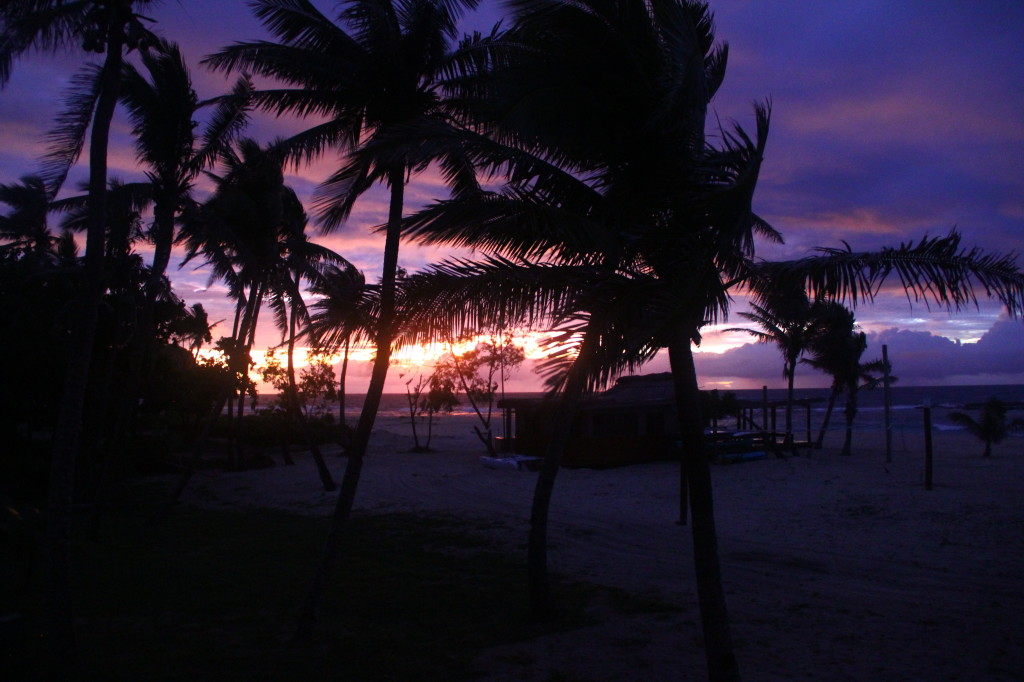 We then we sidled up to the bar for a few glasses of wine and a chat with Manasa, who worked alongside the original founders of Yasawa Island Resort. Manasa was on a first name basis with everyone at the resort (like many of the Yasawa Island staff, actually), and he floated around regaling us all with stories from the island and showing us a giant scrapbook detailing his life on Yasawa Island and the growth of the resort. He was so clearly proud of his part in the resort's history, and was the perfect person to man the bar and keep everyone's glass full.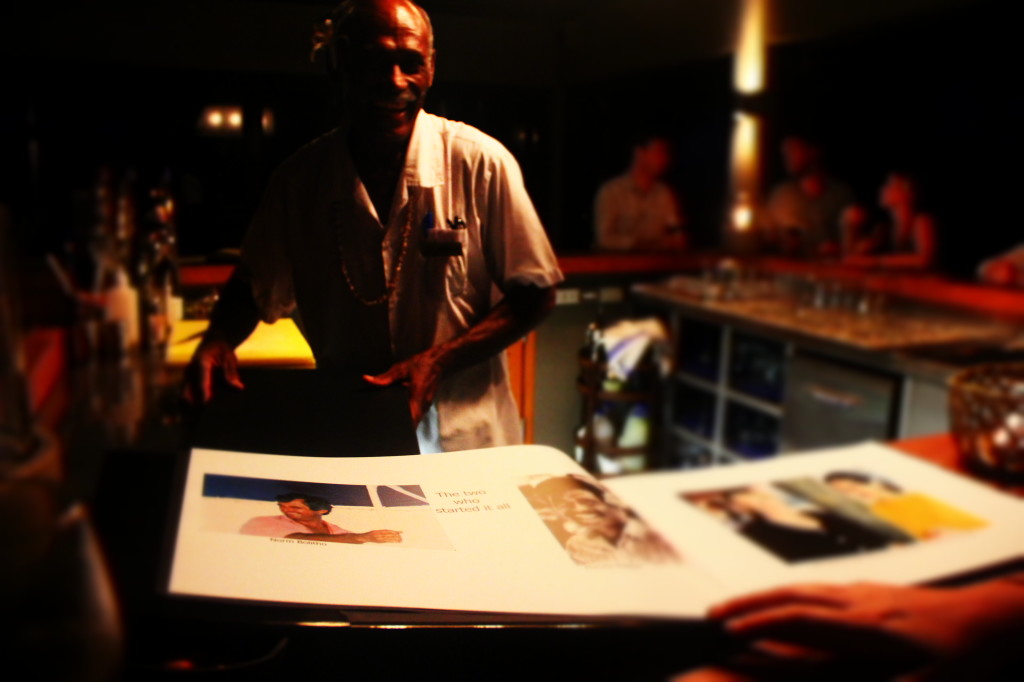 Like all good things, our time in Yasawa Island quickly came to an end. Unfortunately, rough weather cancelled our seaplane flight back to the mainland, so it was another SSC ride back to Denarau, a quick night at First Landing, and then: our flight from Nadi to Auckland, New Zealand!
xo!
the romantic
Though our stay at Yasawa Island Resort & Spa was complimentary, all opinions are my own. A special thanks to Bridget and Aaron for being extremely accommodating, as well as the entire staff for being some of the warmest and friendliest people we met in Fiji… and that's seriously saying something.