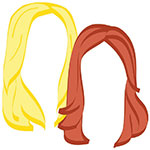 I'm not exaggerating when I say that the hubs and I start e-mailing with B&K, our weekend partners in crime, in early March to try and figure out when and where we're spending the lazy days of summer. So, somehow, we were completely surprised and confused when all four of us realized we were going to be in the city this weekend with nothing on the schedule. How did this travesty happen?!
Luckily, we had a plan. Welcome to… Operation: Explore Astoria.
The boys moved out to Astoria a few months ago, and though we've visited a few times since then, we decided to take Saturday to better acquaint ourselves with their return to B's original New York 'hood. Consensus? Brooklyn gets all the glory as the outer borough worth exploring, but I think Astoria deserves some recognition, too.
aroma31
We literally walked 10 steps from their apartment before finding this cute little cafe, and when we noticed the sign advertising $15 brunch with unlimited mimosas and sangria, we were sold.
Pros: The food was fresh, the drinks were good (order the red sangria over the white), and it was bright and sunny.
Cons: Our waiter mumbled something about having a special juice recipe that wasn't on the menu. We all heard him offer to sub in one of the juices for our unlimited option, but after we agreed, he said it was going to be $5 each. The juice was fine, but we were played.
Euro Market
After brunch, we decided to stop by Euro Market. The boys had mentioned before that it's full of amazing cheese, olives, and tons of beers from all over the world and they weren't lying. Bonus points for selling Lemon Fanta, which, as K pointed out, is pretty much impossible to find in the US.
Pros: The entire back wall of this fairly large grocery store (by NYC standards, at least) was full of imported beers from around the world–there were refrigerators full of brands we had never even heard of. Also, the cheese & olives didn't look too shabby.
Cons: By no fault of the market, it was entirely too hot to picnic anywhere, so we were forced to walk around and drool, but not pick up anything to actually try. Next time!
Club 21
It wouldn't be a lazy Saturday in the city without more daydrinking, and we settled on Club 21. Most people, with reason, automatically equate Astoria to its Greek influence–but the more we wandered around on Saturday, the more I realized just how much of a general European influence there is on Astoria. Case in point? The Club 21's website encourages you to "Eat like a Czech, drink like a Slovak and party like there is no tomorrow!" I don't even know what this MEANS, but I liked it.
Pros: The cute (and shaded!) beer garden in the back was pretty comfortable even in 95 degree weather. It was more comfortable after two pints.
Cons: It's definitely off the beaten track, but its random location took us a little out of our way.
Also, the day's special was jägerbombs. I haven't done a jägerbomb since, like? I don't even know. Basically what I'm saying is, if you are a bar and you're going to brag about your daily specials, I would recommend not having Saturday = jägerbombs.
Obviously we did them anyway.
Mister Softee
I know, I know, this isn't exclusive to Astoria. BUT. Unlike in Manhattan where you just have to walk half a block to find a truck sitting and waiting for you, Astoria's ice cream trucks are old school. We were walking back to the apartment when one came down the street playing its "I'M HERE AND SLIGHTLY ANNOYING BUT IT MAKES YOU NEED ME" song, and how could we resist?
Pros: Everything, it's ice cream.
Cons: The jackass who stopped his car in the middle of the street, turned on his blinkers, and cut us in line because he was "in a hurry."
Locale
The four of us ended up having dinner in Manhattan on Saturday, but on another recent trip to Astoria, we dined here, and I can fully recommend it.
Pros: I'm a sucker for open-air restaurants and the food was yum.
Cons: We were there on a quiet night so it was a non-issue, but there wasn't much room to wait for a table. I would recommend making a reservation in advance if dining on the weekend.
Beer Garden hopping – This is our usual Astoria go-to, so it didn't make the cut for this visit, but you can't say you've been to Astoria if you haven't visited one of their beer gardens. It's a law. We were already deeply in love with the Bohemian Hall & Beer Garden when the Garden at Studio Square came along… and I won't try and sway you with my own personal opinions because they're both worth visiting, but my heart still belongs to the Bohemian.

Hope everyone else's weekend was equally as relaxing! Details?
xo,
the romantic