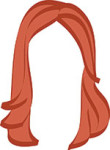 Ahhhh Friday. Never have we been so happy to see you. We're planning to be back to a normal posting schedule next week after a nice relaxing weekend. The wino is spending her next few days in Bucks County celebrating her brother's graduation and enjoying the simple life, while hubs and I are off for a little weekend getaway to celebrate our anniversary!
So where are we headed? The city of love & romance & all things beautiful! Philadelphia! … no? Not the reputation our hometown has? In reality, we're going because we were married in Philadelphia one year ago this Sunday and thought it would be a sweet reminder of the day. Also… although we grew up less than an hour outside of Philly, we should probably be embarrassed to admit that we don't know the city that well. So we're staying downtown and planning to explore a bit. No liberty bell or Betsy Ross house or hoagies and cheesesteaks on the itinerary, but we're definitely planning to spend the weekend getting a little more acquainted with the city of brotherly love.
This time there really will be a recap on Monday, swear it.
xo,
the romantic