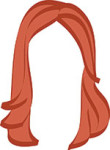 Unfortunately for this girl, the hubs's job requires occasional travel. It's unfortunate for a few reasons, but one of the reasons is that it  makes him very bossy when it comes to travel-prep. The first time we went on a big trip together, he asked, nay, DEMANDED, that I fit everything I needed for 10 days in one carry-on sized suitcase. It was hard, guys. But, once we were at the airport, I understood how much easier it really was and though it's hard for me to document this in writing… he was right.
Having learned from his wisdom, we asked the hubs to share some of his business travel advice. (And by the way, the other reason it's hard having a business-traveling-hubs is that he has successfully convinced me that a demon girl lives in the loft space in our apartment and I KNOW she watches me while I sleep. I know it).
Without further ado, the hubs:
It's interesting to people watch at the airport for a lot of reasons – you might catch a crazy family trying to navigate 9 people aged 8 to 80 across terminals during a quick layover. You sometimes see honeymooners gazing into each others' eyes as they await a flight to a tropical destination after their big day. But no matter what airport you're in, you'll always see solitary travelers glued to their blackberries, porting small carry-ons and smoothing their rumpled suits and skirts.  These are the business travelers.
Business travelers are experts at the travel process.  These people have been to Atlanta 14 times, but cannot name a single tourist attraction there.  They can, however, tell you that if your flight is delayed on the way home, Brews and Blues in Concourse T is the best place to kill time (and a few Bud Lights) before heading back to New York.  Business travelers know how to pack light on a moment's notice, and how to minimize disruption during their trip.  The true experts have been doing this for years and they know every trick in the book.  I'm a relative novice, but I have picked up a few tips that I apply whether traveling for business or pleasure. These few nuggets will 1) make your stressful day of air travel a little bit easier; and 2) earn you a little respect from the road warriors who see vacationers as traffic cones to avoid at all costs.
1. Check in the night before and print your ticket.  The key is to eliminate waiting.  This allows you to skip the baggage check line and scoot past the electronic check-in area (where there will definitely be 3 people ahead of you that have never used a computer before).  Also, you will be able to secure that aisle or window seat before your fellow passengers.  Nobody wants to sit in the middle seat.  Ever.  Helpful tip: check out http://www.seatguru.com/, which gives you the seating chart for your flight based on your airline and seat number – no more ending up in the random row with 20% LESS leg room or that lacks reclining seats.
2. Carry-on luggage only.  Whenever possible, skip baggage claim.  If you're with business colleagues, this is the ULTIMATE rookie mistake.  If you're traveling for pleasure, try to keep it simple so that you're not waiting around and stressing about why your bag is last or risking a lost bag on the way to paradise.
3. Loafers / Slip-ons.  Yeah, when you go through security you will have to remove your shoes.  It's annoying to stop and pull over to jam on your shoes and tie them up.  Put on something comfortable and easy to slip on and off.  This is also nice on the plane when you're trying to relax a little bit (however, if you forgot to check in and you're in the middle seat there's probably no chance of that happening anyway).
4. Anticipate.  This is another security line necessity.  You already know you have to remove jewelry, empty your pockets, take off your belt, and yes, take off your loafers.  I like to bring a carry-on and toss most of that into the front pocket.  This way you're not trying to repopulate your pockets one item at a time as they come out of the X-Ray machine, and there's less of a chance you'll leave something behind.  I'll slip on my shoes, grab my bag, and then when I'm past the chaos, I'll put my watch back on, check my cell phone, etc.  For things like laptops and iPads, try to make sure they're easy to pull out of the case and drop into the bin.
5. Build in some extra time – you deserve it.  Traveling is stressful, right?  It's a lot more stressful if you're constantly worried you're going to miss your flight.  The biggest *SIGH* moment is when you're through security, and you're 10 steps from your gate with 30 minutes until boarding.  This means that you planned well, you're going to make your flight, and hey, if one thing went wrong you STILL would have made it.  Since everything went flawlessly, you must immediately find the nearest airport bar.  Next, reward yourself with a beer, cocktail or glass of wine.  Repeat this last step until your flight starts to board.  And pay cash – you'll be able to leave a lot more quickly.
Before and after your trip, you must always…
6. Utilize rewards. While your company will typically pay for flights and hotels, they don't get to keep the frequent flier miles, hotel points, and credit card points.  Most companies require you to book the cheapest flights and reasonably-priced hotels, so it's hard to be loyal.  However, before your trip, try to set up rewards programs with every company on your itinerary.  They're almost always free, and after a while you'll be pleasantly surprised with the number of points you've earned.  That next exotic flight just got a little bit cheaper.
Safe travels,
The Hubs.