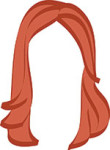 After dominating the ziplines of MidWorld, the hubs and I were eager to celebrate–but having already spent a good amount of time at the bar at Los Altos, we were looking for a bit more excitement. We stopped by the front desk on our way back to our room, and the attendant could not have been more insistent of what we should, nay, MUST do.
A booze cruise.
I know, right? Group activities featuring crappy drinks and the inability to escape should everyone else suck tend to fall into the "hell NO" category when traveling, but I don't know. Having conquered one fear already, why not hop on a catamaran with a bunch of strangers and see where the wind takes us?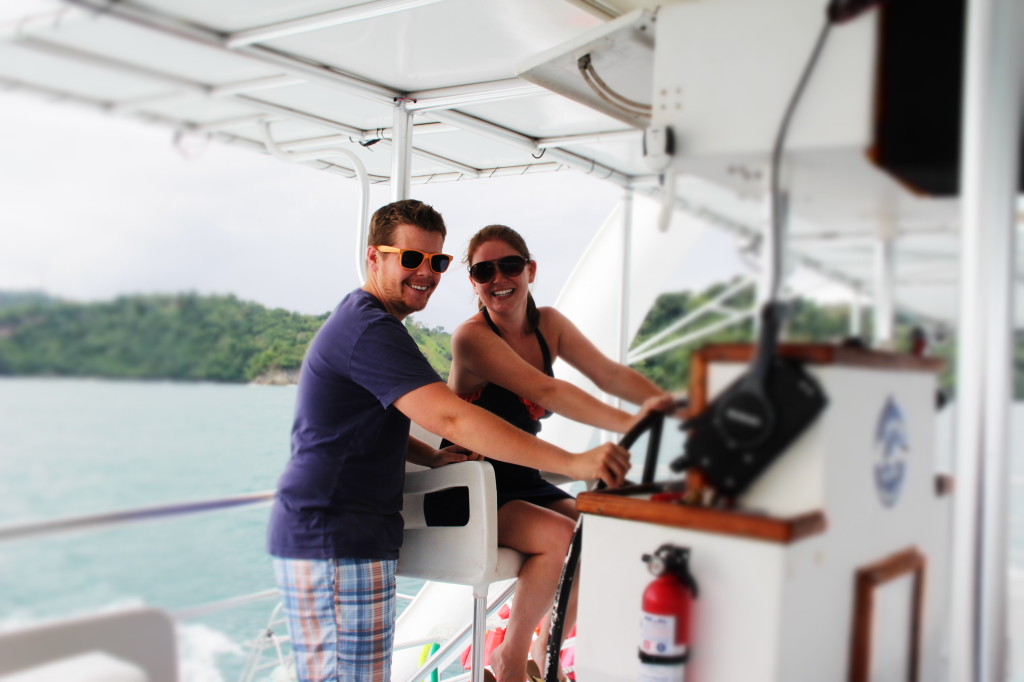 The crew recommended this photo, we didn't ask for it. I swear. I can't say the same about the hubs's sunglasses… those were a conscious choice on his part.
As seemed to be the theme of this Costa Rican vacation, I was wrong to be concerned. It ended up being ridiculously fun. I know, not even just regular fun. Ridiculously fun. I don't know if it was our Planet Dolphin guide's accent ensuring us that we were going to make "lots of wonderful mammaries" together or the crew of Belgians who knew every single word to the soundtrack of 80's power ballads or the dead ringer for Coco of Ice T & Coco who kept insisting that her daughter take very inappropriate photos of her on the bow of the ship, but we had a BLAST. To be fair, I think we had a blast for very different reasons than listed above, but still: mammaries were made.
First of all, the views of the shoreline were absolutely amazing: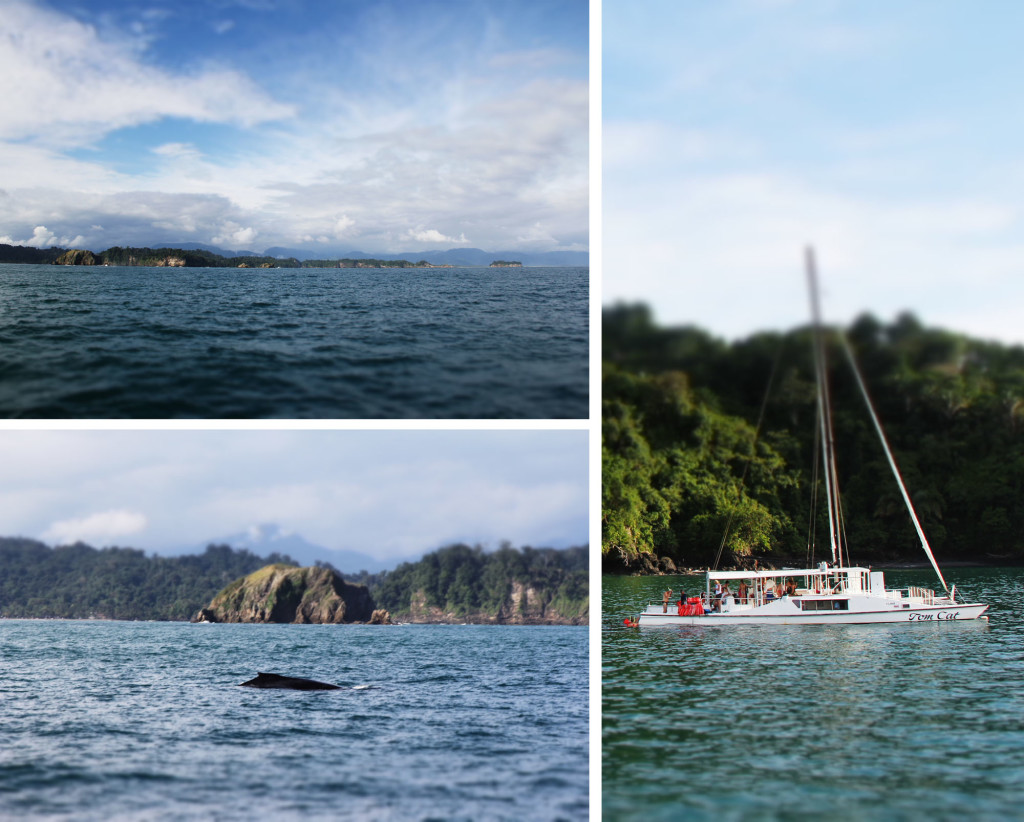 Second of all, yes, the bottom left photo is a whale. This was great as this booze cruise confirmed that I will never go on a whale watching tour. Don't get me wrong, I'm thrilled we saw one and there was a baby up in there somewhere, but running back and forth across a catamaran trying to catch a glimpse was just… not for me.
Luckily, our captain also got bored of that pretty quickly, and it was soon time for snorkeling.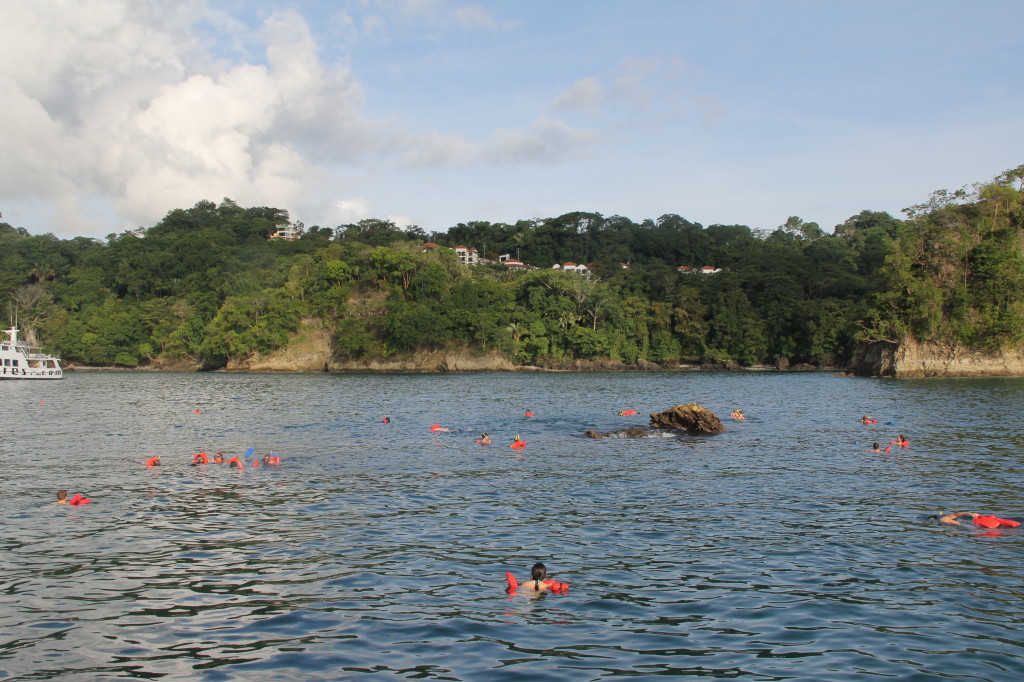 We hopped off the catamaran and our guide told us to swim toward the rock. Though we didn't see much at first, as soon as we got right near the rock, the fish were literally inches from our faces. It wasn't the best snorkeling we've done, and the hubs was even less enthused because he thought they were going to touch him. I, on the other hand, felt like the Little Mermaid. Singing underwater is harder than it looks, guys.
After snorkeling, they opened up the water slide. Oh, yes, there was a water slide. It was about ten feet high and a straight shot into the ocean. I was feeling daring, but still convinced the hubs to go first.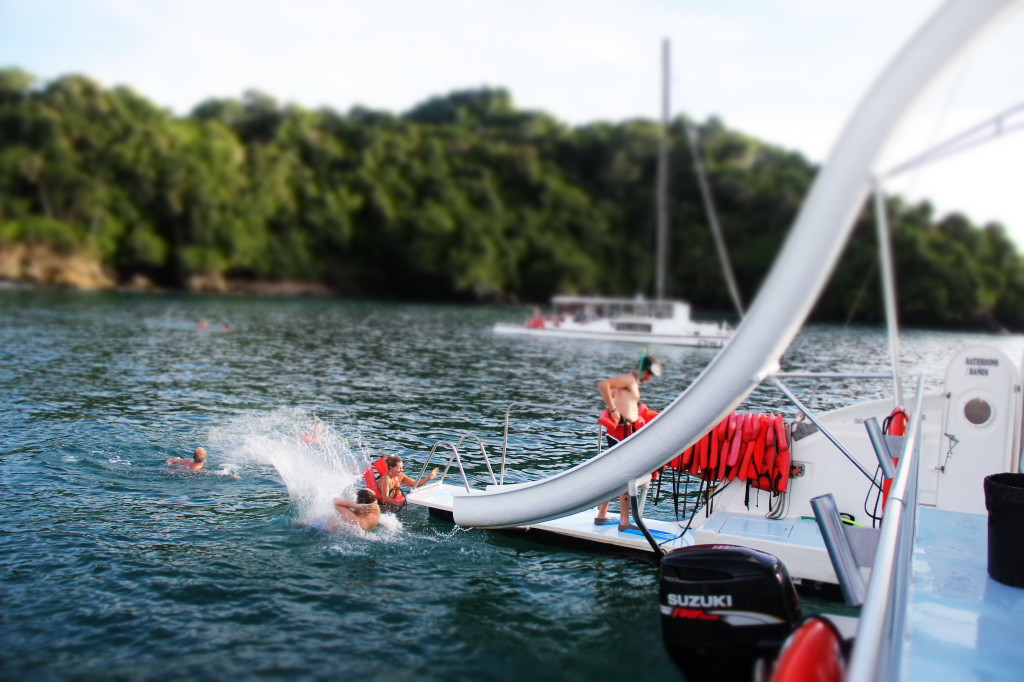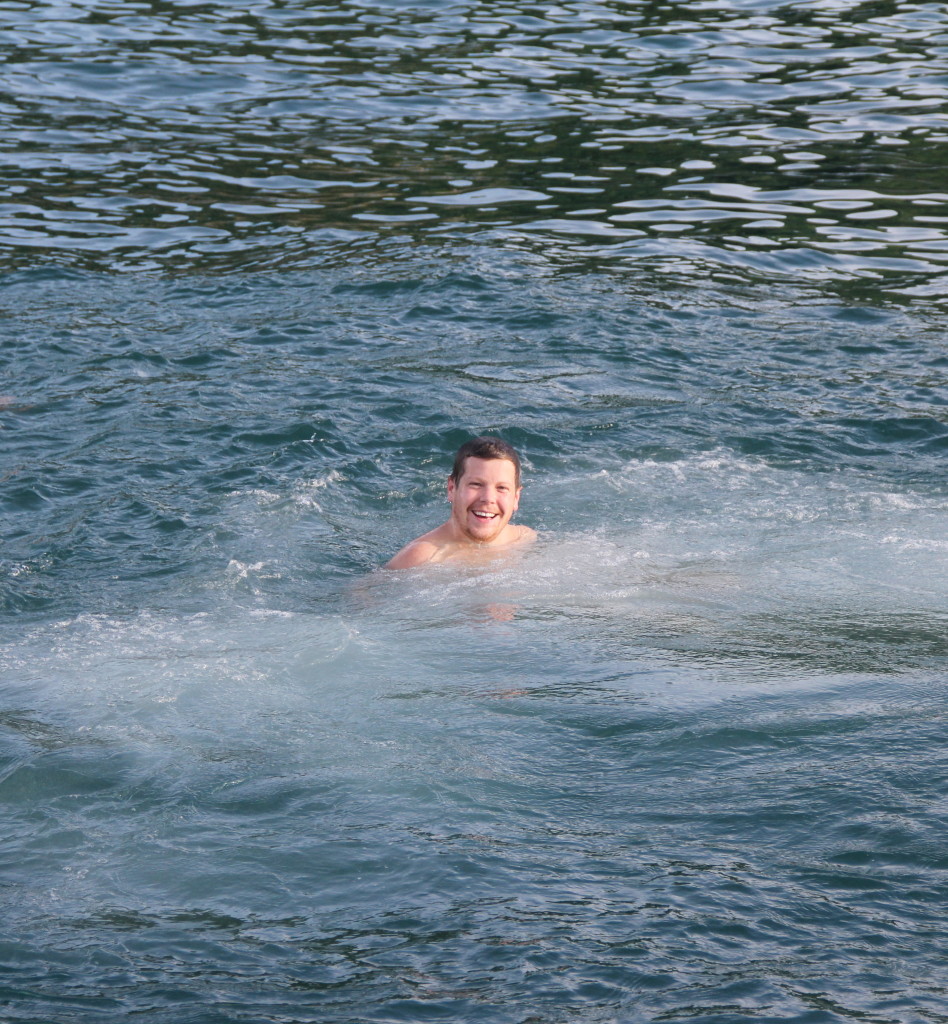 When I saw how happy he was upon resurfacing, I was full of confidence. I wasn't even that put off when the guide told me to put one arm behind my head to avoid getting a concussion and also advised that I hold my bathing suit top in place. Ziplining had changed me.
So, with the hubs's vibrant smile in my mind, I went for it: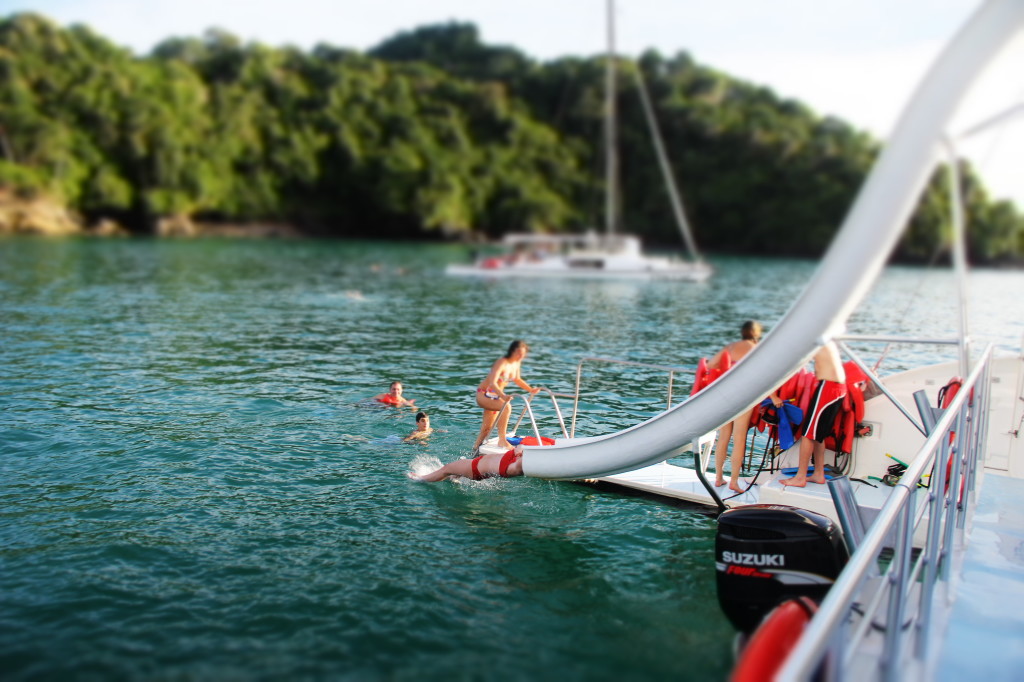 And came up looking like this: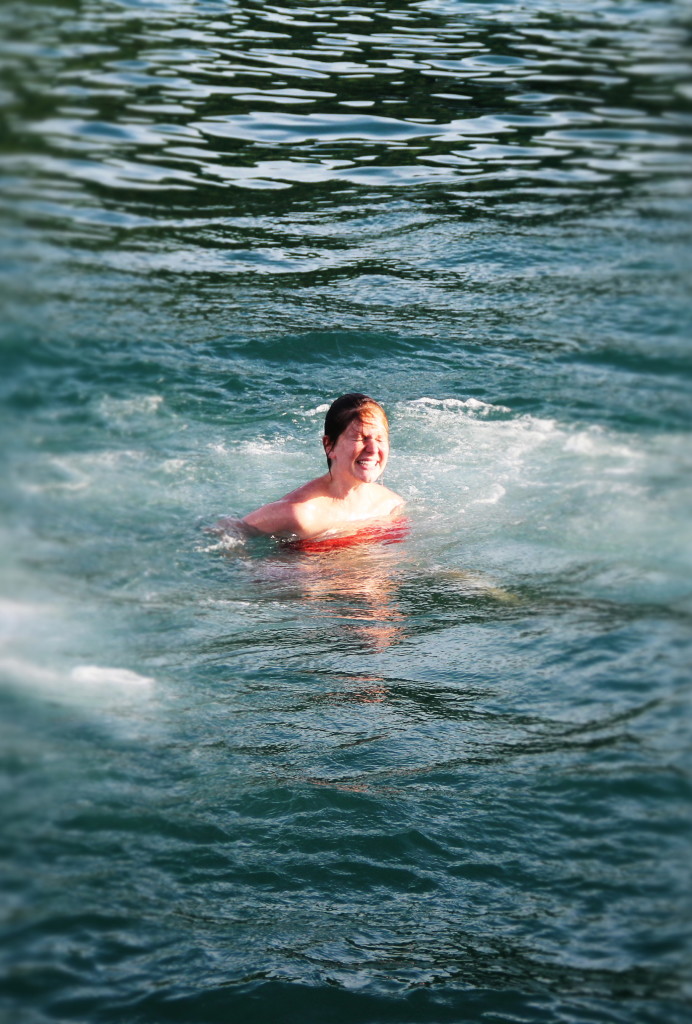 …at least I was smiling.
I think everyone was feeling a little tipsy at this point, and the next thing I knew, people were jumping off the TOP of the catamaran into the ocean. I chose to pass on this one, but when the hubs is pumped up on adrenaline, he is PUMPED UP ON ADRENALINE. So jump he did: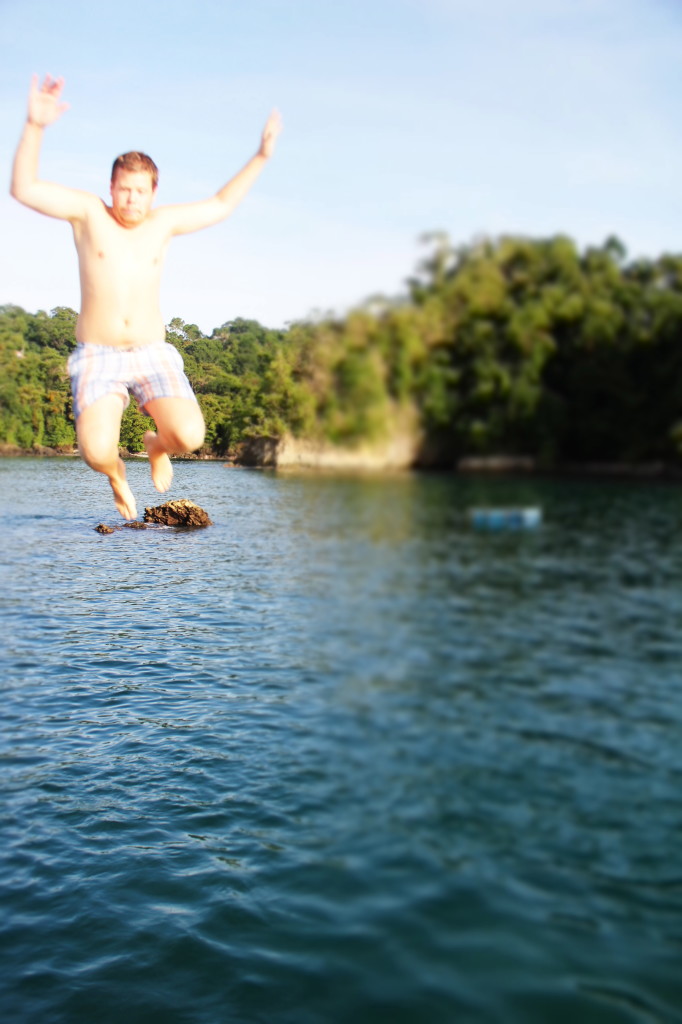 After these shennanigans, the crew started to wrap things up and once everyone was accounted for, we turned around and headed back to the marina.
If you're so inclined to sign up for a similar booze cruise, I recommend the afternoon session for no other reason than to catch the sunset over the Pacific: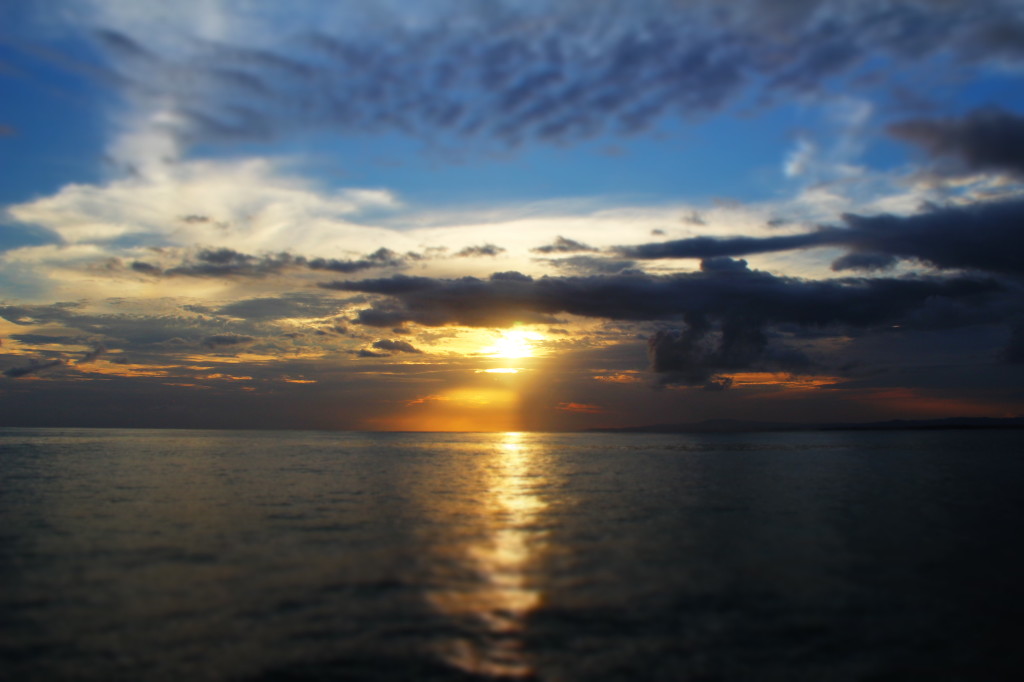 Ahhh, mammaries.
xo!
the romantic