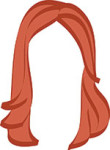 Our Costa Rican adventure marked a few firsts for this girl: my first time in Central America (I don't count our weekend in Mexico, as we saw 0% culture), my first time seeing airplanes for the death traps that they are, AND our first time using Jetsetter to book accommodations!
Though we didn't use Jetsetter for all five of our hotels–because that would just be excessive, clearly–we used it to book two: Tabacon Grand Spa, which we have since vetoed, and The Preserve at Los Altos. We don't blame Jetsetter at all for our meh feelings on Tabacon, because we owe them forever and ever for the entire Los Altos experience.
Before arriving, I had already filed this in the "too good to be true" part of my brain. The rate we got through Jetsetter was unreal, and the description mentioned 2,500 square feet, three balconies, and a chef's kitchen. It just seemed ridiculous and I assumed we'd arrive and they would laugh at us and lead us to a "cozy" (read: small) version of whatever it is they were touting to the public.
It wasn't until the elevator opened up directly into the living room of our massive condo that I realized it was all happening. I had arrived. I had an ELEVATOR delivering me DIRECTLY INTO my very own apartment. Mind you, it was my very own apartment for two days, but that is a minor detail, my friend.
Behold: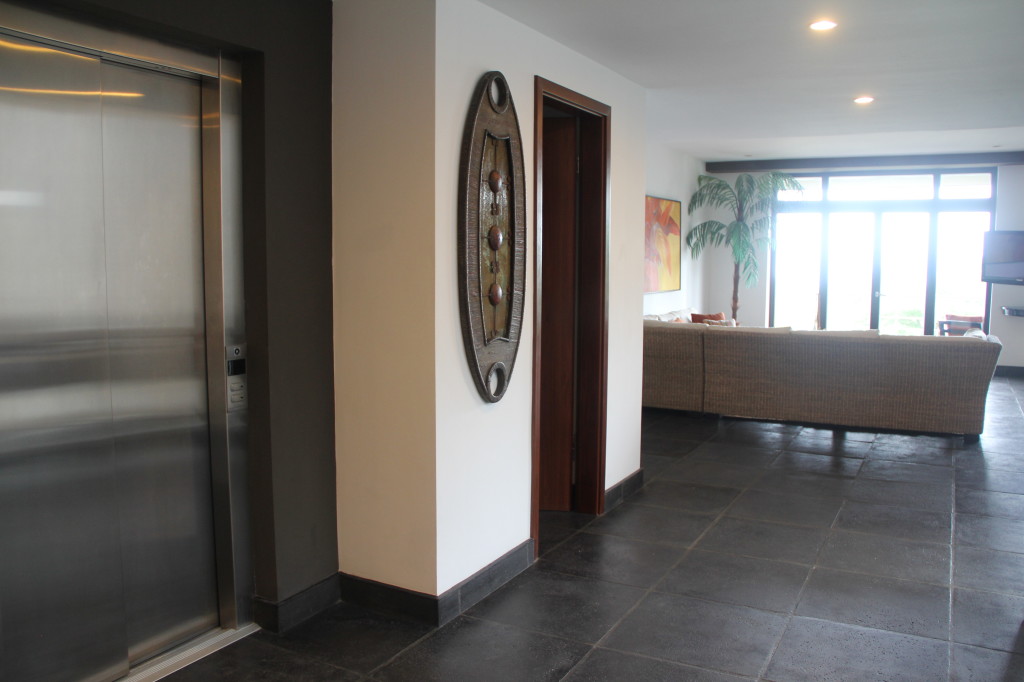 Our first steps off the elevator, looking into the living room.
At this point, all we could really do was laugh. Los Altos was built right in time for the crash, so they were left with a lot of empty furnished condos–most with three bedrooms, all with killer views. When we checked in, we were told we could pick one of the three bedrooms to sleep in, but if we used any of the others, we would be charged an additional rate. For a moment I was concerned this meant they were renting out the other rooms, but luckily this wasn't the case.
Now for a tour of our humble abode…
The view into our monstrous living room.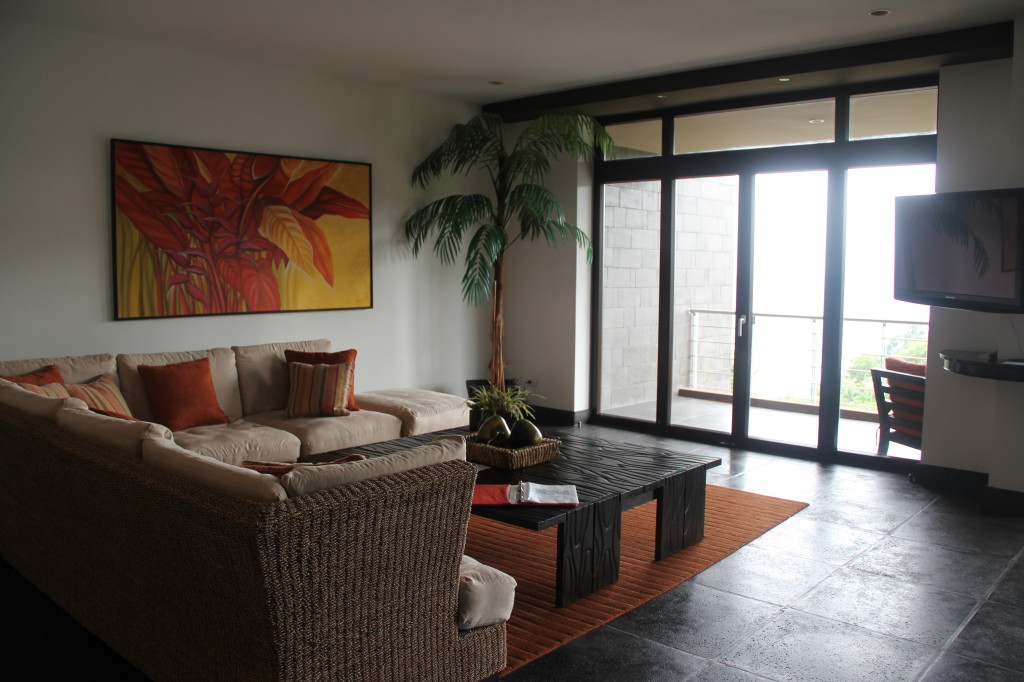 Please note the tree sitting politely in the corner and not trying to inch it's way out in front of the TV. Also note the couch. We literally didn't know how to sit on it. We were always too far away from one another, but sitting right next to each other just felt like a waste of couch. Serious marriage conundrums.
The hubs chilling in the fully stocked chef's kitchen.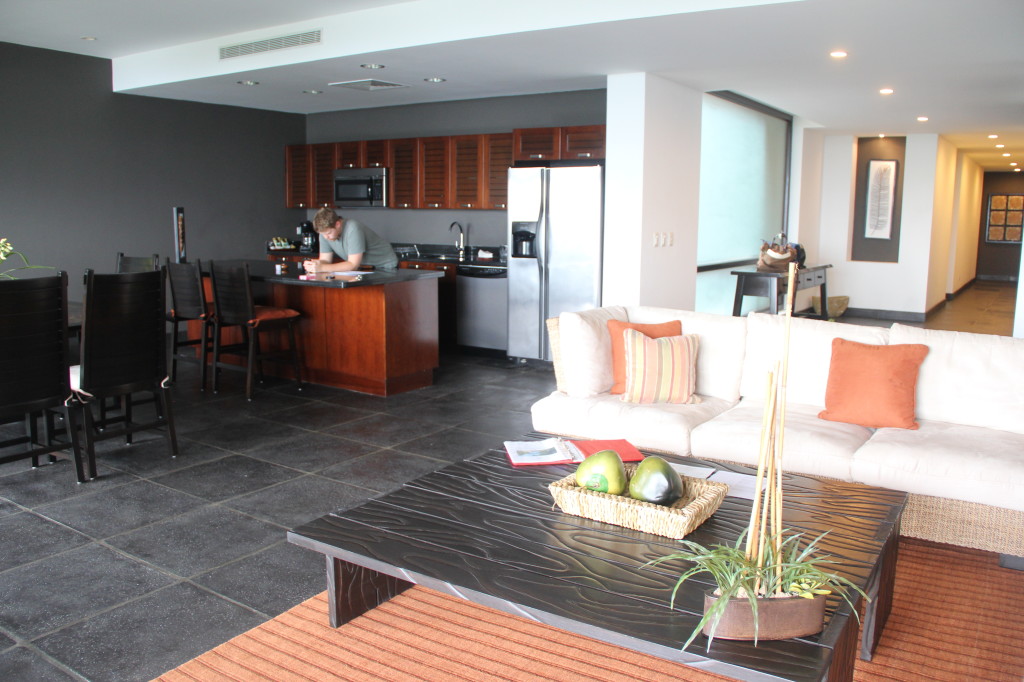 You can't tell from this photo, but that dinner table seats eight. This was an issue when we ordered room service the one night, as sitting next to each other felt like we were stood up at our own dinner party, but sitting across from one another meant we had to yell to talk. We ended up sitting on the couch because that coffee table was bigger than our bed at home.
Basically, Los Altos taught us that between living in our tiny little apartment and staying in normal-sized hotel rooms, we don't know how to function as just the two of us with a lot of space. It was all very confusing and I felt like I should run everywhere. In a good way.
I didn't get great photos of the master bedroom (which was the one we chose, duh) or the enormous bathroom and rainforest shower.
Instead, I'll leave you with our balcony view over the pool and the pacific ocean.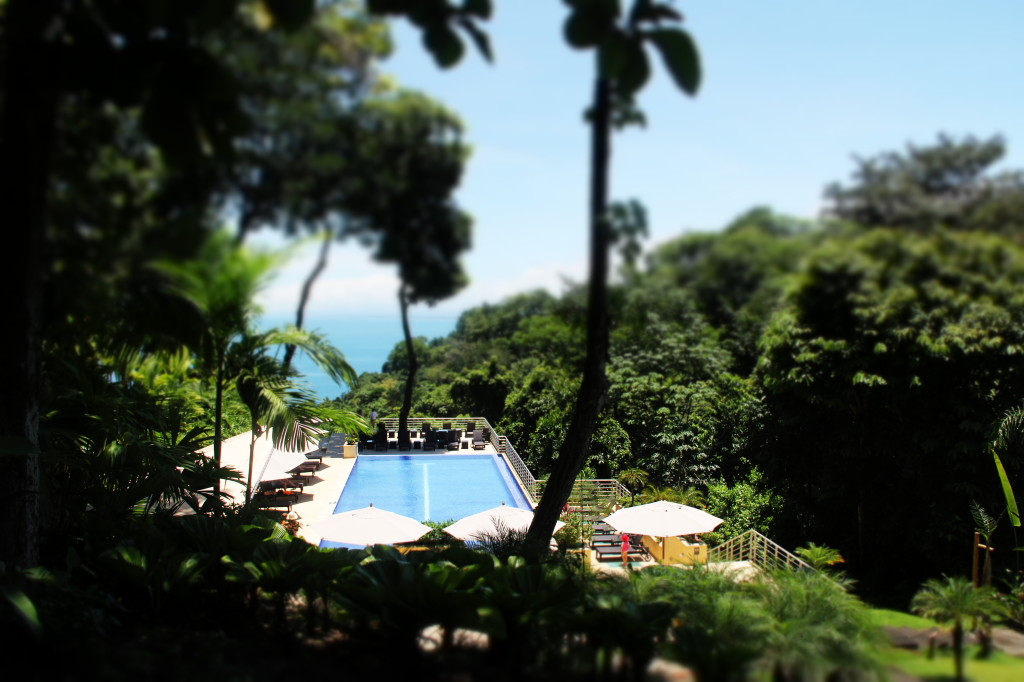 Along with the gorgeous apartment, the restaurant on-site was also pretty delicious. The grounds were well maintained, the staff was super friendly–it was the perfect little bit of luxury during one of the most active parts of our trip.
Coming up: ziplining, sloths, and booze cruises, oh my!
xo!
the romantic