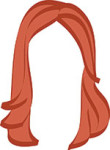 After the whirlwind that has been these past few weeks, I think it's about time for some Pura Vida. Let's catch up on our Costa Rica adventures and head back to Arenal, shall we?
Though we wished we had stayed elsewhere, I stand by my advice to still include the Arenal area in your itinerary. You just really don't need to spend more than two days exploring the area. After our first day lounging at the spa and sweating it out in the hot springs, we signed up for a hanging bridge tour. We couldn't wait to explore the rainforest with Costa Rica Wonderland (edit: this company is now closed apparently?!).
Along with another couple and a family of three, we were ready and waiting to be picked up by our guide, André. He was armed with VERY stylish ponchos and the promise that we'd see plenty of wildlife, but refused to promise any specifics–including a sloth. We didn't start off on the best foot for this very reason, but I warmed up to him.
I even got over the fact that he made us wear this: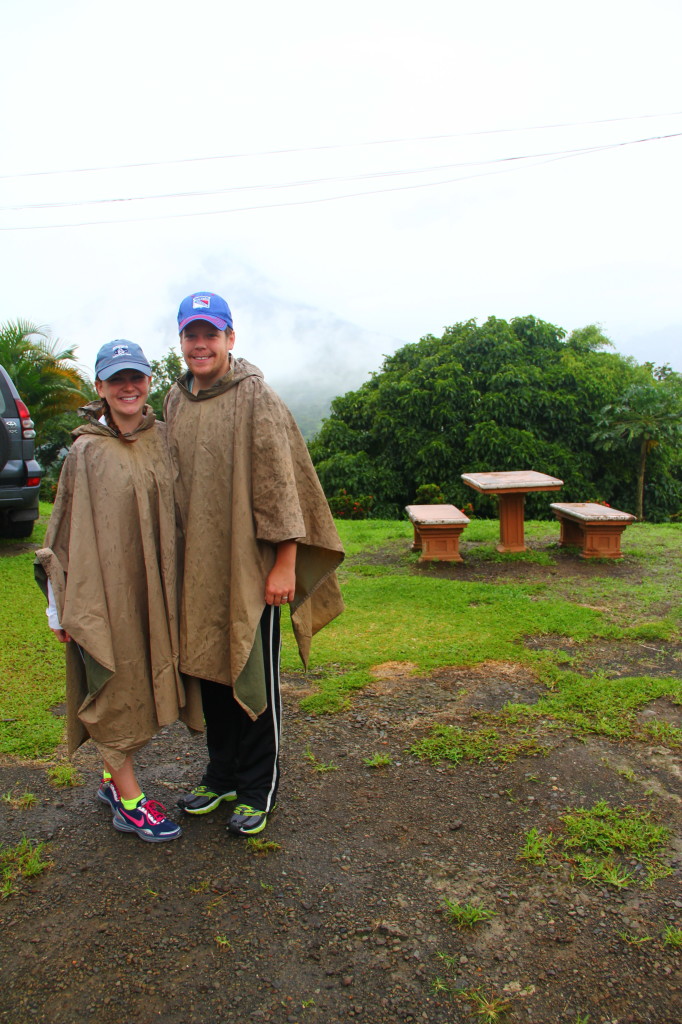 It's ok, you can admit you're jealous of my style.
See that hazy thing lurking behind us in the distance? That would be the volcano. As we were visiting during Costa Rica's rainy season, this meant everything was gorgeous and lush and green! Buuuut… the weather wasn't the best in the Arenal area, and views of the volcano were limited. Also working against us? Lava activity stopped about two years ago, so we didn't even have the glow to guide us. Apparently, the Arenal Volcano has been quiet in recent years, and each time this was mentioned, the locals seemed nervous. This automatically made me uneasy. But, you know. Livin' la vida loca, pura vida, etc. etc.
After our photo op with the volcano, which we assumed was in the distance because our guide told us so, we made our way into the rainforest. This was among the first bits of wildlife that André pointed out to us: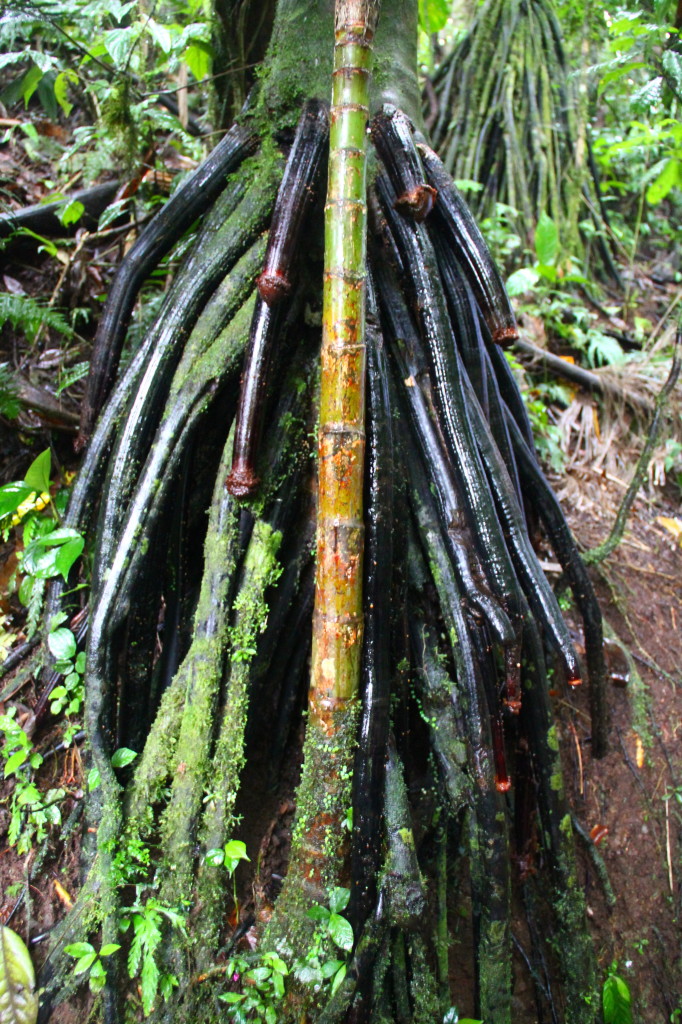 No, you're not imagining anything.
No promised sloths, but phallic tree roots? I would have asked for my money back, but I was laughing too hard AND it was pouring and I really didn't want to give back my poncho. 
We carried on with our tour and as I wasn't taking notes (because I'm not a giant loser), I really don't have much to provide in the way of facts. I can tell you that this ended up being so much more fun than I was expecting. Also, the hanging bridges are, I've decided, pure witchcraft. Physics shmysics, there is wizardry involved in keeping these things up.
Hanging bridge: CONQUERED!
Because we were feeling the most adventurous having accomplished a few successful bridge crossings, the hubs started to get rowdy and tackled a Tarzan vine. I'll let you take a look at how that played out: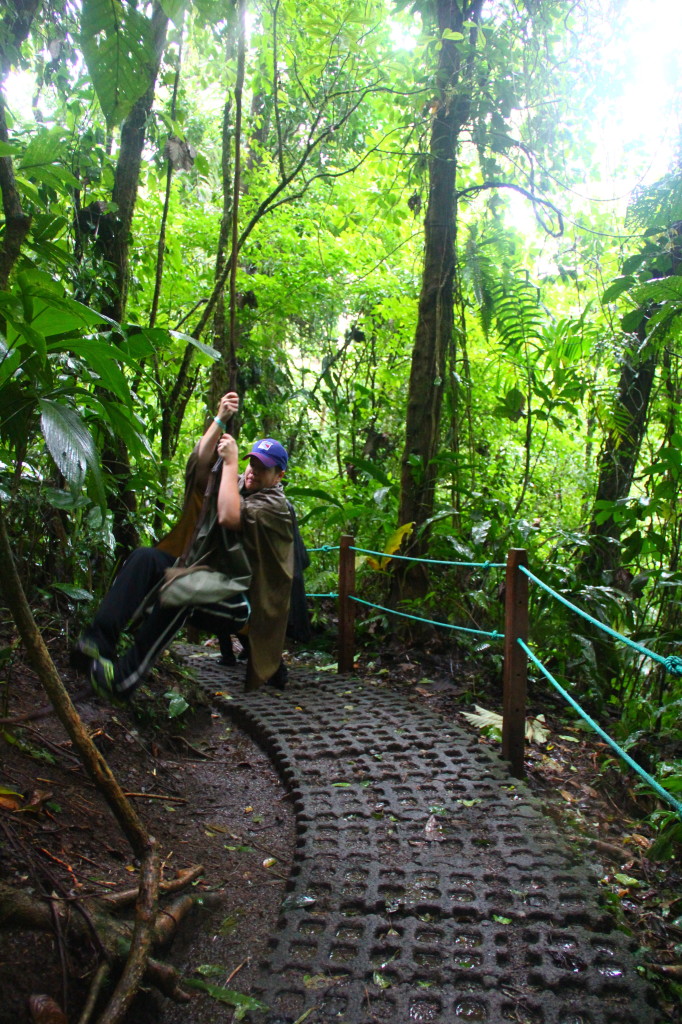 My hero!
For me, the highlight of this tour was just hiking through the forest, seeing the sights (the penis tree! for example). Though André did point out more than a few things we would have missed sans guide, we kind of stayed in our own little world. We honestly preferred exploring the rainforest a few steps behind our group. We don't love group tours as a rule, but since there was no way we would have done this tour alone, André and our stylish ponchos were invaluable.
One thing he really pulled through with? Pointing out THREE poisonous viper snakes (kill me now) and one very verbal howler monkey. Our first of the trip!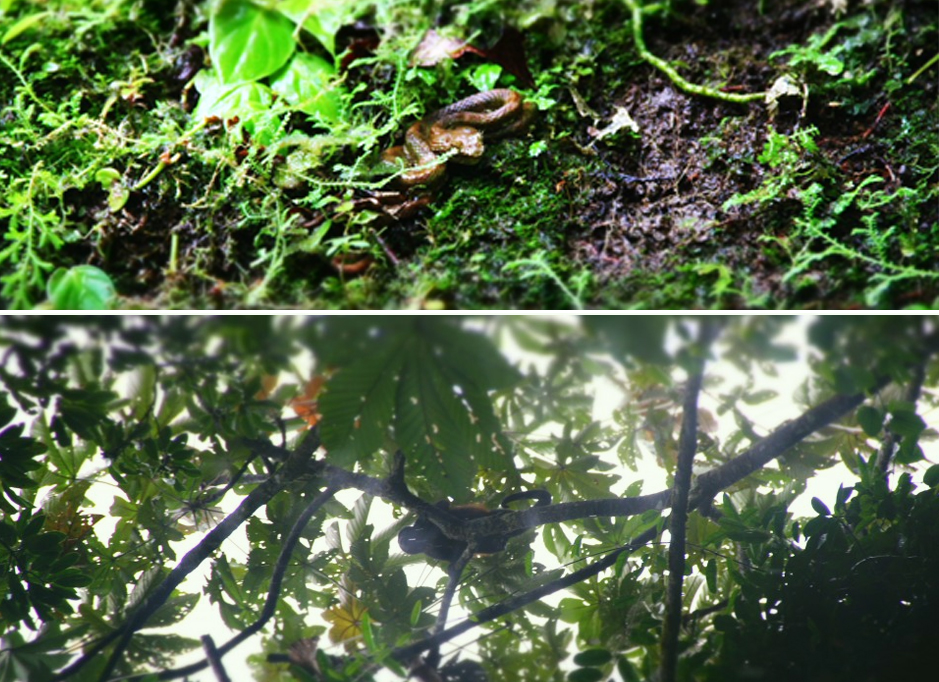 As we hiked deeper into the rainforest, we also climbed higher and higher. As we climbed, the warnings became more serious: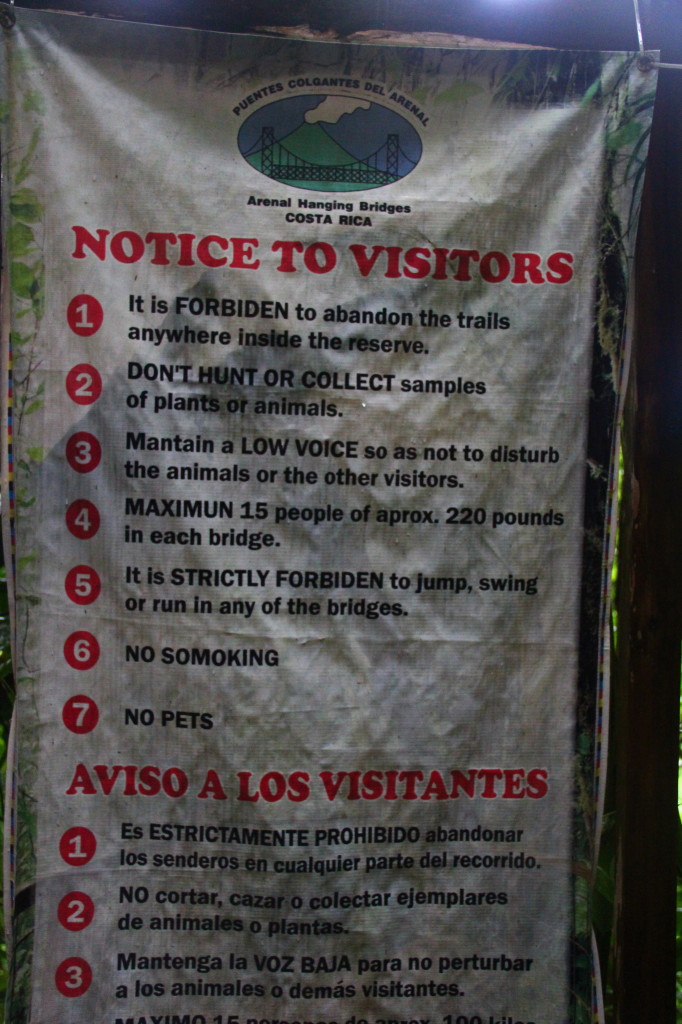 MAXIMUN SOMOKING FORBIDEN! FORBIDEN!
Also ironic that the request to speak in a low voice is in yelling capital letters, no? Luckily, the views became more and more stellar so as to make up for the fun we weren't allowed to have (I didn't want any of your stupid animal samples anyway, Costa Rica).
Can you spot the hanging bridge off in the distance in this photo?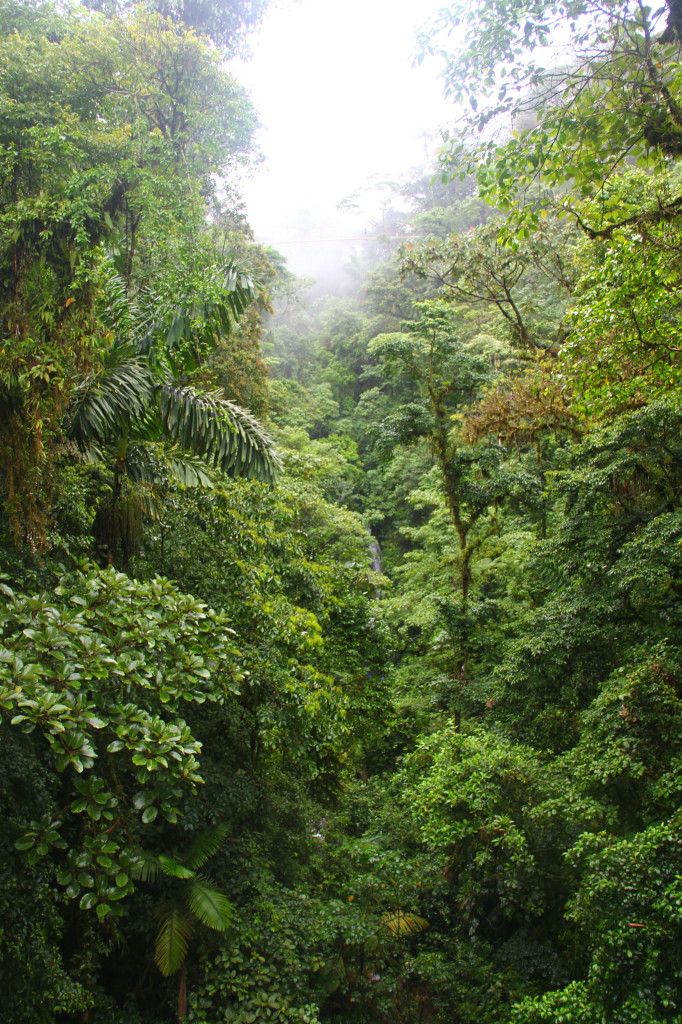 Look again: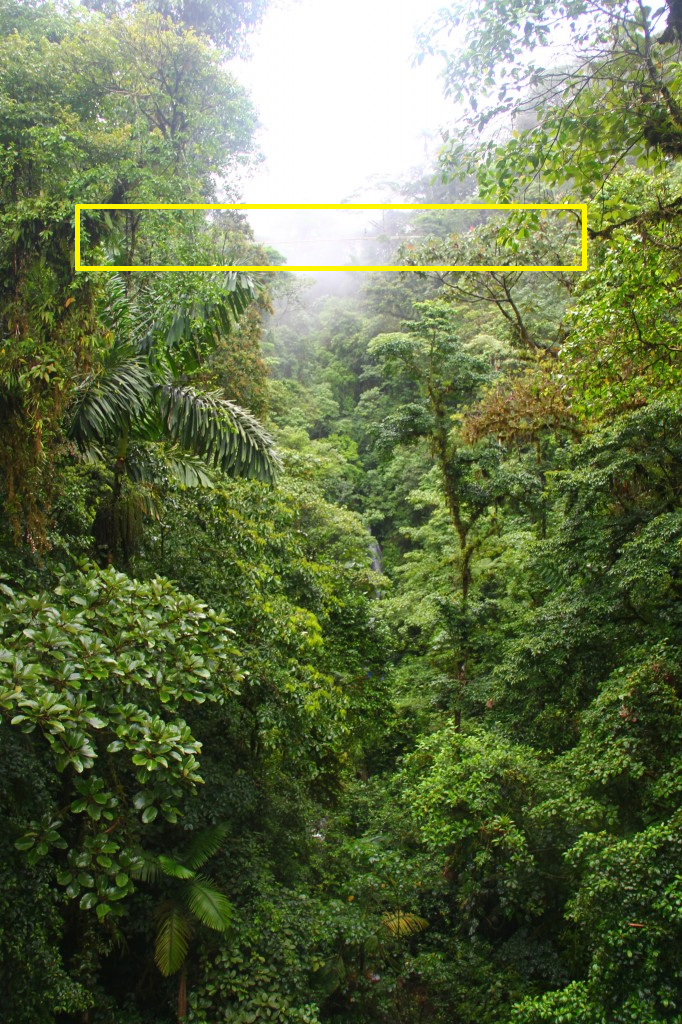 Ok, that maybe didn't work as well, but I SWEAR it's there and it is HIGH.
I succeeded in not passing out from the height once we reached this bridge, and it was definitely worth the trip. For one, we saw this waterfall on our way up: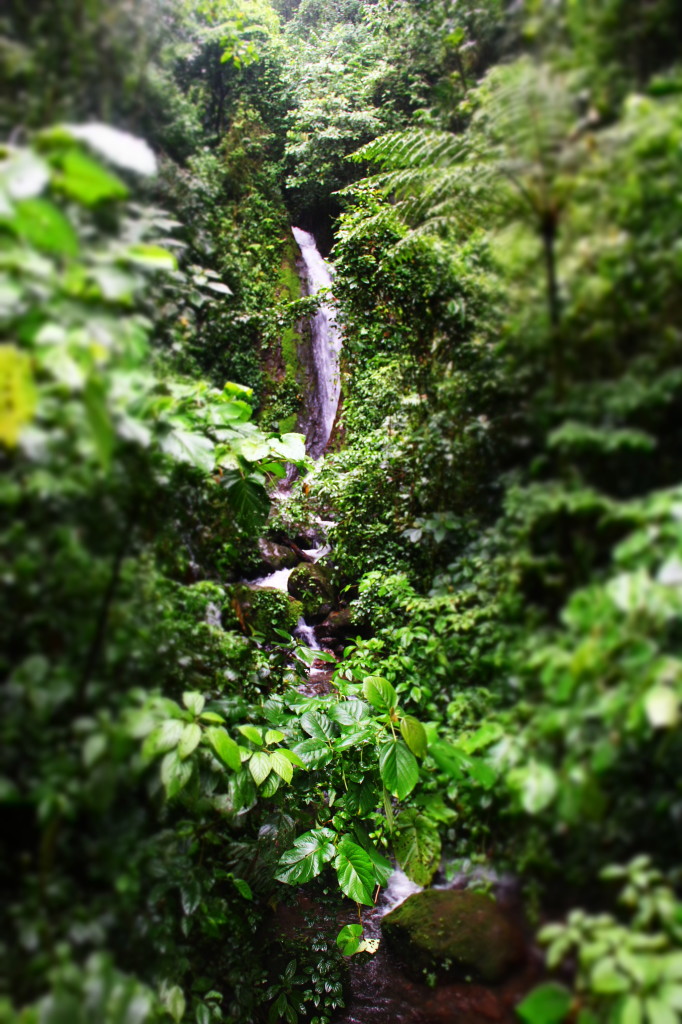 And finally got to see the volcano: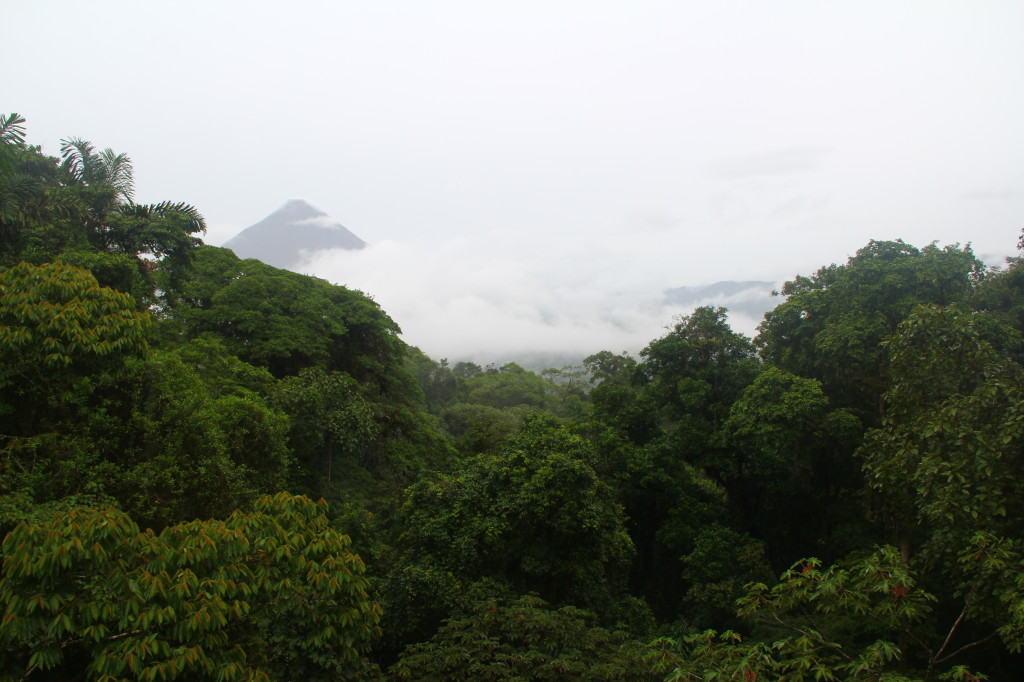 By the time we made it back to our starting point, the fog had lifted a bit and we were able to see the Arenal Volcano even better:

I never thought I'd say this, but our tour of the hanging bridges was exactly what we needed after the overly manufactured experience at Tabacon. Riding back to the resort soaking wet, covered in mud, and with the knowledge that the penis tree exists in this world was all we needed to motivate ourselves for our next leg of driving.
To Quepos!
xo,
the romantic
Save