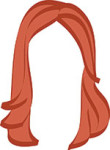 Why, hello! As you may have noticed, I am officially back from ten days in Costa Rica. I survived an action packed week of adventure travel and lived to tell the tale.
First thing's first: our itinerary, gasp!, changed. Originally, our plan was seven days in Costa Rica and three days in Bocas del Toro, Panama. Panama was just not in the cards for us. Things turned out more than ok–and more on that later–but I will tell you this, mainly as a warning: Nature Air is a cockamamie airline with cockamamie rules.
On the day of our flight, we woke up at 4 AM and dragged ourselves to the Tobias Bolaños International Airport to board this little matchbox of a plane: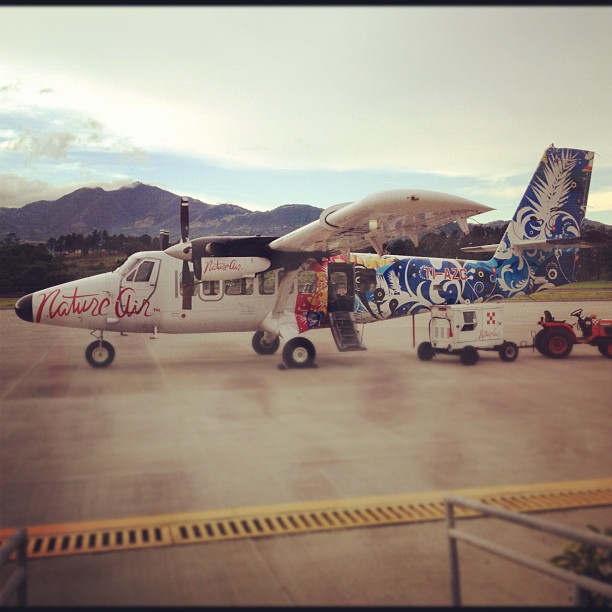 For whatever reason, knock on wood, flying has never made me nervous. But when you're 45 minutes into a 50 minute flight and the pilot comes on to say, through a thick curtain of static, "Bocas del Toro is closed and we will be heading back to San Jose," anyone would wonder if there's enough fuel in this deathtrap for such an escapade.
Never fear, we clearly made it back with fuel to spare (I'm just comforting myself with that last part because really, I'd rather be typing in all caps about how I don't understand why the plane took off in the first place) and quickly switched our itinerary to three days in Tamarindo on the Pacific Coast. No Panama for us this trip, but trust me when I say that it was the best option. The other two options were: get a NatureAir voucher for a future flight (to where? WHEN?) OR charter a taxi with 10 strangers, drive across the Costa Rican border into Panama, and then take a ferry to Bocas from there.
In a possible tropical storm.
No joke, we were the only people from our flight who took the "change our flight to somewhere, ANYWHERE, with a beach on the Pacific Coast" options and all the others chartered a taxi??
So, yes, instead of glass bottomed bungalows and a view straight out over the water and a new stamp in our passports, we stayed in Costa Rica. Yes, we were bummed. Yes, there was a moment of "poor us, this BLOWS" (no tropical storm pun intended). Take note, travelers. When you find yourself in a similar situation: you're allowed to wallow in it, but only after you've made a new plan. Official game rules. Then, after you've wallowed for as little time as you can bear, you have to quickly switch gears and be excited for plan B. Deal? Deal.
The good news? We came away with a pretty solid ten day itinerary for Costa Rica, if I do say so myself. And lucky for you, I am  here to share:
Day 1
NYC > San Jose
Upon landing in San Jose, we headed straight for Hertz to pick-up our rental car. From there, we drove to Fina Rosa Blanca to promptly fall in love with the staff and the hotel for our first night in Costa Rica.
Day 2
San Jose > Arenal
Started the morning with a tour of the on-site coffee plantation before departing for two nights at Tabacon Hot Springs, followed by an afternoon in the hot springs and at the spa.
Day 3
Arenal 
Met our tour guide in the lobby for a very rainy Arenal Hanging Bridge Tour with Costa Rica Wonderland, then back to a less rainy afternoon in the hot springs.
Day 4
Arenal > Quepos
Up bright & early once more for our (long!) drive to The Preserve at Los Altos in Quepos.
Day 5
Quepos
Bright & early (this is the theme of the vacation), this time for ZIP LINING with MidWorld. Dun dun dunnnnn. Spent our late afternoon/early evening on a catamaran tour of the Pacific with Planet Dolphin.
Day 6
Quepos > San Jose
Morning hang session with the animals of Manuel Antonio, followed by our final drive of the trip to the Marriott in San Jose.
Day 7
San Jose > Somewhere Over Bocas del Toro > San Jose > Tamarindo
I will say this: it was a serious lifesaver that Tobias Bolaños had a free, stable wireless connection. After a lot of searching and a few urgent e-mails, we were booked at Villa Alegre. Our afternoon in Tamarindo was spent stress-free, winding down on the beach and witnessing the most beautiful sunset I've ever seen. Fo' realz.
Day 8
Tamarindo
Oh, just took a surf lesson with Iguana Surf School in the AM, no big deal. This was followed by an afternoon poolside. No, not because we couldn't move from all our hanging ten…
Day 9
Tamarindo > San Jose
We were seriously sad to depart Tamarindo, but we kicked off our morning with a kayak estuary tour, also through Iguana Surf. Then, it was back to the airport and back to San Jose for a night of room service and Olympics catch-up.
Day 10
San Jose > NYC
And alas, back at our apartment by 6 PM. As if none of it ever happened.

So, the big questions:
Did we see a sloth? Was driving in Costa Rica the absolute worst experience of our lives? Was zip lining the second absolute worst experience of our lives? What was our favorite place? Who was our favorite monkey?! (We saw a lot of monkeys so that one's a real nail biter).
Stay tuned.
xo!
the romantic
Save