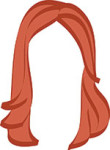 Aloha, travelers!
 Well, it's officially here—the hubs and I have kicked off our RTW. More on our first stop later (spoiler alert: HAWAII IS AMAZING). First, there are things to catch up on…
The last week of life as we knew it was intense. There were goodbyes, there were responsibilities, there were safety deposit boxes and apartment issues to be handled. It was like one big dose of reality smacking us in the face before we left. To be honest, it was hard to get into the mindset that we were about to depart because there was just so much STUFF to do.
The biggest headache? Packing. Of course.
Luckily, I got two amazing bits of advice before our trip.
You're not packing for five months, you're packing for two weeks, with the intent to wash your clothes as often as possible.

Take a "practice trip" that allows you to try out your backpack in advance. Thank you, Switzerland.
Still, it was difficult.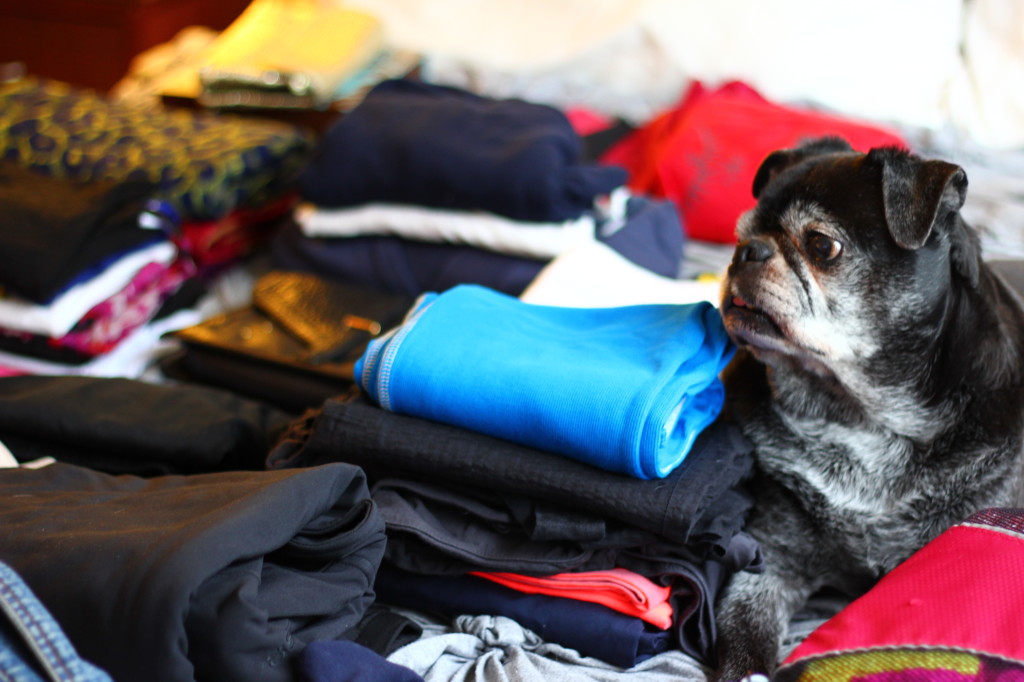 I see the judgment in his eyes and I don't care.
Yes, it's well documented that I'm terrible at packing. It's not fun, and I'm never fully satisfied with my decisions once we reach our destination. I can't pull of the whole "oh, I am sooo not a girly girl," because sorry: I kind of am. I like to look nice, I like to feel clean, and I don't do the whole "second-day hair" thing if I can help it. I don't think I'm particularly high-maintenance—I just feel better when I like how I look.
This means, that despite our vow to stick to our daily budget, I know that down the line, I'm going to want to chuck 50% of the clothes in my bag in favor of a new wardrobe. I know my weaknesses, and committing to wearing the same clothes for 150 days in a row is definitely one of them.
By the grace of God, I somehow was able to fit everything into my pack… and it's a lot. It's a little heavier than I'd like, and I already know I'm going to laugh at myself for some of my choices. The problem is, at this point, I have NO idea which items will fall into the "you idiot" category.
So, in full disclosure, my list (remember: first time long-term traveler, so please withhold the snark):
The Clothes.
1 week's worth of socks
2 weeks' worth of undies (hehe)
2 sports bras
1 regular bra
1 strapless bra
2 swimsuits

1 pair of board shorts

2 dresses (hardest decision of my life, I know a 3rd 

(and probs 4th

) is in my near future)

1 long sleeve tee

8 t-shirts/everyday tops

5 short sleeve athletic/sleep tees

1 dry-fit athletic shirt

1 rain jacket/outer layer

1 Under Armor fleece jacket

1 denim jacket

1 Scottevest (this felt excessive until I realized how much hiking we're going to do and this thing was free at TBEX and is full of pockets)

1 hoodie

3 pairs of regular shorts (2 khaki, 1 denim)

2 pairs of athletic shorts

2 pairs of PJ shorts

1 pair of pants (not jeans, exactly—they're like pseudo jeggings, maybe?)

1 pair of sweats

1 pair of black leggings

1 pair of base layer leggings (I'm envisioning these to be useful while camping in NZ, but we'll see)
The Accessories.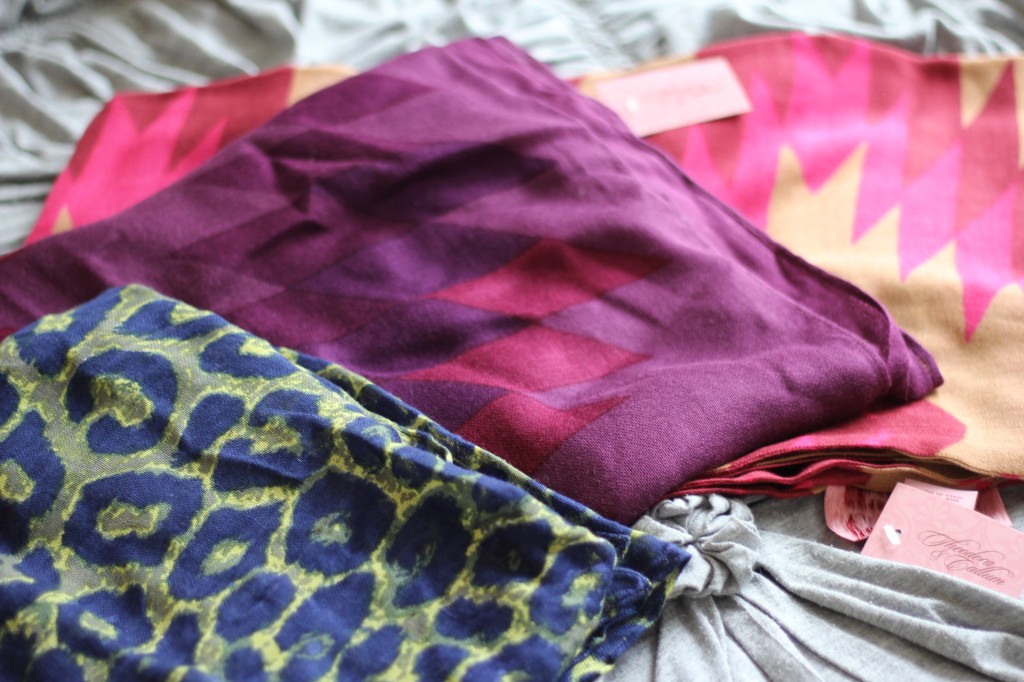 I don't ever, ever travel without scarves. I physically can't.
1 belt
1 Timex watch with two exchangeable bands
3 Theodora & Callum scarves, as pictured above (seriously—best scarves for traveling.)
1 necklace (a birthday gift from my parents so that I'll always have them close to my heart. Right?!)
5 bracelets (they're all woven, so they take up like 0 space and again: accessorizing is key for my sanity)
1 baseball cap
1 flat iron (I KNOW, I know. I know! But I can't.)
1 pair of sunglasses
The Shoes.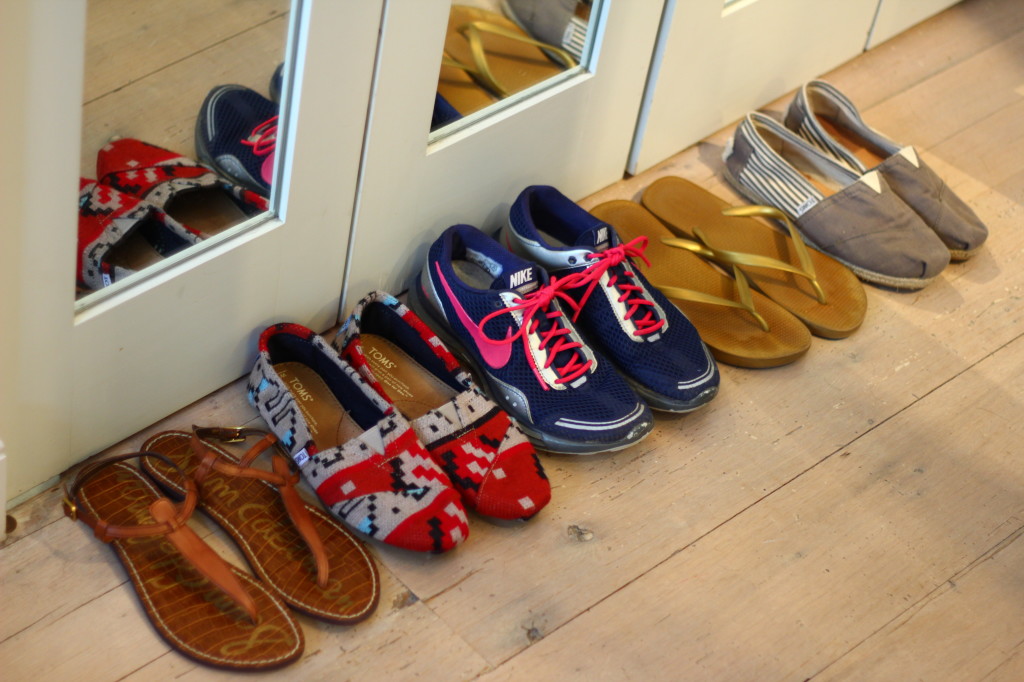 Lucky, lucky me for having tiny little baby feet. I'm using my size 6/6.5s as my excuse for all this.
1 pair of sneakers
1 pair of flip flops
1 pair of nice sandals
2 pairs of Toms (be quiet, you)
Of the above, the hubs's list is pretty similar. His only accessories are sunglasses and a baseball cap, and he has less shoes—one pair of sneakers, one pair of boat shoes, and one pair of flip flops. He also went light on the dresses and bras portion of the list, but heavy on the socks. OH and he has one jacket and zero vests because he can show restraint in his decision making skills and maybe I need to take that off my resume.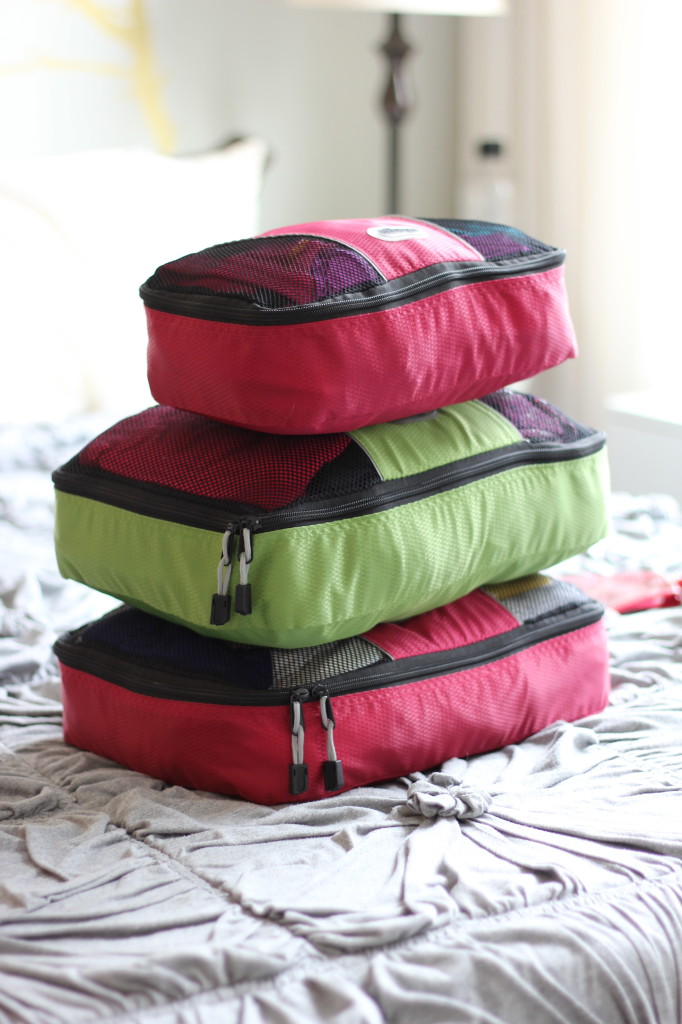 Ta-freeaaaaking-da. Thank GOD for packing cubes.
The above is basically everything in our packs… which means there are still two carry-on bags full of stuff. More on that to come, because my eyes are starting to cross.
Here's the thing. A lot of people have reacted with the standard, "I could NEVER do that," and I get it. We've never really been budget travelers—usually our 10 day getaways are our splurge of the year. But when you have the chance to take five months to travel the world, are you seriously going to say, "but I could never live out of a backpack, so PASS!"?? When it comes down to that choice, I'd much rather wear the same t-shirt and shorts everyday for 30 days. I mean, if I REALLY had my choice, I'd much rather have a private jet and a modern day lady's maid—an Anna Bates to my Mary Crawley, if you will—but we work with what we got.
For now, I assume a big part of long-term travel will be the realization that I am just absolutely ridiculous when it comes to dressing myself, but until then, you can find me laying out my outfit for the next day and trying to figure out which scarf works best.
xo!
the romantic
– Thanks to T&C for stocking up my scarf pile. Be sure to keep an eye out for these babies on Instagram and Facebook as they continue to travel the world with me.