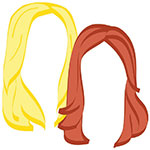 Ahhh, the holidays. The time of year when lights are twinkling, Santa's nose is crinkling, and we all get to feel extra greedy. Err, giving. That's right! Gift guide time.
We've seen no shortage of gift guides around — gifts for him, gifts for her, gifts for kids, gifts for travelers. But what oh what do you get the most fashionable travel-loving lady in your life? You know the one: she has a penchant for champagne and blowing most paychecks on airline tickets.
Lucky for you, we know two such girls. Since we're always here to help, we present to you: gifts we would give each other in a heartbeat (see also: gifts we would ask from our significant others, family, or loyal readers) (jokes). All items are inspired by our travels, things we wish we had on recent trips, or things we really want for our next getaway.
And thus, we present to you:


>> click to enlarge photo for more detail
1 // Jonathan Adler Richard Nixon Throw, Camel/Natural
| Jonathan Adler, $295.00
2 // "Escape the Ordinary" Candle | Kate Spade, $40.00
3 // LUXE World Grand Tour Travel Guide Box | Shop Latitude, $110 
4 // Sonia Kashuk Limited Edition "Classic Chic" 4 pc Brush Set | Target, $21.99 
5 // Non Je Ne Regrette Rien – Wall Print | Sarah & Bendrix, £25.00
6 // Essie Nail Effects | Essie, $6.00

7 // Eclipse Ring
 | Lulu Frost, $132.00
8 // The French Dog
 | Coffee Table Book, $21.00
9 // Fleur de Lis Knobstopper Wine Stopper in Gold | Hester & Cook, $22.00
10 // Classic Large White Trunk | The Little Market, $450
Girls, feel free to use this to guide you toward the perfect gifts for your own bestie, or to pass along to your other halves who just have no clue.
And tell us: what's on your list this year?
xo!
the romantic & the wino
Save
Save