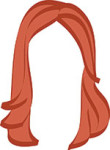 We split our six days in Cambodia between Phnom Penh and Siem Reap, and—surprise, surprise—we were the laziest of lazy travelers. I mean, truly.
Thanks to the use of SPG points at the Le Meridien Siem Reap, we had room in the budget for a proper splurge at the Plantation in Phnom Penh. It just might rank as one of my very favorite hotels of our trip. And, given our record, this is an impressive feat.
It was so, so hot in Cambodia. This means we spent far more time at the hotel pools than I usually deem appropriate. After our whistle-stop tour of Vietnam, though, we figured it was fine. As long as we knocked off a few key site-seeing items, the poolside drinks were warranted. Turns out, our afternoons lounging by the Plantation's pool are some of my favorites from our time in Asia.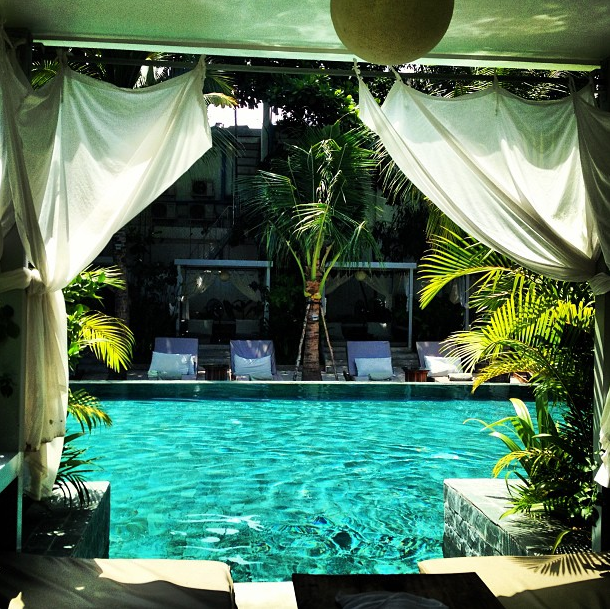 Still, I would never advise people to go to Cambodia and veg by the pool all day. There are more than a few things you can't miss. 
Phnom Penh
Social Enterprises & NGOs // One of my very favorite things about Phnom Penh was the popularity of different restaurants and stores operated by NGOs working to stop the exploitation of children in Cambodia. A few people directed our attention toward these places, including Tammy of Tammy & Chris on the Move who is chock full of Cambodia info if you're in need. We found ourselves purposely seeking out such establishments, and these were a few of our favorites:
Sugar & Spice Cafe – This is a small cafe with amazing salads & sandwiches, and was located above the Daughters Boutique–which had clothing, accessories, and souvenirs handmade by locals. All proceeds benefit the Daughters of Cambodia, which supports victims of sex trafficking in transitioning out of the industry and into a new, safe life.
Friends 'N' Stuff and Nail Bar – These two shops are right next to each other, and both benefit Friends-International. The goals of Friends-International are broader than Daughters of Cambodia. Their main aim is to help at-risk kids make better decisions, and set them on track to lead productive and fruitful lives. Though we didn't buy anything from Friends 'N' Stuff, I did enjoy a (much needed) $5 pedicure at the Nail Bar!
Romdeng – This is also under the Friends umbrella, and often mentioned as one of the best restaurants in Phnom Penh. Aside from the fact that the restaurant is operated by former street youths working hard for a brighter future, the food here was amazing. The menu asked that all patrons be patient and encouraging to the staff. Many were still struggling to build confidence and develop their professional skills. All were completely adorable.
Even the one who came running up to our table and shoved this in my face: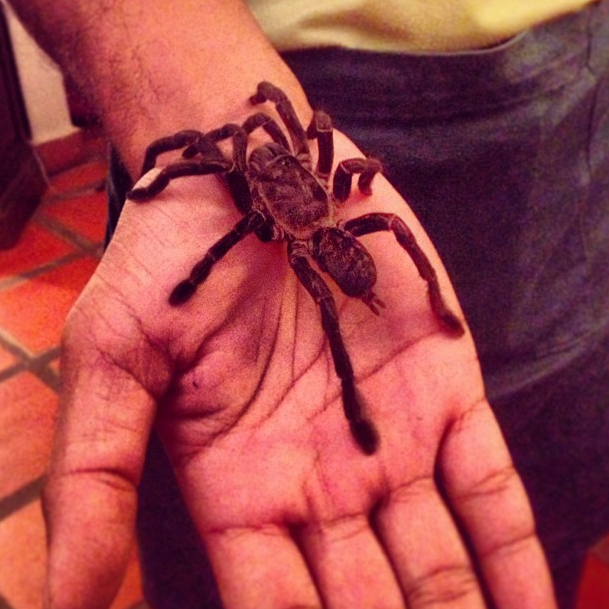 And here is where I mention that at Romdeng, you can order deep-friend tarantula as an appetizer and fire ants in your pasta. We did neither.
The Russian Market // Ok, so I learned quickly that Asian markets are kind of my worst nightmare. SO much stuff, so many people, so many smells. It's just all too much for my neurotic self to handle. At most of the others, it only left me feeling anxious. The Russian Market, though, seemed like a much more local experience.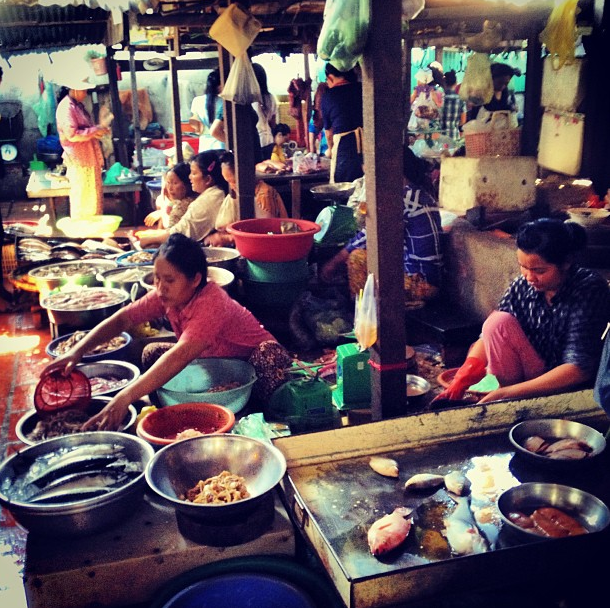 I'm not sure if this is entirely true (we still saw our share of crap for sale). But when we stumbled into each area of the market that sold actual food, it felt like we were definite outsiders looking in. You know, rather than the targets of people trying to get us to buy light up plastic toys and muscle tees.
(No but seriously, what is it with the mass amount of muscle tees for sale in Southeast Asia? Guys, no.)
The Killing Fields at Choeung Ek // When we were in Amsterdam, we visited the Anne Frank House on our very last day. This, along with the shoe exhibit at the US Holocaust Memorial Museum and our more recent visit to the War Remnants Museum in Vietnam, is one of the few experiences in my travels that have not only put these tragedies into perspective, but also made them feel, to a certain extent, more real.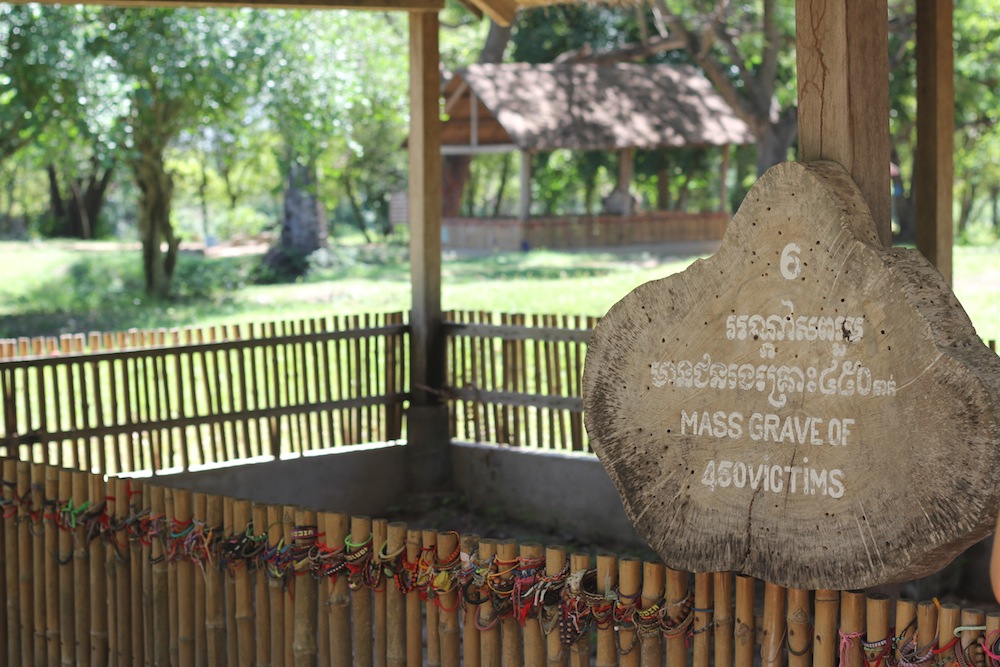 Needless to say, I had a feeling that the Choeung Ek Killing Fields would also have a heavy impact. However, unlike the Holocaust and the Vietnam War, I really didn't know very much about about the rise of Pol Pot and the Khmer Rouge, or his reign in Cambodia. I knew that the Killing Fields referred to a variety of sites throughout Cambodia where mass amounts of civilians were murdered at the hands of their own people, but it wasn't until we toured Choeung Ek that I learned that almost a third of Cambodia's population died as a result.
The hubs had read First They Killed My Father in college, so he was also able to give me a brief history before our visit–and he recommends the read, though can't talk about the book without pointing our that the title is seriously misleading when it comes to the actual chain of events (he's really into tangents, that hubs).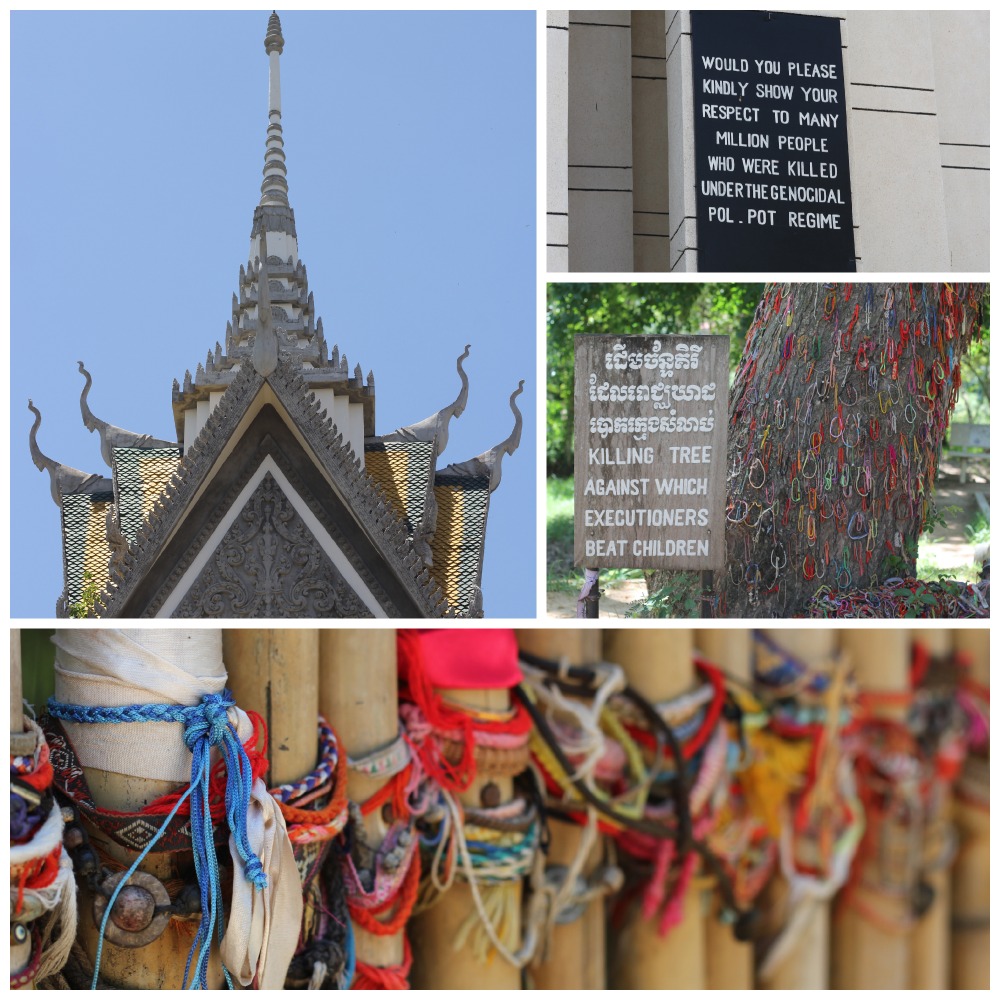 We ended up joining Mike & Tara of 2Travelaholics, whose year+ RTW adventure had finally coincided with ours. The timing was a little unfortunate. Their last full day in Phnom Penh overlapped with our first, and the only thing left on their Phnom Penh itinerary was visiting the Killing Fields. Despite the fact that it was an odd first hangout destination, we loved finally meeting the duo in person! I also strongly recommend checking out their post and video on their own experience exploring Cambodia's emotional history.
It's hard to really verbalize the experience of walking through Choeung Ek. There were so many emotions while listening to the audio guide of firsthand accounts from survivors–both victims and Khmer Rouge soldiers. Audioguides are something I'm usually skip, but it's not worth it to walk around Choeung Ek without one.
Thousands of brightly colored friendship bracelets decorate every available space at each of the mass graves, as well as the killing tree, as pictured above. It was here that the audioguide revealed jus how serious the Khmer Rouge soldiers took their mission, following two strict and disturbing principles as they committed unthinkable crimes against children as young as infants.
"No gain in keeping, no loss in weeding out."
"To destroy you is no loss, to preserve you is no gain."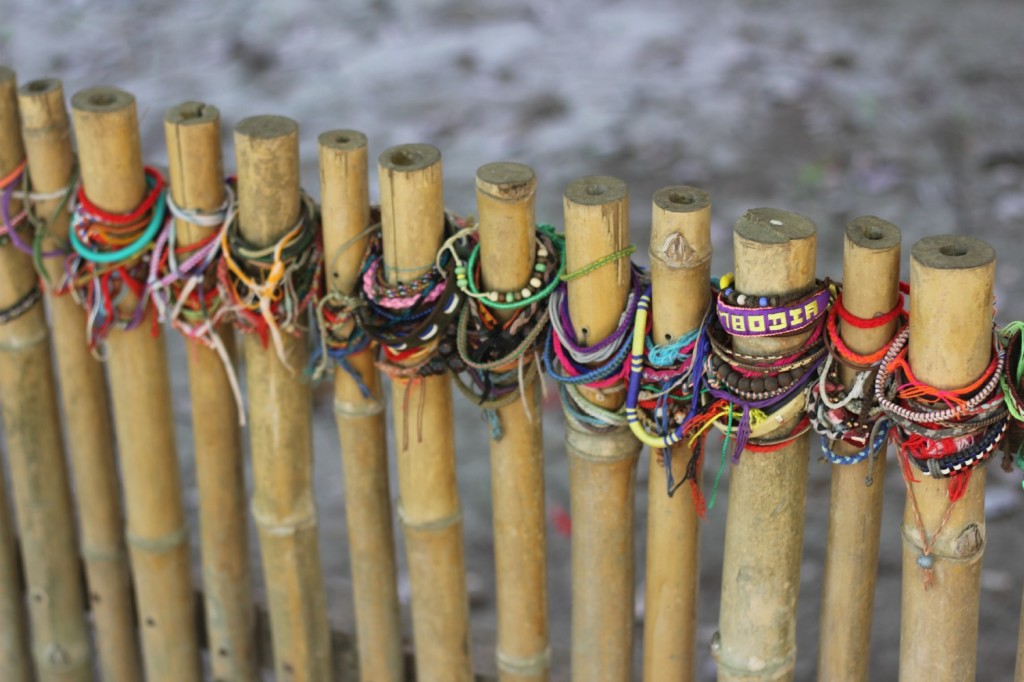 Seeing the bracelets themselves was one of the most moving parts for me. It was a gentle reminder that for every body found at Choeung Ek, there are at least a dozen people who felt moved to leave a little reminder that they know what happened here and won't forget.
Siem Reap
After our few days in Phnom Penh, we hopped on a bus and made our way to Siem Reap. The bus was surprisingly comfortable–and a welcome surprise after all of our Vietnam travel shenanigans. We had fallen pretty hard for Phnom Penh, so we were excited to see what Siem Reap had to offer.
Pub Street // Siem Reap's Pub Street is, admittedly, pretty cheesy, but we made the most of it. Along with cheap food, cheaper drinks, and practically free foot massages, we had a few funny nights out on Pub Street. Fun, yes, but definitely more funNY.
Mostly because:
Cha yeah. Fish pedicures. Turn your sound on (…but your volume down) to see how I felt about it.
Angkor Wat // This, of course, is the #1 reason to come to Siem Reap… and if it weren't for Angkor Wat, I would have declared Phnom Penh the definite winner in this imaginary competition. PP still does beat out Siem Reap for best Cambodian city, in my mind. But I'll let the pictures speak for the day we spent at Angkor Wat.
And yes, before you ask, we missed sunrise because, hello >> lazy << and yes, we left before sunset because it was the summer and that shit was going down late. We tried to hold on and stick around, we really did. But then as the day was coming to a close, I fell and skinned my knee like some sort of manic toddler and a strange man with a food cart offered to massage my open wound with a lidless mystery salve he pulled out of his back pocket? It was one of those times where the hubs and I looked at each other and said, "you know? It's been a good day, I think we're gonna call it." So we did.
But before that, this is how our Angkor day went: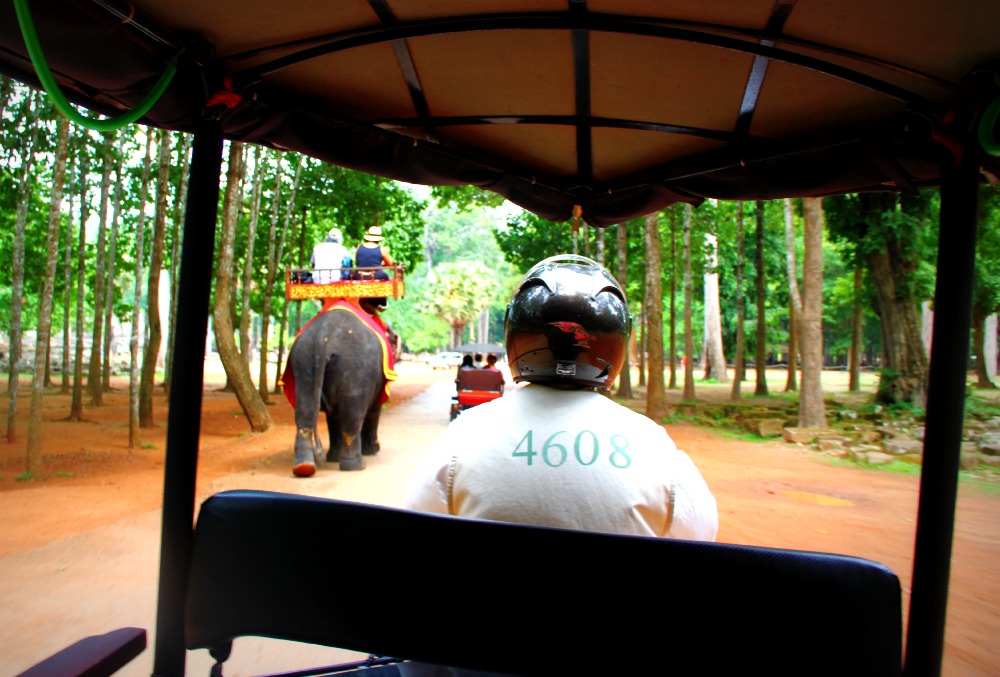 The only way to properly see the entire complex is to hire a private tuk tuk driver for the full day. The Le Meridien Siem Reap is the closest hotel to Angkor Wat, and he charged us $10. For the entire day. Our driver spoke minimal English, but knew the key spots to hit.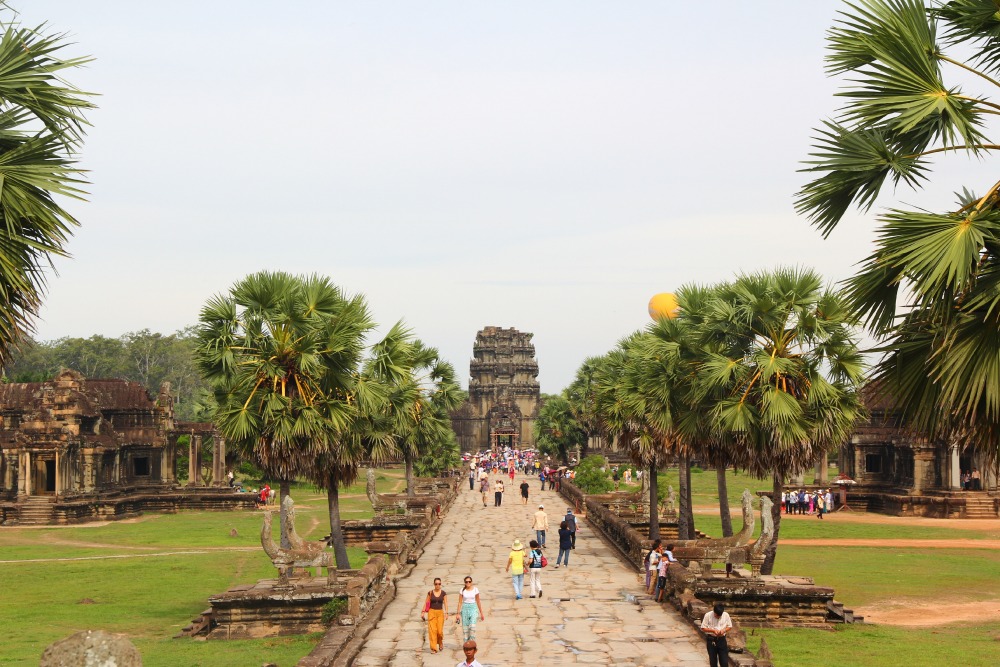 Though we missed sunrise, the crowds when we arrived around 10 AM still weren't too bad. The place is honestly so enormous. I imagine that it'd have to be insanely crowded to really affect your experience. If anything, I only noticed our fellow tourists when we were all trying to snap the same shot. Then it was bows up.
Mostly because I could not. stop. snapping. away.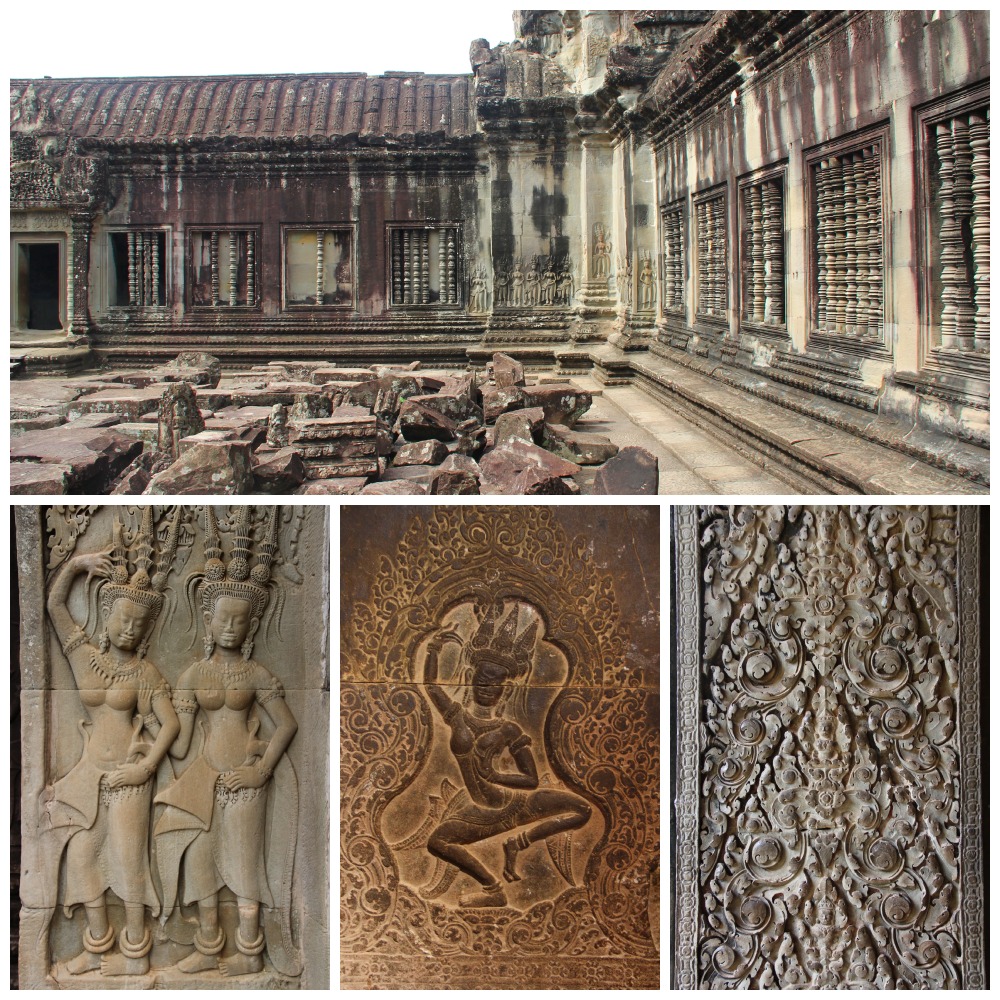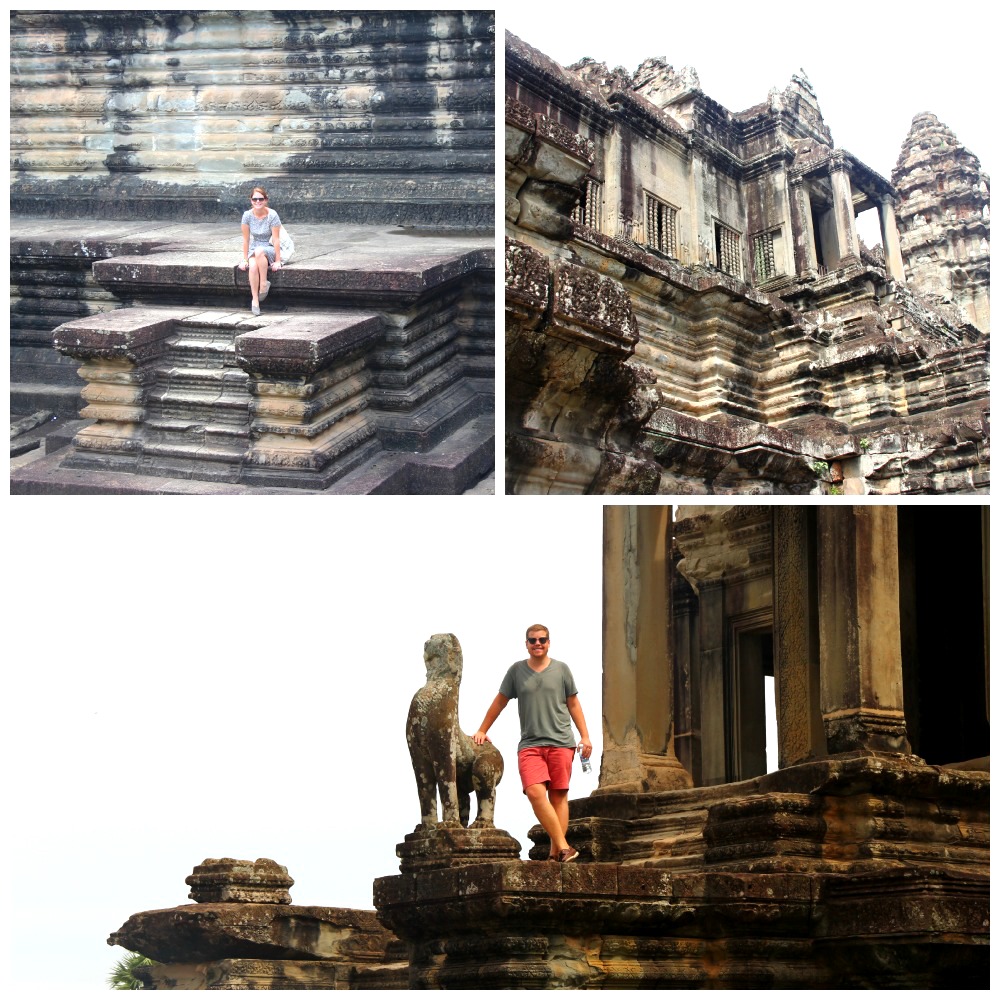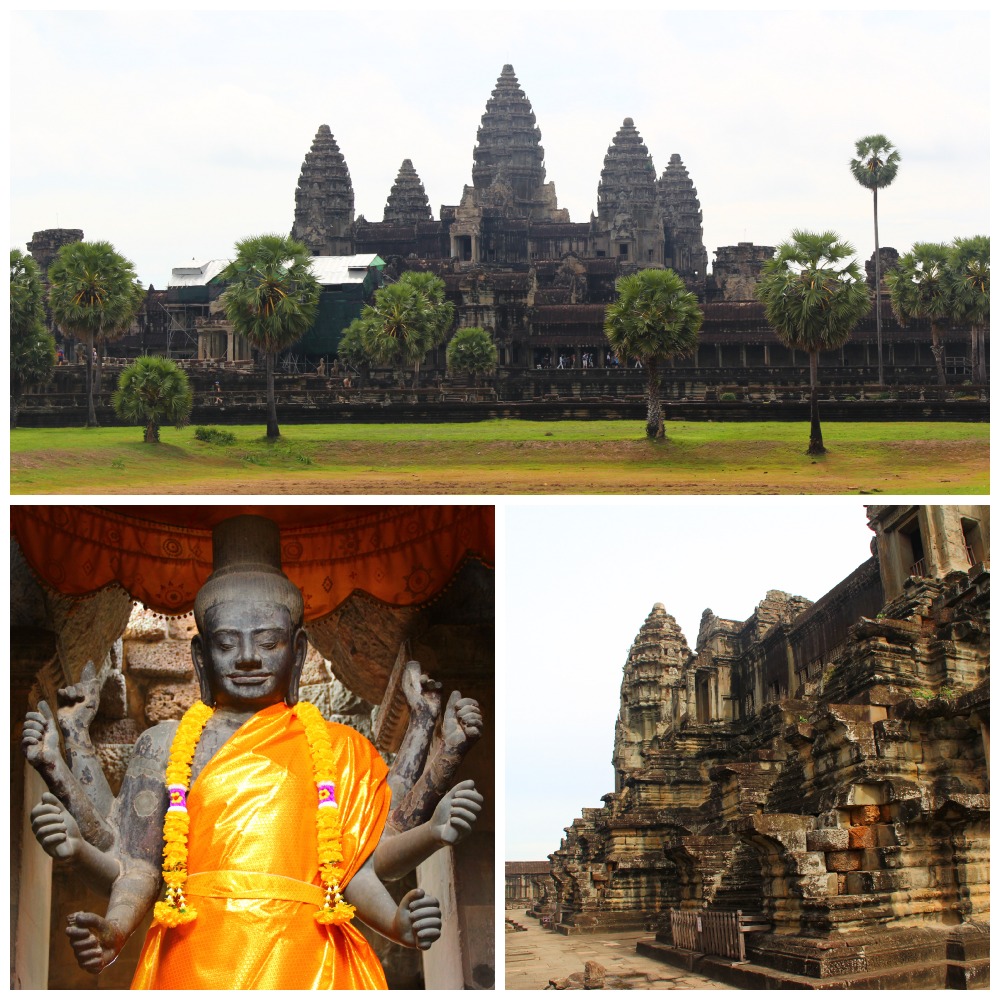 After we took in the wonder of Angkor Wat, we made our way to explore the rest of the complex. Our next stop was Angkor Thom. Though much smaller than Angkor Wat, I was enthralled by the faces carved into the stone.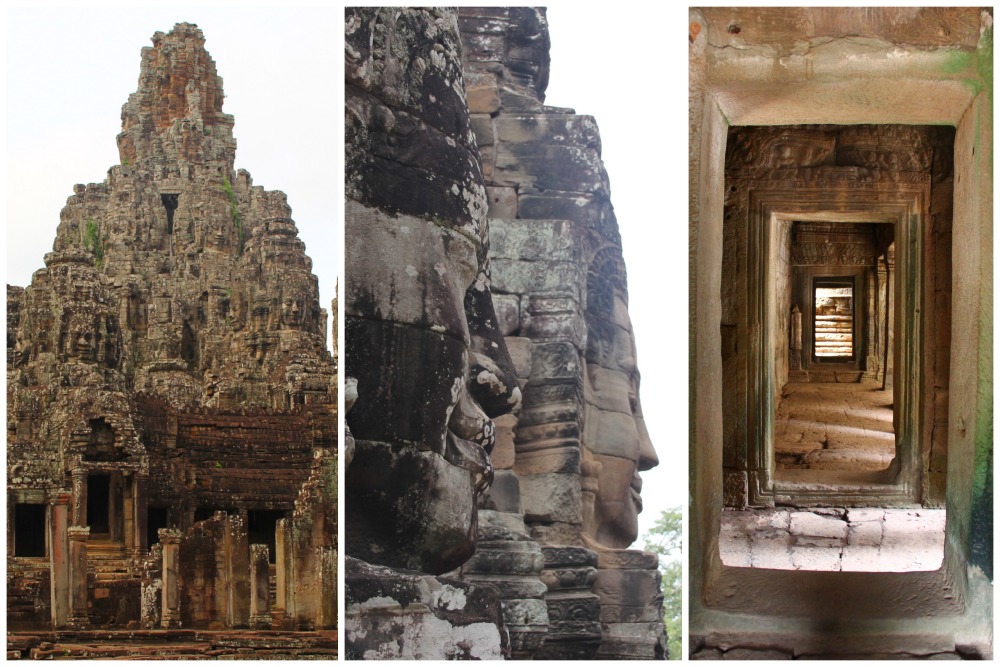 Luckily, our tuk tuk driver wasn't needed because he was otherwise engaged.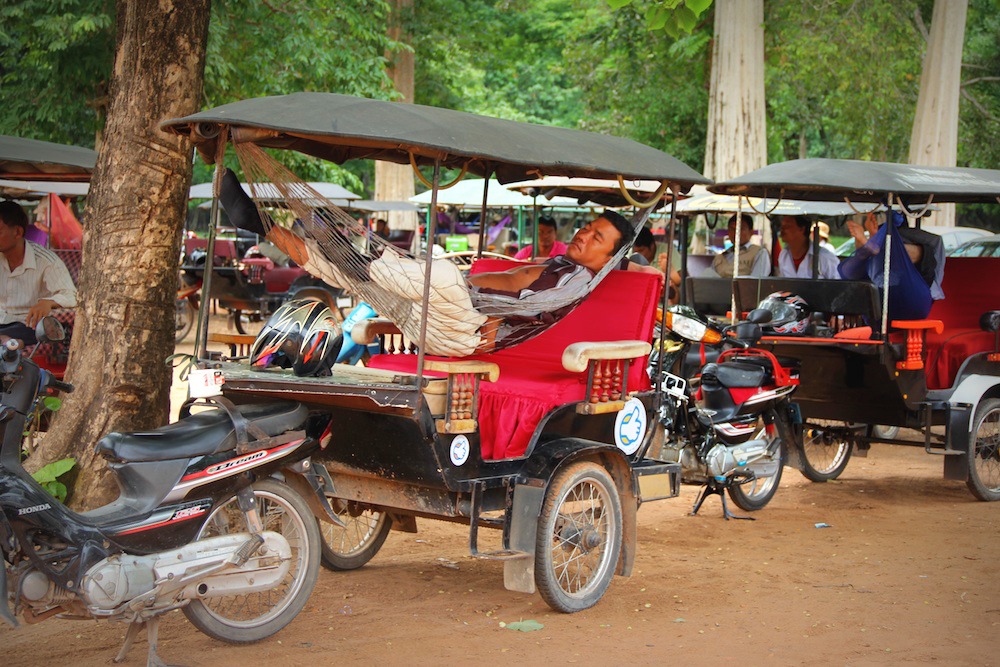 Just kidding–this wasn't our actual tuk tuk driver. But so many points for creativity, right? We continued to stroll around, stopping at a few small temples and taking in the sights.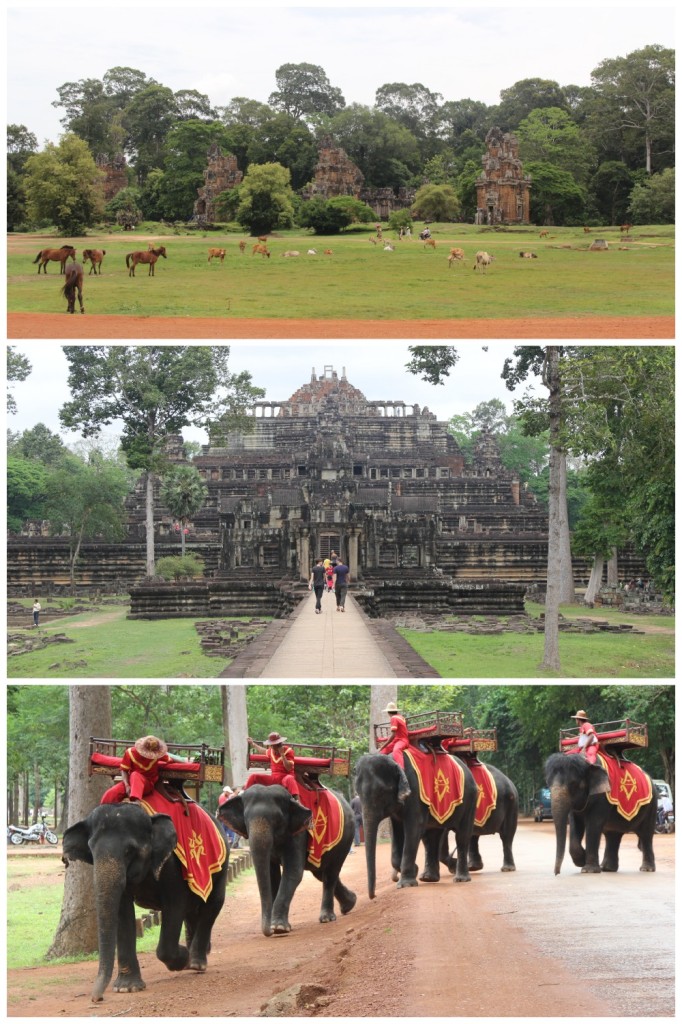 After a long day of walking and tuk tuking and trying not to cry over all the elephant riders (GUYS. DON'T RIDE ELEPHANTS. MORE ON THIS LATER), we headed to the temple that I fell in love with the most.
Meet Ta Prohm: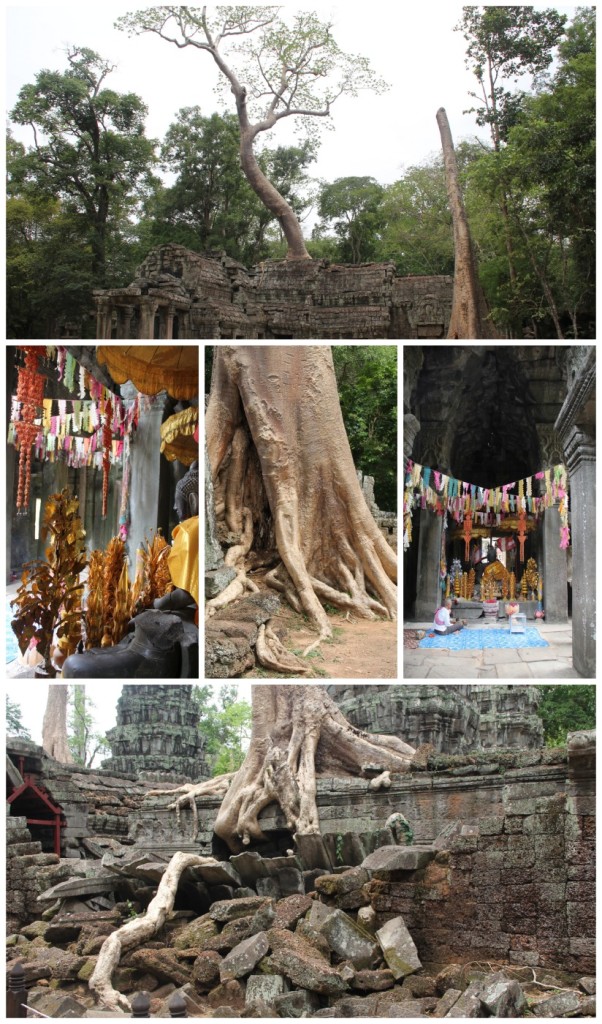 Naturally, you can guess that our time in Cambodia was way, way too short. We didn't make it to any of the beaches, and it feels like we barely scratched the surface. But it definitely made me want to get back to Cambodia and see so much more.
Next on the RTW itinerary: to Thailand!
xo,
the romantic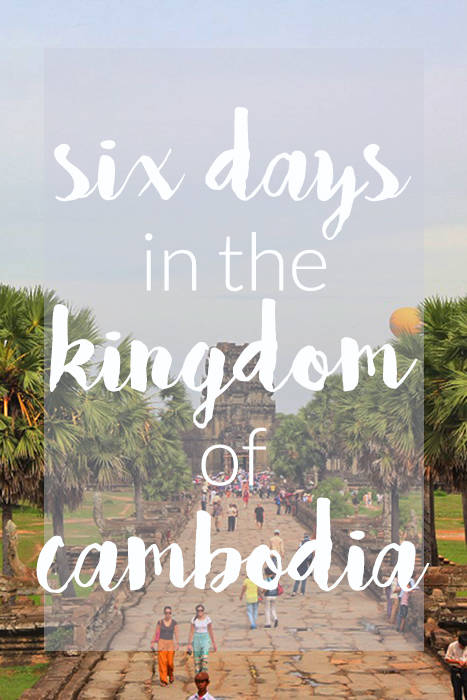 Save
Save