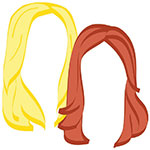 We must admit: we really weren't prepared to fall as in love with Boston as we did. Sure, we're longtime fans of the "I could live here!" litmus test when visiting a new city. But we were both surprised to find that, after a spectacularly perfect day in New England, yes! We could live in Boston!
We really only had about 72 hours in and around Beantown. But that didn't limit our imaginations! In our minds, we were running off into a future life of white picket fences flanked by blooming hydrangeas.
Here's what we wish we had packed.
THE ROMANTIC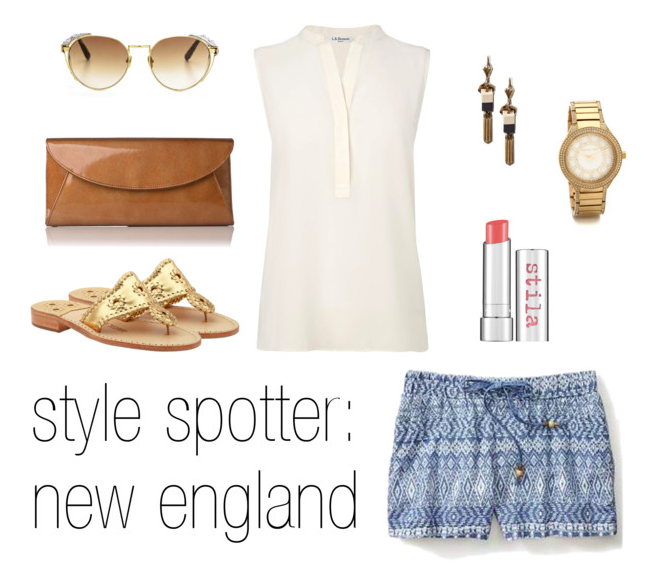 Shop the romantic's look!
Clockwise from top left
Linda Farrow Luxe Side Visor Snake Sunglasses in Gold/Black
 // Protective eyewear is a requirement for any sunny summer day, and I'm officially in the market for something with a little more sass than my current classic Clubmasters.
L.K. Bennett Hina Contrast Binding Silk Top // Prepster rule #1: keep it classic. Use your accessories to add flare, but the basics should be just that.
Ambrym Cube Fringe Earrings // After a long hiatus, I'm slowly inching my way back into life as a regular earring wearer (those little buggers can be hard to keep track of when you're moving locations extremely often). These feel like a good place to start.
Michael Kors Kerry Watch in Gold // Let's be honest, here. Nowadays, no one wears a watch for the reason that watches were made: we have our phones to tell us the time, and timepieces are merely a fashion statement. Even so, stepping into New England is a bit like stepping back in time. A simpler, more refined time, when people wore wristwatches and didn't take selfies.
Stila Color Balm Lipstick – Isla // When we were in Boston, my summer glow was just about winding down. Still, when I'm extra freckly, I try to keep my make-up minimal and let my natural glow shine through. Just go with it, guys, pale girls gotta get their kicks somehow.
Ella Moss Paz Chambray Short // It is my life goal to assemble an entire wardrobe of items that look stylish but feel as though I'm wearing pajamas. I suspect these fit the bill.
Jack Rogers Navajo // You know, its taken me awhile to hop on the Jack Rogers bandwagon, but thanks to the wino, here I am. And if you can't wear shiny gold sandals in New England, where CAN you wear shiny gold sandals?
L.K. Bennett Flo Saffiano Patent Leather Clutch // Clutches are nicer to lug around than the giant Longchamp shopper I'm usually toting, even if they are just the teensiest bit less practical.
THE WINO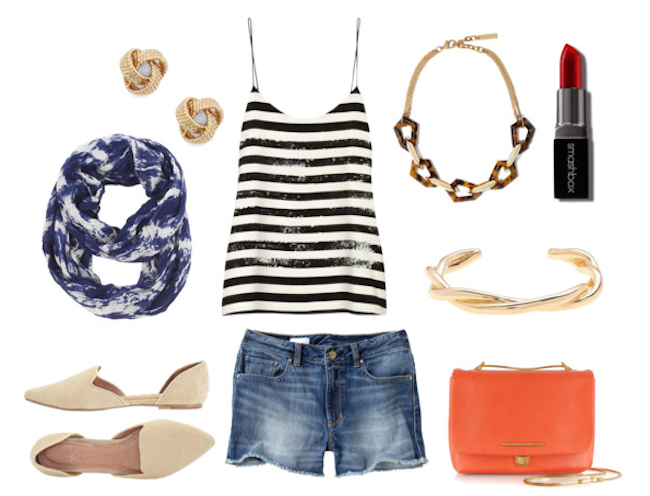 Shop the wino's look!
Clockwise from top left
Sole Society Knotted Studs // Reminiscent of sailors' knots, these studs are the perfect accessory for a day on the New England coast! …Or along any coastline, for that matter.
Tibi Striped Crepe de Chine Camisole // New England may be among the United State's northern most geographical points, but that doesn't mean it's not steamy hot during the summer months. Opt for a lightweight camisole like this one from Tibi. Dress it up or down!
Vince Camuto Statement Link Necklace // Resin jewelry is a smart choice for travelers who want the statement of big jewelry without having to carry the extra weight in their luggage. Aka, all of us.
Smashbox "Be Legendary" Lipstick in Infrared // A bright, bold, red lip. All day, 'err day.
J. Crew Gold Braid Cuff // It would seem wrong to put together a New England outfit without including something from J. Crew, and what better than a simple gold bracelet?
Marc by Marc Jacobs Third of July Crossbody in Spiced Orange // Give me anything in this color, and I'm sold.
1969 Raw Edge Maddie Denim Shorts in Modesto // Let's be honest, a girl can only rock cut-off jeans for so many years of her life. In my old age, I opt for the "raw edge" look rather than straight forward cut-offs.
Joie Florence Flats in Rosegold // When in New England, you can never be sure which Kennedy you may run into. For the sake of preparedness, I'd have to pack a pair of preppy looking flats, ya know?
Nine West Painted Strokes Infinity Loop Scarf in Blue Blazer // When that cool coastal breeze blows in at night, make sure to have a lightweight scarf on hand. Luckily for us (and for you), Nine West is running a 30% Sale from August 22nd through August 24th. Get thee to Nine West and use the code EXTRA30 for stock to on all your New England-inspire faves. Update: this sale has now ended. 
xo!
the romantic & the wino