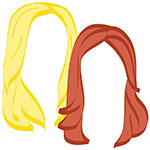 WELL, hello, October! Fancy meeting you here! We're back with another rousing edition of our packing dreamlilst, this time with style spotter: Mykonos edition.
We must admit. We've been not-so-patiently waiting for this month to arrive since our planes' wheels met the pavement post-Portugal. That's because in just a few weeks (days, practically), we're off on another grand adventure! That's right…
MYKONOS
Yes, correct, our trip with MyGreek-Villa is just around the corner, and naturally, we're starting to figure out what the heck we're going to wear! As we're going a little after peak season, we're hoping for perfect pool weather… but nothing's a guarantee, so we must be prepared.
Unfortunately, we're terrible at being prepared! What we're not terrible at, however, is scrolling through the endless pieces on Polyvore and wishing our own wardrobe was just as extensive.
If we had our way, here's what we'd be bringing with us on our own little #LTgreekweek.

While I stalk the 10-day forecast until our own travel dates appear on the list, I'm coming to terms with the fact that October in Mykonos might not bring the last burst of summer weather we're hoping for. 70 & sunny will be nothing short of lovely (especially compared to London!), but light layers will be a necessity. Packing a bathing suit feels downright hopeful.

sunglasses // 3.1 Phillip Lim Glam Round Sunglasses – No matter the temps, Mykonos's blue and white color scheme means sunglasses are a must.
sleeveless top // Women's Pleated Sleeveless Blouse – True story: when we moved to the UK, my GP ran a blood panel for my first check-up, and noted my Vitamin D needed a boost. Her prescription? A sunny holiday. "And make sure you wear sleeveless tops to soak in the sun!" So, this one is just doctor's orders, basically.
light sweater // Rag & Bone Amelie Mesh Thick Net Sweater – We're expecting warm days and cool nights, so a sweater is key.
shorts // VILA women's flourish spring shorts – Gimme these.Or THESE, which are nothing like the ones pictured, but clearly, fancy shorts are having a real moment.
necklace // Filini Collection Bohemia Shells Woven Boho Statement Necklace – Statement necklaces like this are a thing of my past, because Margot would most likely do her best to rip it off and make it her new favorite teether. But if I'm gonna dream about my ideal outfit, I might as well dream big, right?
greek key bracelet // Bangles are a travel ensemble staple.
a manicure // Perhaps a pre-trip mani is in order, and I can get this essie Petal Pushers on both my hands AND feet?
sandals // I love everything about these Loeffler Randall Linda Scalloped Sandals, and I want them to be mine forever.

Is there a chance it might be chilly in Mykonos in October? Of course. Will that stop me from extending some of my summer favorites a few weeks long than I maybe should? Nope. Big old nope.

sunglasses // ray-ban  – You simply can't go wrong with a pair of ray-bans. And, having just lost my latest pair this summer (ahhhwhoops), Mykonos is the perfect excuse to invest in these gold beauties.
earrings // Gemma Crus – Accessories go a long way when traveling, so I typically go for statement pieces. I'm obsessed with this crystal blue pair from GILT!
rings // Forever21 – The length of time I can keep track of any small accessory directly correlates to how many adult beverages I've had. So, to be safe, I carry a lot of these stack-able and inexpensive gold rings.
kicks // Sperry – Though I'd looove to say I'm packing a cute pair of heels, in order for me to have ANY chance of leaving the villa and walking through the hills of Mykonos, I have to pack something a bit more comfy.
hat // Eugenia Kim – Am I cool enough IRL to wear this hat? Probably not. Will I aspire to own it anyway? Most definitely, yes.
scarf // Seed Heritage – Ooook, so admittedly I've gone a little overboard with the pom-pom trend that hit this summer, but what's not to love about this geo-patterned scarf?
top // Abracadabra – In addition to pom-poms, I've also been crushing on off-the-shoulder tops and dresses. When a girl has as many freckles as I do, you might as well show them off.
shorts // Thakoon – Remember when the romantic said fancy shorts were having a moment? She was right.
Alright, MyGreek-Villa, we're ready for you; 10 days and counting! Tune in next week for the kickoff of #LTgreekweek!
xo!
the romantic & the wino
We will be guests of MyGreek-Villa during our stay in Mykonos. All opinions are our own.
Save
Save
Save
Save
Save
Save
Save
Save
Save
Save
Save