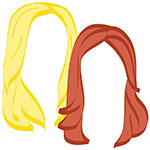 In March, we had to ask ourselves the ultimate question:
What in the world does a girl wear on safari??
What exactly do we wear on our feet to trek through the South African bush? What kind of pants will keep us cool in the sun while keeping mosquitos away? Are there any colors that startle lions?? In the weeks leading up to our trip to South Africa, we joked about outfitting ourselves in cargo khaki, hiking boots, and bucket hats. When the time came, we opted for utilitarian over style, each sporting olive khaki pants (with only a FEW cargo pockets), lightweight tanks and tees, and sneakers.
We embarked on our first game drive, departing from Sabi Sabi Game Reserve about an hour before sundown, unsure of what to expect during our almost three-hour drive. Though the reserve is authentic South Africa wilderness, we realized quickly that we wouldn't spending much time outside of our truck. In fact, the only time we stepped off the vehicle was for a quick happy hour that our ranger set up on the hood of the truck. It was, decidedly, the most luxurious way to see South Africa's wildlife.
Had we known just how luxe our experience at Sabi would be, we would have done some airline research and shoved way more outfit options into our carry-ons. As such, we've decided that next time we go on safari — and there WILL be a next time — we might go in a slightly different style direction…
the wino// upgraded utilitarian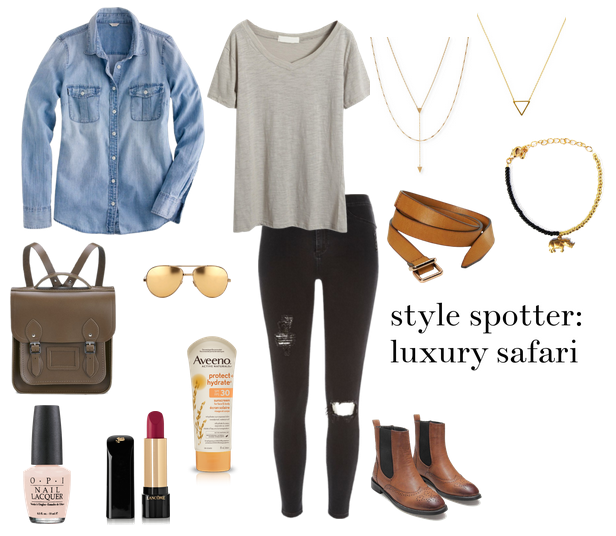 shop the wino's look here!
I have to admit, I didn't totally detest my olive green khakis and tank top that I sported on the first drive, but if I could go back in time and change my look, I might upgrade my basics and throw in a few extras.
Though the temperatures in Kruger climbed above 100 degrees during the day, the game drives took place during the cooler hours in the early morning and late evening, meaning layers were absolutely key. A scarf or light chambray shirt would have been a life saver during the moments I spent shivering in my tank top.
Though hiking-friendly shoes weren't really a necessity, we did end up on a spur-of-the-moment walk through the bush when our ranger spotted giraffes off into the distance. As we traipsed through knee-high grass and shrubbery towards the animals, images of the scorpion I almost stepped on during night one ran through my mind, and I was thankful for my sneakers and long pants. In the future, I'd likely switch out my sneaks for a pair of fashionable but sturdy ankle boots.
As always when I'm traveling, I use my accessories to dress up otherwise neutral outfits. A few long gold necklaces to layer would compliment a basic tee and add just enough style to transition the outfit from bush to drinks. My favorite piece from this whole look is the delicate rhino necklace — an ode to South Africa's dedicated effort to stop rhino poaching across the continent.
As for my beauty routine in the bush, sunscreen is a must (chelloooo freckles) as well as a light-colored nail that doesn't show too many chips. And, just because we're on safari doesn't mean I'm ditching my lipstick. We had sunset happy hour to attend, after all!
the romantic // lionesses love luxury
We had assumed we'd be a bit more active on our game drives, partially because we saw multiple fellow tourists with walking sticks. We learned later that bush walks are an entirely different option altogether, and for the laziest among us, we could opt out. You can guess what we did.
This meant that instead of sneaking up on hippos, one hand occupied by binoculars, the other pushing weeds and leaves out of our way, we could leisurely relax as our guide & tracker drove us through the bush… you know, once we got used to the bumps. Seriously, those jeeps are bumpy.
Like the wino, when we have our inevitable do-over, I'll likely keep with the utilitarian theme we both had going. However, I tend to be more comfortable in dresses, especially when seated for long stretches of time.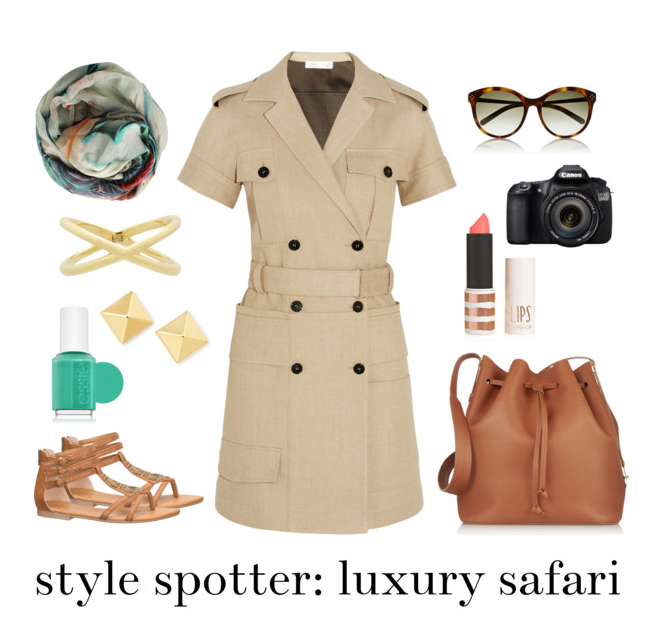 I'd still keep it pretty simple, but I'm positive I would have been happier in a dress, with a scarf required for either the cooler post-sunset or pre-sunrise portions of the rides. Though our rooms each came with a set of binoculars, I was more than happy with my camera glued to my face, and, like the wino, a little bit of lip color is all I wanted in the beauty department — especially looking at pictures later. Oh, and clearly, she'd lend me her sunblock, because that's what besties are for.
On a separate-but-totally-related note, if you're on Twitter, we're co-hosting a chat today (June 30) with One & Only Resorts and our South African travel buddy, Mrs. O Around the World. The topic?? #LuxurySAfrica, of course! Join us at 12 PM ET / 5 PM BST, and spend an hour dreaming about Africa with us!
The best part?? There are a few giveaways involved, and we promise you won't be disappointed!
xo!
the romantic & the wino