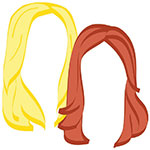 ****This year's holiday gift guide giveaway is now CLOSED! Congratulations to our 2015 winners, who have been contacted separately via email.****
December, how do you sneak up on us EVERY YEAR? Tell us! How is it already holiday gift guide season?!
For lazy girls and boys everywhere whose heart rate just doubled: we feel you. Every December, we feel like we go through the same "OMG" moment. You know, when we realize how close the holidays are and how very far behind we are in our shopping. So, to ease your minds and ours, we've rounded up a list of gifts. These are for those people on your list that are the HARDEST to shop for. And maybe even one or two for yourself? Santa gets cookies, it's only fair.
Best of all?! Because we love all of you dearly, we're giving away some of our favorite items! Be sure to pay special attention to the contest rules at the end of this post. Find out how you can get your hands on some of this season's very best gifts, according to yours truly…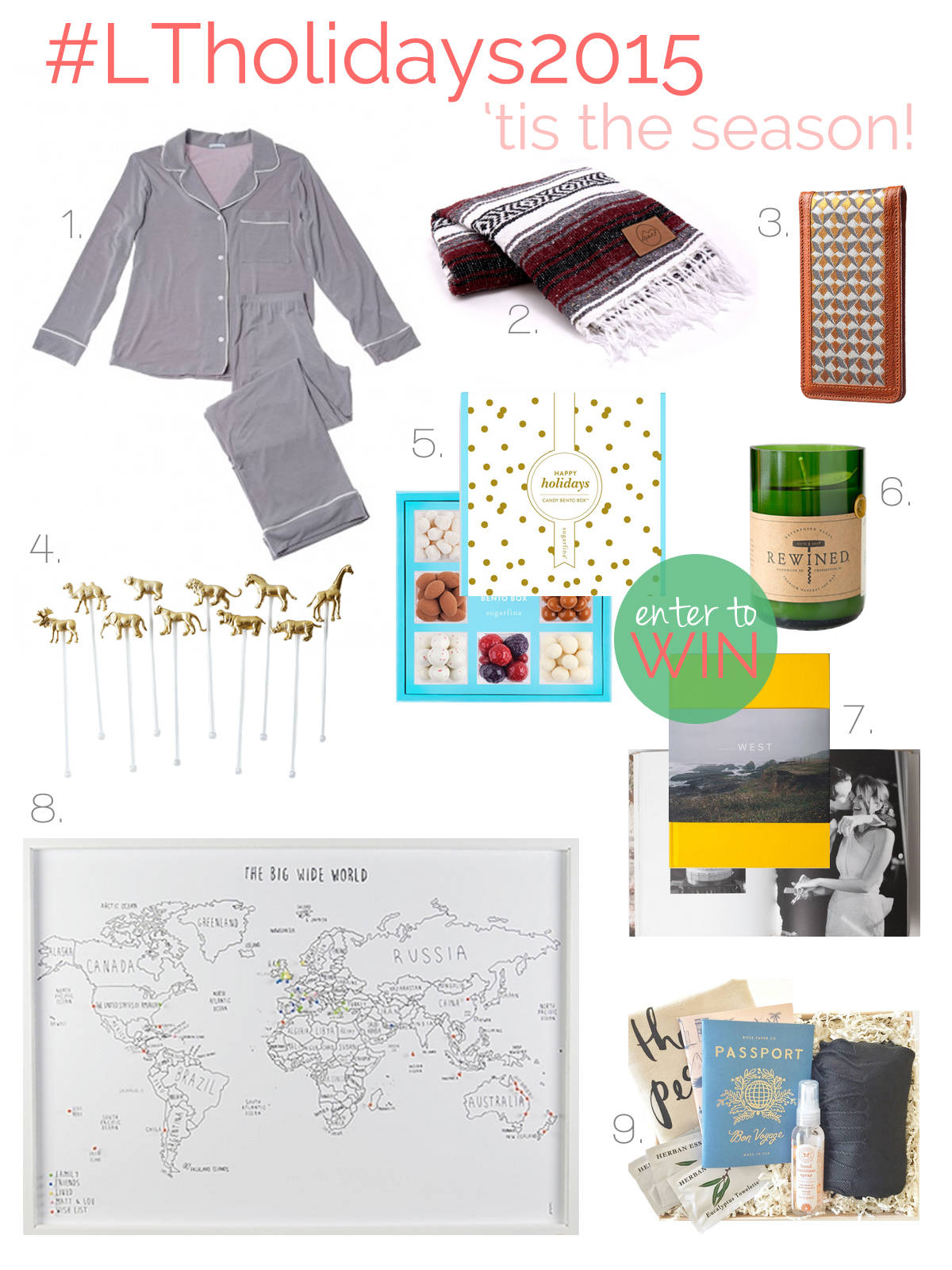 1. For the Couch Potato // Eberjey Gisele Boxed PJ Set, $120 // Let's be honest, if it was socially acceptable to stay in pajamas all day every day, we'd do it. We're in PJs pretty much from the time we walk in the front door until the time we leave. This means we're fans of both comfort and quality. We're currently loving the Gisele set from Eberjey, which are roomy while still being figure-flattering and feminine.
2. For the Do-Gooder // Give Perf La Playa Throw, $42 // What better time to give back than the holidays? We always try to incorporate gifts with a philanthropic kickback. This is why we fell totally in love with Give Perf and its mission. Put simply, they build homes for families around the world. Every purchase helps fund building projects in disaster-stricken and low-income locations like Nepal, Haiti, and Guatemala. We'd happily give any of Give Perf's items to those on our list! But we're particularly fond of this artisan-made throw… in the "wine" color, but of course.
3. For the Techie // CalypsoCrystal CalypsoTag, $169 // We've all been there: tired, cranky, and ready to be home after a long flight, and your checked baggage has yet to come around the carousel. CalypsoTag has solved every tired traveler's problem. Using bluetooth technology, the tag connects with your smart phone and updates you as soon as your bag is near. This means that instead of crowding around the baggage carousel, you can sit back and relax. The limited edition designs are made with premium Italian leather, and only 999 pieces of each design is ever made. SO our new favorite luggage tag is extremely exclusive. Perfect for the most luxe techie on your list!

4. For the Hostess with the Mostest // Food52 Drink Stirrers, $22 // After this year's trip to Sabi Sabi in South Africa, it's safe to say we're a little obsessed with all things safari. So, combining our love of South African wildlife with our love of drinking is natural, no? We love these drink stirrers so much that we'd probably put one in every drink. Cha, yeah, regardless of whether there is stirring to be done.

---

ALRIGHT, are you paying attention?
#5-7 are up for grabs in our #LTholidays2015 giveaway! Prepare yourselves, little travelers, and keep reading for details on how to win…
****NOW CLOSED!****
5. For the Foodie // Sugarfina 8-pc Happy Holidays Bento Box, $65 // What's not to love about edible gifts, especially those that involve chocolate and/or champagne-infused flavors? You especially can't go wrong with the bento boxes from Sugarfina, which include a selection of delectable candies and sweets packaged in lucite cubes, and tucked in a festively-designed gift box. Plus, you have the option to build your own custom bento box. Or you can choose from one of Sugarfina's many curated gifts! Our favorite, their seasonal "Happy Holidays" box, includes flavors such as Champagne Bubbles, Gingerbread Cookie Bites, and Pumpkin Pie Caramels. Nom, nom and nom.

++ One lucky winner will win a Sugarfina 8-pc Bento Box of their own, and we can personally attest to the deliciousness of all candies involved! Please note that the winner of this item must reside in the United States. ++
6. For the Wine Lover // Rewined Signature Wine Bottle Candles, $28 // Because everything at home should be wine-themed! Rewined Candles takes discarded wine bottles and turns them into the perfect vessels for wine-scented candles, all made with premium natural soy wax. Rewined has nine core varietals (including the new Rosé scent!) and introduces four seasonal scents each year. Naturally, we're loving this season's "Wine Under the Tree," and hear it pairs best with actually drinking wine under the tree.
++ One lucky winner will win a Rewined Signature Wine Bottle Candle in the scent of their choice! Please note that the winner of this item must reside in the United States. ++
7. For the Nostalgic // Artifact Uprising Hardcover Photo Book, $69 // Between Instagram, Facebook, and the abundance of digital platforms where we keep our photos, it's sometimes hard to remember the joy you feel flipping through an old-fashioned photo album. We're big fans of documenting trips and special occasions with photo books, and gifting them to our loved ones. We love the high quality of Artifact Uprising's hardcover albums, with its fabric bound covers and option for full or partial dust jackets.

++ One lucky winner will win a $50 Gift Certificate to Artifact Uprising, to be used on a product of his/her choice! This contest is open to residents of both the United States and United Kingdom. ++
---
8. For the Dreamer // Louisa Elizabeth Personalized World Pinboard Map, from £255.00 // Whether it's to showcase the places you've been or pinpoint the places you're dreaming about visiting, these personalized maps from London-based artist Louisa Elizabeth are the perfect bespoke addition to any home. Each map is hand drawn by Louisa herself, which means you can add in personalized titles and tidbits to make the map totally unique to you and your travel experiences. Stick to one continent or include all seven — the world is your oyster! …see what we did there?
9. For the Girl Who Has Everything // Box Fox Gift Box, $60 // Like the true lazy girls we are, we love the idea behind Box Fox: you choose the theme, they choose the gifts. The curated boxes come packed with small gifts based on a central theme, like the "Jet Set" box, which contains a pashmina, a small bag, a notebook, and other travel essentials. (Our runner-ups are the Drink // Sip box and the Unwind box, which should be a surprise to exactly no one). If you'd rather choose the items included in the box, you can do that too! Box Fox's "Build a Box" feature allows you to shop from a variety of small fashion, lifestyle, and food and drink items. Get shopping, you foxes!

For the most hardcore do-gooders who want to skip the gift altogether and instead focus on donating straight to the cause, here are a few charitable missions that are currently tugging at our heart-strings:
AND FINALLY!
The Official Giveaway Rules
HOW TO ENTER: For your official contest entry to win one of our THREE fabulous prizes (a Sugarfina bento box, a Rewined candle, or an Artifact Uprising gift card), leave a comment below naming which gift you would most love to give or receive this season.
FOR EXTRA ENTRIES!: For THREE (!) extra entries, pop on over to Instagram and post a photo of your favorite holiday decorations around the globe! To qualify, be sure you're following @lazytravelers, and tag your photo with #LTholidays2015 in your caption so we can see it. We'll be re-gramming our favorites over the next few weeks!

Winners will be selected randomly, contacted directly, and announced here on December 15!
xo!
the romantic & the wino
– Thank you to our giveaway partners for joining us for our #LTholidays2015 gift guide! All giveaway items are 100% Lazy Travelers approved, and we can't wait to share the love.