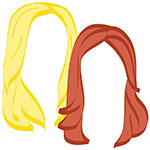 We love pretty much everything about traveling.
Notice we said pretty much everything.
Though we are a glass-half-full sort of duo, it's hard to ignore that packing your toiletries is never easy. Even if you're not limited exclusively to the 3-1-1 carry-on rule, does anyone travel with their full size beauty regiment? It can't just be us that pares down on the road… can it?
Assuming we're all in the same boat, ladies (and, let's be honest, gents– you guys aren't the grab-and-goers you'd like us to believe, either), here are our six travel beauty essentials…
And stay with us til the end, because we're giving one of 'em away!: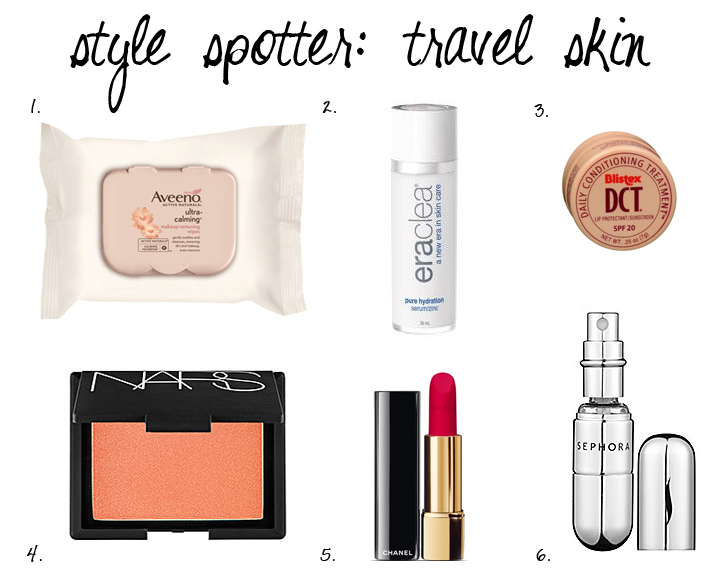 1 // Make-Up Removing Wipes. The wino has been using Aveeno face wash for about as long as she can remember, and the romantic fell hard for the ease of face wipes on her RTW. Put 'em together and whaddaya got? Heaven.
2 // Face Hydration. Admittedly, our least favorite part of flying is the post-flight "airplane skin"–a stubborn dryness that doesn't quite go away for a few days and no amount of complimentary hotel lotion can cure. eraclea's Pure Hydration Serum/Zinc is our new best friend. Actually, most of their line is our new best friend, but we especially love the serum because you just need a little dab and it's well within the 3-1-1 rule we loath.
3 // Lip balm. The wino swears by this Blisstex Daily Conditioning Treatment. So much so that she has named hers "Chappy," and yes, it IS the end of the world if Chappy goes missing.
4 // Blush. Cha, yeah we're pale and proud of it. Except not that proud because we like a little color in our cheeks, please. Nothing more refreshing than a quick swipe of NARS across our cheeks, post red-eye.
5 // Bright lipstick. Who wants to travel with all the necessities for a smokey eye? More importantly, who properly knows how to DIY a smokey eye? Not these girls, that is fo SHO. Bright lips, though? That we can handle. And let's go Chanel because… well, let's always just go Chanel when we have the option, mmmmk?
6 // Perfume on the go. This Silver Universal Atomizer from Sephora makes everything better, as long as your perfume bottle is compatible. (Lock it up, Coco Mademoiselle.)
SO! What, pray tell, are your biggest skin-related issues when traveling? Tell us in the comments AND on Twitter, and we'll pick one lucky winner to receive their very own bottle of Pure Hydration Serum/Zinc (an $80 value!).
Don't forget to tag and follow @lazytravelers & @eracleaskincare for your submission to count!
xo!
the romantic & the wino
* A winner was announced via Twitter and has been contacted. Thank you to all who entered! *