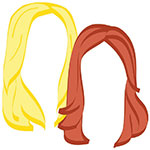 If you follow us on Instagram, then you may have noticed we were together in London. The wino flew over for a long weekend for one very important mission: to finally meet Margot! Armed with goodies galore, we discussed her carry-on packing methods for weeks. As it turns out, we may not have mastered the general art of packing. But, we have a few favorites that always make their way into our carry-ons on travel day. So, wondering what's in our bag?
Let's discuss!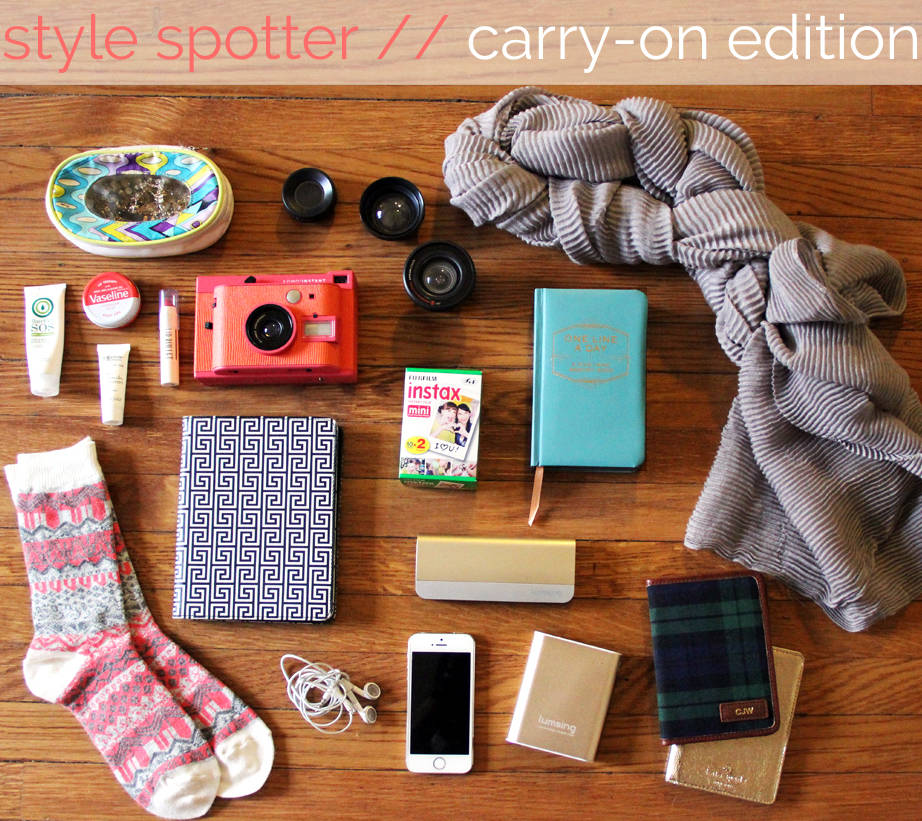 Phones &  Lumsing Portable Power Banks // Because we're millennials, we pretty much can't fathom life — or travel — without fully charged phones. Unfortunately, we're also hugely irresponsible. We find ourselves, more times than we'd like to admit, feeling major anxiety because our phones are somehow down to the red by the time our plane lands.
Our latest find? Portable power banks by Lumsing! They definitely trump the ones we keep getting for free at events and conferences (why don't those ever work?!), and best of all, they're good for multiple charges AND multiple phones! The Grand A1 Plus charges our iPhones almost six times, while the Harmonica is good for four. Two USBs  means we can charge both our iPhones and iPads at once! Or share with our husbands, if we're feeling generous.
Most importantly, however: they match our phones!
We're nothing if not a little bit shallow.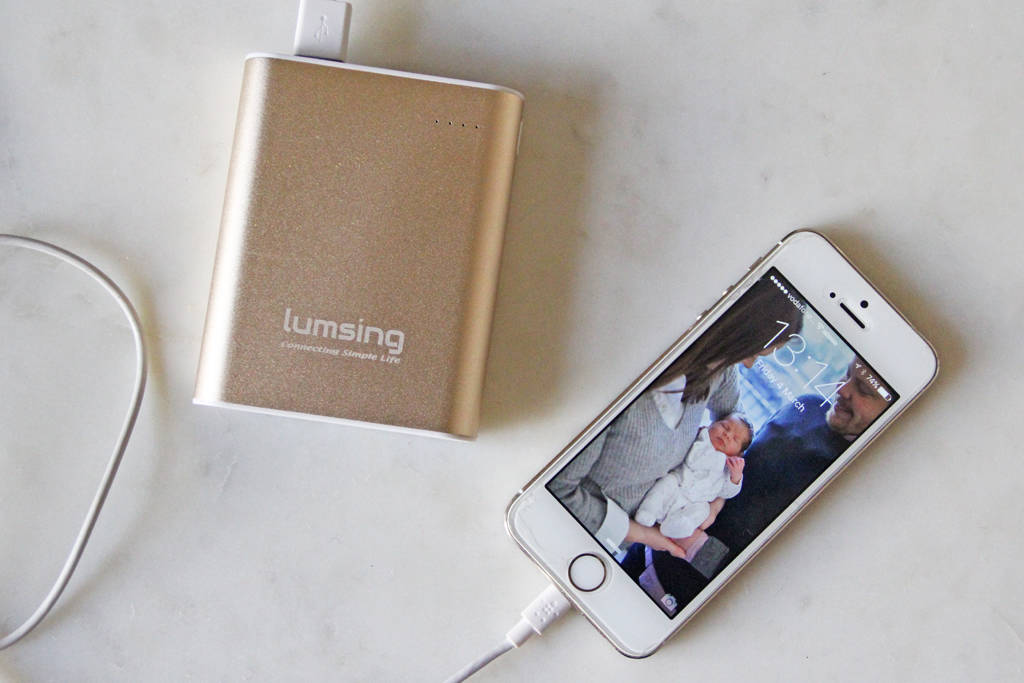 Lumsing Grand A1 Plus 13,400mAh Gold
US shoppers // UK shoppers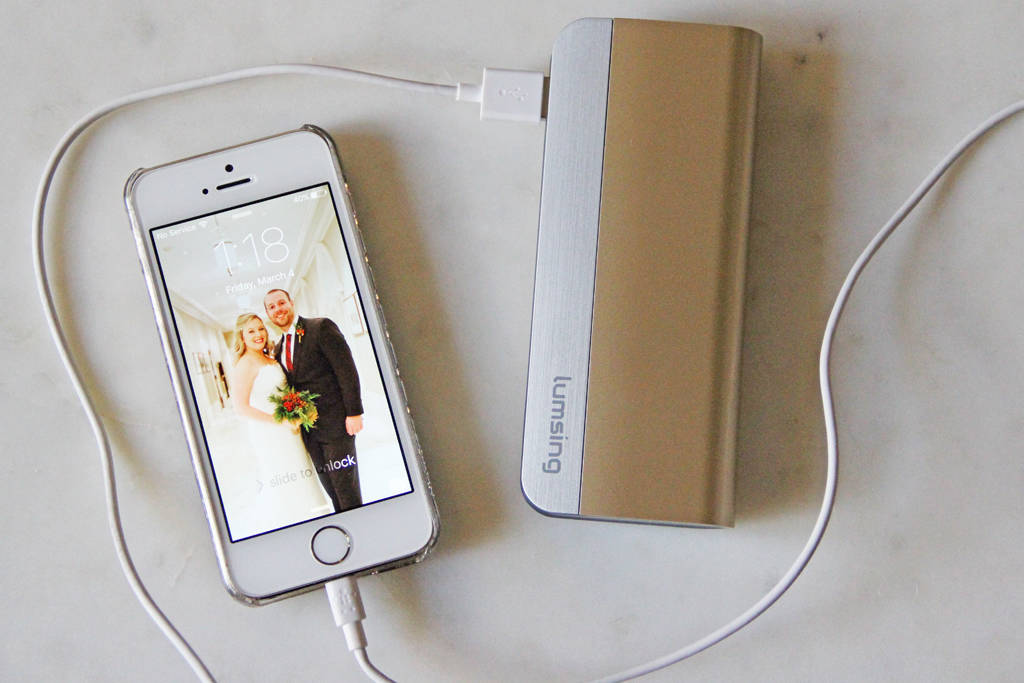 ***NOTE: THIS GIVEAWAY IS NOW CLOSED AND THE WINNER HAS BEEN CONTACTED***
THE GIVEAWAY !

Find yourself constantly realizing your battery is at 5%? GREAT NEWS! We're giving away one Lumsing battery to a lucky Lazy Travelers' Instagram follower! Here's what you gotta do:
Three easy entries for one VERY convenient prize! AND don't worry! If you don't win, our friends at Lumsing are also offering a special discount to our readers:
Get 30% off either model in any color with the codes LazyUK01 for our British buddies, and LazyUS01 for our fellow Americans.
Lumsing Grand A1 Plus 13,400mAh Gold: US shoppers // UK shoppers
Passports // The best kind of trips are the ones that require a passport. And because our passports have become some of our most prized possessions, we always dress them up in fancy covers, like the wino's monogrammed tartan version from Mark & Graham and the romantic's metallic cover from Kate Spade.
Jewelry Roll // Though thankfully we've never personally experienced checked luggage theft, we've heard enough horror stories to know that we should carry our valuables with us at all times, including our jewelry. The wino's small Emilio Pucci zipper case carries just enough jewelry for most trips, and the bright design makes it easy to find when digging around in a larger carry-on bag.
Warm Socks // On long-haul flights, you can bet the shoes are coming off and warm, comfy socks are going on. And, because we're best friends, we happen to have this matching pink pair from GAP. They're from earlier in the season, but these would also do just fine.
Travel Journal // Between this lil blog, our Instagrams and personal photos, we have abundance of ways to capture our travel memories. And yet, there's something very soothing and gratifying about taking a moment to reflect at the end of the day and actually handwriting a few things that have made us happy. Being the weirdos that we are, we got each other the exact same Christmas present this year– this one-line-a-day memory journal, which fits perfectly into a travel bag.
Comfy scarf // We have more scarves than we care to admit, but they literally come with us everywhere. When it comes to flying, the bigger the scarf, the better — like this White + Warren cashmere wrap. Heart eye emojis all over the place.
Lomo'Instant // One trend we're getting behind these days is instant photography. The Lomo'Instant Marrakesh, with its bright pink and coral leather design and its multiple shooting modes makes it ten steps above other instant cameras, in our opinion. We carted this baby around London over the weekend, snapping selfies and street scenes alike. We've admittedly yet to master the many, many settings of this camera, but that's an excuse to book more travel in the future, yes?
Kindle // Once we're in the air, you're likely to find us downing the free booze and catching up on the in-flight movies. However, we always pack our Kindles to keep us occupied while we wait at the gate or during takeoffs and landings (switched to airplane mode, of course). Naturally, it's very important that we keep our Kindles safe, and why not do it in style? We're fans of any eye-catching style, like the romantic's black and white geometric design.
Lipstick // As far as our travel beauty routines go, we're pretty low key. However, there's always one makeup staple that goes wherever we do: lipstick. The romantic just bought the wino two new shades of Lip Bullets by Topshop, and the matte finish is quickly becoming one of our favorite looks.
Lip Balm // Lip balm is basically our lifeblood. The wino swears by this Blistex lip conditioner, while the romantic is currently all about this rose tinted number by Vaseline.
Hand Lotion // After carting around luggage, our hands need some TLC. We always stash travel-sized lotions in our bags, and we love anything that smells delicious, like this little tube of Fresh Fig Hand Crème by Laura Mercier.
Face Moisturizer // There's honestly nothing worse than airplane skin, and this Barefoot SOS Face & Body Rescue is the bee's knees.

Guess what, little travelers? Word on the street is we might just be back next week with another giveaway item from this list…
STAY TUNED, but first, don't forget to pop over to Instagram and enter to win a Lumsing battery pack!
xo!
the romantic & the wino