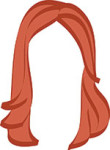 You know what I just realized? I haven't seen a beach since June — nada, since our little intro to summer in the Algarve! Sure, we moved from France to London, and had a very mini-US stint in between. But our summer was pretty crammed into a few short weeks. I'm genuinely not complaining! And honestly, even if I was, I don't think I'd get many RSVPs to that pity party.
Luckily, what my summer lacked in seaside quantity, it certainly made up for it in quality. Our few days of summer in the Algarve are almost enough to keep my Vitamin D replenished. At least until I can make my way to my next coastal destination, TBD.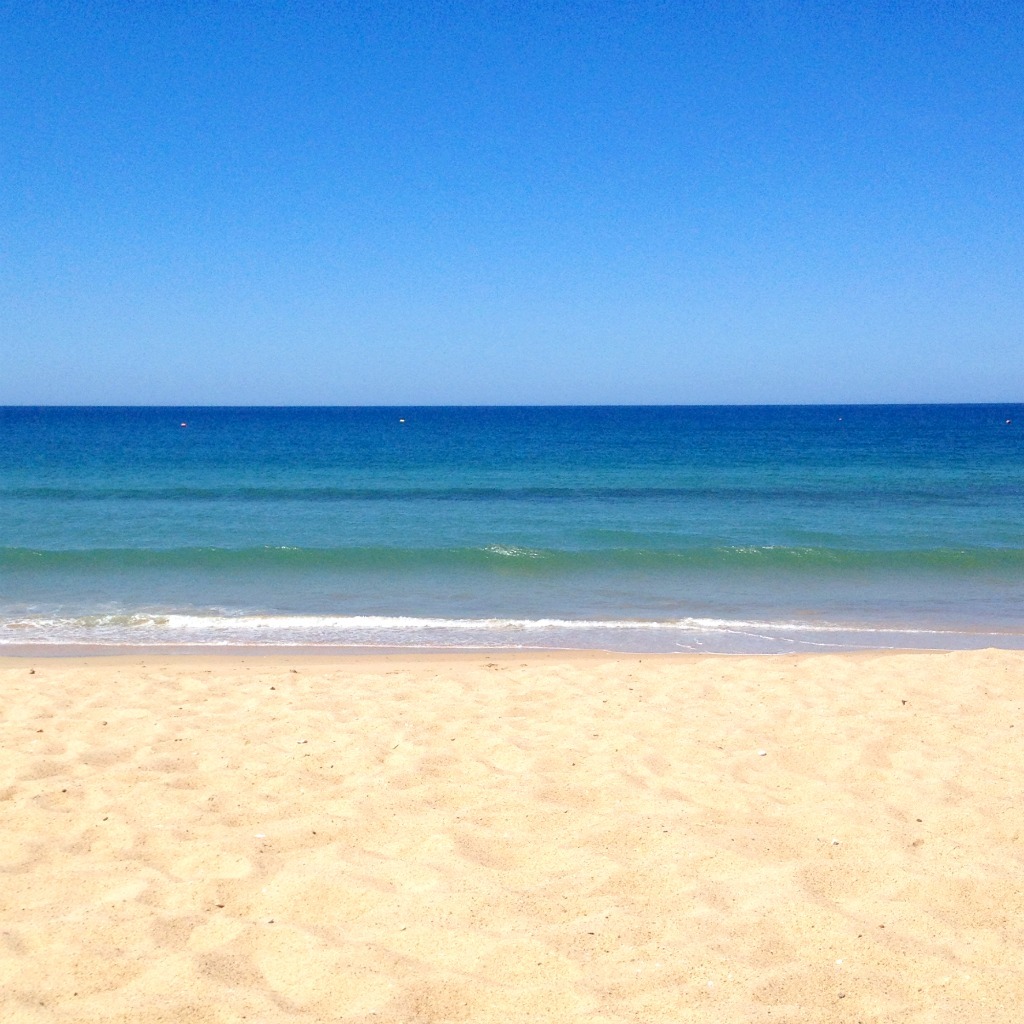 After saying goodbye to The Alentejo, we hopped back in the car and made our way toward the coast. There was literally nothing on our itinerary but to kick back and relax at The Ria Park Hotel & Spa. Oh, and eat. And eat and eat and eat. Because clearly, good food is what this trip was lacking.
(I kid.)
We arrived at the hotel to find a lobby full of smiling faces. From here, we were quickly and efficiently led up to our room with a view. And more importantly, a bottle of wine.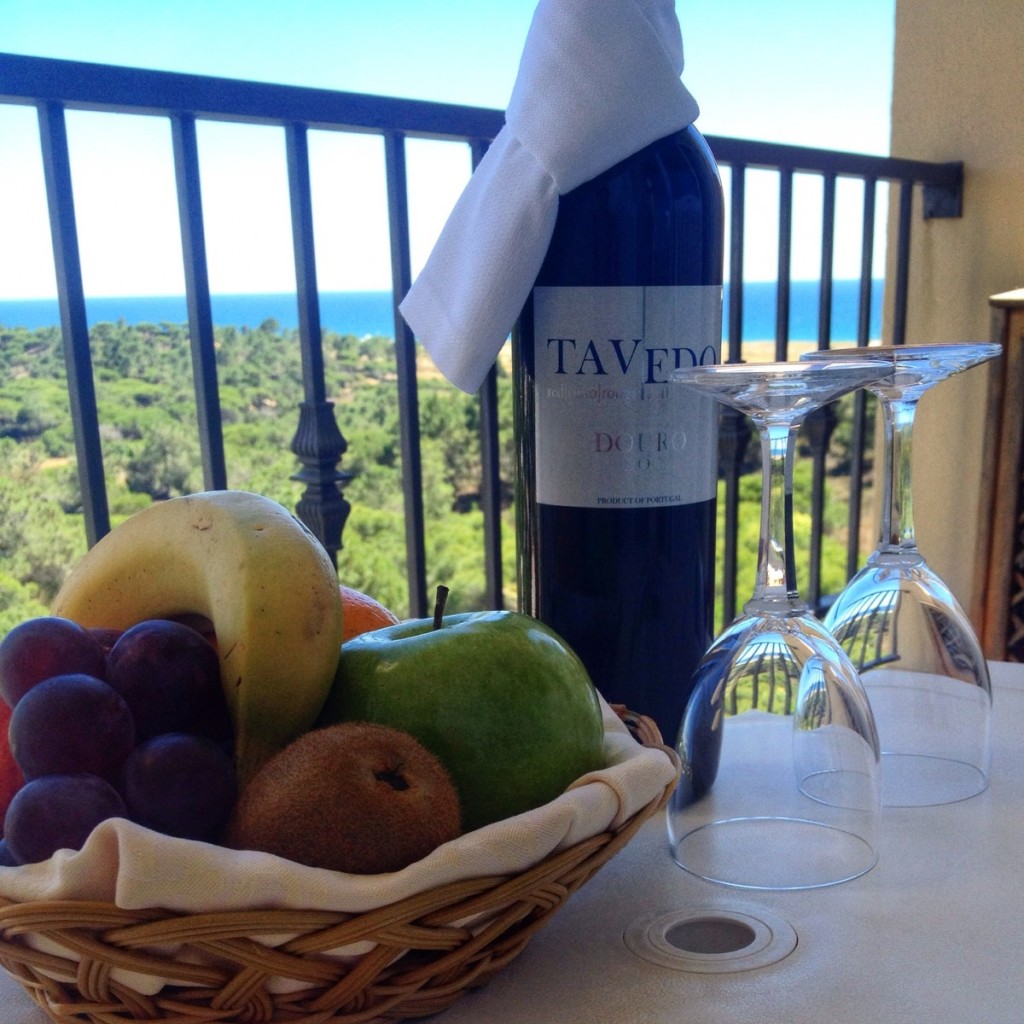 You get me, Ria.
The next few days started with breakfasts of fresh fruit and mimosas on their outdoor patio (the buffet spread was ah-maze). Then, we relocated to either loungers by the pool or by the sea. There was a €15/daily rate per room for the beach loungers, which actually kind of surprised me? But with no one around to bug us, the guaranteed peace and quiet was worth it. Poolside, people were ALL about reserving loungers and then not showing up. If I wasn't in a sun coma, that would have made me stabby.
The hubs, on the other hand, really embraced Euro beach culture: pink trunks and all.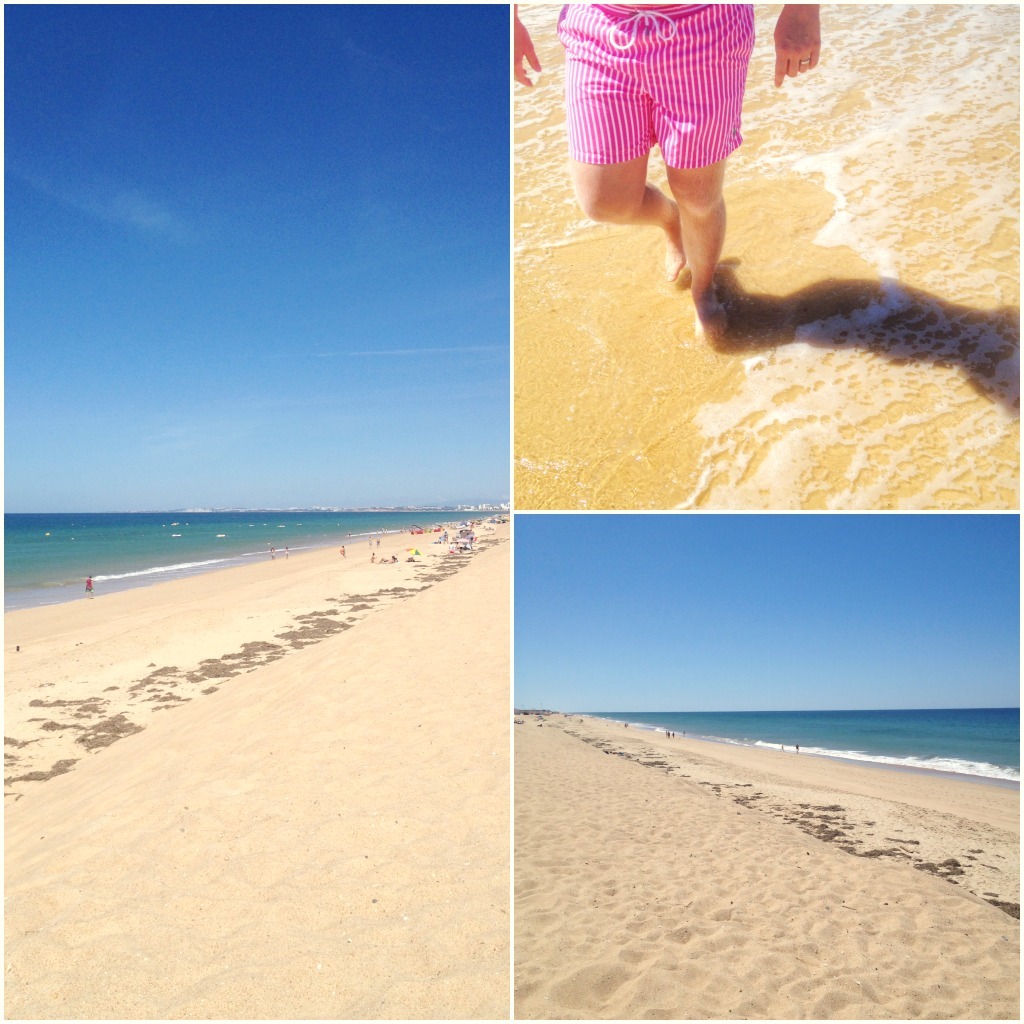 To say I was relaxed would be an understatement… I really was in a sun-inducded dream haze. What? That's a thing, right?
We lunched at 2 Passos one day, and holy god, another amazing Mrs. O recommendation. She told us three musts: prawns, clams (amêijoas, a very important word you must know when heading to the Portuguese coast), and white sangria. Success all around — especially the African rice, a total yummo wildcard — despite the look of sheer terror on the hubs's face: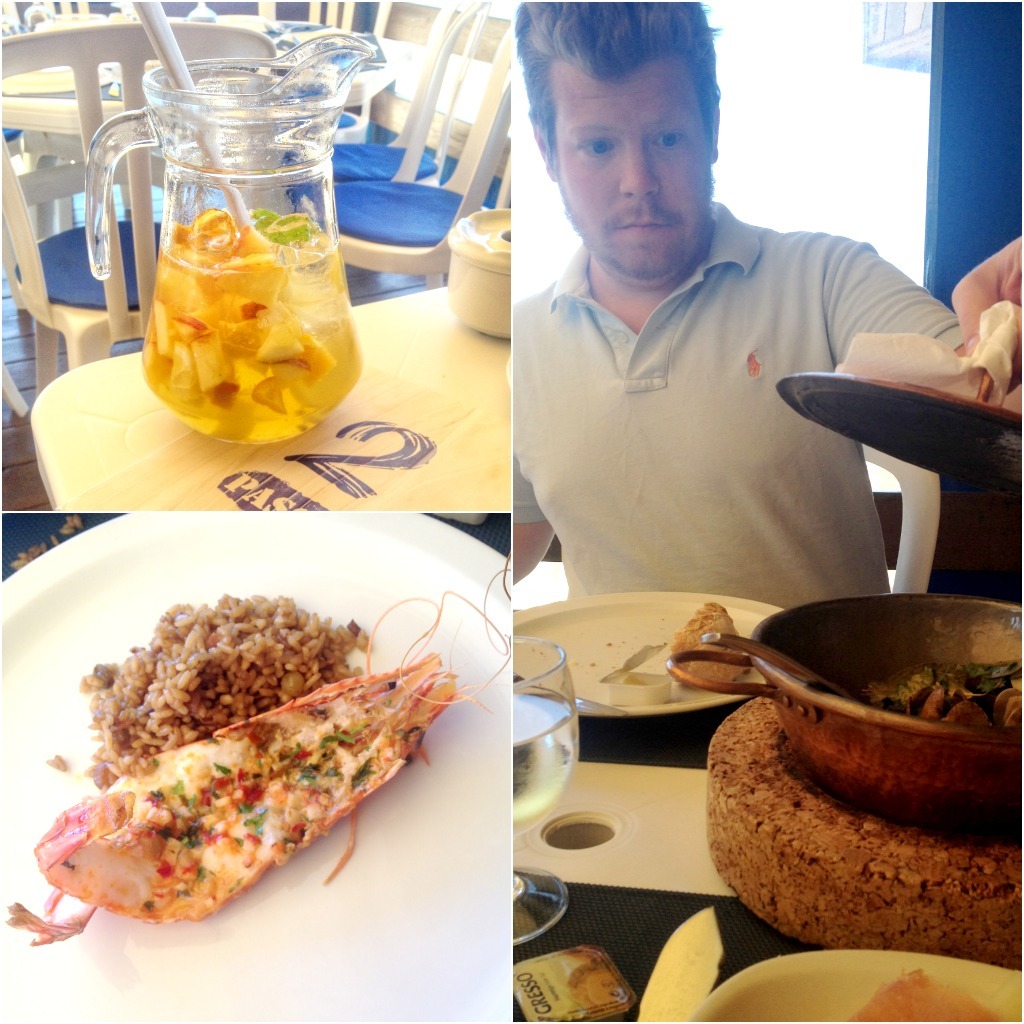 I don't know what that reaction was all about, but it will never not make me laugh.
Back at the hotel, we were forced — FORCED — to snooze under palm trees by the pool. Life is so hard sometimes. I will say that when we were poolside, we taste tested a few drinks, and if I had to give one Ria Park negative, the cocktails weren't so good. I had a disappointing caipirinha, and the hubs had a pretty mediocre margarita (which, we were a long way from Mexico, I can forgive that one. But a meh caipirinha in Portugal?!).
Eventually, though, we found our new drink of choice, and order was restored: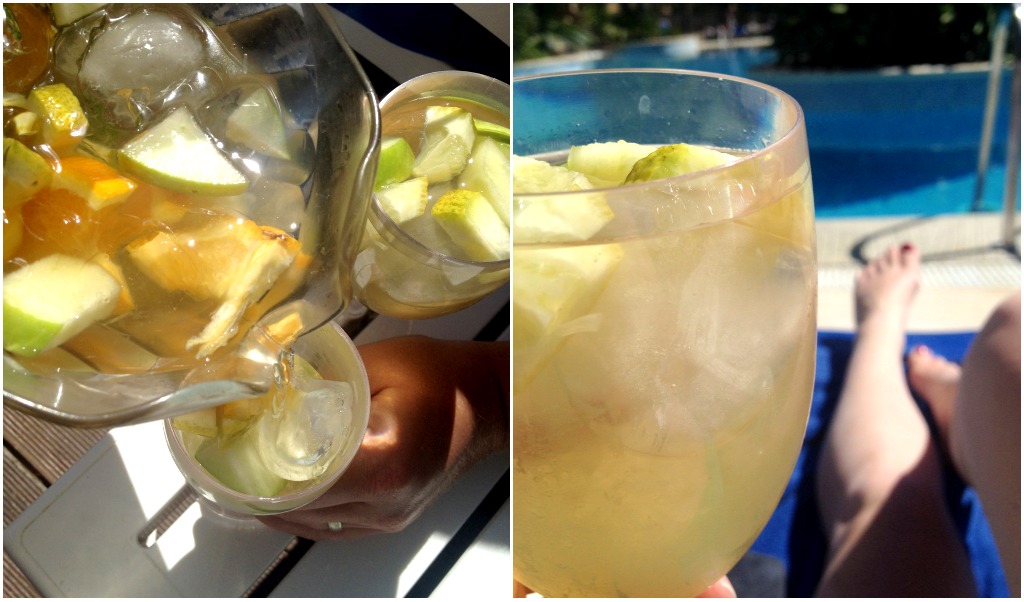 Thank you, universe, for white wine sangria.
On our last night, we somehow pulled ourselves together and made it to Maria's for a gorgeous sunset and an even more gorgeous dinner.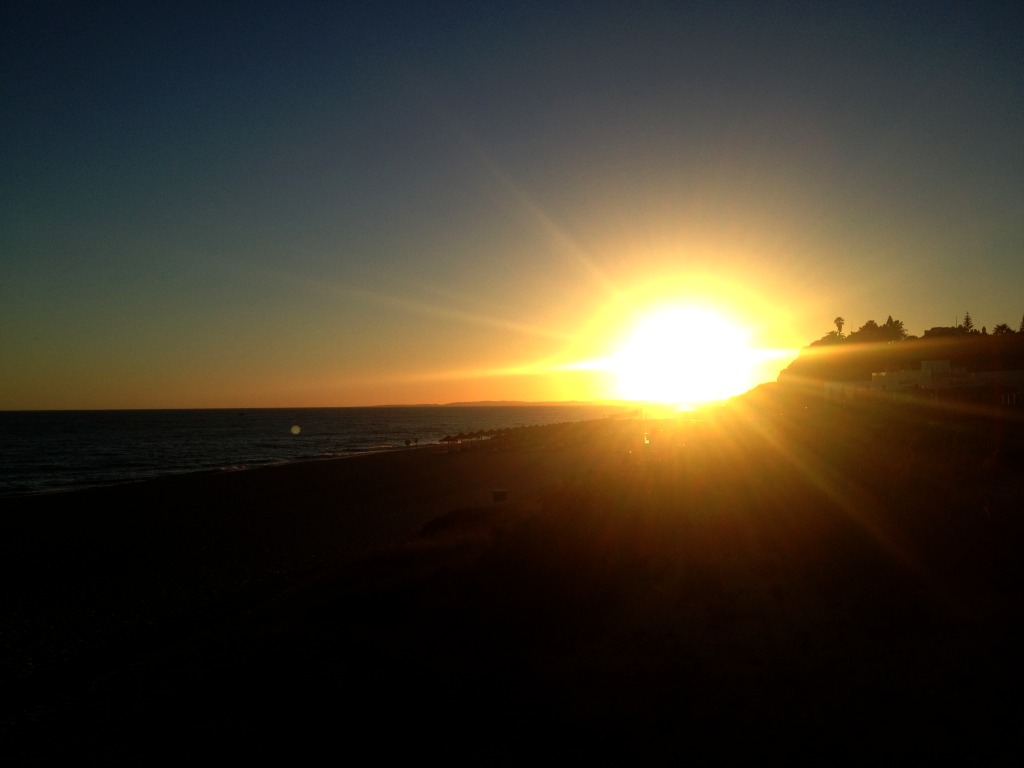 You know, the real takeaway from this leg of the trip is that Portuguese food and their seafood in particular is so simple, but so, so delicious. It was dark by the time our food was served, so my cell phone wasn't up to the task of capturing proper photos, but trust me when I say that this needs to be on your itinerary. The decor alone had me drooling, it was so nautically perfect.
On our final morning, we nabbed a few more hours by the pool before heading off to Casa do Lago for lunch. I swear, each place made me want to decorate our very own beach house more than the last. We had another lunch with a view, and really, why does anyone ever leave Portugal?

As we watched our fellow tourists drift around the lake, we chatted about all we were missing with our limited time in the Algarve. It was official: I was never leaving.
…until, at the end of our meal, we were talked into tasting Medronho — an extremely strong liquor, which they told us is also called fire water. They were not lying. The hubs and I each had a tiny sip before wanting to either die or pass out. For a brief moment, as it burned my esophagus, I wondered what sort of demon people these Portuguese actually are anyway?!
Fortunately, the feeling didn't last, and soon the giggles took over. By the time we climbed back into the car to make our way back to Lisbon for one more night, my newfound love for Portugal had fully settled in. I officially cannot wait to return.
xo!
the romantic
– Thank you to the Ria Park and Quinta do Lago team for welcoming us to the Algarve. We were a guest at the Ria Park Hotel and Spa and the Casa do Lago, but all opinions are, as always, my own. I would wholeheartedly recommend both for your own Algarve adventure.