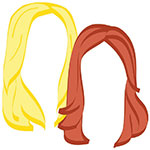 After spending our first night in Budapest wining and dining at the Four Seasons Gresham Palace, we woke up ready to continue our culinary exploration of Hungary. Though we normally wander our way through a city rather than schedule a specific itinerary, we decided that with only forty eight hours in Budapest, we'd leave the planning up to the experts.
We chose Taste Hungary as our guide, a food and wine company that focuses on true cultural experiences. Seeing as they have a recent post on their own blog about the best places to daydrink in Budapest, we thought we'd get along juuuust fine. We selected the culinary walking tour, which starts at Budapest's famous indoor food hall, Central Market, and continued on a leisurely walk throughout the surrounding neighborhoods.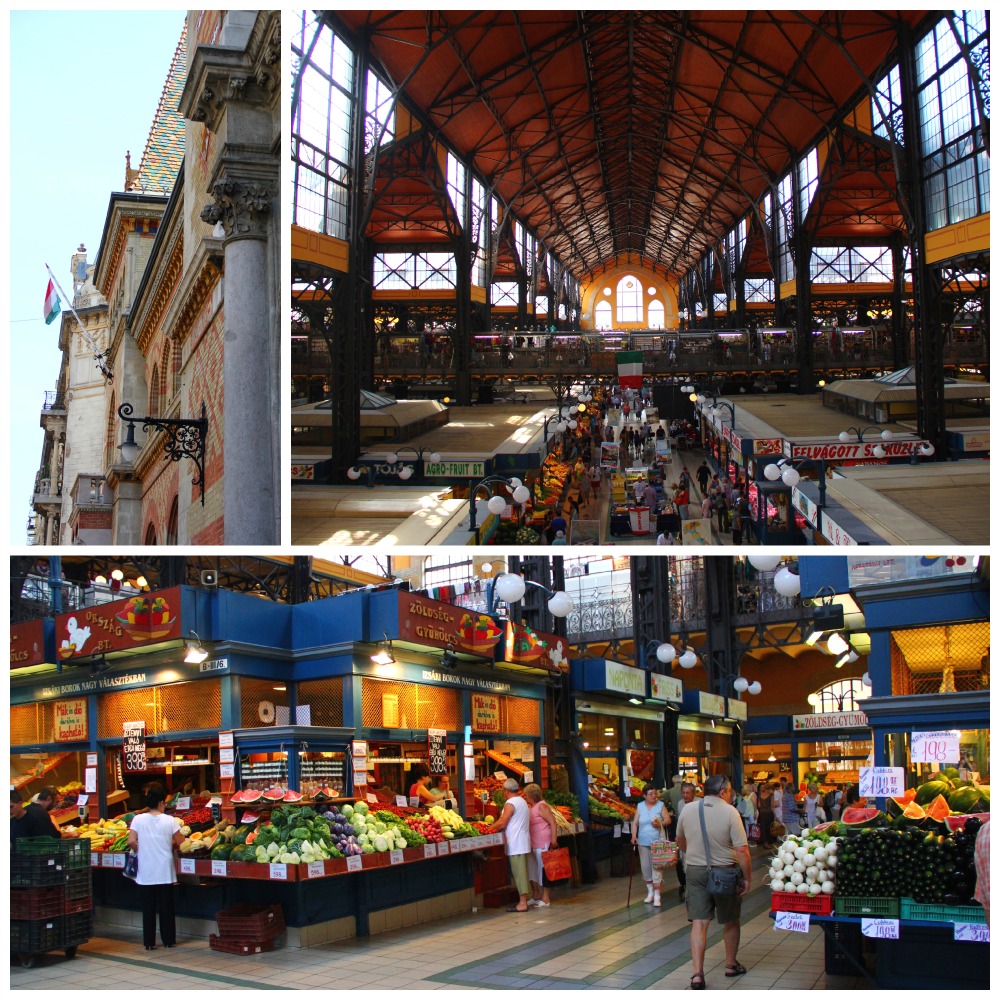 The four hour tour introduced us to traditional Hungarian ingredients and ended with a tasting of more delicious Hungarian wines (as if we didn't have enough before at The Bar). Among our favorites?
The Langos.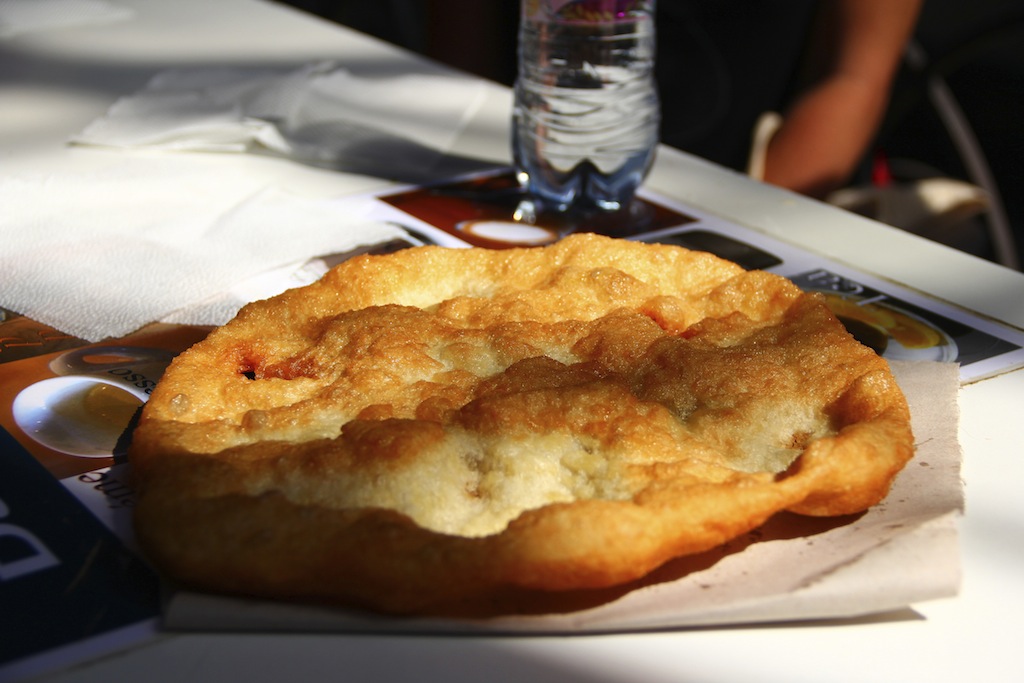 Our first stop at the Central Market hall was a small stand on the balcony level which serves Langos, the fried Hungarian breakfast and snack staple. Langos is a flat, fried piece of dough that resembles pizza crust. Traditionally, it's served plain (or with a dollop of sour cream and cheese for the adventurous), and the sweet variations listed on the menu are purely for tourists, our guide told us. We dug into a plain langos, which turned out to be a contender for best hangover food EVER.
The sausage, sausage, and more sausage.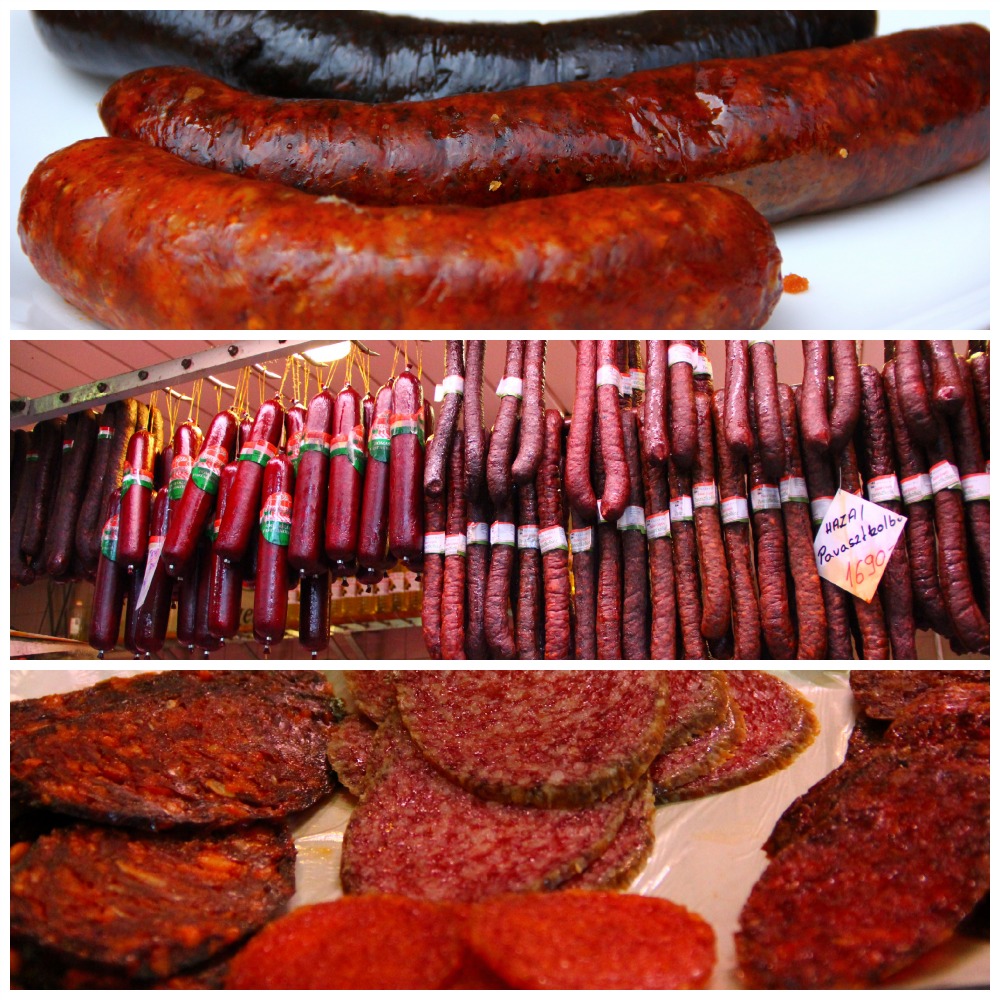 We're big believers in trying something at least once before banning it from your repertoire. This may or may not have led to an interesting night in college when Bacardi 151 was consumed for the first and last time, buuut we digress. When our Taste Hungary guide offered a plate of unidentified sliced sausages, we put aside our normal reservations and tried almost everything out of respect, all of which turned out to be absolutely delicious. (The one minor exception to this was the horse sausage that was offered to us, which we very happily skipped). Later in day, we were served grilled whole sausages, which were devoured–even the formerly gag-inducing blood sausage.
The pickled everything.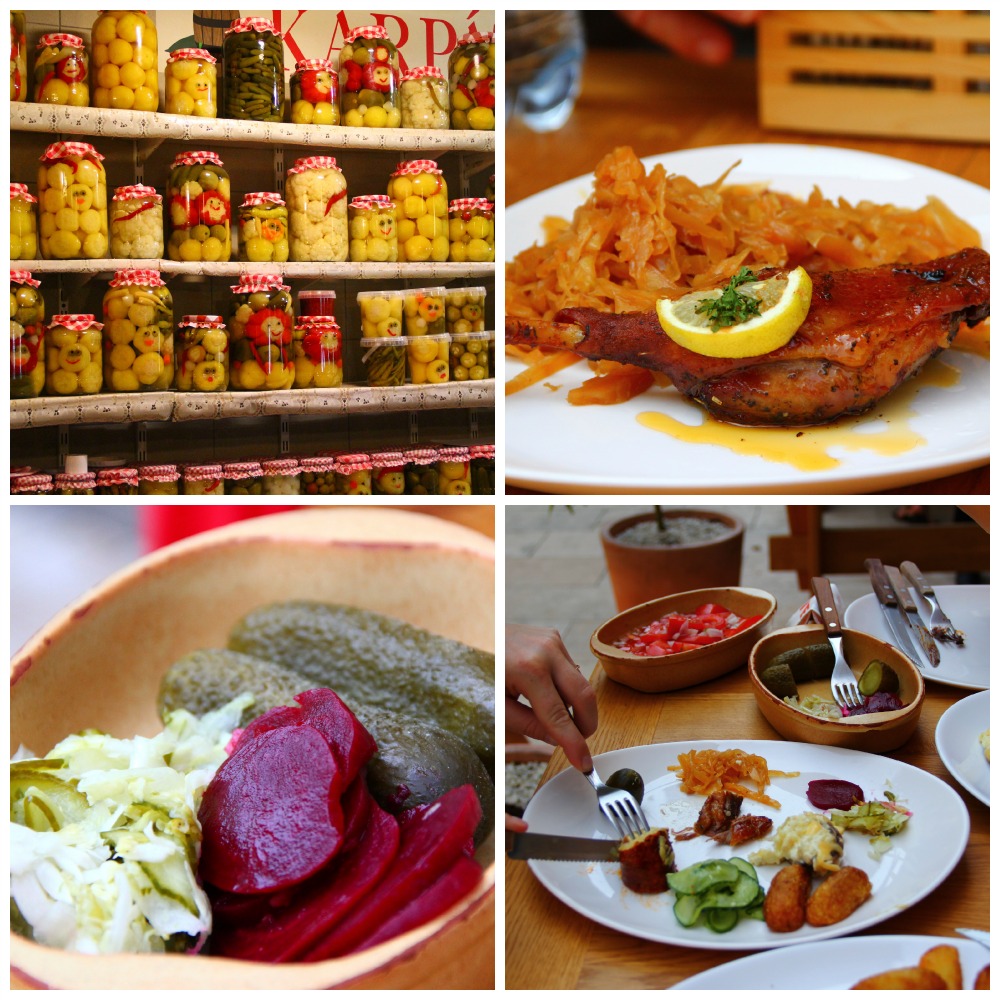 Pickles are our jam. When our guide told us she'd be taking us down to the basement of Central Market for a pickle tasting, we were pretty pumped–though only the wino was brave enough to try the pickled jalapeño. Later, when we sat down for our traditional Hungarian lunch, we loved that sides of sour pickles, pickled beets, and sauerkraut were all the norm.
The sensory overload.
The best part about this tour was that almost everything was unfamiliar territory for us. The smells and colors of the market were all a little different than what we're used to, and the main spices common in Hungarian food aren't things we usually work with (paprika, anyone?). We were able to branch out and try a ton of local dishes that we absolutely wouldn't have been able to sample otherwise–especially because our time in Budapest was so short.
Our main conclusion? Eastern Europeans have comfort food figured out. OH, and also that Unicum is the devil's plaything.
xo!
the romantic & the wino
Taste Hungary graciously sponsored our walking tour of Budapest but all opinions are our own.