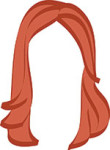 As the hubs and I expand our growing list of cities we love, I find myself regularly trying to rank them. It's not that I necessarily need them ranked… it's that "what's your favorite city?" is the #1 question we get whenever we catch up with old friends. And, despite all the times people have asked, I still can't answer with a clear, straightforward answer. Instead, I've now taken to responding with a different question: "for what?"
If the question is, "a weekend getaway when you're short on time, but want to see the heart of the city and experience the local culture?"
Then to this I answer: "Dublin, and you have very specific travel needs, sir/madame."
So! Let us first discuss the basics with this handy little Dublin weekender guide.
Where to sleep
I am officially of the traveling age where it matters where I sleep. The times? They are a-changin'. The good thing is, because of Dublin's compact size, location is barely an issue. The heart of the city is a 30-minute cab ride from the airport, so you're never too far away from the action. This time, our week-long Irish extravaganza was bookended by a total of three nights in Dublin. As such, we experienced two of the Doyle Collection's finest.
The Westbury Hotel, Grafton Street // Our love for The Westbury is well-documented. You may recall that ater our first trip, we regaled Mrs. O's readers with our first impressions. This was about a year and a half ago, and I'm happy to report that, unsurprisingly, The Westbury holds up. I'm even starting to feel like a bit of a regular! Complete with a nearby favorite pub, preferred shops, and a direct path to Dame St. that I could conquer with my eyes closed.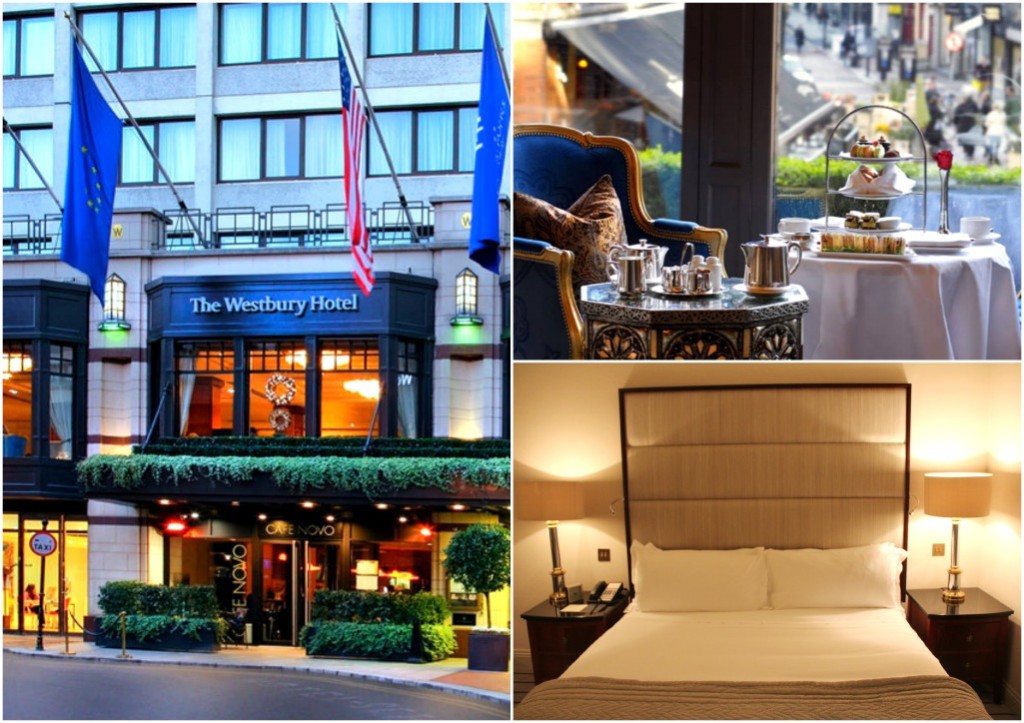 Photos via The Westbury except for bottom right. That's mine.
This trip, the hubs and I again spent two nights at this Grafton St. gem. It only made me further appreciate its proximity to such a bustling street without feeling stuck in a tourist mecca. The hotel is set back just far enough away from the pedestrian thoroughfare. So if, after a full Irish breakfast at Wilde, you walk out the front door and see insane crowds, it's easy to take a detour and avoid it all together.
I'm also convinced that the Westbury has the best rooms to come back to after a long day. I'm not sure what it is, exactly, but they dim the lights just right, set out your slippers, and offer sweet treats to say goodnight. Even the most jet lagged of travelers can get back on track in no time, I'm convinced.
The Croke Park Hotel, Jones's Road // For our last night, we holed up at The Westbury's more budget-friendly sister, The Croke Park (it's all about the high/low mix, remember). As its name might suggest, it neighbors Croke Park Stadium. This makes it absolutely perfect for concert goers and sports fans. I don't believe there was anything happening at the stadium during our stay? But it was still hopping — especially with families. We were also pleased to find that the Budget car rental center was a 5 minute drive. This made dropping off our car post-roadtrip a major breeze. Plus, you get the Doyle bed, which is really climbing the ranks as one of the comfiest hotel beds yet.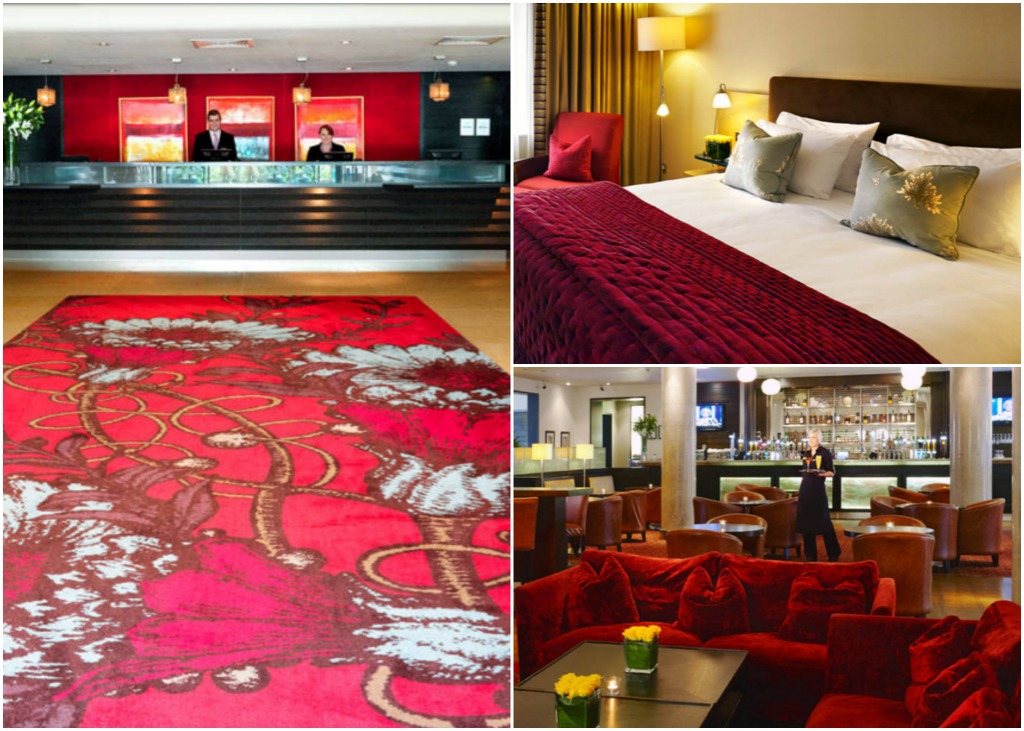 Photos via The Croke Park Hotel
Best of all, Croke Park is a hop, skip, and a jump from the city AND the airport. A cab to Dame St. cost us 7 minutes and €10! And our cab to the airport was a 15 minute drive for about €20, I believe. This was imperative, as we had to get up and out at 4:30 AM after a very, very long day. Also worth noting is the fact that when we told reception we would need an early cab and would be missing breakfast, they offered to pack us one to go. We passed, but it's the thought that counts. Grade A service, for realz.
I will say that there's not a TON right around the hotel, and while the hubs and I went out in Dublin, the rest of our group stayed behind for dinner. The concierge was extremely helpful, and pointed them toward a local pizza place that earned rave reviews. There's also a bar in the hotel that was spacious and comfortable, so if you're looking to relax on your last night pre-flight, Croke Park is the winner.
What to see

The real reason Dublin is so manageable on a short visit is that there's not really too much you MUST see or do. If history is your thing (especially you lit nerds out there), then there's more than enough to keep you satisfied, but for the lazy traveler in all of us, it's the easiest city in the world to wander around aimlessly while still getting a feel for the place.
Having said all that, here are the places I consider "musts."
St. Stephen's Green // There's not too much to be said about the city's famed park, it's just pretty! It's best on a warm day and, like London's parks, it's impeccably maintained. When the sun is shining, it feels like the entire city comes out to play.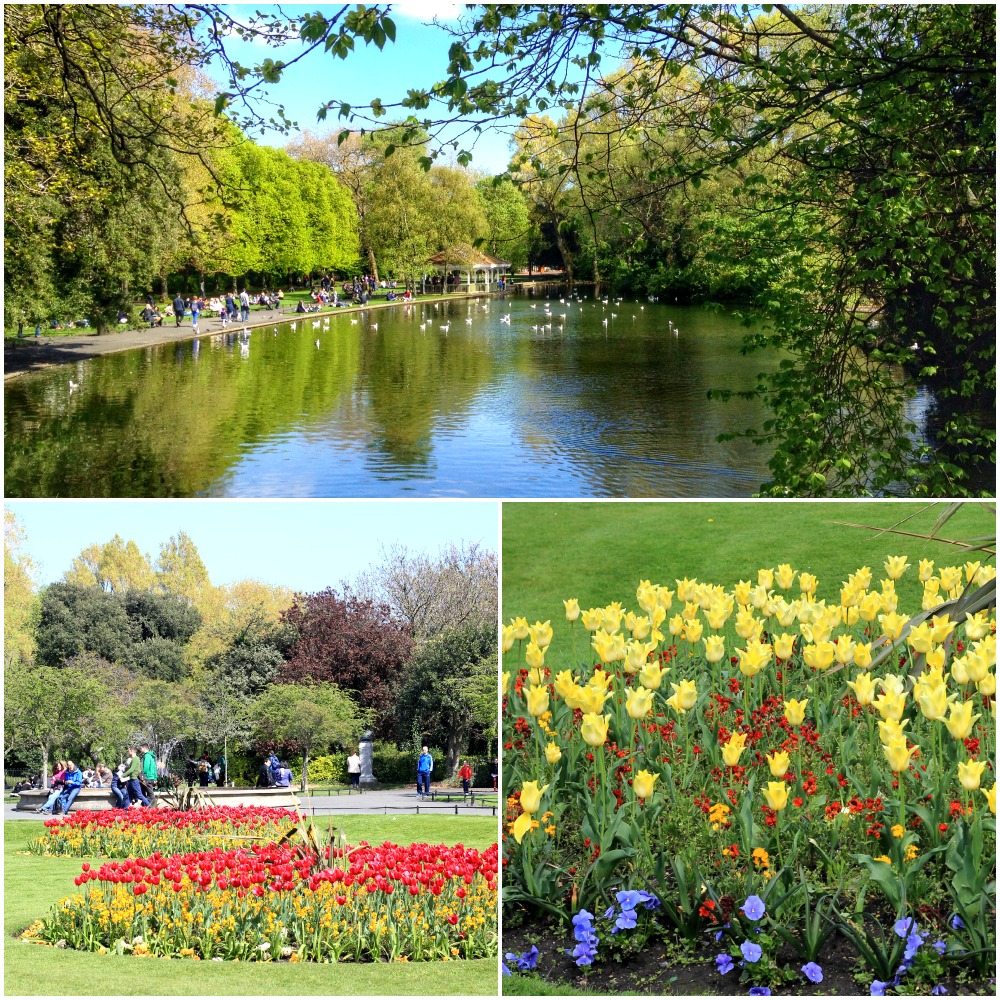 Grafton Street // We're a sucker for a good pedestrian street, and taking in the buskers while strolling down Grafton is no exception. I window shopped at Brown Thomas and Marks & Spencer, the hubs preferred the more manly cigar & whiskey options at James Fox. It can get a little insane (especially during the holidays and on weekends), so keep this in mind. Also insane? The fact that I was assaulted by what I THOUGHT was a charming little old Irish man. He was smiling at me from across Grafton, so I politely smiled back (because I am a moron), which encouraged him to book it straight across, tell me to "remember the resurrection," and PUNCH ME IN THE ARM. And I still like Grafton! So that's how you know it must be good.
Trinity College, College Green // I'm not convinced that Trinity is not Ireland's version of Hogwarts and they're just messing with us by making it so accessible. Special access is required to visit the library, and its at the very tip top of my list for our next visit because based on photos, it looks amazing (plus I suspect that once I track down the "restricted section," it will confirm my witchcraft & wizardry theory.)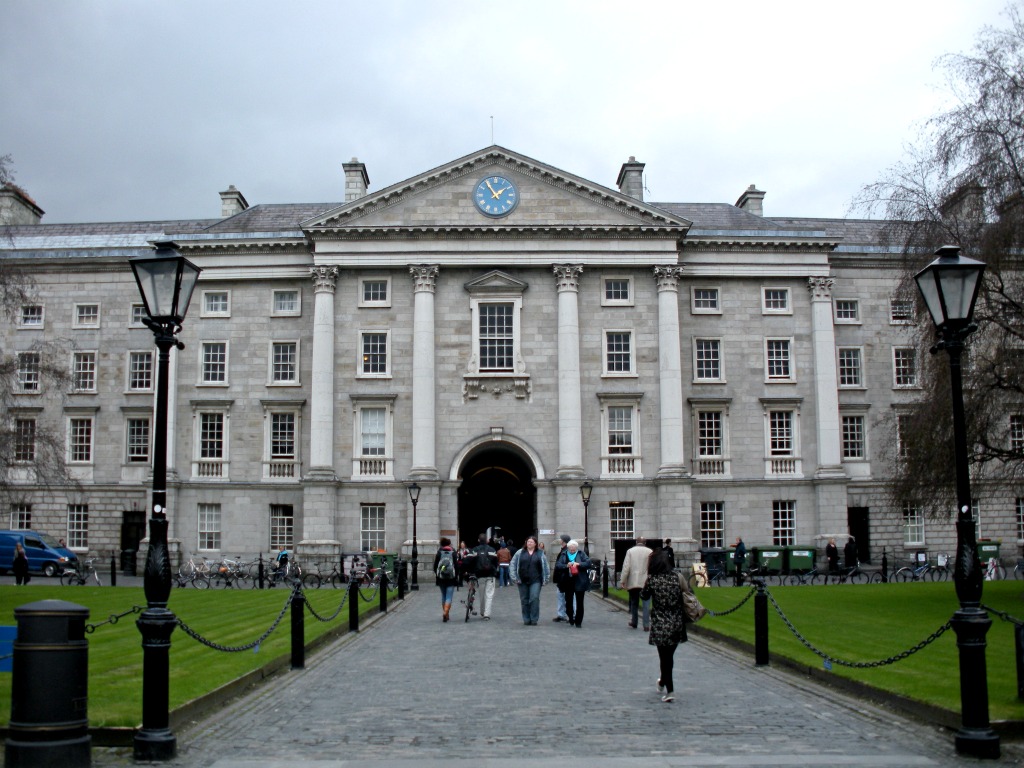 Oh, also! Apparently a few weeks before we walked around the grounds this time, a car drove into and damaged the main doors! So that was a bummer. I just found this article and it says it was a 68 year old man, so maybe it's the same guy who punched me?
Temple Bar Food Market, Meeting House Square, Temple Bar // This was an entirely accidental find, but a major goodie. We didn't spend much time here, but we made sure to grab a raspberry & yogurt scone from the Piece of Cake Bakery. Since the thing didn't dry out my entire mouth just from looking at it, then you know they're doing something right. I will one day food crawl my way around the whole place, because it looked and smelled amazing.
The Guinness Storehouse, St. James's Gate // Having now toured the Heineken Experience in Amsterdam and the Coors Brewing Company in Golden, Colorado, I'm clearly a brew-tour expert, and I have a few thoughts on this one. I liked that the Storehouse still felt very much like a hustling and bustling factory — as soon as you enter the compound, you don't feel like you're in Dublin anymore. It was very Charlie and the Chocolate Factory for grown-ups.
However, I think they'd benefit from doing timed access rather than just letting everyone stroll in at once and wander around aimlessly. It was mayhem for most of the tour, and I was ready to throw some bows because the general public just seems incapable of functioning in large crowds. Also? At one point they just casually displayed a few copies of the Guinness Book of World Records and I was like… wait, what?! How did I never realize they were connected! AND THEN THERE WAS NO OTHER MENTION OF THEM. This left me wondering what the deal is? Luckily, we have been blessed with Wikipedia.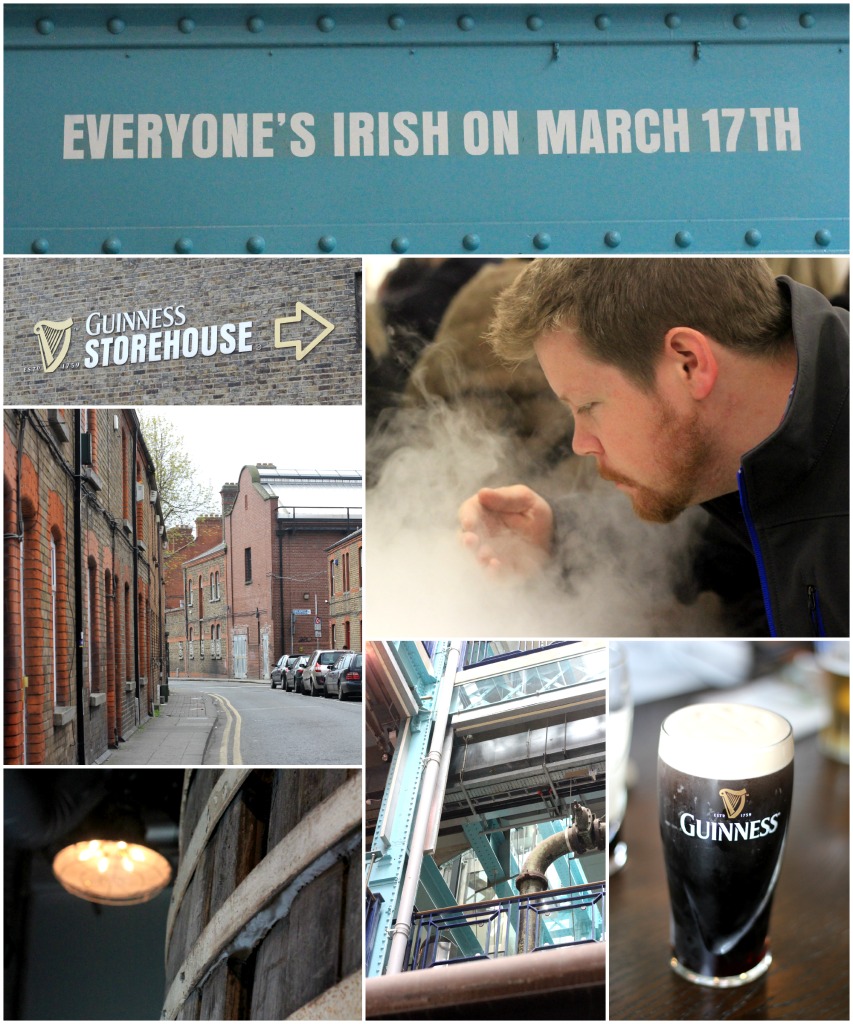 Anyway, there were plenty of highlights. Namely: I learned to love Guinness! I'm so not a stout person, but during the tasting, I learned a trick. I feel like I shouldn't tell you because it was really the pinnacle of the entire experience, but I'm going to anyway. Sooo… spoiler alert? Don't sip your Guinness… GULP IT. I know. Apparently I've been sipping mine all daintily, and that was just stupid because the top of the pint is where all the bitter flavor sits, so you're not getting the real Guinness taste unless you take a big gulp. It made such a difference and from that moment on, I was a Guinness convert.
And finally, go up to Gravity Bar for your free pint and the views, but then take it back down to Gillroy's to sit and enjoy. We ended up ordering lunch because we were reaching hanger levels, and I was nervous it would be a wash. Museum restaurants are never good, you know? But Gillroy's delivered!
Honorable mentions // Oscar Wilde kickin' it in Merrion Square! Christ Church Cathedral (and the underground crypts)! Dublin Castle! Meh, these are all on the big lists, so add them on if they're important to you. At the very least, stroll on by and snap a few pics. The Jameson Distillery is also often mentioned as a must. Having now done both, I think Guinness is more enjoyable. I'm also not a whiskey drinker.

Stay tuned for part two of my Dublin recs, where we get into the real nitty gritty.
Where to eat and drink.
xo!
the romantic
– Thank you to the Doyle Collection for welcoming us back to The Westbury! And for letting us finally test out The Croke Park Hotel firsthand. They're both well worth the visit, and as always, my opinions on the matter are my own.
Save