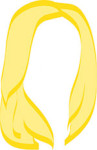 It's hard to believe that over a year has gone by since Sean and I got married over pizza and wine on a cold January afternoon. So much has happened over the last year, and yet, it still seems like yesterday.
Our first year of marriage has been filled with more good times that we could have ever hoped for, and as our first anniversary got closer and closer, we knew we wanted to take some time, if only a few days, to go somewhere together and celebrate. Just like the days before our wedding, Sean was called away in late January for a work conference. It was Dallas then, and this year, it was DC, and we decided to make the most of it.
Having gone to school in DC (Gduuubs!) and later living in Rockville for a brief stint of time, I'm quite familiar with the District and all it has to offer. Sean, on the other hand, hasn't spent much time in DC, so I was looking forward to 48 hours of playing tour guide and showing him some of my favorite DC haunts.
In true lazy travelers' fashion, our weekend was heavy on carbs and alcohol and low on sightseeing, but that's just fine with us. For those of you that may like to travel the way we do (read: no jammed-packed itineraries here), here's some insight on where we slept, ate, drank, and played…
Stay!
The Donovan // Given that the majority of my time in DC has been spent as a resident and very rarely a visitor, I haven't had much of a chance to explore the city's hotel scene. So, when planning for our trip, I turned to one of our tried and true hotel favorites, Kimpton, to help find the perfect spot.
Though we'd be in DC for our first wedding anniversary, let's face it– romance isn't normally in our wheelhouse. We definitely wanted a hotel with an upscale, luxury feel where we could properly celebrate, but we also knew a laid-back atmosphere and close proximity to fun restaurants and bars far outweighs stuffy ideals of romance on our list of priorities. Give us a fun rooftop bar over rose petals on the bed any day!
Luckily for us, Kimpton has not one, not two, but TEN properties in DC and the surrounding area, all of which fit our list of requirements. When it came time to choose, we opted for a property that was central in location and seemed to emanate the young, fun vibe that we typically look for: The Donovan.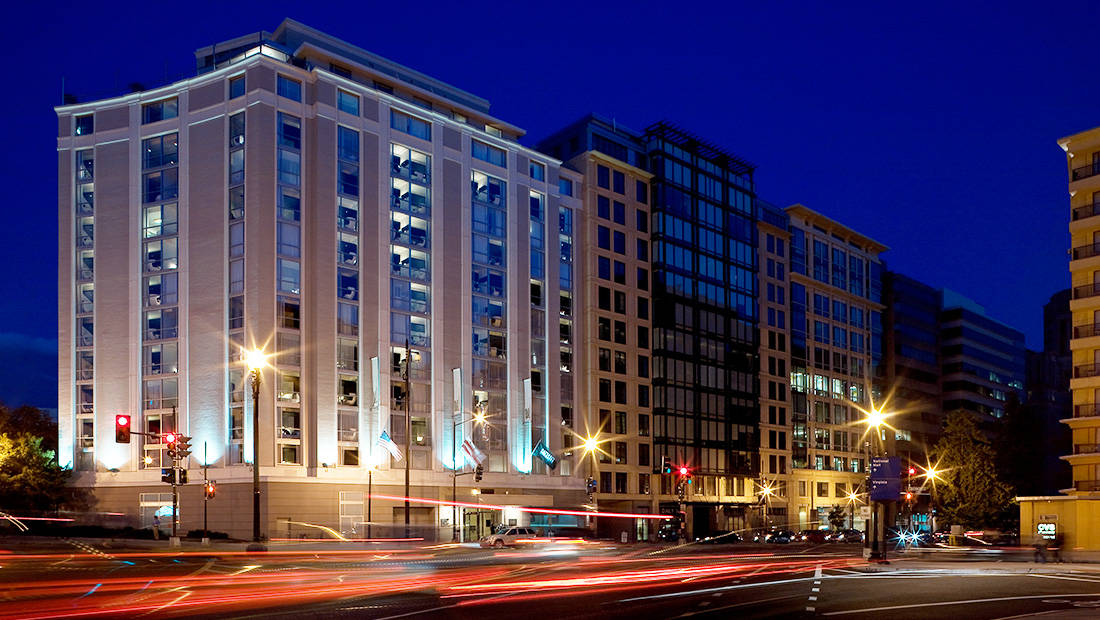 Photo courtesy of Kimpton
The Donovan is located in the heart of downtown DC, just below Logan Circle and only  a few blocks from the White House. Many of the 193 guest rooms overlook Thomas Circle Park and the beautiful National City Christian Church. The hotel's central location makes it easily walkable to many of DC's famous attractions (if you're into that sort of thing), and is situated perfectly between some of the district's best neighborhoods for eating and drinking, like Dupont, Logan Circle, and the 14th Street Corridor.
On my Amtrak ride from Philadelphia to DC on Friday evening, I realized that I would miss The Donovan's "wine hour"– a signature daily event at every Kimpton property during which complimentary wine is served in the lobby. I quickly tweeted to The Donovan to see if there was any chance I could partake when I arrived later, and it didn't take long before I got a tweet back from the team. Aaand what do you know, when I arrived later that night, the front desk had two very large glasses of red wine waiting for me! The Donovan for the win.
Travelers, here's a tip worth noting: when making a hotel reservation, be sure to tell them if you're celebrating something special. The staff at The Donovan knew we were visiting during our first wedding anniversary and went out of their way to make sure we enjoyed every second of our stay. Though we had booked an Executive King Room, we were upgraded to a City View King Suite which overlooked Thomas Circle Park! Even better, when I arrived in the suite, two glasses of wine already in hand, they had set up a table of chocolate covered strawberries and champagne along with a picture frame to take home with us. What would have already been a special weekend was made even more memorable by the thoughtful touches made by The Donovan staff.
Our suite itself was sprawling, with a large living room, separate king bedroom, and TWO bathrooms. Yup, two. The master bath came complete with something we've never come across in any hotel, anywhere– a "cocoon shower," which was a snail shell-shaped spiral shower with frosted glass walls.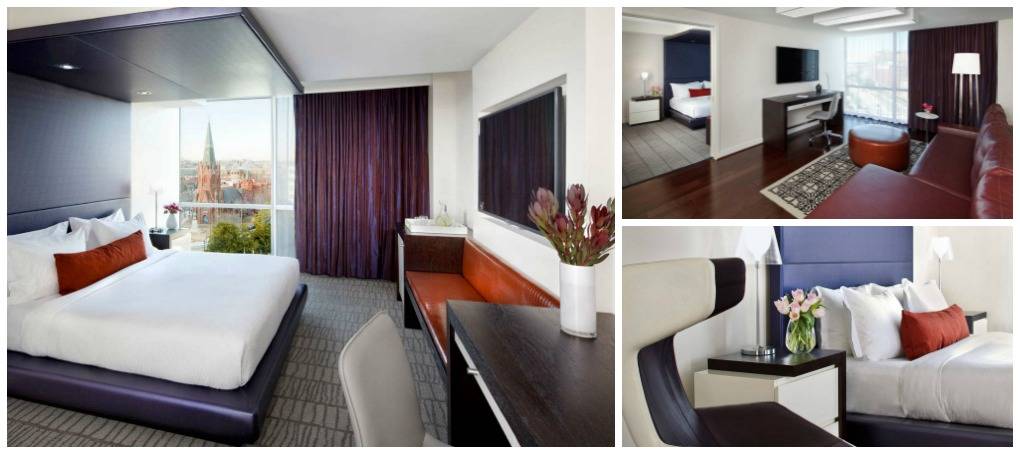 Photos courtesy of Kimpton
Though we would normally spend most of our weekend out on the town, we thoroughly enjoyed some quality down time in our suite at The Donovan, cozied up in our robes and enjoying the view. When we finally did decide to leave the hotel, The Donovan's central location proved to be the ideal home base.
Drink!
Most of the times, life as the wino is pretty top notch. However, there are times– few and far between, Dad, calm down– when I overindulge just a little bit. Our anniversary weekend in DC was one of them.
Since Sean was finishing up at his work conference on Friday night when I got into town, I took full advantage of the comforts of The Donovan, ordering room service and polishing off those two glasses of "wine hour" wine that I receive upon checking in. When Sean's arrival time got pushed back, I popped the champagne. And then finished it. And finally, when Sean DID arrive, he wanted to get in on the fun too, so he brought along and opened a bottle of red wine, which we had about half of before going to bed.
On Saturday morning, we had big plans to grab a big breakfast, walk around the city, and explore. My hangover had another plan. I ended up having to stay in bed until the early afternoon, and when I did feel OK enough to wander out, it took me a bit to stomach the idea of having a drink. Not wanting to disappoint Sean on our big weekend, I powered through, and we ended up on a short but very Lazy Travelers-esque bar crawl in the late afternoon:
Churchkey // Only a few blocks from The Donovan, Churchkey was the perfect spot to start our Saturday afternoon drinking tour. We ordered up a round of Tater Tots to help settle my stomach (how good does this menu look??) and two beers off of its absolutely massive beer list. We could have easily spent all afternoon and evening here, ordering up beer after beer from the menu, but we decided to move on to a different neighborhood after one drink so Sean could see more of the city.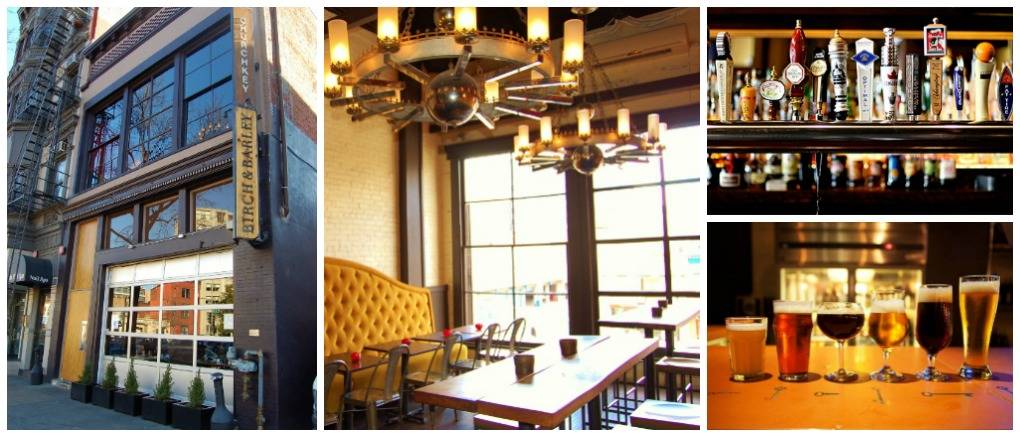 Photo credit: left & middle, top right, bottom right
Sauf Haus // The romantic's sister recommended this fairly new Dupont Beer Hall for a Saturday day-drinking spot. Not far from my old stomping grounds at George Washington University, this European-style Beer Garden would have surely been a staple in our college social scene had it been around back then. We wandered over to Sauf Haus in the early afternoon on Saturday, and the beer garden was already jam-packed with college students. Since we were pretty sure we were the oldest people there (at the ripe old ages of 30 and 28, respectively), we decided to grab two seats at the much quieter bar in the front of the building rather than trying to find a spot at one of the tables in the garden. We enjoyed the large variety of beer and the casual atmosphere, despite not exactly fitting in with the crowd. Plus, had we not had dinner reservations later that evening, we would have definitely hit up Shake Shack next door for post-beer burgers.

Photo credit
Farmers Fishers Bakers // When I lived in DC, the Georgetown waterfront was a popular spot to enjoy an outdoor drink on spring and summer days. Back in 2011, a few years after I left the city, the waterfront experienced massive flooding, causing serious damage to the restaurants and shops and forcing many of them to shut down for weeks, months, and in the worst cases, over a year.
Farmers Fishers Bakers was one of the hardest hit establishments, with over 7 feet of water flooding into the restaurant. Almost five years later, the restaurant is re-opened and has reclaimed its reputation as one of the most vibrant and popular spots along the waterfront.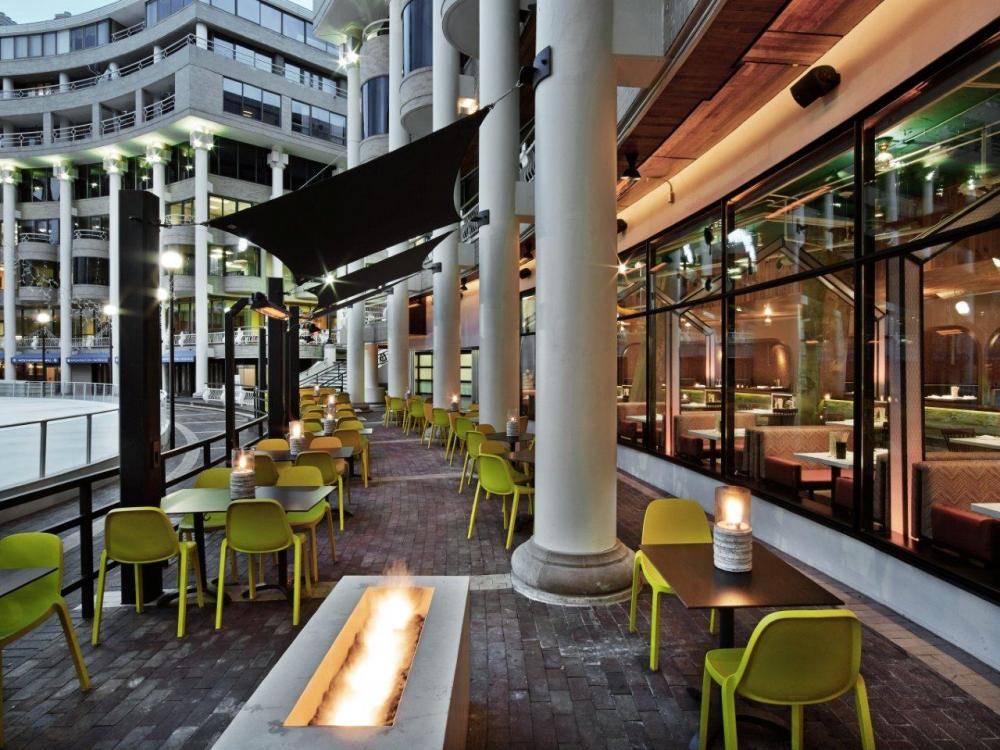 Photo credit
Though it was a cold January day, we decided to grab a seat outside on the terrace underneath a heat lamp so we could people watch and take in the festive scenery of the waterfront. The romantic's sister and her boyfriend met us for a drink, and we caught up and lettt's be honest, gushed over the cuteness of the romantic and the hub's new addition, lazy baby.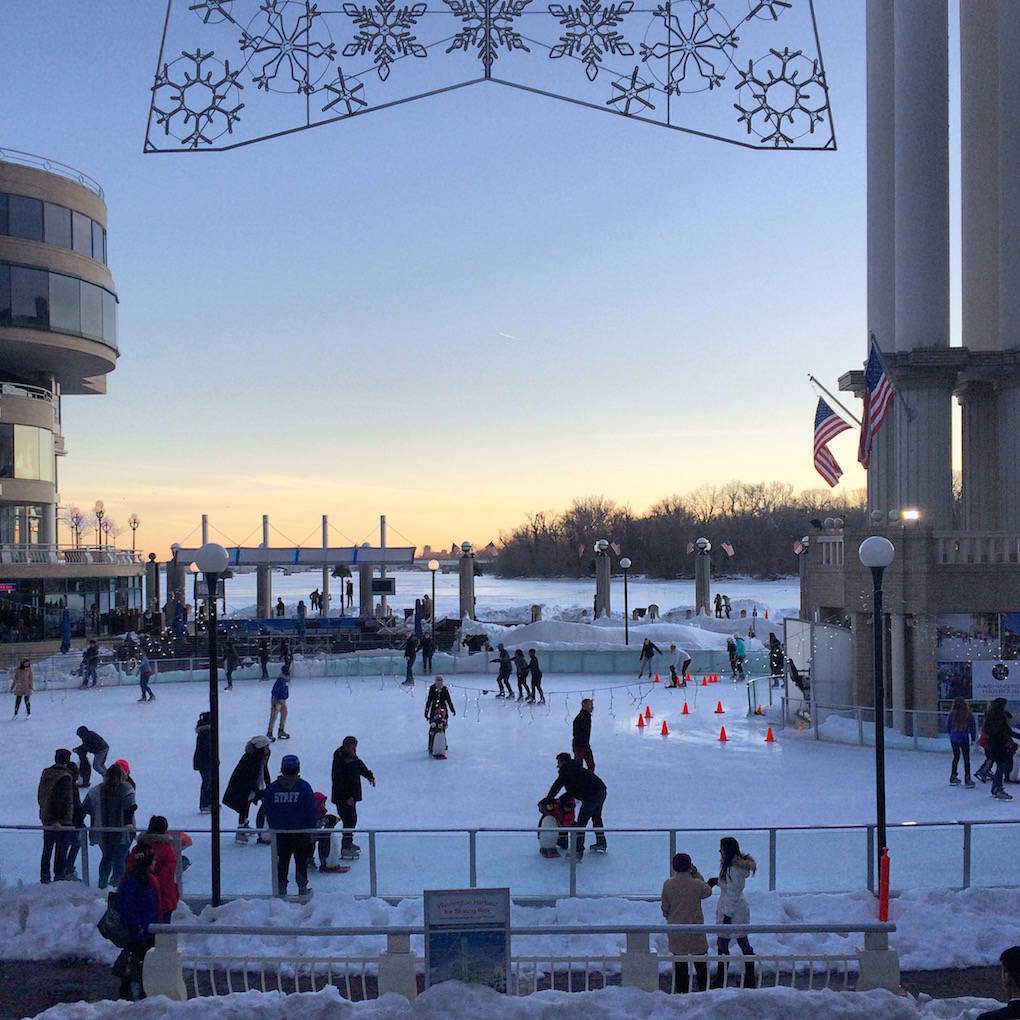 Eat!
DC restaurants deserve a post of their own. Some of our favorite meals ever have been in DC (chellooo Acqua al 2), and our anniversary weekend was no exception. I already dished on our Sunday brunch at The Hamilton, and I remain a huge fan of The Hamilton's sister restaurants, Clyde's and Old Ebbitt Grill. I still have lots to spill on our romantic anniversary dinner at Et Voila, but I'll save that for another time…
Despite the plentiful restaurant options in DC, sometimes putting on pants and going outside seems like a little too much work, especially when you're in a comfy hotel room and room service is an option. The Donovan's restaurant, Zentan, which serves contemporary Japanese cuisine, is a refreshing change from the typical cookie cutter hotel restaurants. Room service at The Donovan offers a modified menu from Zentan, so I took full advantage on Friday night while Sean was at his conference, ordering rock shrimp and edamame to my room, where I was able to enjoy it in my pajamas. Ahh, that's the life.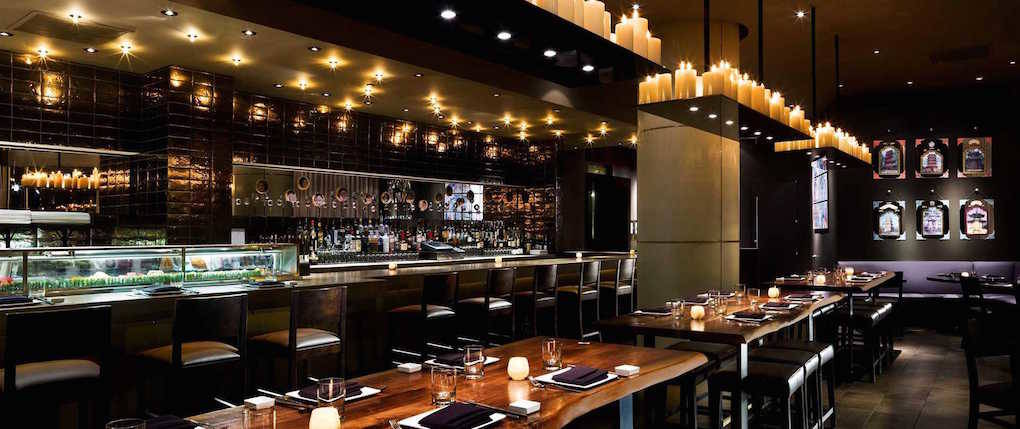 Photo courtesy of Kimpton
Sightsee (sort of)!
Over brunch at The Hamilton on Sunday morning, Sean revealed that he had never seen the White House before, which was only a two block walk from the restaurant. So, after we polished off our bloodies, we took a stroll over to the big house to see if POTUS, FLOTUS, and the girls were in.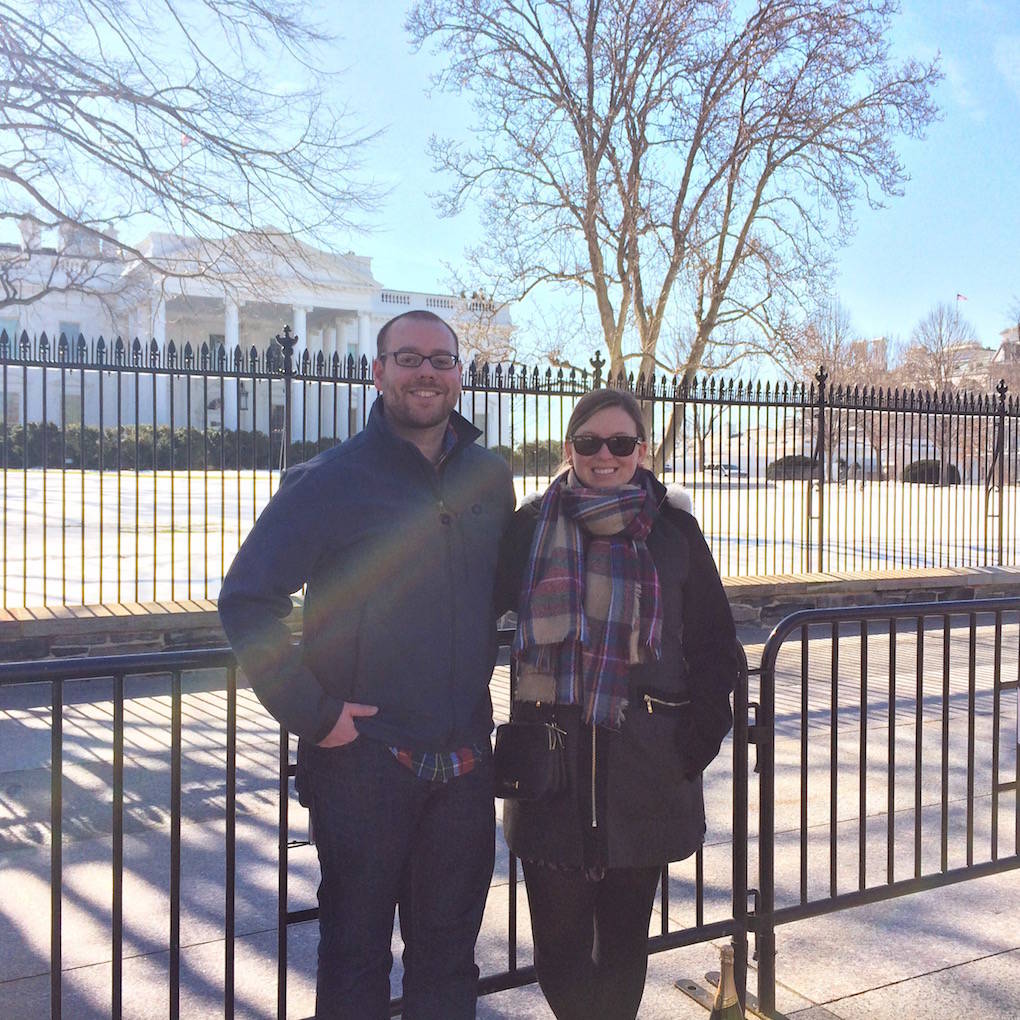 …they weren't, so instead of going inside for tea– which I'm positive we would have been invited for had the first family been in town– we snapped a few photos and were on our merry way. We took our time leisurely strolling back to the hotel, enjoying the unseasonably sunny weather.
If we were the sightseeing kind of people, we could have easily walked down to the mall or stopped in at the newly revamped Renwick Gallery across the street from the White House. But, lazy. Maybe next time, DC. Maybe next time.
Don't Miss!
Kramerbooks & Afterwords Cafe // Before we could leave DC on Sunday, I knew there was one last spot I wanted to take Sean. Kramerbooks & Afterwards is a Dupont Circle staple. The independent bookstore and cafe, which has been around for almost 40 years, was the first bookstore in the country to offer food and a full bar service and is even open 24 hours on Fridays and Saturdays. It's one of the most unique places in the city, which means it's always bustling with locals and tourists alike. I've spent countless hours browsing the stacks of books or enjoying a drink at the bar, and it was one of my favorite places to take people for lunch or dinner when they were visiting me in the city.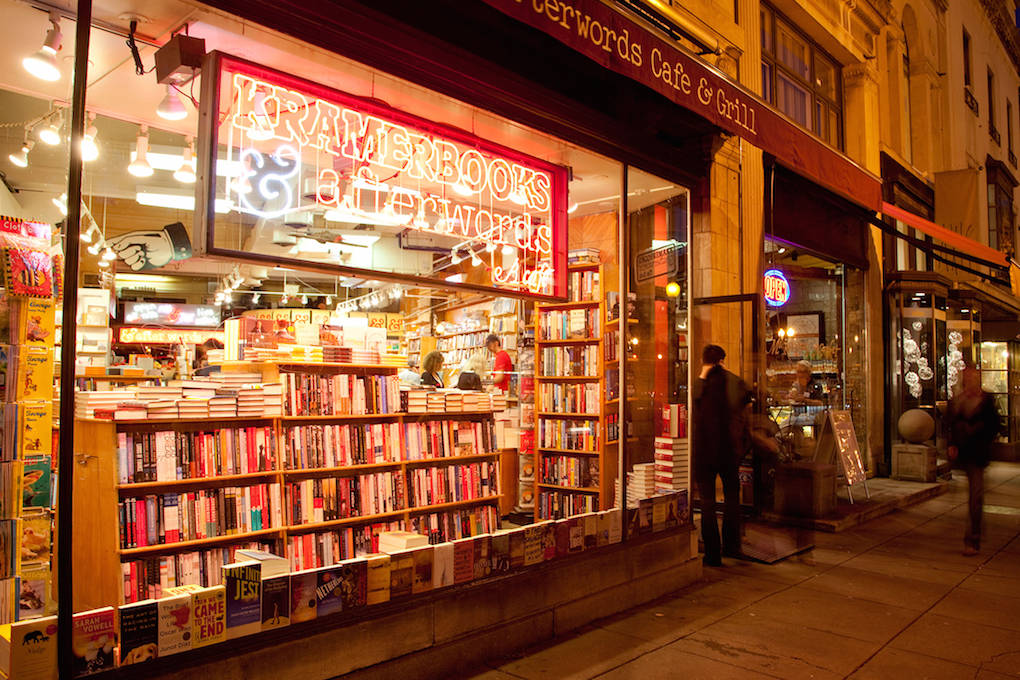 Photo credit
After our brunch at The Hamilton, we weren't ready for another full meal, so instead we grabbed two slices of Kramer's Goober Pie to go– a peanut butter mouse filling, topped with chocolate ganache and set in a graham cracker crust. HEAVEN.
On our drive back to Philadelphia, the day of our first wedding anniversary, we felt truly content. We may have erred on the side of lazy for our DC getaway, but would we have wanted it any other way?
xo!
the wino
We were guests of The Donovan during our stay in Washington, DC. Though it's true that they provided me with copious alcohol, all opinions are my own. Featured cover photos courtesy of Kimpton.