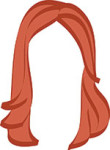 While in Paris, the hubs and I made a necessary stop at Shakespeare & Co. Having skipped it the first time (I know), there was no way we were making the same mistake again. Between my new found love for Midnight In Paris and summer obsessions with The Paris Wife (seriously, READ IT) and A Moveable Feast, this was a must-see.
As luck would have it, we arrived at the same time as a true-blue historian. This guy was the real deal. See the baby just entering the photo to the left? That's baby #1 strapped to the Official Hemingway Historian.
As you can see below, that is baby #2–strapped to his back.
That loving father of two taught us two very important things we never knew about Hemingway. (PS, as is my life, I didn't notice the no photo sign until AFTER I took my photos. I really need to be better about such things).
Fact #1: "Babe. I can't believe we're here. This is where Hemingway wrote every single word. Can't you just picture him here? Sitting right here, writing the words to every single book? I can picture it."
Fact #2 (upon finding a copy of A Moveable Feast): "Oh. My. GOD. Babe. This is it. A Moveable Feast. This was written about Hemingway's favorite places to eat in Paris. It's all about moving around Paris, eating and stuff."
I missed the iconic photo of him holding his own copy of this important Parisian restaurant guide because I was distracted by how seriously adorable the rest of the store was.
For a brief (and factual) history and way more gorgeous photos of Shakespeare and Company, check out Sheryll of The Wanderlust Project's recap here. I was able to enjoy myself and fall in love with the tiny shop even with the history lesson happening around me, so it has to be good.
xo!
the romantic