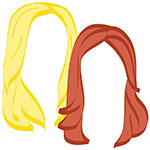 Not sure if you've noticed, but it's been a busy year 'round here. Between new jobs, new apartments, new cities, weddings upon weddings upon weddings, and much, much more, life has been more than a little crazy. Though we've been lucky to have a few big (and amazing!) reunions this year, we also realized that both #LTsf and #LTsouthafrica weren't exactly the laid-back, super relaxed trips we normally prefer.
Naturally, now that it's summertime, all we want to do is close our eyes, put our feet up, and enjoy the sun. But with everything going on around us, it's not always feasible to turn our non-stop wanderlust into reality. This summer, we turned to one of our favorite travel partners, Flipkey, to find an affordable option without having to sacrifice the luxury and relaxation we so desperately need.
Flipkey has thousands of private vacation rentals available around the globe, with options for every type of budget. We knew we wanted to stay somewhere close the coast, ideally with a pool and at least two bedrooms in case our husbands decided to come along for the ride. After a few days researching ideal flight destinations for both Philadelphia and London, we settled on…
Moraira, Spain!
We spent a few days excitedly sending each other possible property options until we found one that checked off everything on our list without going over our budget: a beautiful villa in Benitachell, right in between Valencia and Alicante.
Nestled in the hills that overlook the Portet beaches, the villa comes equipped with a pool, terrace, and outdoor dining, all capped off with some pretty killer views.
With three bedrooms, two full bathrooms, and a bright sunny living room and kitchen, we'll have plenty of room to kick back and relax for a full week in Espana. The best part? It's a part of Europe neither one of us has ever explored!
On the agenda thus far: pool time, sangria time, and all the jamon and manchego we can get our hands on. Plus, maybe a few little daytrip excursions to nearby Valencia, Alicante and Ibiza. We shall see… sticking close to the pool is looking mighty inviting, no?
Keep an eye on #LTespana on Instagram, because mucho photos are coming your way in less than two weeks!
xo!
the romantic & the wino