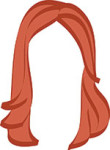 Just over a month ago, almost to the day, the hubs and I zipped off for a little intro to Istanbul. The plan was to celebrate his 30th birthday — and, coincidentally, my 40th country! (His was Denmark in the winter. He was on business. I wasn't invited. Rude.)
Clearly, with so many things to celebrate in one little weekend, we had to do it up right. We left early on a Wednesday morning and arrived ready to go. After a snack and a nap, you know… the important stuff.
So, ready to join us on our little intro to Istanbul? Let's go!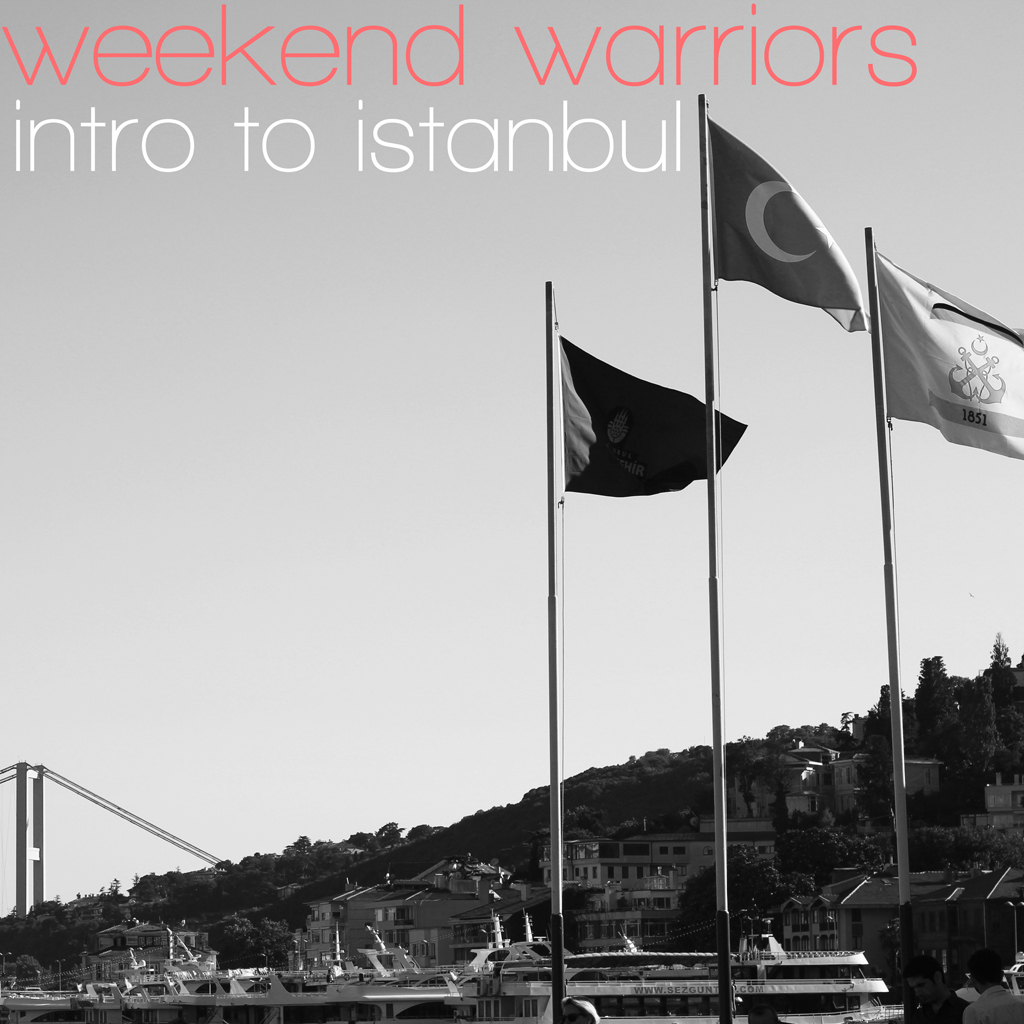 where we slept // Getting our visas upon landing and zipping through passport control was surprisingly pleasant, thanks in part to the fact that we flew business — a birthday splurge for the mister! We were greeted on the other side by Luxury Istanbul, who had arranged for us to be picked up by one of their drivers. He grabbed our luggage, and we headed off to our destination: The Istanbul Edition.
You are not lacking in options when it comes to finding a hotel in Istanbul, this is for sure. There are tons of options for every budget. Plus, because the city is MASSIVE, it can be overwhelming trying to peg down a location.
In the end, we opted for the Istanbul Edition, mostly out of curiosity. I stayed at the London Edition last year, and have been curious about their other hotels. My London stay is one of my recent faves. We didn't feel like moving hotels during our 4 nights, so we figured this seemed like a pretty good homebase. You know, based on our (admittedly limited) research. (Read: practically none).
Arrival and check-in were both seamless, with staff at every turn, ready and waiting to help us. We were greeted with tall glasses of lemonade and led to a seated check in, where we were promptly told we were upgraded to one of their beautiful Loft Suites.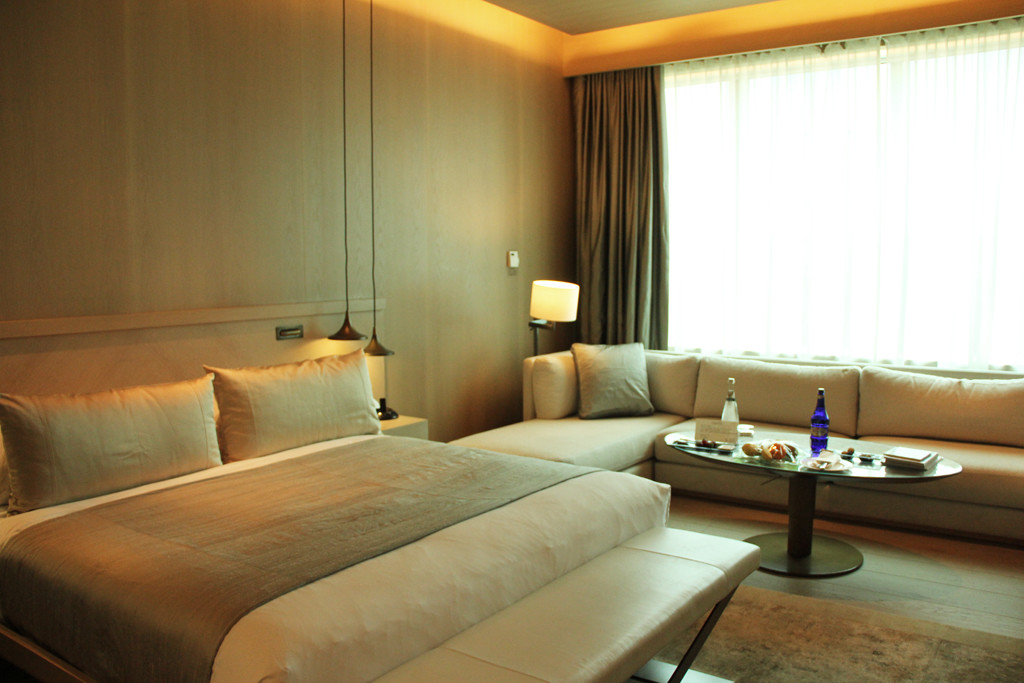 After we settled into our room, we ordered a mezze platter to snack a bit as we freshened up and were treated to a little surprise: the check-in team had noted the hubs's birthday when they scanned his passport, and sent up a celebratory cake!
Err… I mean, I told them well in advance, best wife ever, you're welcome. No but seriously. It was super cute! But I didn't get a good picture of it so you'll just have to trust me on this.
After our delightful first impression, however, things seemed to take a bit of a turn toward the not so great. We realized pretty quickly that the hotel is much more suited for business travelers. As for the mass amount of staff who were ready and willing to help us when we checked in? They seemed to all but disappear! By the time we checked out four days later, it was practically a ghost town. There were a few frustrating run-ins with the team, and in the end, we were ready to leave.
It was an odd experience. Though the rooms are beautiful!  But it's lacking in the quirks and character I loved about the London property. Plus, the location isn't great for first-timers. All in all, a bit of a let down, but having a huge, comfortable room for four days was lovely. Plus, the hubs was all about the gym facilities. Nerd.
where we dined // On our first night, we took a cab from our hotel to Sunset Grill & Bar. The views over the Bosphorus were beautiful, and I'd definitely suggest stopping here for a cocktail — or mocktail, if that's your thing. We were there over Ramadan, so their list of alcohol-free concoctions was extensive!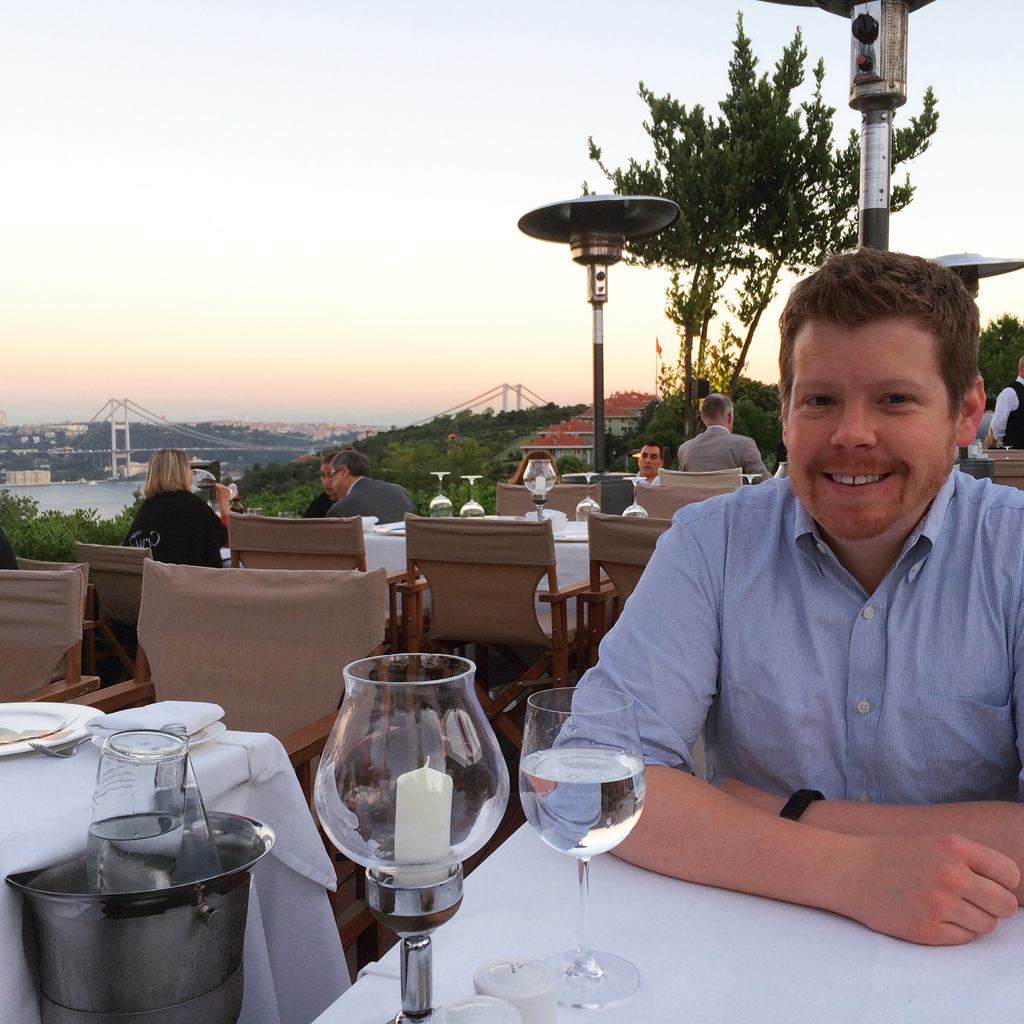 Birthday boy, sitting down to order just as the sun started to set!
Though the views from Sunset were beautiful, our best meal of the trip took place in the garden at Cezayir. A close second goes to Mikla, though it was a bit more stuffy than we expected. We also developed a major thing for Istanbul's rooftops, and we made our way up to 360Istanbul one night for drinks, too. The City of Seven Hills knows how to capitalize on their built-in views. This rooftop was only on, like, the 10th floor! But we still felt like we were on top of the world:
We also enjoyed a food tour of Kadıköy, on the Asian side of the city. But I'm going to make you wait on those details and give you the scoop in a separate post. I'm crazy like that.
what we saw // On our first full day, we headed straight for the Old City to meet with our private tour guide from Luxury Istanbul. We spent the next six hours getting a peek at all the highlights of this ancient city.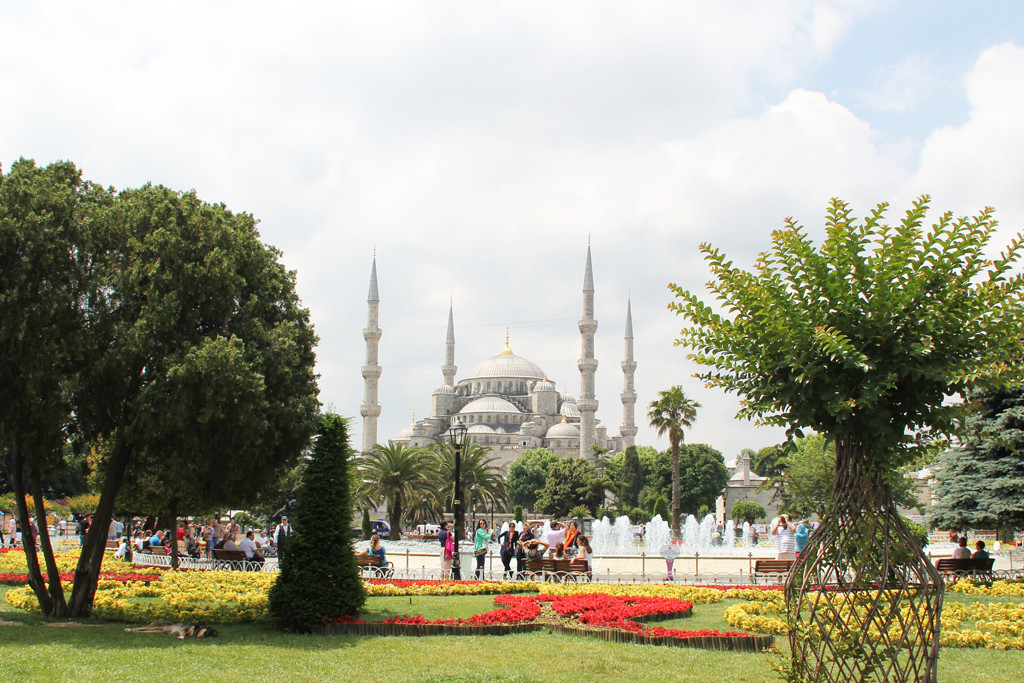 Starting, of course, with the Blue Mosque. Adorned with 20,000 handmade ceramic tiles, we removed our shoes and stepped inside, where we listened to a brief explanation of the history and construction. Like all mosques, this one (officially named the Sultan Ahmed Mosque) is built facing Mecca. This is the direction Muslims must face when praying.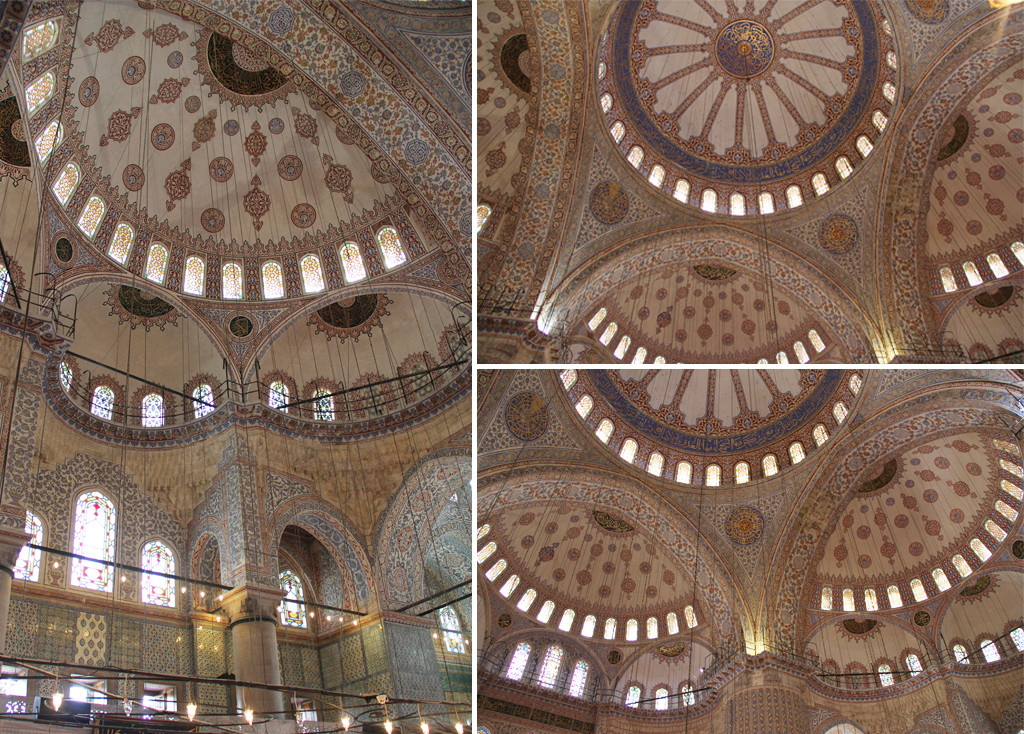 Unlike all mosques, the outside is adorned with 6 minarets — more than any other in Istanbul, and one of the few in the world to boast this many. Naturally, all of my photos only show 4 of the minarets, because I am an excellent travel blogger.
Next, we stumbled outside and across the street to Hagia Sophia.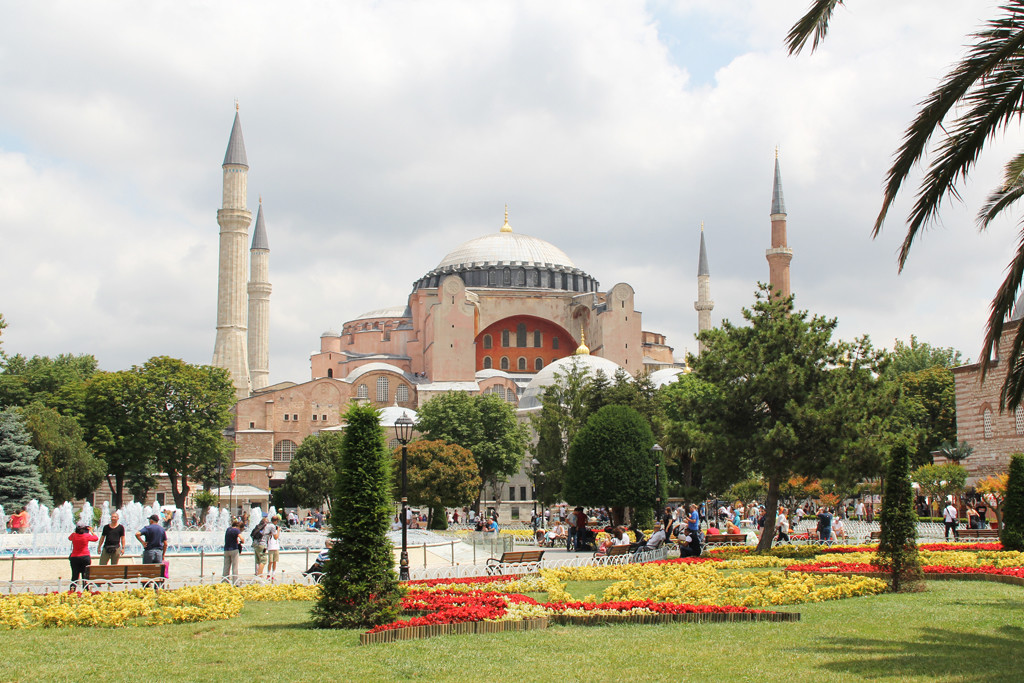 Built in 537, it was a Christian basilica for about 100 years, then a mosque, and now a museum. Adorning all of the walls are traces of both Muslim and Christian religious relics.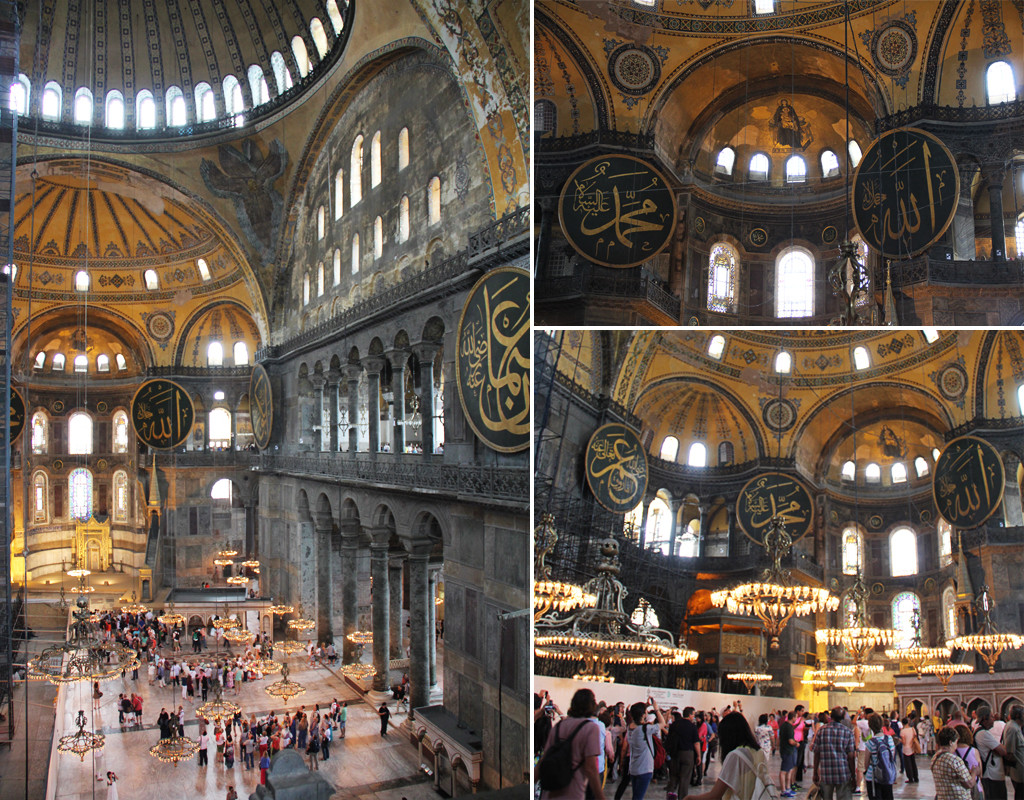 After, we made our way to Topkapı Palace, former home of the Ottoman sultans. You could honestly spend an entire day exploring the complex, but as we were short on time, we did a quick perusal of the grounds, the kitchen and a few individual rooms — most of which don't allow photos.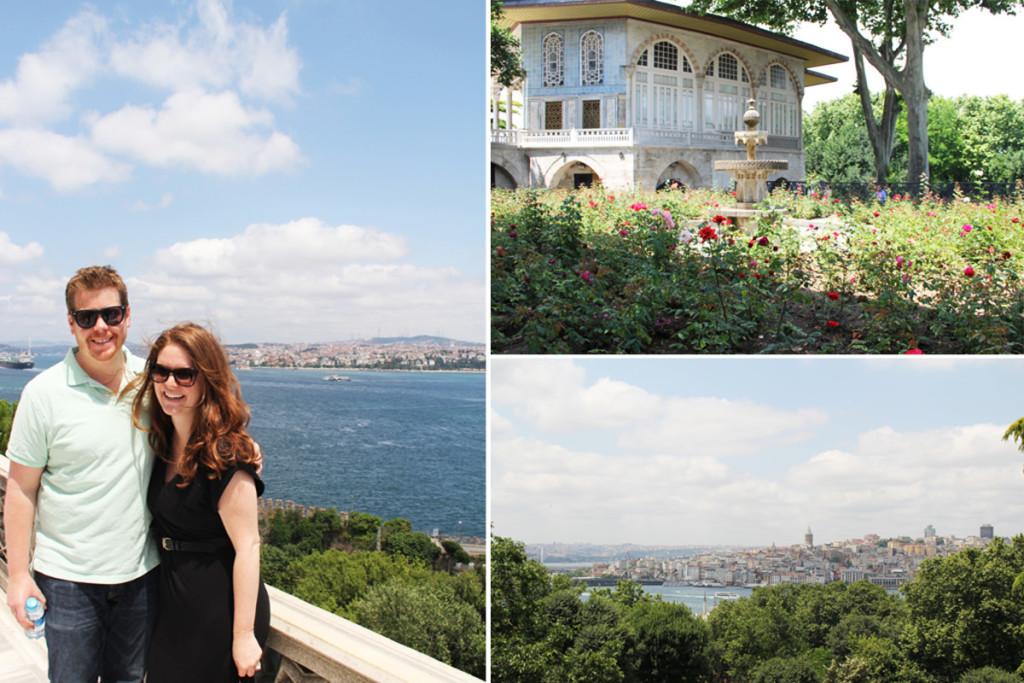 It was also stupid windy up there, and my dress flew up right in time for our photo. Class.
Finally, we capped our tour with a browse through the Grand Bazaar (overwhelming and not my scene, especially after exploring the souks of Morocco just a few months ago), and two quick stops in a Turkish rug gallery and a tile shop. There was a bit of pressure to buy things here, but we passed on both in favor of browsing on our own later in the trip.
We wrapped up our time together, and our guide led us to our last stop of the day: a private yacht ride with the owner of Luxury Istanbul. Though we had originally scheduled this for sunset on our first night, scheduling had bumped things around a bit.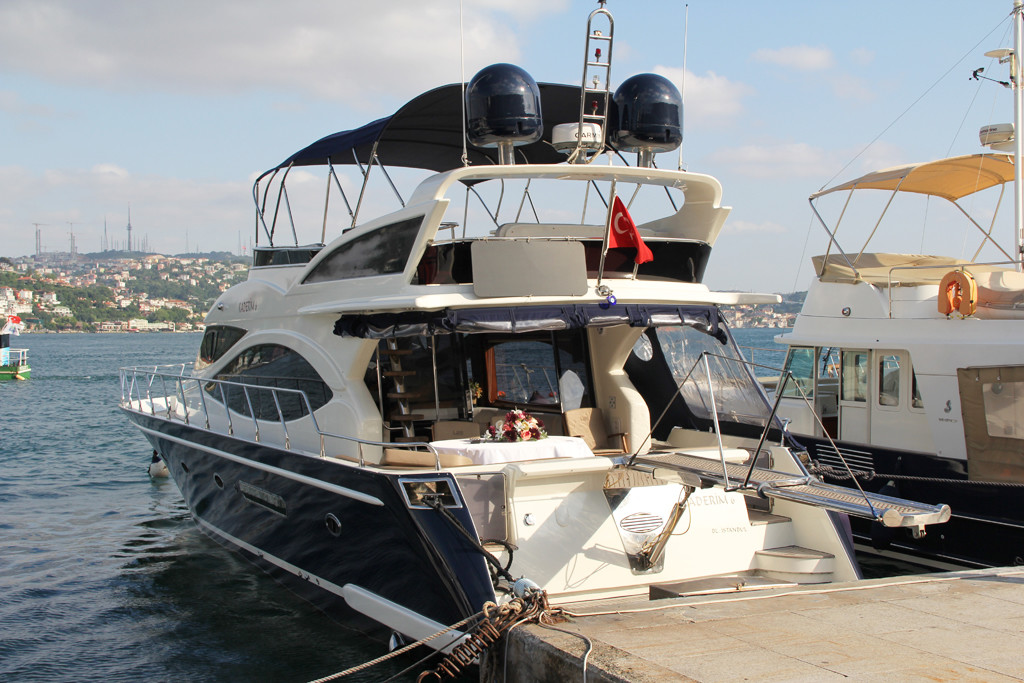 I'm convinced that the views on our ride would have been gorgeous at any time of day, and it was the very best day to relax after a long, long day of walking on cobbled streets, learning about the history of this ancient city.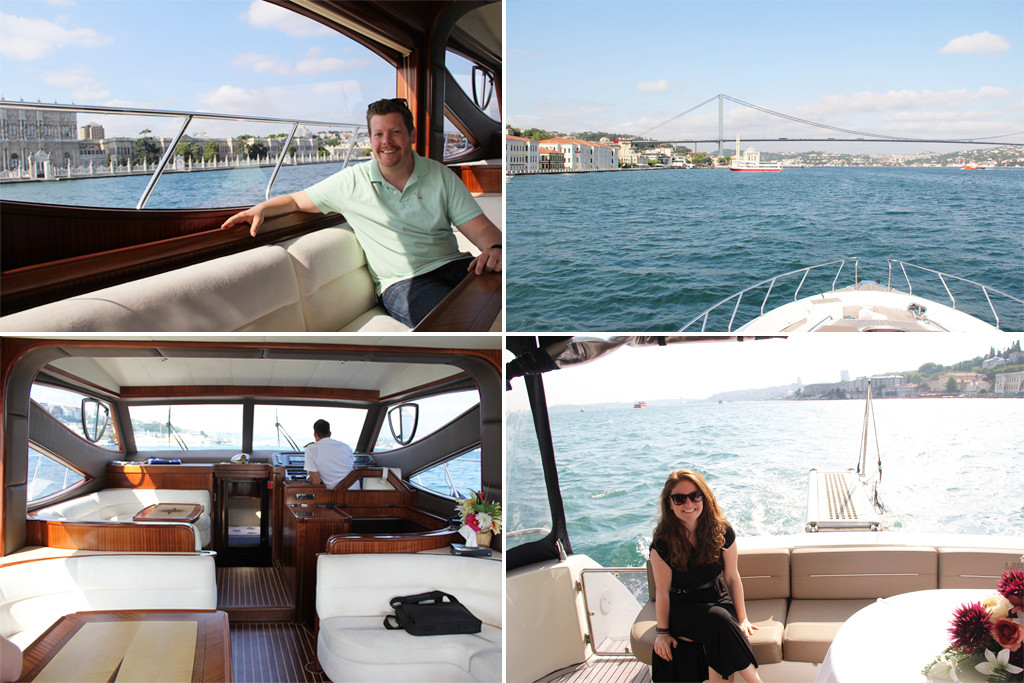 what we learned // Aside from a ton of history about this former seat of the Ottoman Empire, we learned one other very, very important fact.
Cabs in Istanbul are horrible and terrifying and dangerous, and you should do everything you can to AVOID THEM.

After our dinner at Sunset on our first night, the host hailed us a cab and gave our hotel name. The driver nodded like he understood, but soon it became pretty clear he had no idea where he was going or how to get there. He didn't recognize the street name, the neighborhood… nothing. We stopped multiple times as he tried to ask for directions, and when Jeff handed him his phone with Google Maps pulled up, he pulled over to a bodega and handed it off to a random person on the street to see if he knew where we were going — all while the hubs sat next to me, powerlessly muttering, "please don't take my phone, please don't take my phone…"
Things got increasingly worse — at one point he almost turned into oncoming traffic, and later, he lit up a cigarette despite all the signs warning us, as riders, not to smoke. I finally called The Edition in the hopes their staff could talk some sense into this maniac, but they were pretty unconcerned. They just told us to get out and get a new cab. As we were on a highway heading toward who knows where, this wasn't feasible, but eventually, we did exactly that. Weirdest of all, when we finally made it back to the hotel, no one said anything… even though I'm pretty sure we were the only guests at the hotel, so they had to know it was us? It was all very bizarre and VERY stressful.
Needless to say, we used Uber for the rest of the trip. UberLux was the only option so it was more expensive than the cabs, but it was definitely worth every penny. Plus, unlike the cabs, they all had seatbelts! Novelty.
And that, for now, is a wrap! I still have one more Turkish post, however, and it involves a LOT of food pics. I suggest eating before reading.
Stay tuned!
xo,
the romantic
– Thank you to Luxury Istanbul and The Istanbul Edition for hosting us for our weekend trip to Istanbul. All opinions are, as always, my own.