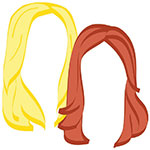 After an entirely unintentional hiatus, we're back! Back in action! Well, you know, we hope. We fully intend to be back. Sometimes life gets in the way, but what can you do?
Instead of dwelling on the fact that we haven't properly blogged in what feels like forevs, let us instead focus on everything we loved about Napa… which was, well, everything.
 But before we get to Napa, let's backtrack for just a sec.
The plan: awake, bright eyed & bushy tailed, in our beautiful suites overlooking San Francisco, and let our eyes adjust to the soft light filling our rooms (night #2, use the curtains, lesson learned). Don adorable sundresses to match the unseasonably warm weather, and depart for an early morning ferry up north to Napa.
The reality: awake, bleary eyed and with looming hangovers, inside a literal cloud. What city are we in? Where are we? Text each other feverishly with various options of wtf to wear now that the temperature has dropped to unseasonable coldness, and text each other again with the horrible realization that it's SUNDAY which means the ferry ISN'T running which means we have to take these headaches and unsettled stomachs on a 60-minute BUS RIDE AND WOE IS US.
Did you know that we can be just a tad bit dramatic when we don't feel 100%?
All's well that end's well because, despite our rocky start, we fell in love with Napa. You know, as soon as our feet touched solid ground and we had re-hydrated with enough water to fill the San Francisco Bay.
THE NAPA VALLEY WINE TRAIN // Part one of the day took us on the Valley First Winery Tour, and we can unabashedly declare this there very best way you can get to know the Napa Valley. The tour kicked off at Raymond Vineyards, and luckily for everyone, the sun made her appearance as we were en route. The rest of the day was warm, sunny and full of wine… what more could you possibly want?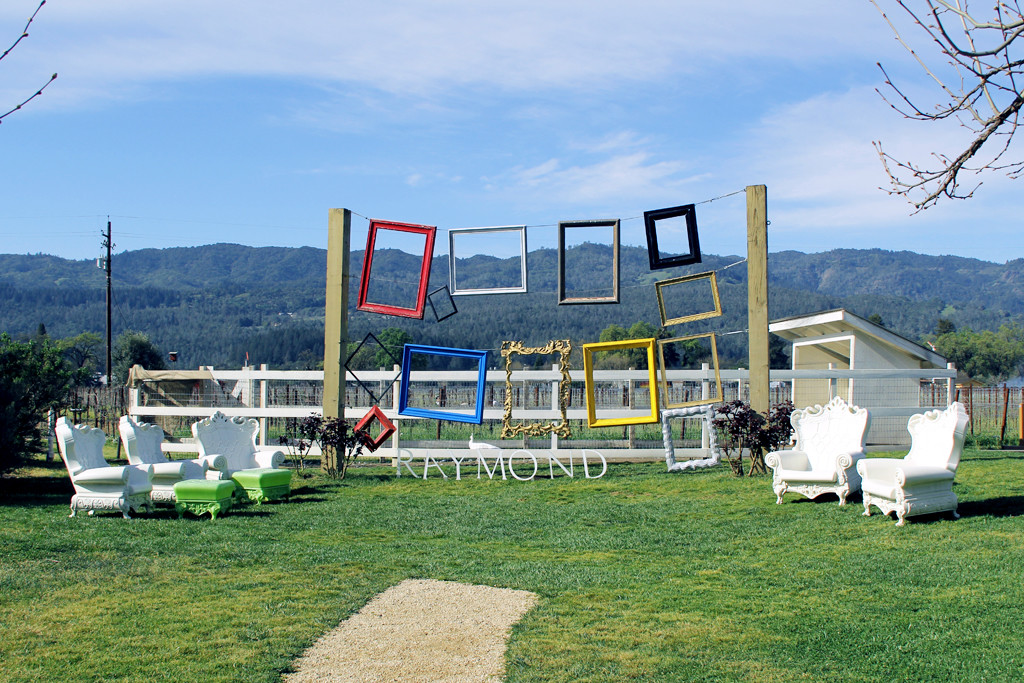 At Raymond, we were given the full intro to this boutique label, which included a walking tour of the grounds. Raymond is extremely proud of their organic and Biodiverse approach to wines, but we can't tell you that much about it because there were baby lambs that had just been born and we were trying to figure out how to break into their pens and smuggle them home.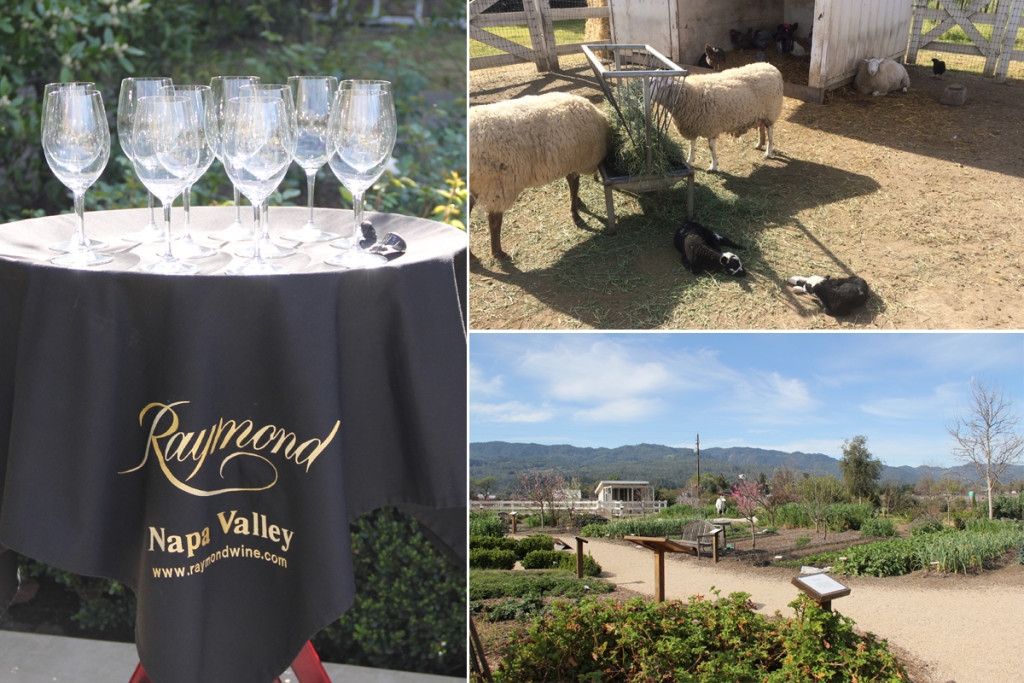 Once our guide broke us away from the fuzzballs, we had a brief intro to their adorable mascot: Frenchie, the French Bulldog, who has his own winery. Yes, Frenchie Winery is a tasting room for dogs and YES, they dress Frenchie in various historical costumes which he models on his own label and YES, WE BROUGHT HOME BOTTLES OF NAPOLEON. Do you think we're idiots?
After the outdoor portion of events, we were led inside to one of the most hysterical cellar doors we've seen to date, and it was official. Raymond's perfect combination of whimsy and wine has forever sealed them as our vineyard soul mate. You can have a vineyard soul mate, right? We do, it's in Napa.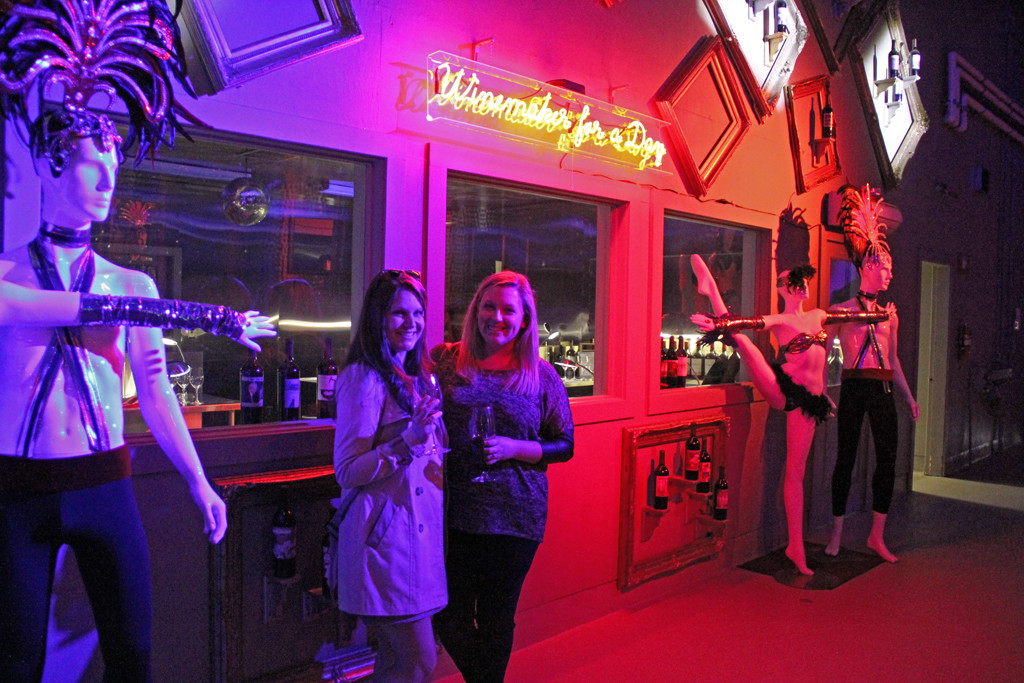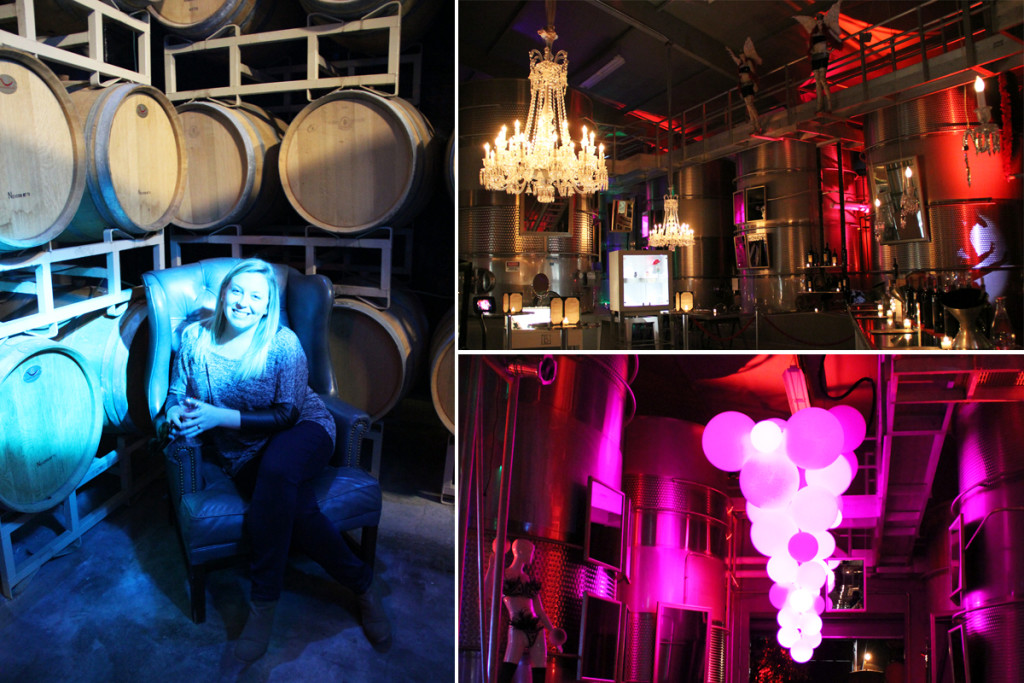 Honestly, we kind of expected things to go downhill from here, but they did not! After Raymond, we were taken to the magical Wine Train, which was just as lovely and elegant as the pictures lead you to believe. Like Hogwarts, but for grown ups!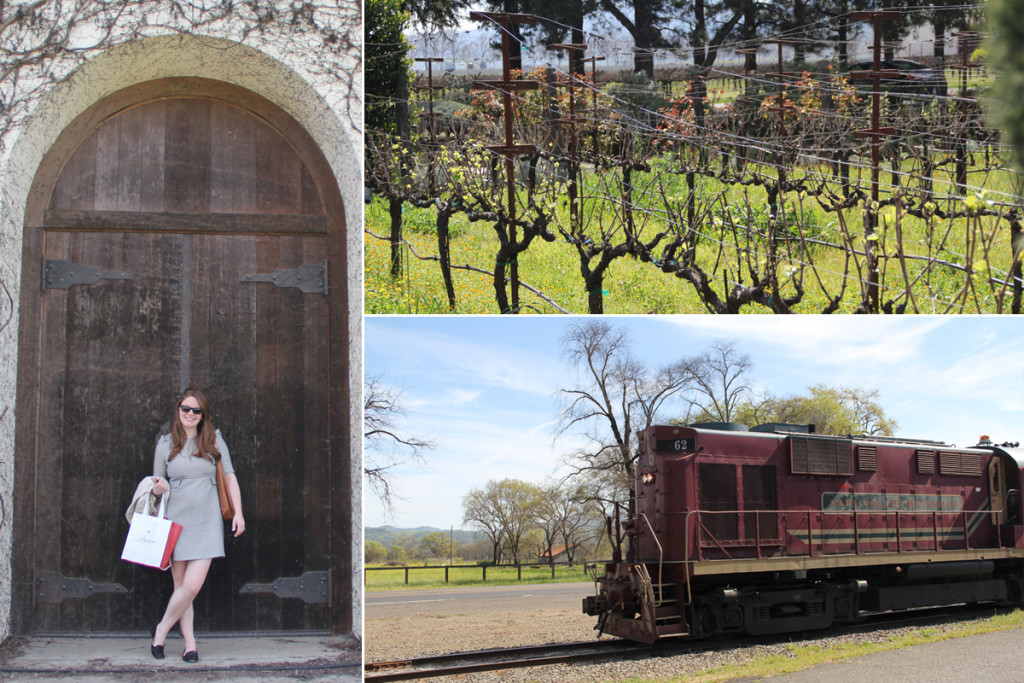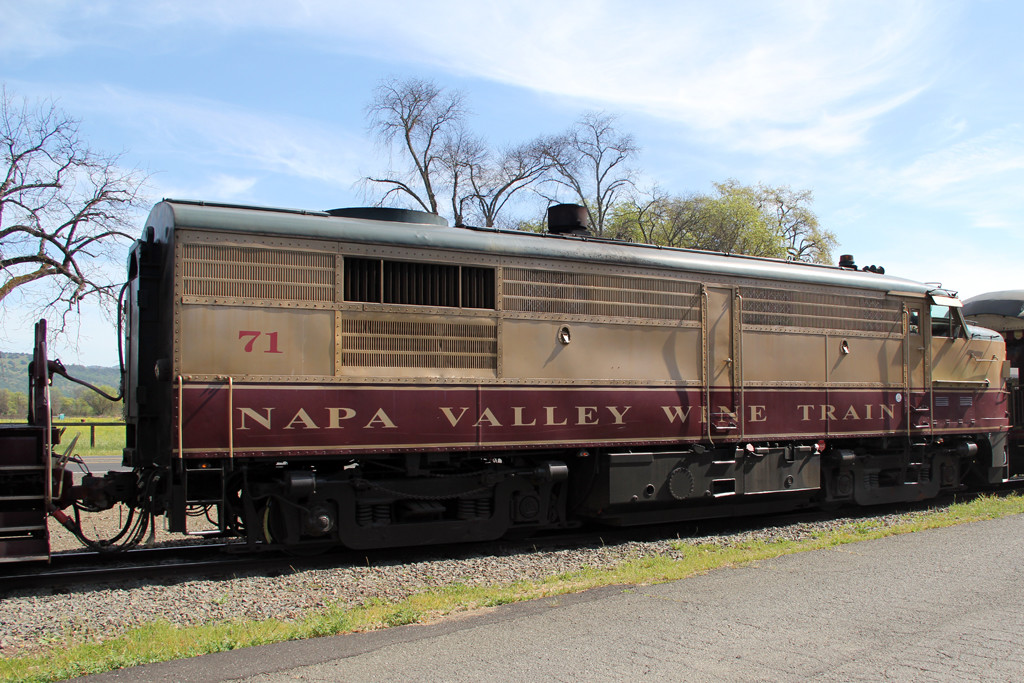 We spent the next two hours with a bottle of Pinot Noir and a delicious 3-course lunch, all paired with stunning views of Napa.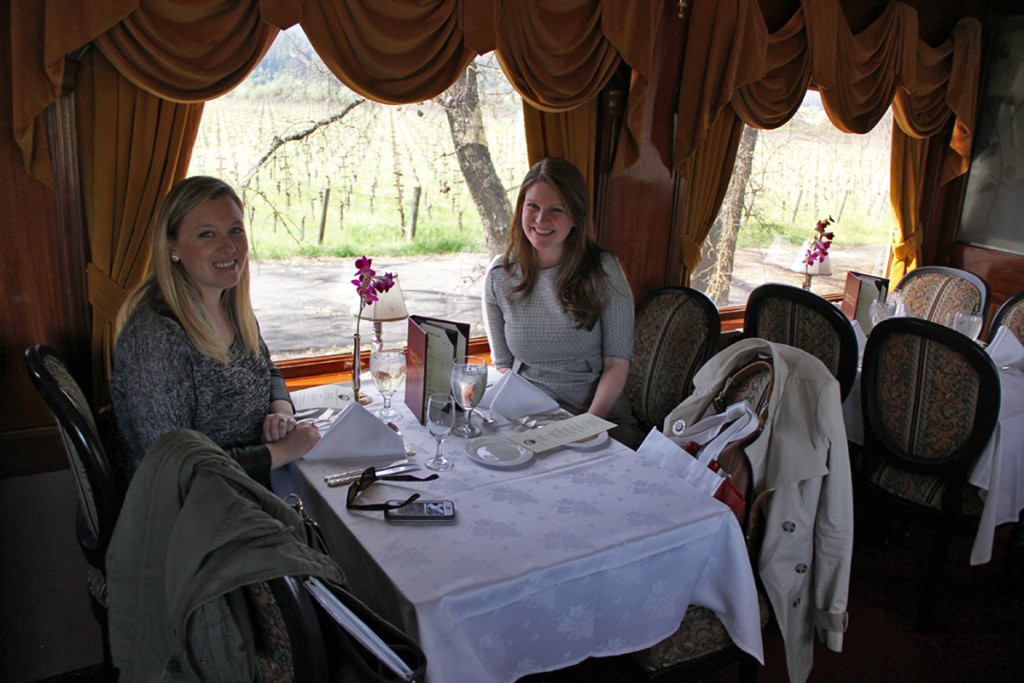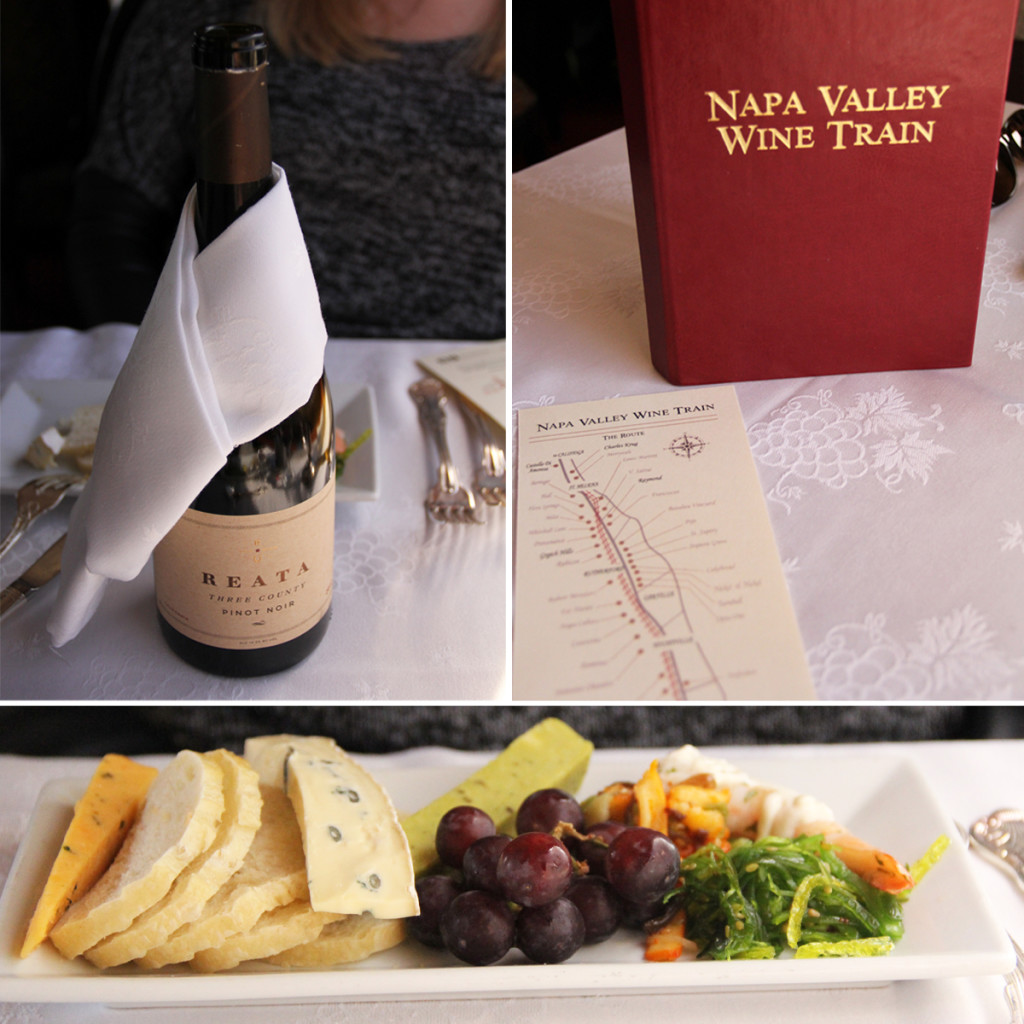 The food was delicious, the company was even better (we are a delight!), and the wine was paired perfectly. Honestly, with only 24 hours in the region, we can't think of any other way we would have been able to experience so much.
WINING & DINING // Thanks to the super-central locale of our new favorite hotel, Andaz Napa, we were perfectly situated to explore downtown Napa by foot on Sunday evening (after a nap, of course) ("you don't move to Napa, you take a nap-a!") (sorry). And, by what could only be an act of the Gods, we've come to know a Napa local over the years, Miss Natalie of In Natalie's Shoes. So, post-nap and joined by our other favorite northern Californians, Gerard and Kieu of GQ Trippin, we set off for a night of imbibing. Naturally, because we're all bloggers, we took zero blog-worthy photos together. We love everyone too much to post the shoddy cell phone snaps the husbands took, so you'll just have to use your imaginations.
For dinner, we made the short walk to zuzu, a tapas restaurant and local favorite of both Natalie and G & Kieu. Seated at a long wooden table in front of the upstairs window, we hunkered down for what would turn out to be about 15 tapas and countless bottles of California red wine. Plates of paella and ceviche later, we went in search of the perfect post-dinner drinks.
Initially, we walked a few doors down to The Thomas, which offers what Natalie promised to be some of the best cocktails in town. Originally opened in 1909 as The Thomas, and then purchased and named after the owners' family name, Fagiani's, the three story restaurant and bar also boasts a 36-year old murder mystery that remained unsolved until 2010. Then, in 2012, Fagiani's was taken under new ownership, re-christened again as "The Thomas" and now offers three-stories of eating and drinking, including a rooftop level with views of the river. We had our eyes set on the rooftop, which we learned was closed on Sunday evenings, and it was then that copious bottles of wine that we consumed at dinner started to catch up with us and we decided it may be best to wander back to our hotel if we wanted to continue drinking.
Not sure if we mentioned this before — jokes, because we know we keep reminding you — but the Andaz Napa is just the most stellar place in the world, and we stumbled in to find fire-side couches perfect for post-dinner drinking and catching up with our California friends. We ordered probably one too many bottles of wine and drank way later than was necessary for a Sunday evening. Just the way we like it.
THE ULTIMATE BREAKFAST // Shortly after realizing we were drinking too much, both Natalie and G & Kieu assured us that hangovers were not going to be an issue as long as we followed one very important rule: breakfast sandwiches from Model Bakery the next morning were an absolute must. We've tried many hangover cures in our day, but few have worked as well as breakfast from Model Bakery.
After barely pulling our shit together enough to check out of the Andaz (the complimentary bottled water and juices in our mini bar were CLUTCH), we hobbled to our rental car and set our weary sights on another day of wine tasting. But first, the hangover cure.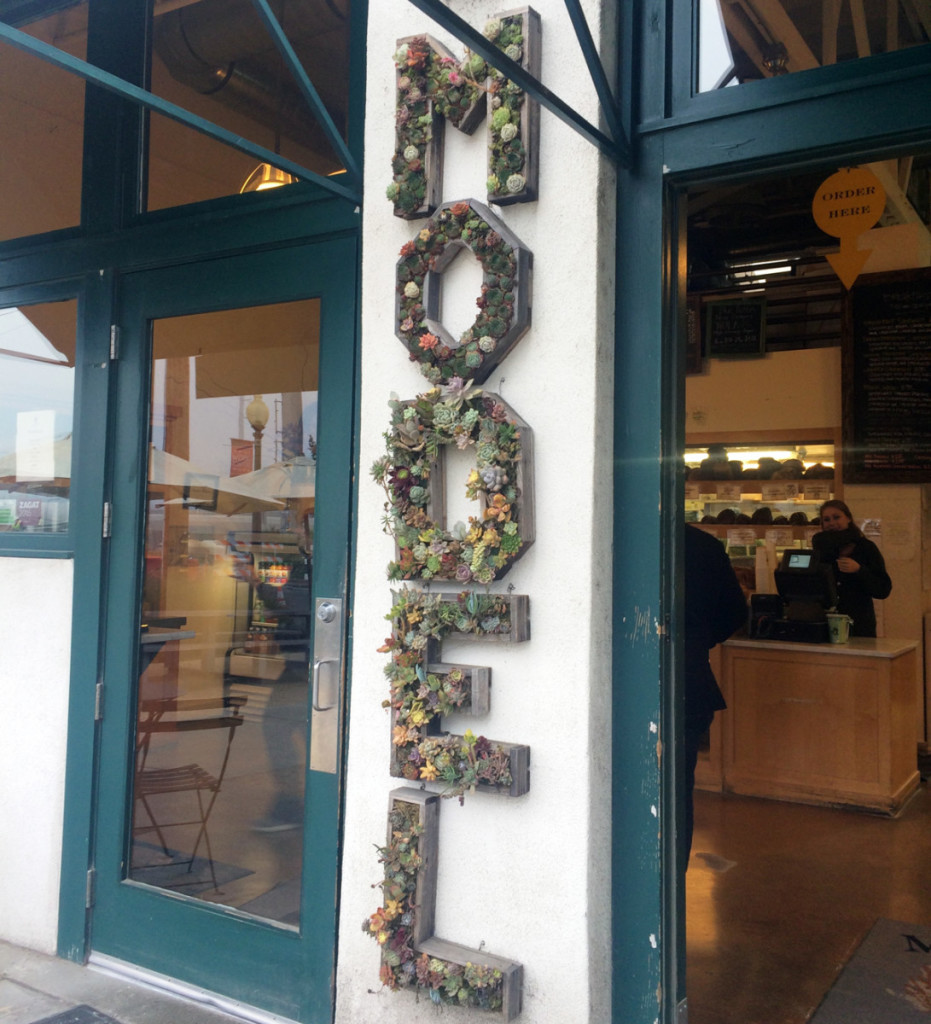 FUN FACT: we intended to take photos of the entire breakfast experience… and then we literally got so distracted once we set foot inside that we forgot.
Set in Oxbow Public Market, which is across the river from downtown Napa but still totally walkable from the Andaz for those that aren't suffering from pounding headaches, Model Bakery serves up freshly baked breads, pastries, and sweets at two locations — one in Napa and another further north at its original location in St. Helena. If you think this is any old bakery, think again: the English muffins are so world-famous that Model had to set a limit on how many customers can buy per day.
We wish we could remember the names of the breakfast sandwiches we ordered (did we mention we were hungover?), but all you really need to know is this: our egg white sandwich came with cheese, avocado, chorizo, AND HASH BROWNS, wrapped up in a spinach tortilla. Hash browns. In the sandwich.
The boys opted for something less spinachy, but still included lots o'cheese, sriracha, and whatever magic that Model bakes into its breakfast to take away all hangovers. And yes, the English muffins are as amazing as advertized.
Travelers, if there's one thing to take away from reading our blog, it's that when we declare something cures a hangover, you better believe it to be true.
CAKEBREAD CELLARS // Though the wine train was the perfect introduction to the Valley, we were ready to spend a more substantial amount of time at one of the region's countless wineries. There was one name that kept coming up when we told people we were visiting Napa: Cakebread Cellars.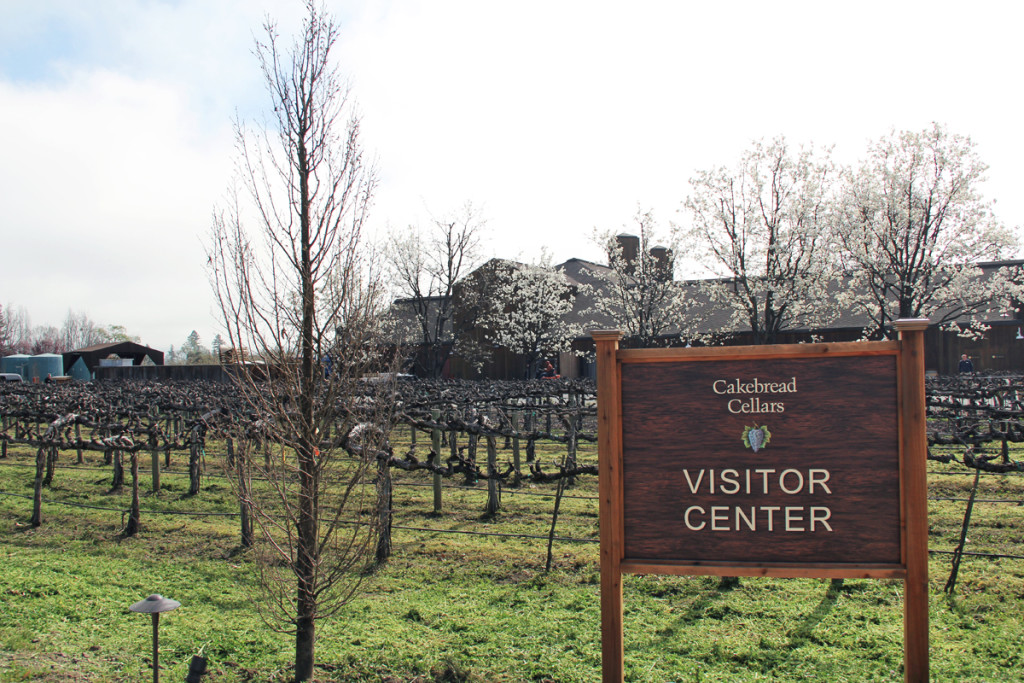 Owned and operated by the Cakebread family for over 40 years, Cakebread Cellars is located an easy 15-minute drive from downtown Napa. Since we were visiting in a low season, a few weeks before the buds start sprouting on the vines, we were the first visitors to arrive at Cakebread on Monday morning. But that doesn't mean the winery was quiet. Outside, their team bustled about, tending to the garden and walking through the vines. Inside, barrels were being steam-washed, bottles were whizzing by on the conveyor built, and in the kitchen, the cooks were busy prepping their mis en place.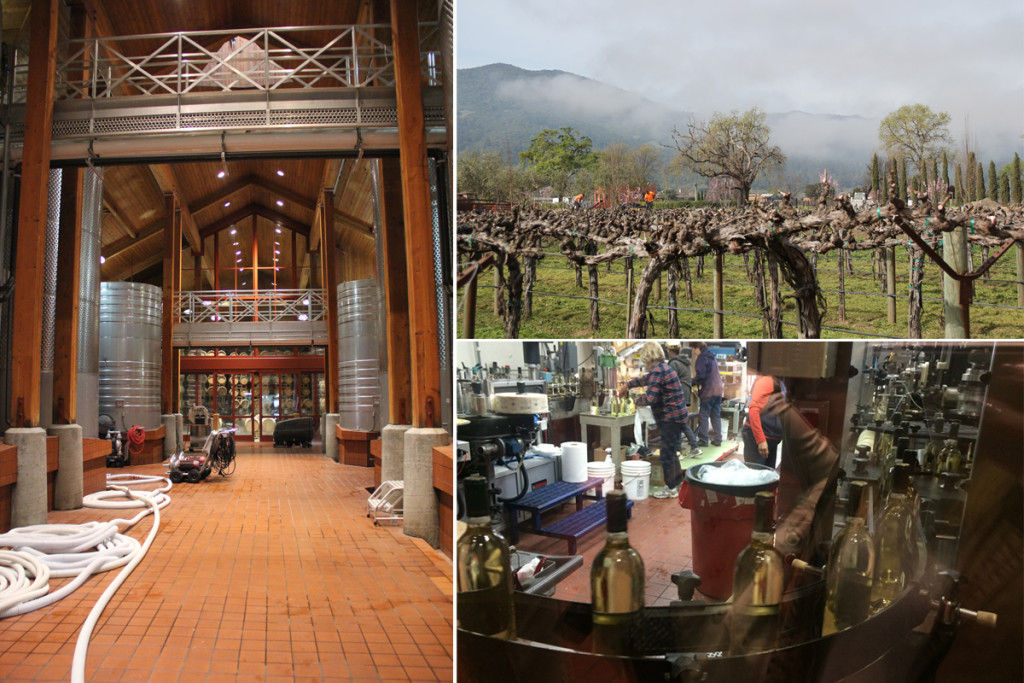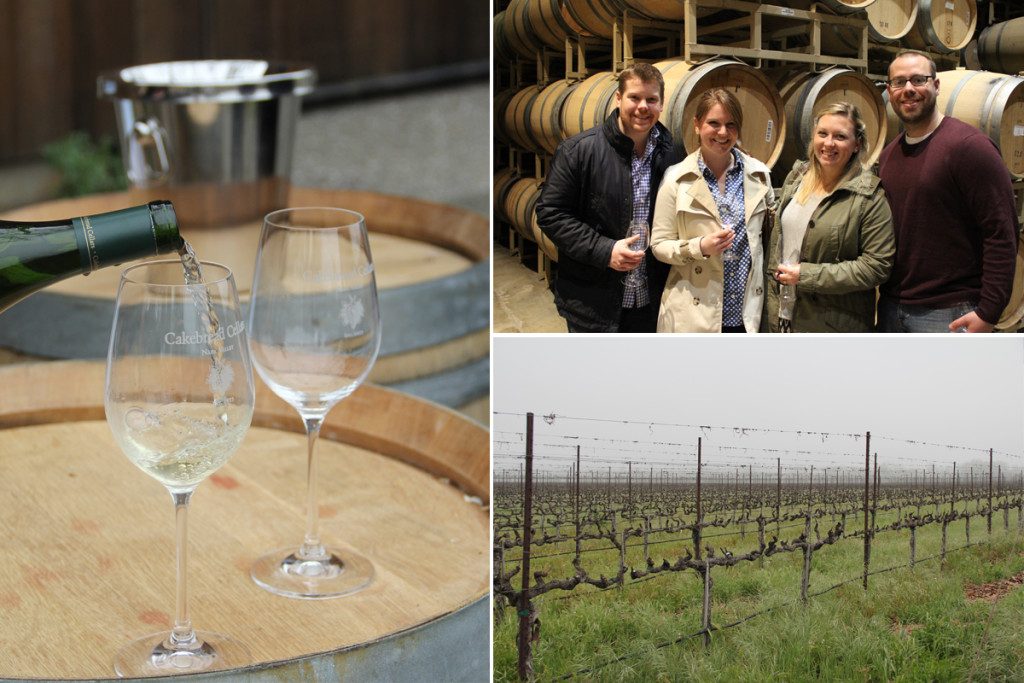 We were greeted promptly by our guide, James –a long-time Cakebread drinker and friend of the family now turned tour guide and Senior Wine Educator for the label. As we began our walk around the grounds with a glass of Sauvignon Blanc in hand, we learned one of the most important things about Cakebread wine.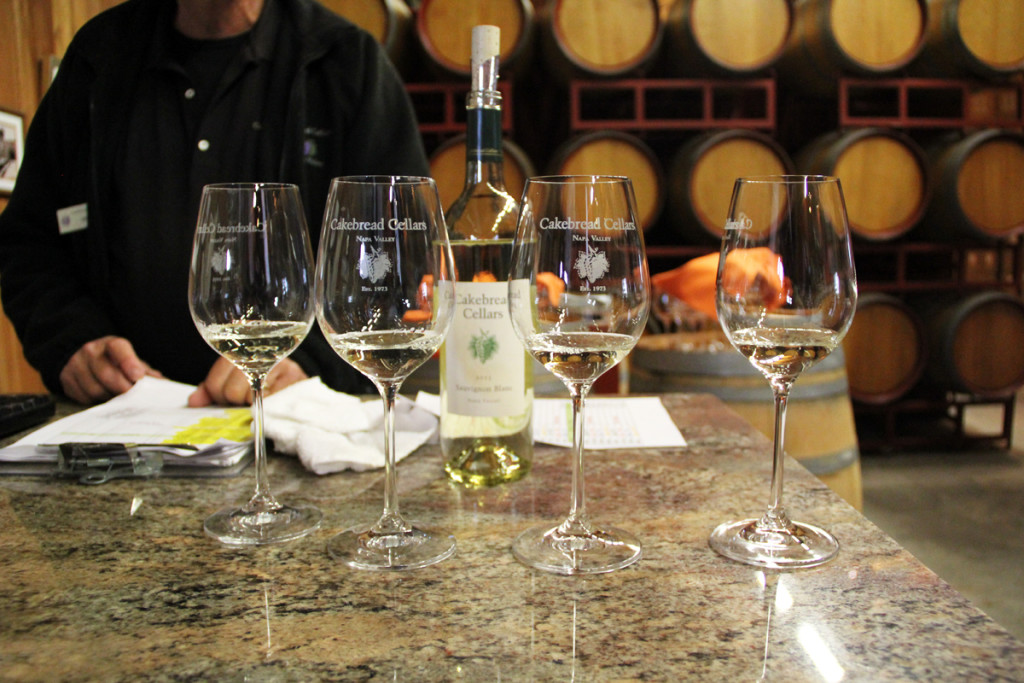 It's grown, produced, and blended to accompany food. Though many of its varieties are superior enough, in our opinion, to be the star of the show, Cakebread founder Dolores wants her wines to act as the perfect accompaniment to your meal. Over 70% of its wine is distributed directly to restaurants, which makes finding it in a liquor store somewhat rare and amazing.
On our nearly 90-minute tour, James talked us through the winery's history, schooled us on the green growing practices of an eco-friendly vineyard, and shared bits of the Cakebread family's history. After walking through the grounds, stopping along the way for tastings, of course, we got a behind the scenes look at the production side before settling in at a tasting room overlooking the stacks of barrels. Here, we did a red-only tasting, including an Estate Syrah. When we thought the tour couldn't get any more personal, Dennis Cakebread himself walked in to introduce himself.
By the end of the tour, which, sadly, was the end of our time in Napa, we felt like we were part of the Cakebread family — or maybe we were just seriously wishing we were? Either way, Cakebread is a necessary stop if you're looking for more insight into the heart & soul of a California wine label.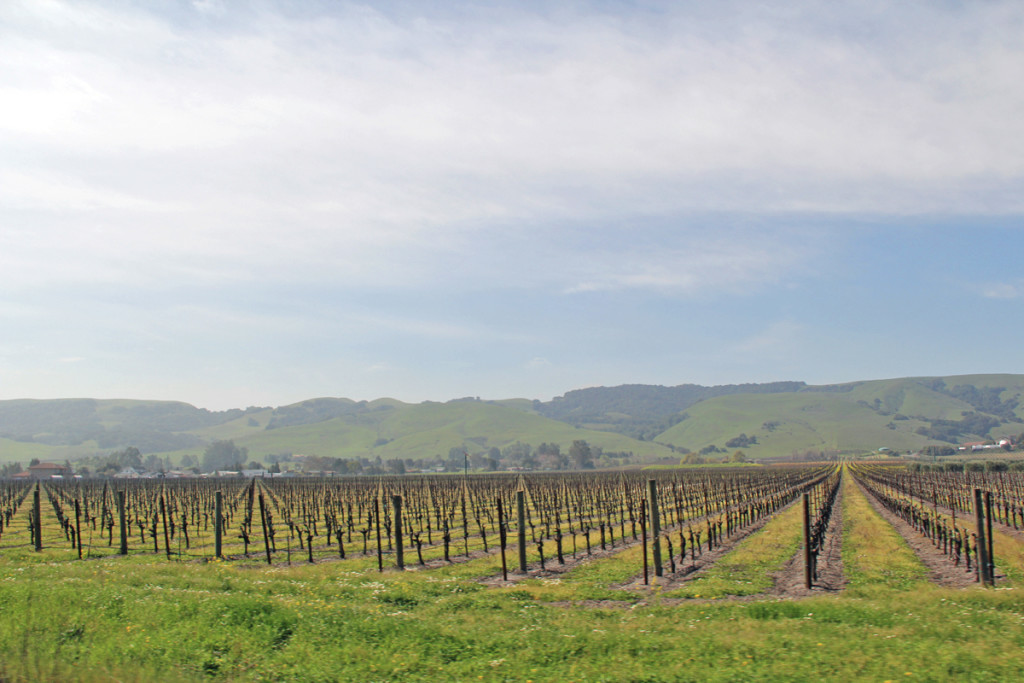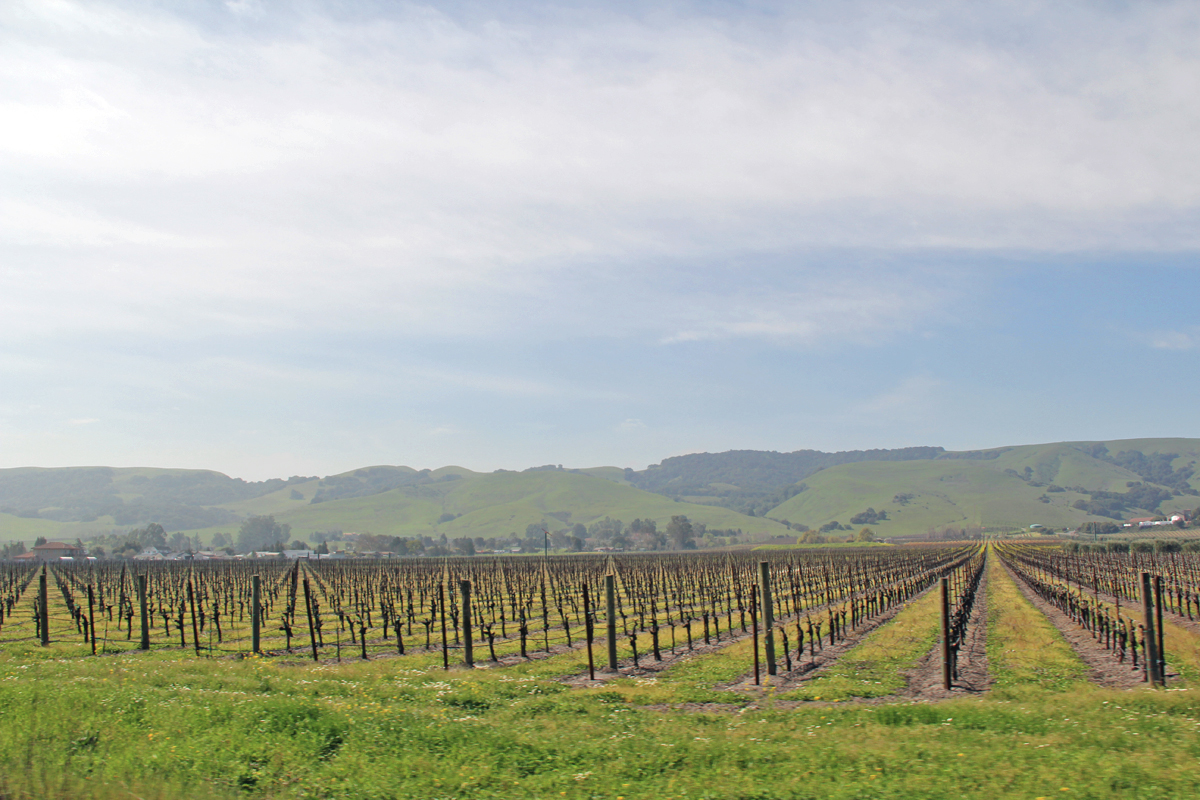 Naturally, we were more than a little sad to leave Napa, and we spent the next few hours trying to figure out when we can possibly return. No immediate plans at the moment, but we promise: you'll be the first to know. Well, like, fourth. The husbands usually demand they know where we're taking them, too. So bossy.
Next up: prepare to drool all over your keyboard, because we have some delish California meals to discuss.
xo!
the romantic & the wino
Thank you to both The Napa Valley Wine Train and Cakebread for inviting us for the full Napa experience, and to the Andaz for hosting us. The wine may have muddled our memories, but it did not affect our opinions!