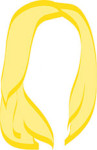 Recently, I was trying to figure out a weekend escape for myself and Sean. After lots of brainstorming, it came to me. I remembered a place we had talked about ages ago, but had never found the time to visit. The Finger Lakes! Smack dab in the middle of New York State, the Finger Lakes are a short drive from Philly. And this, my friends, is how a little trip to Corning, New York was born.
With the Lazy Travelers split between continents, Sean and I often find ourselves planning our travel around major international cities. Admittedly, I sometimes forget how much there is to do and see in the United States. And I especially forget how much there is to see within driving distance from Philadelphia.
Being able to drive meant we didn't have to waste precious time navigating an airport and flight. There was no worrying about packing everything into a carry-on. Plus, as we learned throughout the weekend, driving was key. Why? Because it gave us plenty of room to bring back all the beer and wine we could fit. Duh.
Since the entire Finger Lakes region spans 11 lakes and a massive portion of Central New York, we narrowed our focus to Corning and the Southern Finger Lakes, and we enlisted the Steuben County Conference & Visitors Bureau to help us locate the best places to eat, drink, explore, and stay in the area. Luckily for you, I'm willing to share all their secrets.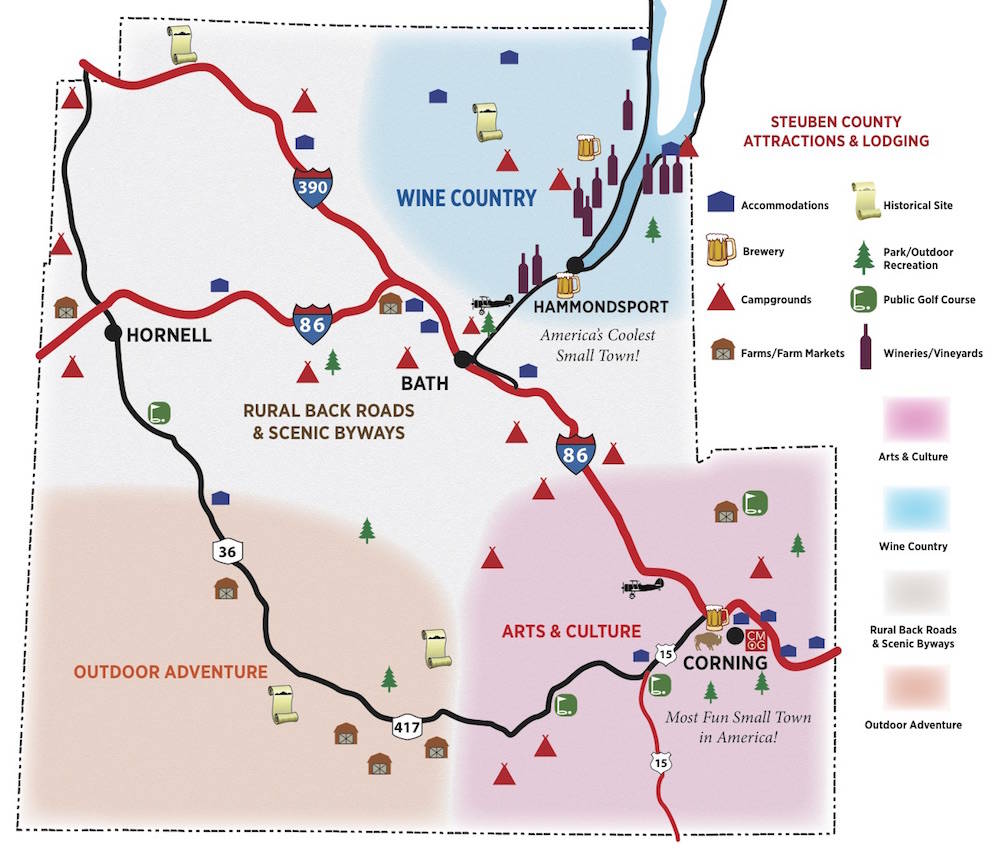 Map courtesy of Steuben County Conference & Visitors Bureau
Drink
It is a surprise to no one that our weekend centered around beer tastings, vineyard visits, and great eats. We set off on the four-hour drive early on Friday morning. We knew that beer would be ready and waiting when we arrived in Corning, New York.
Horseheads Brewing // Before heading into downtown Corning, we made a pit stop in a small, nearby town called Horseheads. The town itself is so tiny you could just about pass through without realizing it, and about a mile further on a quiet country road, a somewhat nondescript building houses one of New York State's newest and most prizing-winning breweries: Horseheads Brewing. This is the winner of the 2015 TAP NY F.X. Memorial Cup for Best Craft Beer Brewery in New York State. As such, it seemed like the perfect place to start our beer tasting in Corning and the Southern Fingerlakes.
At noon on a Friday in April, the brewery was understandably empty when we arrived. But it didn't take long before a steady stream of locals stopped in for growler refills. Almost everyone stopped to chat with the bartender and assistant brewer, Brian. We nabbed a spot front and center at the small bar. Here, Brian presented a flight of eight of Horseheads' current and most well-known beers.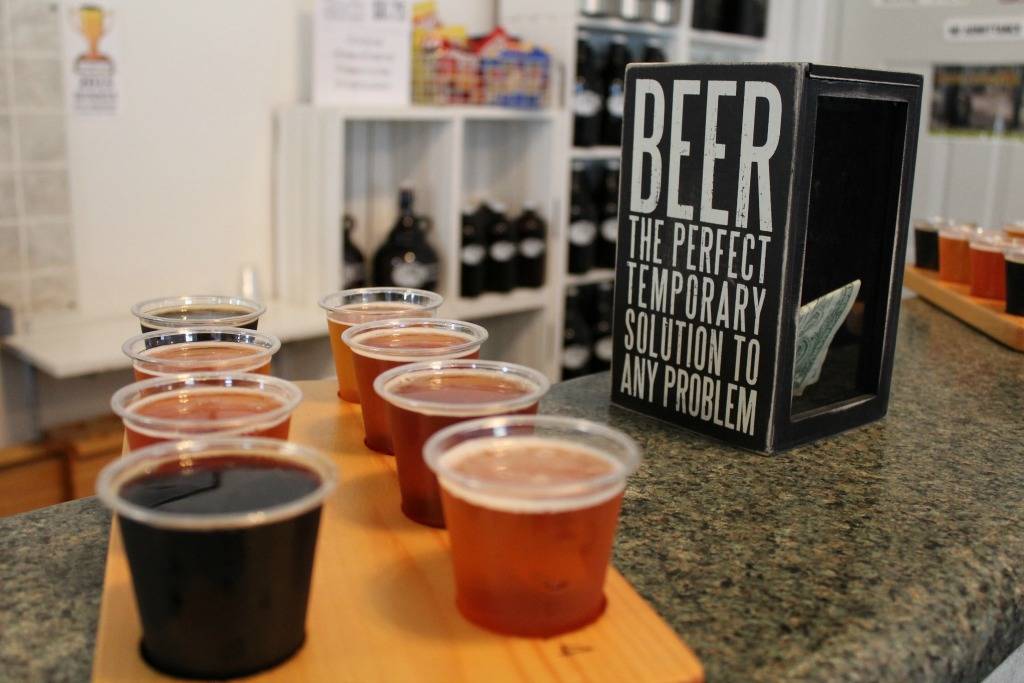 We spent the next hour chatting with Brian and tasting some of the best beer of our entire weekend. Among our favorites? The OMfG, a chocolate peanut butter porter; the Chemung Canal Towpath Ale, an easy-to-drink cream ale; and the Maple Amber Ale, which uses pure Maple Syrup, evident in both color and taste.

We easily could have spent the afternoon sampling brews and talking with Brian about local history. But alas, we only had 24 hours in Corning and much more wine and beer to taste.
Iron Flamingo Brewery // We happily explored the downtown shops, but a second beer tasting was most definitely in order. We took a leisurely walk across the Chemung River and about 10 minutes north to Iron Flamingo Brewery, just in time for a 5 o'clock happy hour.
By the time we arrived, the tasting room was packed with local businessmen, couples, and families. Apparently, everyone had the same happy hour idea that we did. Luckily, we found a high top table tucked in a sunny corner and overlooking the front driveway. Here, a food truck was serving the crowd with some very tempting looking tacos.
We ordered a standard flight, which typically includes five of Iron Flamingo's seven brews, but the bartender was nice enough to let us try all seven (thanks, friend!). My favorite was one of Iron Flamingo's most well-known beers, the Mocha Coffee Porter. Sean's surprise winner was the Sweet Potato Stout.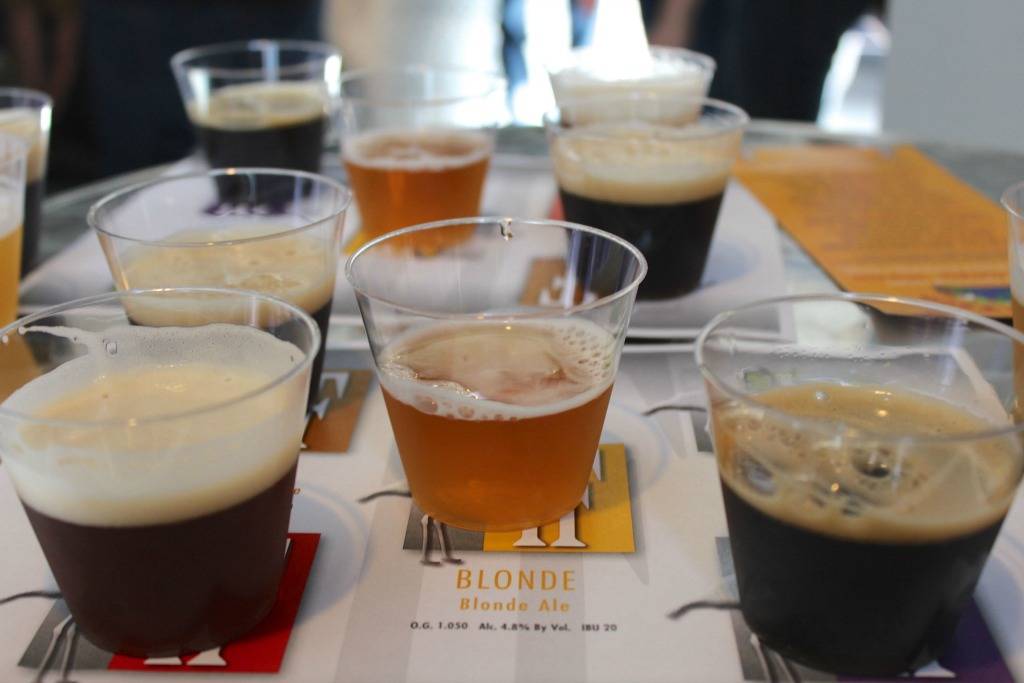 Eat
After two beer tastings and an afternoon exploring downtown Corning, we were ready to drunk eat refuel.
Hand + Foot // There's no shortage of restaurant options along Corning's Market Street, but Hand + Foot is one of the town's most popular spots. Owned and run by a young local couple, Dan and Laurie, Hand + Foot's message is all about community. This is obvious in every detail, from the long communal tables to the locally brewed beers.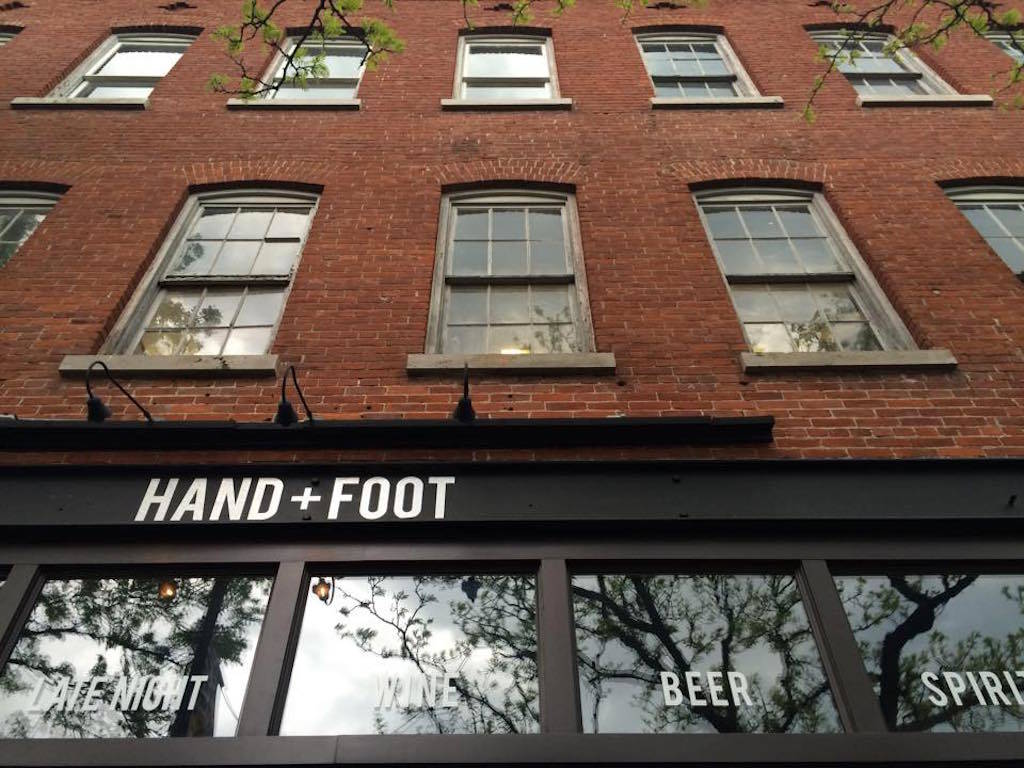 Photo credit
Because there's simply not enough room to express how much we fell in love with Hand + Foot, I'll save it for another time. But know this: no matter how long you're visiting Corning, a meal at Hand + Foot is an absolute must.
Poppleton Bakery & Cafe // In search of a relaxed, easy breakfast on Saturday morning, we headed for Poppleton Bakery & Cafe, located right on Market Street.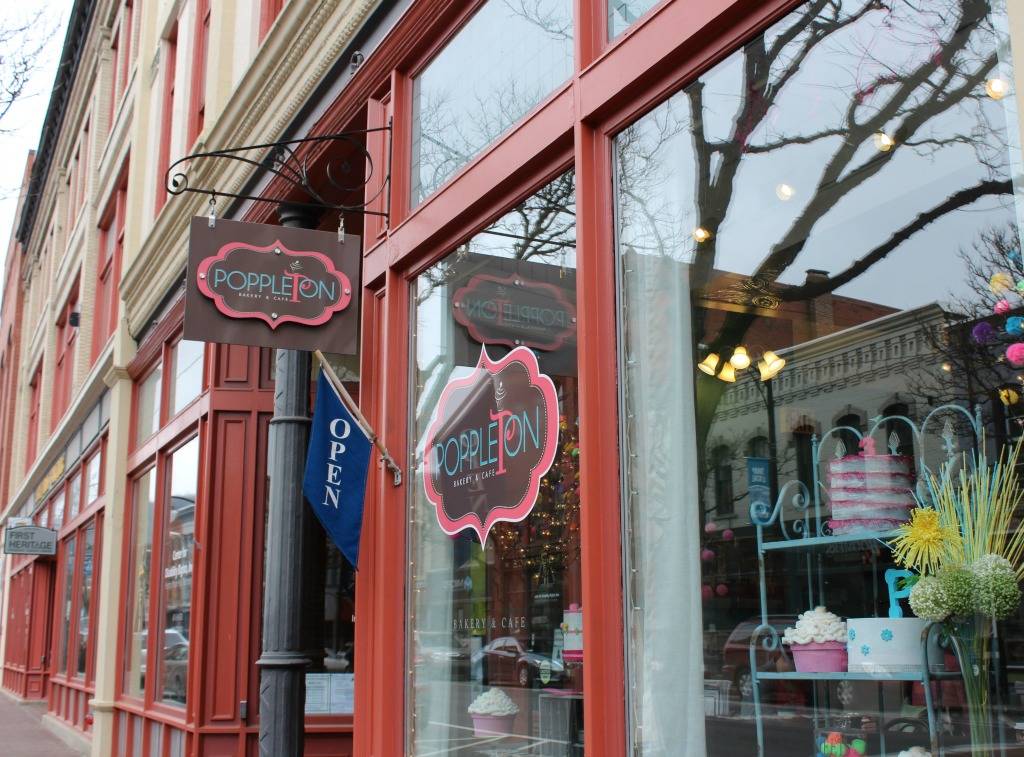 Run by mother/daughter duo, Evelyn and Carole, Poppleton's is known for its scones and sweet and savory crepes. We figured we had to try both, so we ordered a blueberry scone and a spinach crepe, stuffed with eggs, feta, tomato and topped with basil mayo.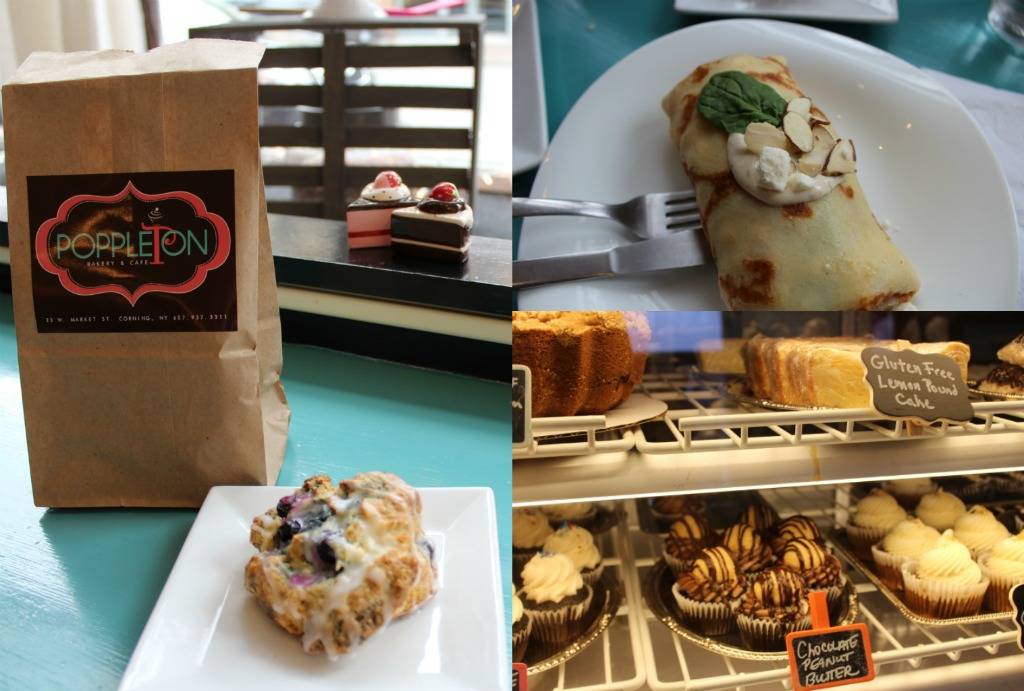 Though we were more than content with our selection, why stop at a scone and a single crepe when Poppleton's offers so many other delicious-looking baked goods? It wasn't long before we started chatting with co-owner, Evelyn, who was happy to let us sample some of her favorites, including– I kid you not– a RED WINE AND CHOCOLATE CHEESECAKE BROWNIE.
We couldn't resist when Evelyn insisted on sending us home with a box of goodies, and she filled it with things like carrot cake cupcakes, assorted macarons, chocolate peanut butter cake pops and more. Before we left, she even made us a complimentary cup of honeydew bubble tea; a first for both of us.
Explore
Gaffer District //  Historic downtown Corning, otherwise known as the Gaffer District, is lined with shop after shop, many of which are run by small business owners and feature local art, glasswork, and goods.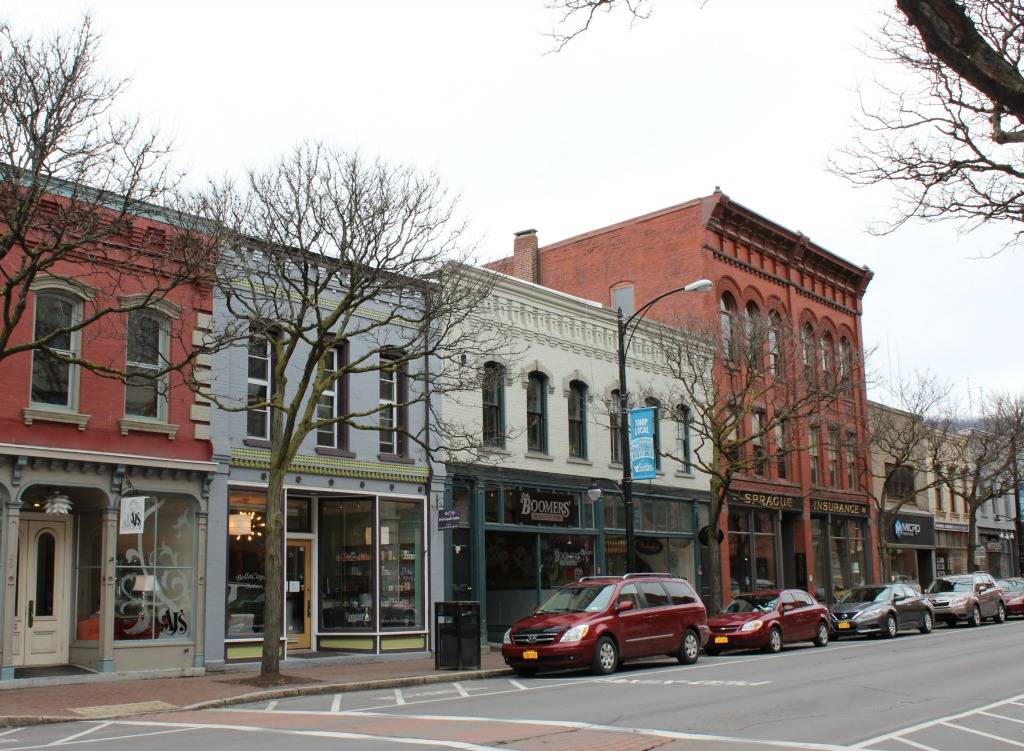 Many of the shops and restaurants are along Market Street, which is easily walkable and central to Corning's other special attractions. With over 50 shops and 40 restaurants, you could spend an entire day leisurely strolling down Market, or, if you're like us, hopping between bars and restaurants to sample the local wine and beer.
Rockwell Museum // Though Sean may not choose to spend his birthday walking through an art museum, marriage is all about compromise (or so he's told), and I had my eye on the Rockwell Museum, located just off the Corning's Market Street in what used to be the town's City Hall.
Readers be warned: this is NOT a museum dedicated to the works of Norman Rockwell, as one may assume (ahem). Instead, the museum began when Bob and Hertha Rockwell, local Corning business owners, partnered with the Corning Glass Works to turn their massive personal collection of American art and artifacts into a museum benefiting the local community.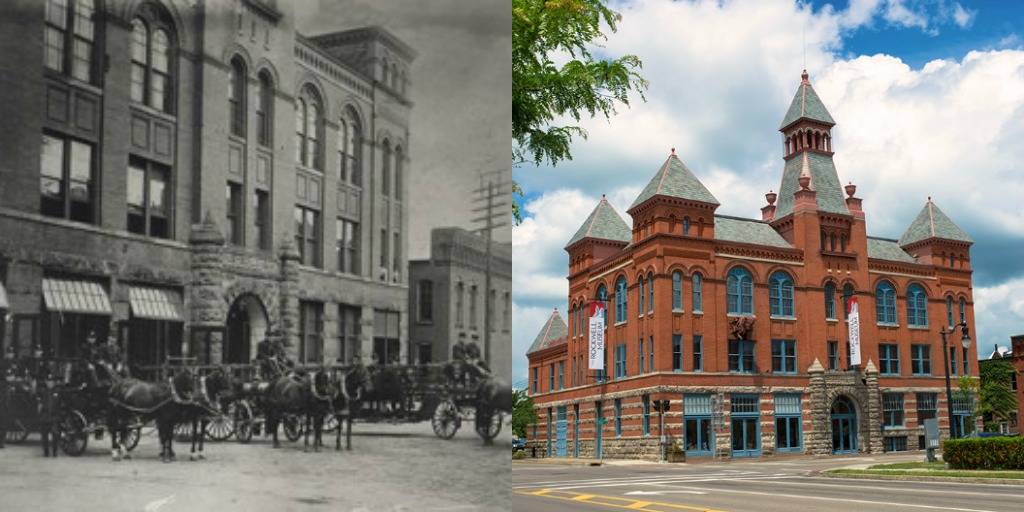 Rockwell Museum, then and now // Photos courtesy of the Rockwell Museum
We took a quick but comprehensive tour of the three-story museum. In its 40-year existence, it has expanded from the Rockwells' collection to include rotating exhibits of American artists. It also has a permanent collection of varying art forms that explore the American migration westward.
For more serious art lovers, which we admittedly are not, you could easily spend the day exploring the museum in detail.  But for those of us who may not normally put an art museum on their itinerary, the historic building alone is worth a visit. At different points in history, it has served as a firehouse, a women's jail, City Hall, and eventually the museum it is today. Sean's favorite part of the visit was the old iron jail doors that are still scattered throughout the building. At the very least, visitors in Corning should pop in to the building and visit the gift shop. This features made-in-the-USA and Native American-made artwork and gifts.
Corning Museum of Glass // Beyond its restaurants, breweries, and artisan shops, Corning may be best known for the Corning Museum of Glass. Which we did not visit.
Now hear me out. We were in Corning for 24 hours, and a girl can only be so many places at once. It just so happens that we chose to be in the breweries rather than the Museum of Glass, because lazy. Almost every local person that we came in contact with during our visit asked if we had plans to visit the museum. You can take a glass-blowing class and view the largest glass collection in the world, spanning 3,500 years of history.
For our return trip to Corning, we'll most definitely devote time for a visit, if only to see Sean attempt to make his own glass.
Stay
The Inn at Gaffer Grille // With only 24 hours to explore Corning, staying somewhere close to the center of town is key. It doesn't get more central than The Inn at Gaffer Grille, which is located right on Market Street in the middle of the Gaffer District and almost directly across the street from where we had dinner at Hand + Foot.
Located above the Gaffer Grille and Tap Room, the Inn features four guest rooms. Rather than checking in a front desk, you simply pick up your key from the bartender on duty at the Grille. This seemed delightedly small town and charming to us.
We nabbed Room 1, a large studio efficiency directly upstairs from the Grille. Our room featured exposed brick walls, dark leather furniture, and warm lighting. This, coupled with pieces of local glass art adorning the walls, totally embodied the spirit and feeling of Corning. The room itself was also massive. It featured a king bed, a small kitchen efficiency with a fridge, microwave, and coffee maker, a full sized couch, and most importantly, a gas fireplace.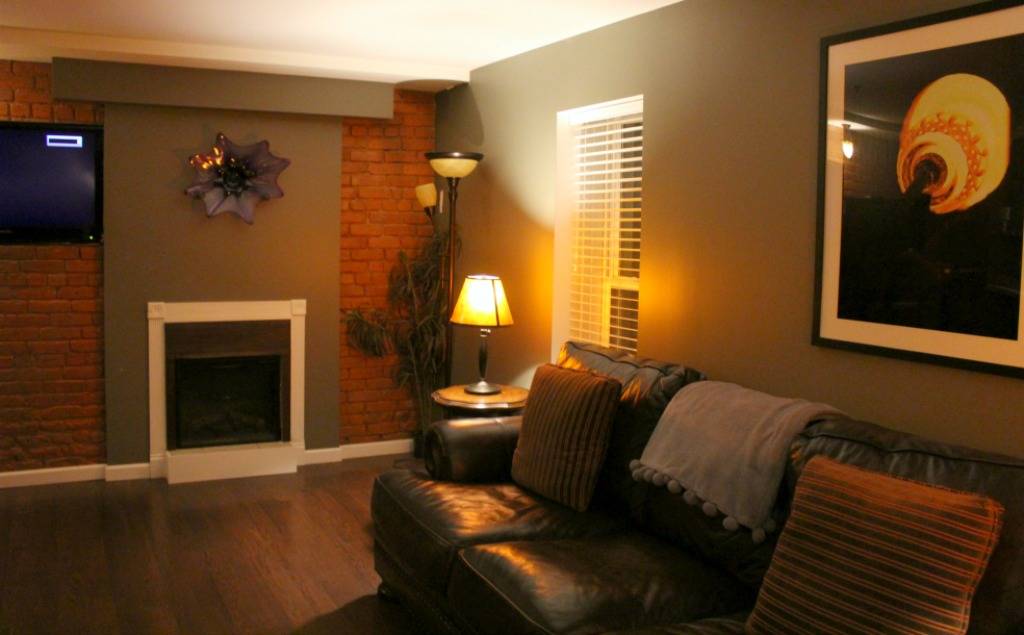 After a long day of eating, drinking, and exploring, we happy to grab a bottle of wine to go. We then enjoyed it upstairs in our room, with the fireplace going, of course.
Our 24 hours in Corning were the perfect introduction to the Finger Lakes region. They left us feeling relaxed and ready for vineyard hopping and brewery visits the next day!
xo!
the wino
Our time in Corning was in partnership with the Corning and Southern Finger Lakes division of the Steuben County Conference & Visitors Bureau. My opinions are entirely my own.