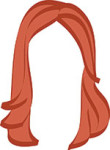 If you follow us on Instagram and/or Snapchat, then you know one thing to be true: lazy baby's entry into the world may have put our travel days on pause this winter, but we've certainly been making up for lost time.
After her first trip to Cannes in March, we reset the clock and started counting down to our next adventure: a week-long visit with my parents, featuring a mini hop to Italy for three beautiful days in Tuscany.
But while Chianti was our real destination, we couldn't take these two first-timers to Italy without a quick stint in Florence!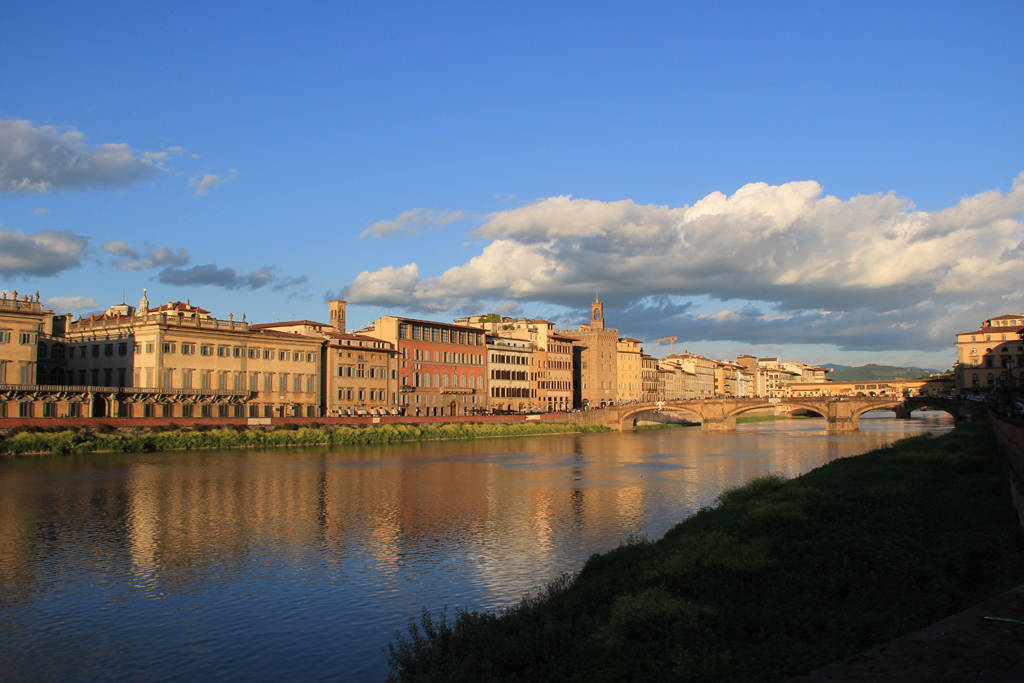 Like our last trip to Chianti, we flew into Pisa and picked up a rental car. And, as is the new norm, we once AGAIN struggled with car seat drama, just like in Nice. The details aren't important, but it looks like we have to add "car seat" to the pile of stuff we need to bring when we travel, because apparently, car companies can't be trusted to provide one… even when you reserve it months in advance. It's baffling.
If any parents have any suggestions, they are MORE than welcome.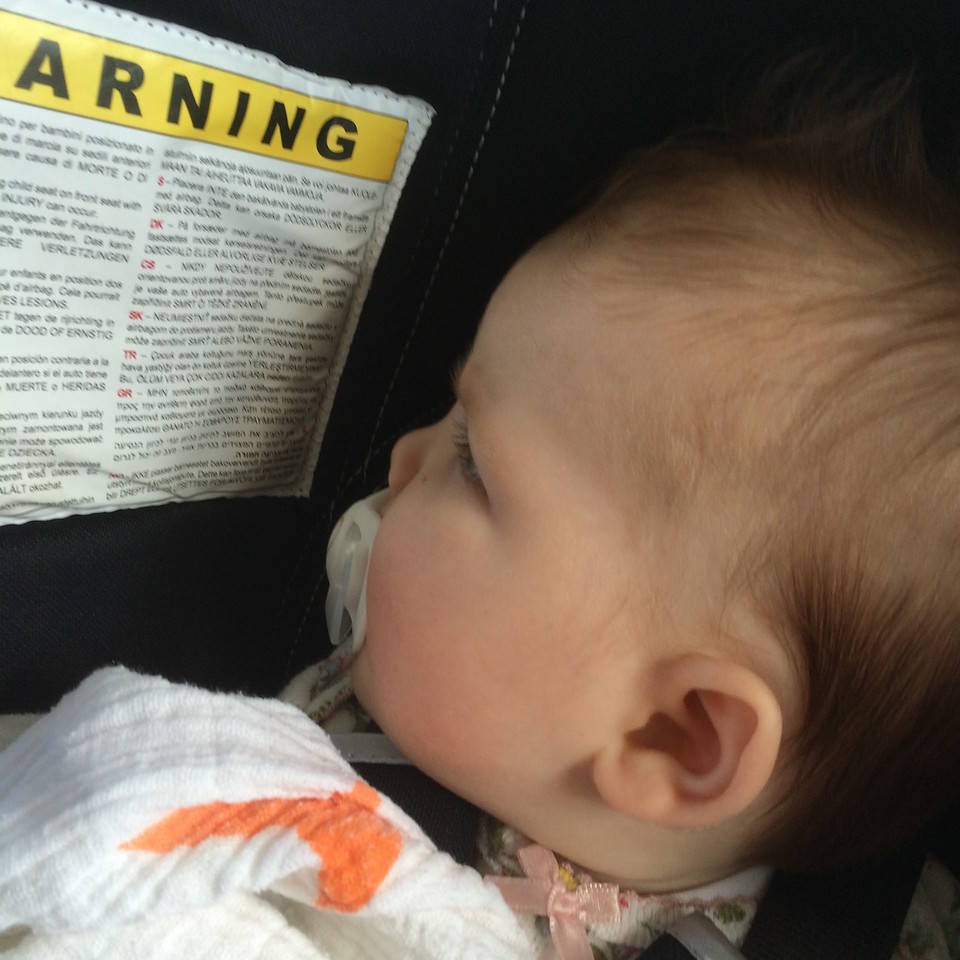 We finally nailed one down, but even once we had it installed properly, Margot was dubious.
Anyway! Let's bring my blood pressure back down by turning to the good. Though we were short on time, a twirl through Florence was the perfect way to kick off this little trip.
where to stay
Residence Palazzo Belfiore, Via dei Velluti, 8, 50125 Firenze, Italy // Back in February when we started planning things, I turned to Twitter for some suggestions on where I should stay with one husband, one baby, and two doting grandparents. Sidenote: this was also when Margot was sleeping for, like, 22 hours a day and I was all HAAAA having a baby is easy!! Look at all these things I can still do!!! …I've since seen the light.
Anyway, there were a few suggestions, but none as perfect as Residence Palazzo Belfiore, which came via the girls at Florence for Free.
With very minimal coaxing, we booked a night at the Caterina de Medici Apartment, which is their largest and on the top floor. This did mean a LOT of stairs came between us and our 3-bedroom apartment, but the view was worth it!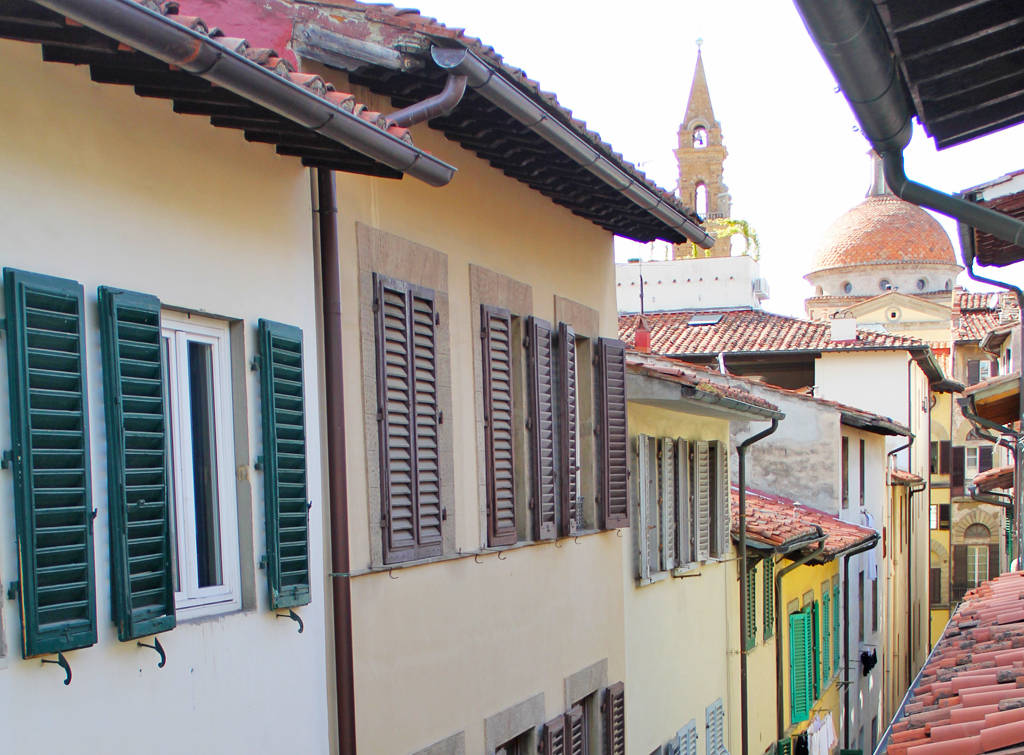 We drove directly from the airport into the city, and the directions had us heading directly to a nearby garage. Unfortunately it was closed when we arrived, so the owner's sister helped us via phone to navigate our way through the tiny streets to the apartment. Once we arrived, she hopped in the car to help Jeff find a parking spot until the garage opened, and just before 6 PM, he returned to park in the garage and get our license plate added to the list so we wouldn't be fined for driving in the ZTL. This is all information worth keeping in mind, because as I mentioned last time, driving in Italy can be insane because of the ZTL laws. Despite our best possible efforts, we did, in fact, get tickets from our September trip that arrived in the mail about 4 months later.
The staff was extremely helpful in getting our luggage up to the apartment, but keep in mind that it is a definite haul. Once inside, however, we forgot all about it. It's one of those places that is just hard to photograph, and neither the website nor any attempts on my own camera really do it justice. It's a simple apartment, but beyond charming, and with three bedrooms, two bathrooms, and another bed up in a sleeping loft, it's incredibly perfect for families.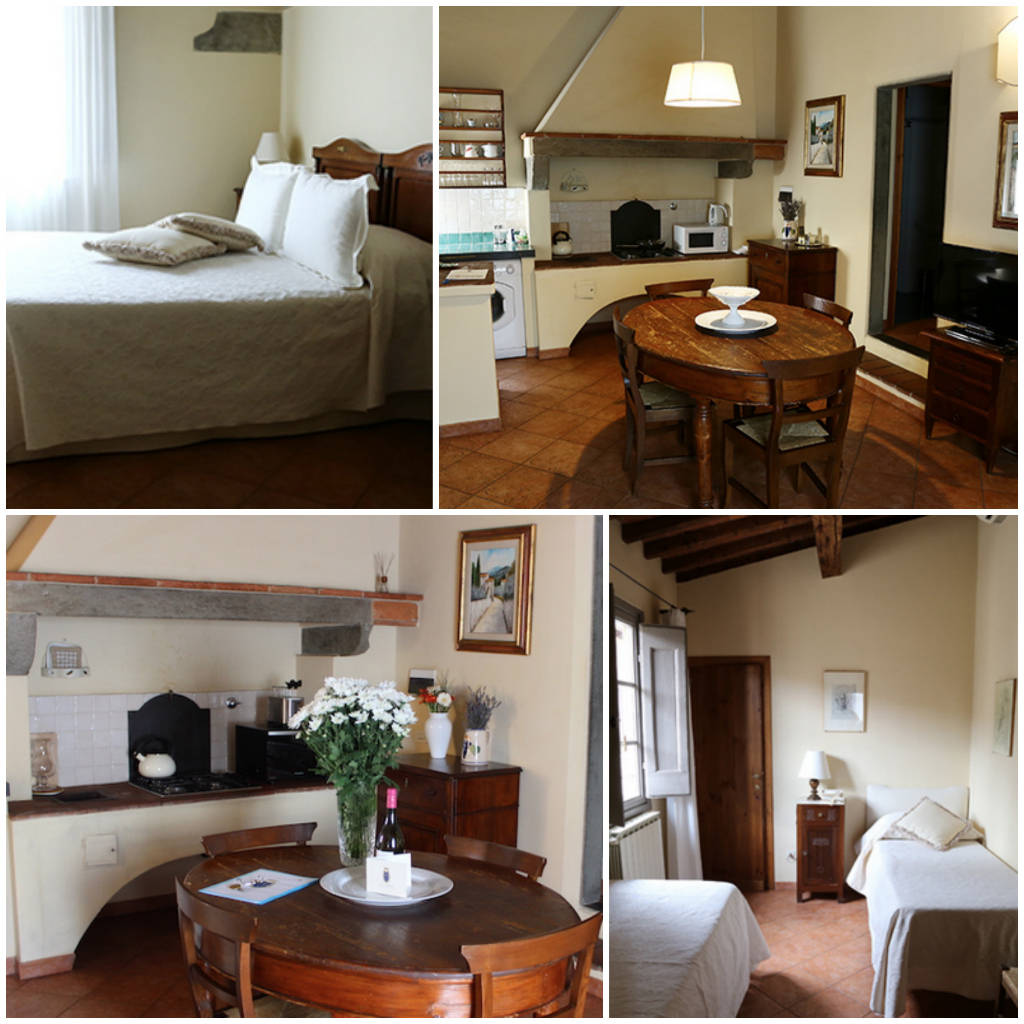 Pre-trip, I wasn't sure about the location, but only because we had previously stayed across the Arno in the heart of the city, which we loved. Palazzo Belfiore is in the more residential neighborhood of Oltrarno… but it's literally a 3-minute walk to Ponte Vecchio, so it has the benefit of feeling tucked away without actually being tucked away.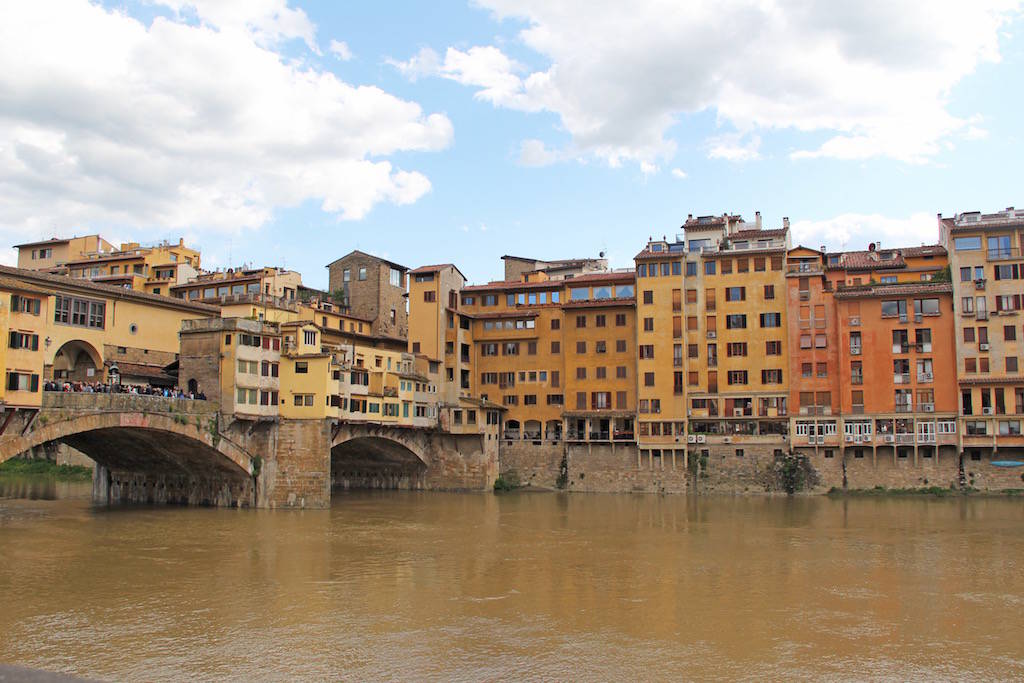 This also turned out to be a huge bonus because a mix of perfect weather and an Italian bank holiday meant that the neighborhoods across the river were INSANE. If you follow us on Snapchat (@lazytravelers), then you saw the videos of just how bonkers it was!
After we did the necessary tourist loop, gelato in hand, we turned back to our 'hood and settled in at an outdoor restaurant for some pre-dinner wine and antipasti. We briefly wondered if we should pop back into the apartment to freshen up before dinner, but the thought of climbing all those stairs deterred us, and we used the extra time to relax and take a leisurely stroll around our quieter, more laid-back neighborhood.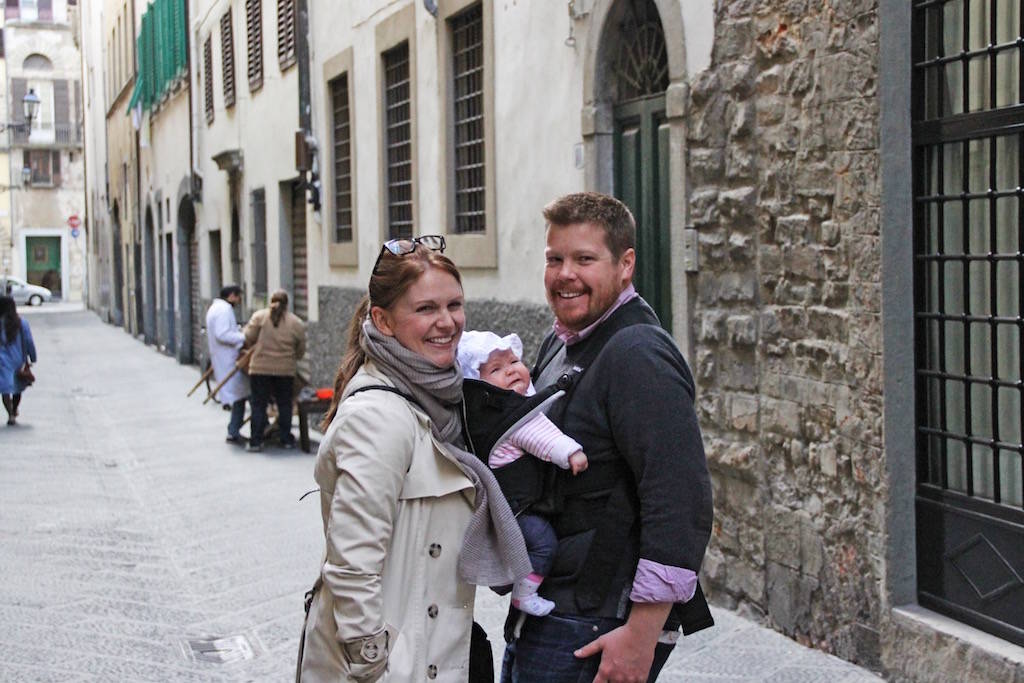 Margot warmed up to the idea shortly after this photo. Meaning: she fell sound asleep.
As the night wore on, the streets of Oltrarno became much livelier, and it revealed itself to be the younger, trendier part of Florence. We were definitely the weirdos out with a pram at 10 PM. This made me feel like the apartment would actually be most ideal for a group of friends, because I maybe had the mildest case of FOMO regarding the nightlife in Oltrarno. Either way, it's a neighborhood worth exploring and no matter where you plan to go in Florence, Residence Palazzo Belfiore is an ideal homebase.
It's also worth noting that even though the bars and restaurants were just starting to fill up as we got home, our apartment was completely quiet. Lazy baby slept like a bambina, and so did the rest of us!
where to eat
Trattoria 4 Leoni, Via de' Vellutini, 1r, 50125 Firenze | There are so many options for amazing food in Florence, and it can be overwhelming. In the early evening, we went to Trattoria 4 Leoni for antipasti because it was around the corner, and ended up loving both the food and the staff. We knew from our last visit that Italians love pregnant ladies, but they LOOOOVE babies. We kept it simple with bruschetta, prosciutto, burrata and their house Chianti, but as we spied the food arriving at nearby tables, we agreed that everything looked delicious.
Trattoria Pandemonio, Via del Leone, 50/R, 50124 (closed Sundays) | Because we had our piccolina with us, we wanted to stay close to the apartment for dinner — like, <15 minutes walk. I came across this interview with Chrissy Teigen, who mentions Trattoria Pandemonio as her favorite restaurant in the world. A few weeks before, the hubs and I made her cacio e pepe recipe from her new cookbook, so I figured the girl can be trusted.
Lo and behold, Pandemonio is in Oltrarno! It was an 11 minute walk from our place, and yes, it was most definitely our favorite meal of the trip. I am a bad blogger and took zero photos, but the Florentine steak was akjsdhajkhdah. So good.
Ditta Artigianale, Via dei Neri, 32/R, 50122 | The next morning we had breakfast and coffee at Ditta Artigianale, which was also a short walk from the apartment. My parents weren't keen on the strength of Italian espresso, and were pleasantly surprised to find filtered coffee on the menu!
Another success!
The main lesson? You have to actively try to eat poorly in Florence. Also, don't try to find the BEST gelato in Florence… it's all amazing. We just always pick the first place we see when the craving strikes, and we have yet to be disappointed.
what to see // With essentially only an afternoon, we had to prioritize things. While taking my mom to the Uffizi would have been ideal, it also would have meant we really wouldn't have seen anything else in the city.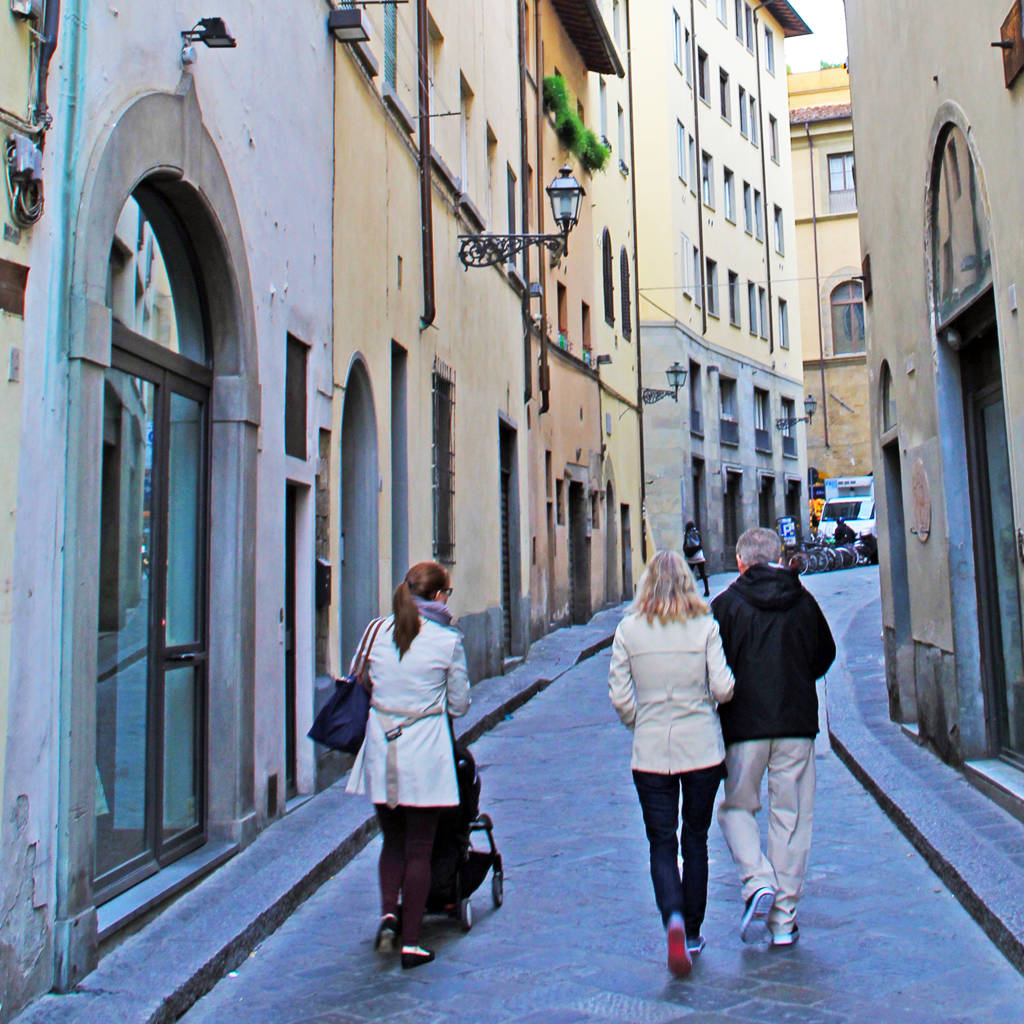 Instead, we celebrated the fact that Florence is a city made for strolling. The heart of Florence is small, so it's easy to walk around and hit most of the main sites — the Piazza della Repubblica, Piazza del Duomo, Piazza della Signoria… all the piazzas, basically — in a few short hours.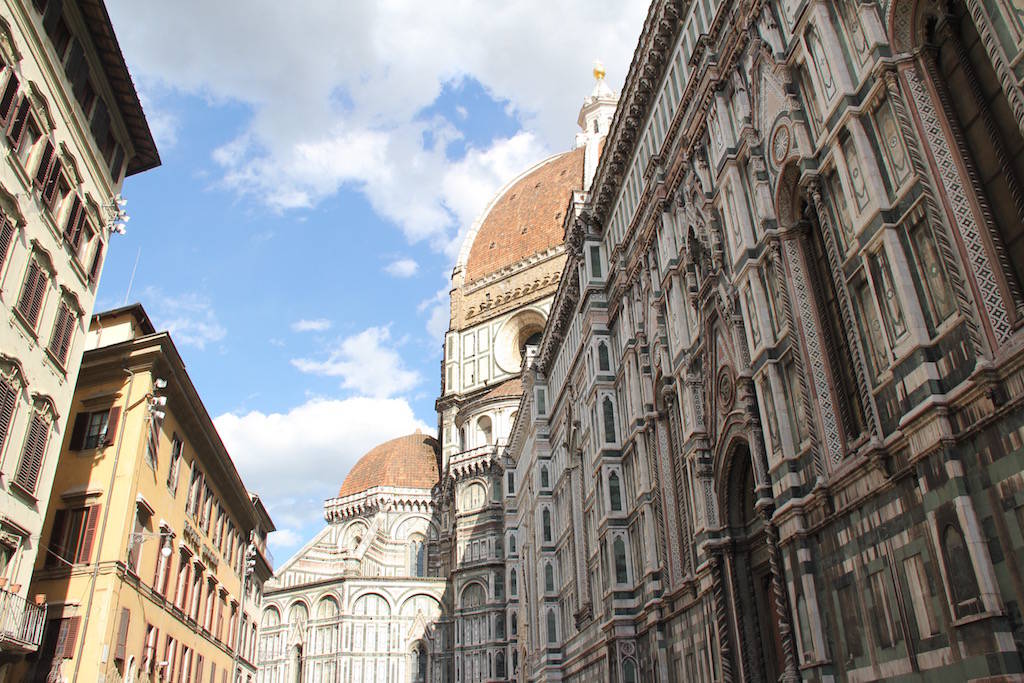 I would have loved to get them up to Piazzale Michelangelo for sunset, but I had vague memories of there being a LOT of steps, and with a pram, that seemed like a recipe for disaster. But if you go, put it on the list, because the views are amazing. To be fair, our views at sunset weren't too shabby, either.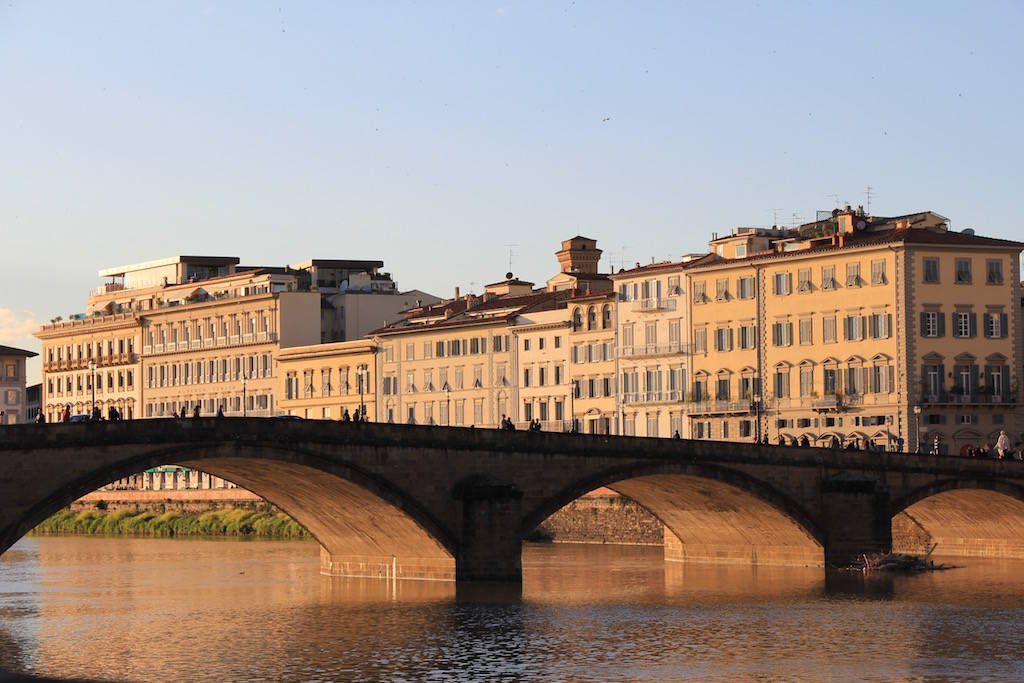 It was a quick visit to one of our favorite cities in Italy, and you could probably argue that we didn't really do that much. But then I'd argue that you don't really need to do anything in Florence, and that's its appeal. Just strolling its cobble-stoned streets is treat enough.
After our brief appearance in Firenze, we hopped back in the car and made our way to Castello di Casole. I don't really have enough fodder to dedicate an entire post to our stay because we spent the entire time relaxing and enjoying the property, but I can tell you that it was amazing. We took up two of their suites for two nights, and enjoyed most of our meals on-site, with the exception of lunch at Pizza Pie in Radda. If you need more info on Chianti, check out this post from our visit in September — and seriously consider Castello, if you can.
As for lazy baby's brief intro to Italy? I'd say it was a success. She'll be a meatball connoisseur in no time!
xo,
the romantic
– Though Residence Palazzo Belfiore did offer a media rate, all opinions are, as always, my own.