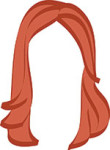 As you may recall, we recently had a little reunion in the Golden State, complete with one night in San Francisco, and one night in Napa. From there, the hubs and I made our way to finally visit a place that's long been on our list. Enter: Sonoma, California.
Fun fact! The whole reason LTsf came together in the first place is because Jeff had a work trip to San Francisco. He's had enough professional escapades around Europe sans moi. As soon as he mentioned an upcoming 12-hour flight across the pond, I sweetly offered to accompany him.
"Whaaaatt!!! I've always wanted to go to San Francisco! TAKE ME!!!!!"
Throw in the wino's equally convincing argument (that it was unfair to leave her out, duh). Finally, the hubs realized that it actually is rude to travel without us.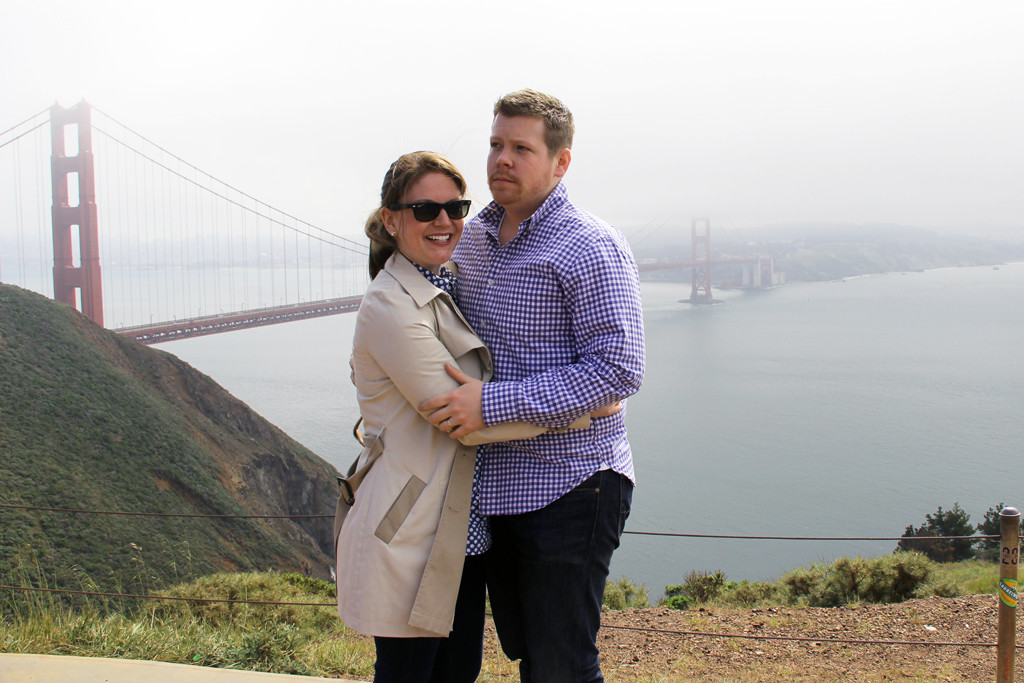 Plus, who would take pics like this if it was just the two of us all the time?
There was a catch, of course. While San Francisco is an easy 3-day weekend for our Philly-based besties, that's less feasible for us. So, once the wino & Sean left us (and everyone's tears subsided)(Sean), I was on my own for a few days while the hubs had to "work." I say "work," because one entire day of this little charade was spent traveling to wine country to tour the vineyards of Napa & Sonoma while I kicked back at the Fairmont Mission Inn.
I would say I was bored and lonely… but there was a complimentary bottle of cab waiting for me. I spent the night in a four-poster bed watching trashy TV a la Bravo. Ahhh the things an expat misses.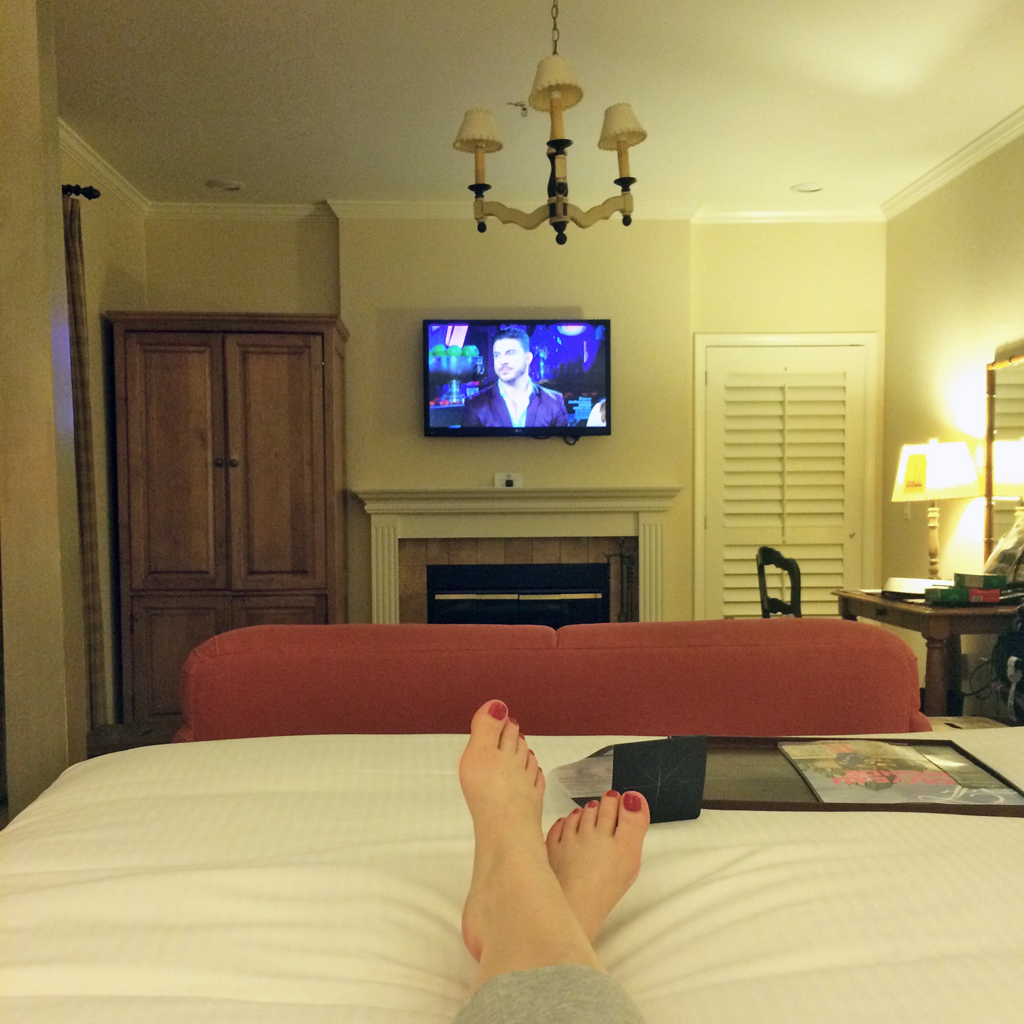 I sent this to the hubs when he feared his dinner was running longer than I expected. It's not like I encouraged him to stay until the last person left, but… I was just fine.
Another excuse to extend this little Cali tour of ours? This week also led right into my birthday weekend! And how do you kick off birthday weekend? With a day of vineyard-hopping around Sonoma, but of course!
Should you find yourself heading to Sonoma, here's how our day went:
The Big 3, 18140 Highway 12, Sonoma, CA // This was the diner located on the Fairmont's property, and most of the reviews we read were solid enough to convince us to start our day here. Plus, the location was super easy. We settled into a booth, and on a whim, I ordered the Jalisco Chilaquiles. I had zero idea what a chilaquiles is. The menu only listed two organic eggs, red sauce (Jalisco), cheddar, cilantro, avocado,  salsa and sour cream…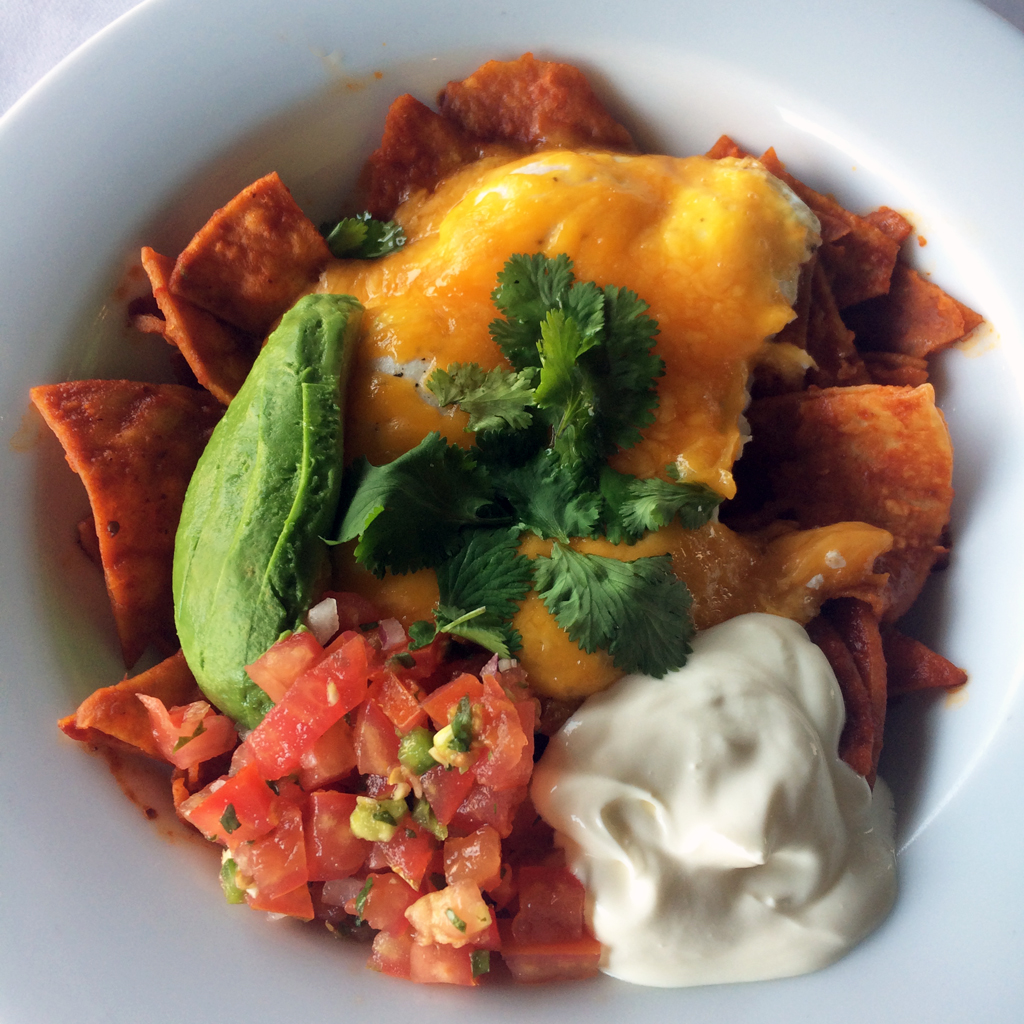 Ummm, they left out the fact that chilaquiles are basically tortilla chips, which MEANS: I unknowingly ordered breakfast nachos. Birthday weekend was off to a good start.
Amapola Creek, 392 London Way, Sonoma, CA // Post-accidentally indulgent breakfast, we drove to our first stop, where we were greeted by David, Amapola's sales & marketing manager, who offered us a private tasting of this boutique winery. The winemaker, Richard Arrowood, left his original label (called… can you guess?? Arrowood!) to start Amapola, which is Spanish for "poppy." The flower grows throughout Arrowood's estate, and this, paired with the fact that his Syrah/Granache blend is named for his wife, Alis, made it abundantly clear that Richard's Amapola Creek venture is a love letter to wine, his wife and his family. Always a sucker for a good love story, we walked away with three bottles.
Wren Hop, 3701 Mark West Station Rd, Windsor, CA // After Amapola, we drove about an hour north to Wren Hop, where we met with Jim, this boutique winery's owner. Boutique might actually be an overstatement — I think Jim even used the word mico-winery, because their operation is so small and intimate. Rich guessed this would be the highlight of our day, and he wasn't wrong. Mainly because they paired each wine with a gourmet cookie: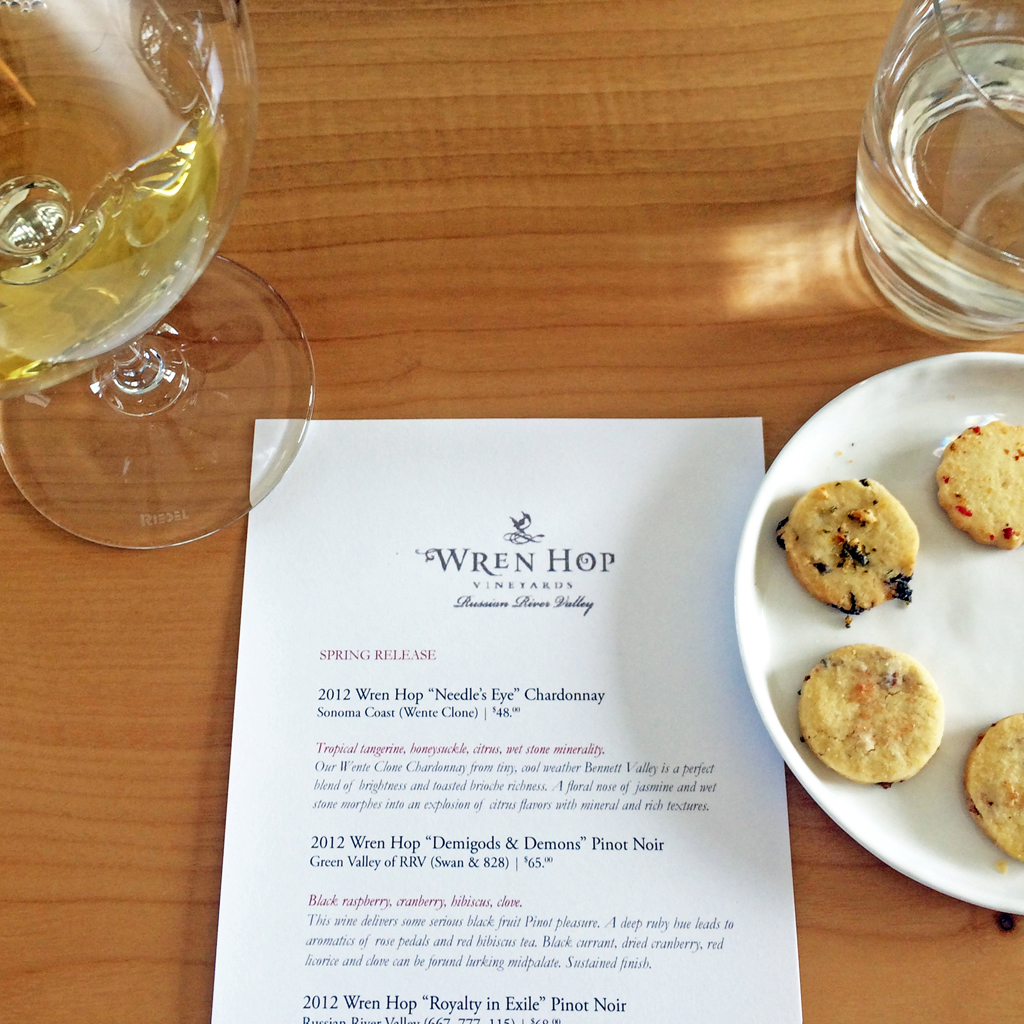 Breakfast nachos, a love story, and now cookies with my wine? Oh ok, can it be my birthday in Sonoma every day?
The property was beautiful — the entire Wren Hop aesthetic is beautiful, actually — and our favorites were Demigods & Demons and Royalty in Exile. Yes, all the names are that good. Both came home with us.
At this point, we were supposed to head to Ridge Vineyard Lytton Springs, not too far from Wren Hop. We did not. Could not! We went here instead: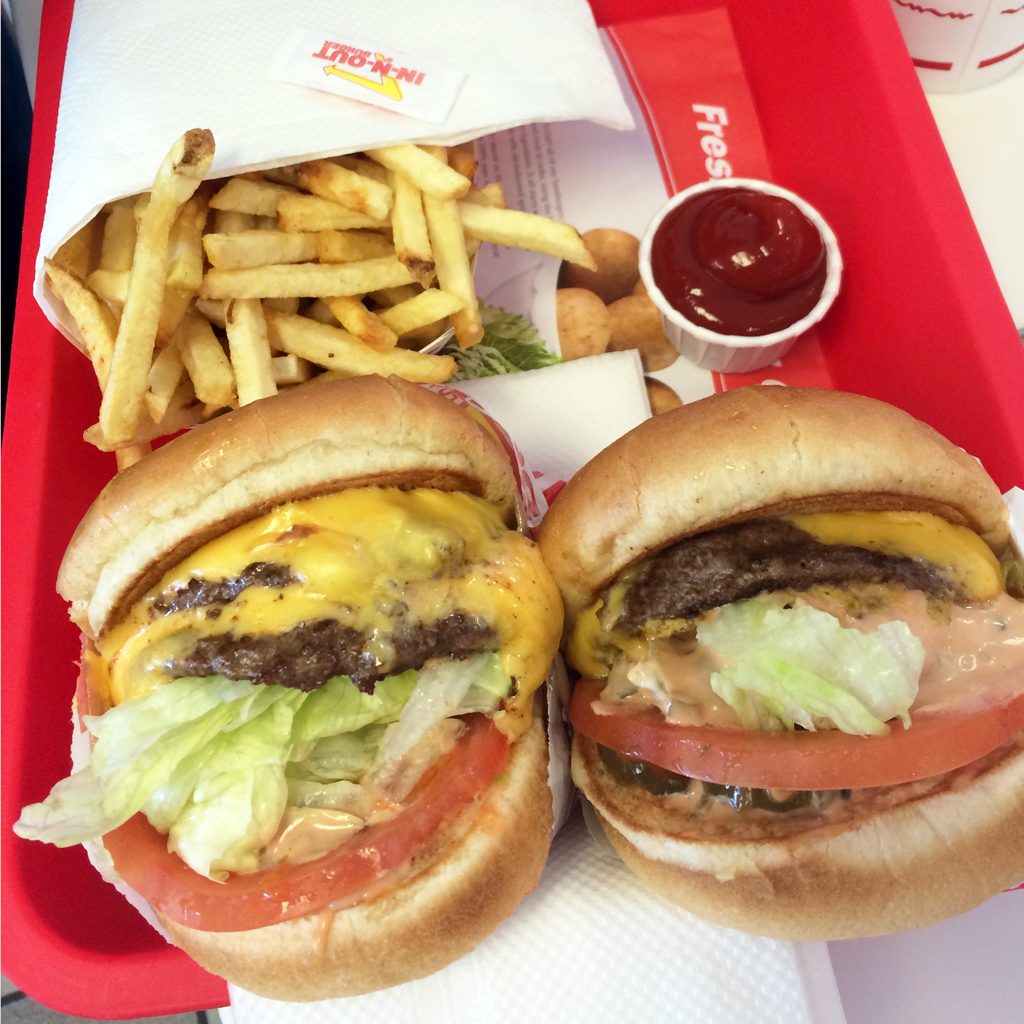 Honestly, David and Jim were both so, so generous with their wines that, had we made it to Ridge Vineyard, I would have fallen asleep in a vine somewhere, I am positive. Because we were there before anything was in bloom, it wouldn't have been a comfortable place to sleep. Instead, I let In-N-Out cure me, and I don't regret it. But should you have more time and tolerance than we did, by all means, add Ridge Vineyard to the list.
The Willow Stream Spa at the Fairmont Sonoma Mission Inn & Spa, 100 Boyes Blvd. Sonoma California // We didn't pick the Fairmont — the hubs's work put everyone up here — but as soon as I looked at the website, I knew a spa visit was in order. The property in general is a little tired — our room was massive and probably beautiful in its heyday, but the whole place needs an update. I'm guessing there are better places to stay in Sonoma, but for our quick trip, it was more than fine.
The spa, however, was just what we needed. Tucked away from the main part of the property, it was peaceful and serene, the pools were well-maintained, and we enjoyed soaking in the bathhouse before our massages. After our treatments, my masseuse told me I may have the beginnings of carpal tunnel, and she recommended weekly massages. Paired with my British doctor suggesting I take more sunny holidays to fix my vitamin D levels and eat a weekly steak to up my iron, my body seems to suggest I should have been born into a life of endless luxury. Just like I always suspected.
(I can practically hear the hubs's eyes roll as he reads this.)
Glen Ellen Star, 13648 Arnold Dr, Glen Ellen, CA // After our spa visit, we freshened up and made our way to dinner. Glen Ellen Star was Rich's top suggestion for dinner — he even went so far as to make us a reservation, so basically, he was our travel agent — and it was small, rustic, and adorable. We also tried sunchokes for the first time ever, which are like a cross between a potato and an artichoke and I need to figure out how to make them myself. Do the Brits have sunchokes? Things I need to research. Their menu seems to change, because looking at it now, I don't remember what we had… except for the sunchokes, clearly.
After dinner, we crashed HARD at our hotel (so. much. wine.), but not before lighting a fire in the working, wood-burning fireplace! Seriously, the room came with a bag of kindling and a $5 surcharge to live dangerously. It was the perfect way to end the day.
The next day, before we departed, we explored Sonoma Plaza and stopped for coffee on the square. It felt a little like Disney's version of the Wild West, even if it is authentic, but was still a nice place to spend an hour in the sun. After, we stopped by Juanita Juanita for lunch and, on our way to the airport, Domaine Carneros for an impromptu sparkling wine tasting. We had to send ourselves off in style, obviously. It's a miracle we didn't have to be rolled onto the plane.
So, the big question: how the eff did we get all of this wine back to London? This magic beast:

The Wine Check. Full disclosure: it was about half the price when we bought it in Sonoma, and available directly at the Fairmont. Honestly, worth every penny when you consider how much it would have cost for us to ship 12 bottles of wine back to London. This one is cheaper (about what we paid, actually) and prettier, but holds less bottles.
We haven't used it again yet, but I have dreams of a summertime trip to Provence where we bring back 12 bottles of rosé and live happily ever after. What?? My doctor basically prescribed it.
And there you have it! A perfect 24 hours in Sonoma and, more importantly, the very best au revoir, 28/bonjour, 29 celebration a girl could ask for. With extra thanks to both Rich & the hubs.
xo!
the romantic