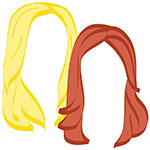 In a week full of exciting announcements for The Lazy Travelers, we have one more for our readers and fellow bloggers. In honor of our upcoming trip to Switzerland (which happens to be the very first trip abroad that we've taken together since launching this little blog), we're hosting our first ever contest!
Do you want to see the romantic yodeling through the Alps? Or perhaps you'd like to see how many pictures of the wino we can capture in her mink hat? (Yes, she has a mink hat). Is there a hostel where you want us to sleep, or a restaurant you want us to try? You tell us what you want us to do throughout our five days in Switzerland, we'll pick our favorite, and afterwards, regale you with the hilarious stories that are bound to ensue. Not to mention, we'll be sending YOU a souvenir from our trip. And we have good taste.
Step 1. Post a travel tip or recommendation on our Facebook wall, making sure to "Like" our Facebook page (we're not quite sure why you haven't already)
Step 2. Tweet your Facebook post to us using the hashtag #LTSwissTips.
Step 3. Wait with baited breath until December 1, when we announce our winning tip.
Step 4. Enjoy a delicious Swiss surprise courtesy of The Lazy Travelers.
Doesn't that sound fun? And super easy. Contest starts…NOW.
xo!
the romantic & the wino