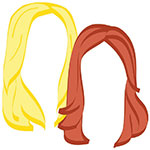 True fact: you can wander into almost any of cafes, restaurants, or bars in Paris and spend the night drinking perfectly delicious and relatively cheap French wine.
Obviously, you could spend your entire time in Paris without stopping in any of the bars we've outlined below. You'd still be completely satisfied with your drinking experience. But like, we recommend trying at least one. The French do a lot of things right, and serving up some of the best wine in the world is certainly one of them.
Oh, but you're not a wine drinker? First, shame. Second, we still have some recommendations for you! You don't think we would hit up Paris for the first time together and not perform our due diligence on all types of spirits and libations available, did you? WE'RE NOT AMATEURS.
La Galerie Lounge at Four Seasons Hotel George V // 8th Arr.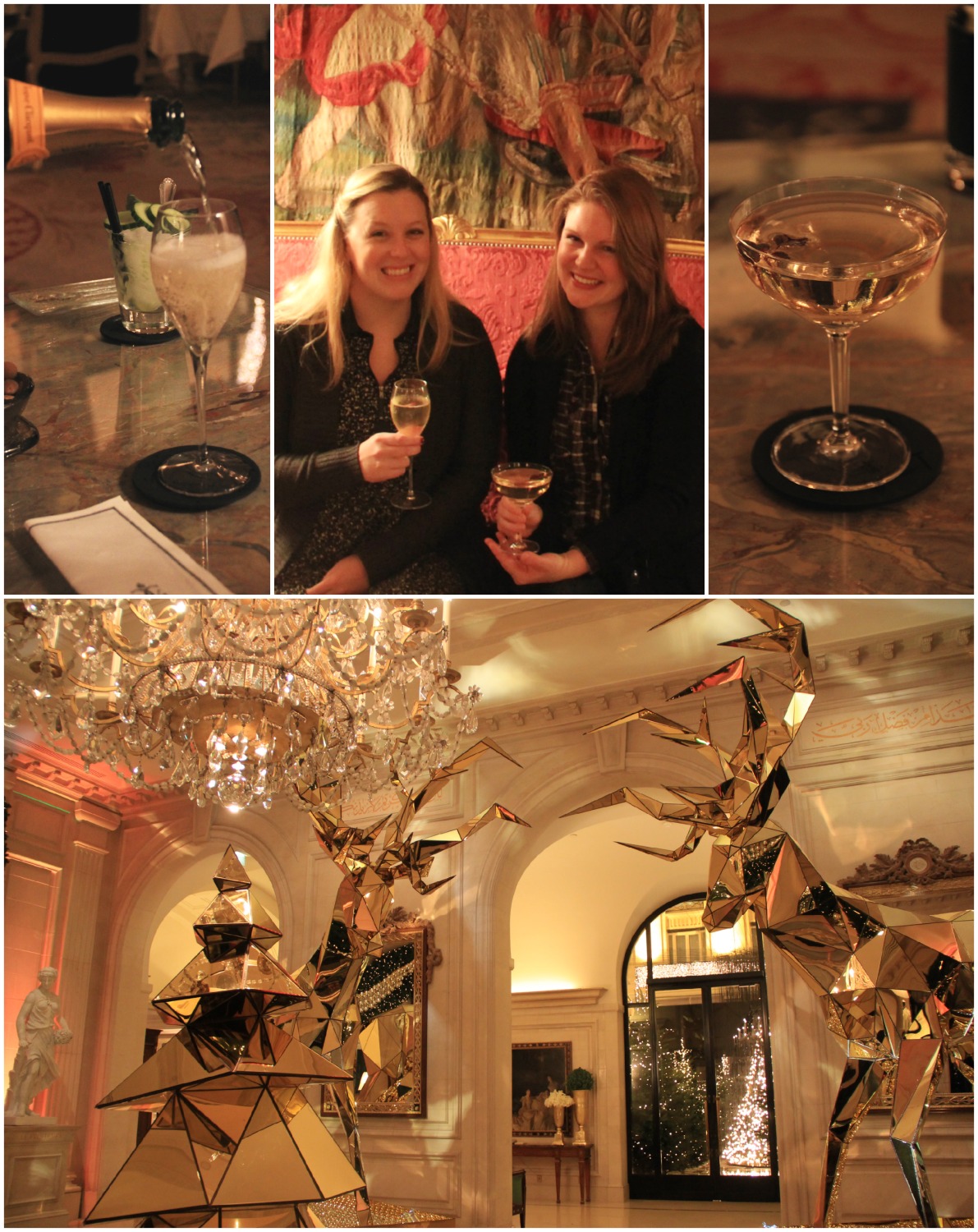 If you're fancy (as most of our friends are), then La Galerie Lounge is YO SPOT. We've been on record many a time declaring our love for dive bars and holes in all walls, far and wide. But how can you pass up a cocktail from Le Bar? You can't, we say. Picture it. Sipping elegantly, as you cozy up into a 19th-century sofa and people watch over a glass of champagne or one of their signature cocktails.
Though this will be the priciest drink of your trip, it's worth it for the experience of enjoying the atmosphere of one of Paris's most famous and refined hotels. PLUS, if your trip overlaps with the holiday season, you won't find better holiday decor. The George V's Artistic Director, Jeff Leatham, outdoes himself year after year, and this season's giant gold reindeer were no exception. And he's Oprah (and LT)-approved, sooo… he's kind of a big deal.
Harry's New York Bar // 2nd Arr.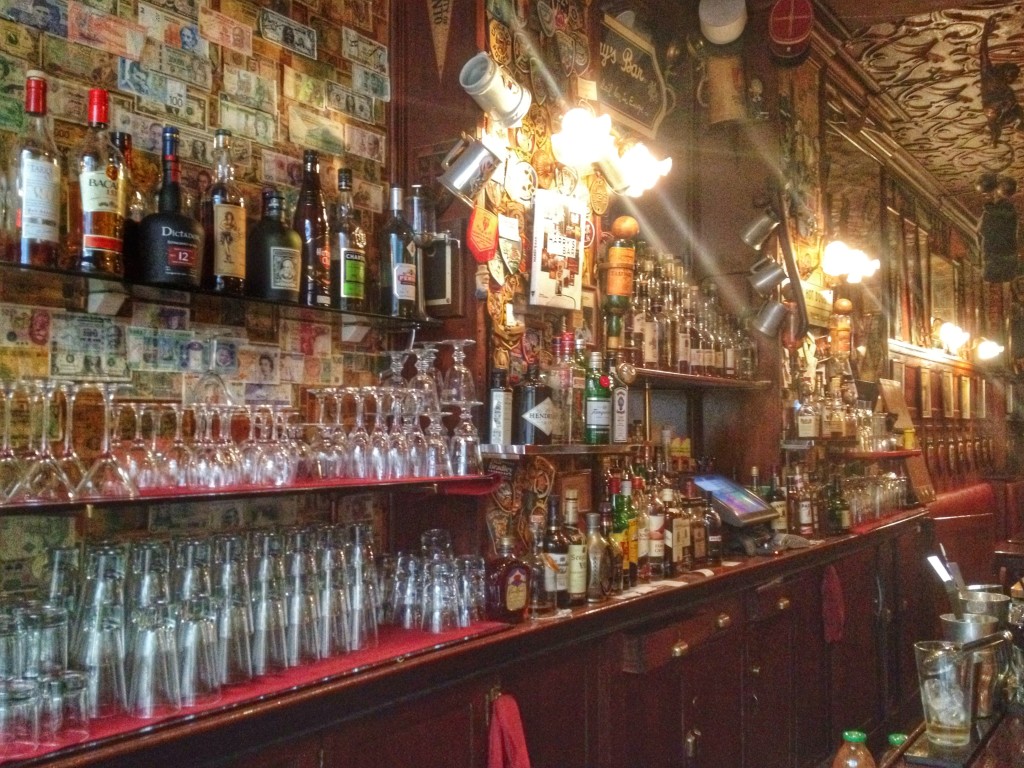 Ever since we read The Paris Wife
, Hemingway's relationship with Paris has intrigued us. Though we didn't make it to Harry's during our #LTfrancais adventure, the romantic has been twice since her move to France. There are lots of reasons to love this charming bar that was a favorite of Ernest's. From the cozy wooden interior to the perfectly Parisian waitstaff. But the biggest reason you should ensure this spot is on your list? Harry's invented the Bloody Mary!
It's a much more simplified version of the American favorite — no garnish in sight, not even an olive, and the bartender scoffed when we mentioned horseradish. But they encourage you to have a Bloody in the afternoon or evening rather than exclusively as a brunch drink, so who are we to complain?
Le Comptoir des Canettes (Chez Georges) // 6th Arr.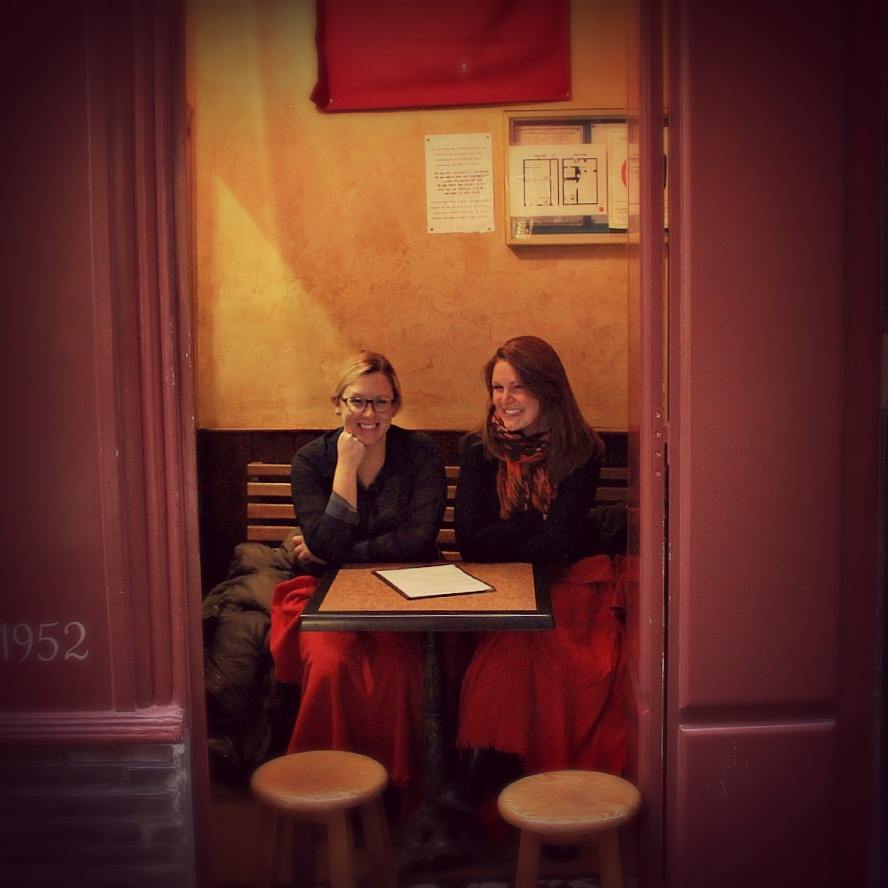 Ok, so you came all the way to Paris and you're not going home until you've had a true French experience? We hear you. Try Chez Georges in Saint-Germain-des-Pres. Tiny cobble-stoned street? Check. French barman who doesn't know a lick of English? Check. Cheap, delicious, red wine in an unpretentious atmosphere? Check aaaand check.
If you expect complicated cocktails or an extensive beer menu, then this place isn't for you. If cozying up in a small nook with full-pours of red wine is your thing (or a cup of creme café!), you've found mecca.
Le Refuge des Fondus // 18th Arr

Photo courtesy of Hip Paris
Two words: baby bottles. Oh also, fondue. That's right, this dive bar (dive cafe? dive restaurant?) serves up wine in baby bottles and offers two things on its menu: fondue aaaand fondue (the cheese variety and the raw meat variety). Absolutely zero frills, little-to-no personal space, and very… erm… French service. Girls: expect to climb over tables to get to your seat. Guys: expect to feel REALLY awkward sipping out of baby bottles. Then, soak it all in and enjoy yourself, knowing you're in a totally quirky bar in the best city in the world.
Though this list is certainly not all-inclusive, these are some of our favorite places in Paris to kick back and enjoy a drink. Do us a solid and try one, mmk? Aaand if you wanted to invite us to join you, we probably wouldn't say no.
xo!
the romantic & the wino
Save
Save
Save