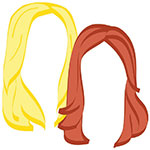 Though most New Yorkers (and even some savvy travelers) tend to steer clear of our next City Dweller's 'hood, we're letting it have the spotlight anyway. Here's why: New York's midtown is convenient, it's iconic, and there are plenty — and we mean plenty — of lesser-known gems.
Most importantly, though… we want to (and we tend to do what we want).
If that's not introduction enough, then we don't know what is.
Midtown
Midtown is freaking huge. Stretching from the Hudson River to the East River and running from the mid-thirties all the way to the southern border of Central Park, Midtown is home to some of New York's must-see landmarks and busiest commercial hubs.
MAJOR PRO: Because it's in the middle of town (duh), it's an easy commute from here to almost any other part of the city.
MAJOR CON: Because it's in the middle of town, the streets and sidewalks are sometimes so frustratingly overcrowded that you may want to push people to the ground in a blind rage (not that we've ever done that…).
But don't let us scare you! There are plenty of places within Midtown that are worth exploring more closely, and if you only have a week — like we did with #LTnyc — make sure to hit some of the hotspots below.
Where to stay
Hotel Elysée, 60 E. 54th St (between Park & Madison) // Hotel Elysée was our third Library Hotel Collection experience during #LTnyc, and, like its sister properties in Gramercy and Murray Hill, it's chock full of charm. Built in the 1920's, it has a decidedly uptown feel with a quiet, elegant lobby and European-inspired decor. The staff was extremely attentive,  and, much like the surrounding neighborhood, the atmosphere is just a bit more grown up.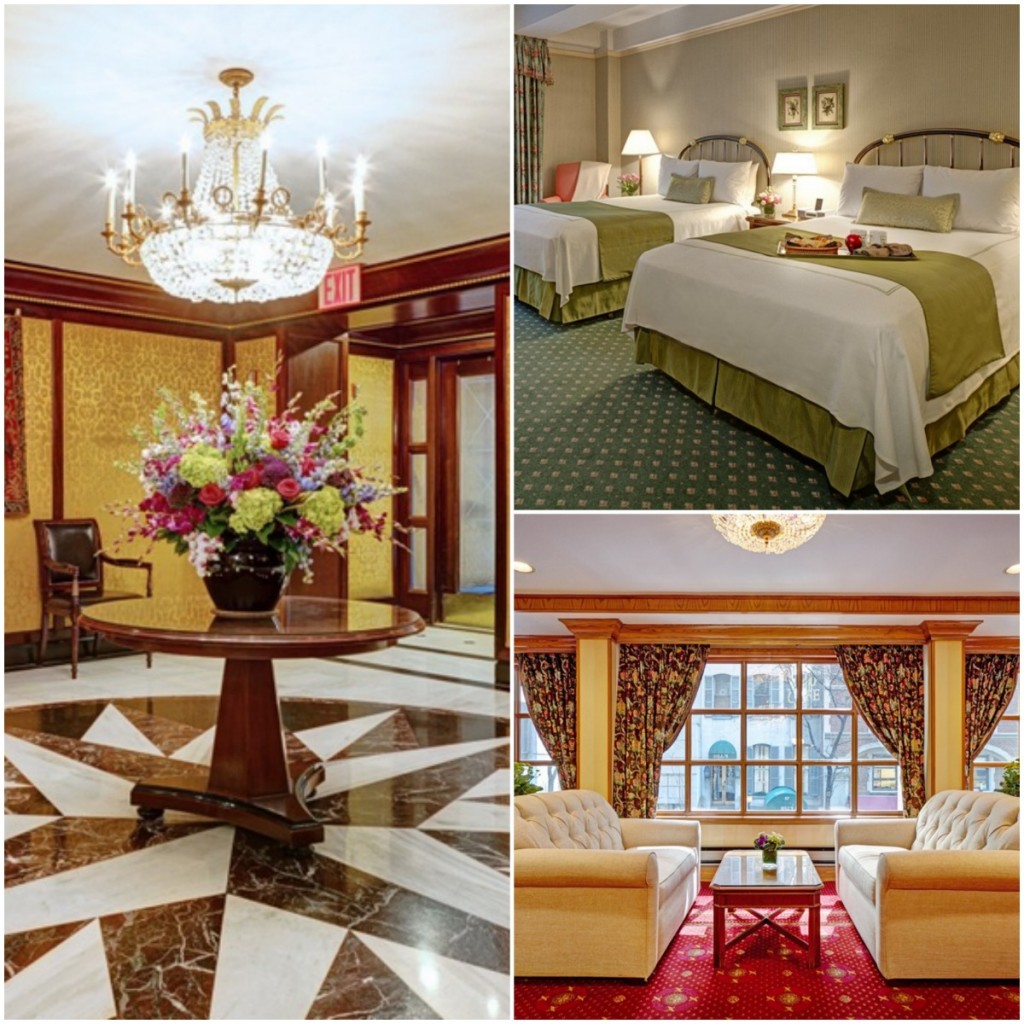 Photos via Hotel Elysée
Like the other Library Hotel collection properties, Hotel Elysée offers a nightly complimentary wine and cheese reception. We can't stop saying enough good things about this. There's also complimentary breakfast each morning, served in their adorable second floor lounge. Sitting on one of the plush couches sipping your morning coffee and overlooking 60th St gives you the feeling that you're in a New York City brownstone all your own.
Where to drink
Henry, A Liquor Bar, 356 W 58th St (between 8th Avenue & Columbus) // If you're a cocktail lover, get thee to Henry, and get there quickly. Situated in the hip Hudson New York Hotel off of Columbus Circle, Henry perfectly reflects the hotel's fun atmosphere with an impressive cocktail menu designed by world-famous mixologist, Ryan Chetiyawardana.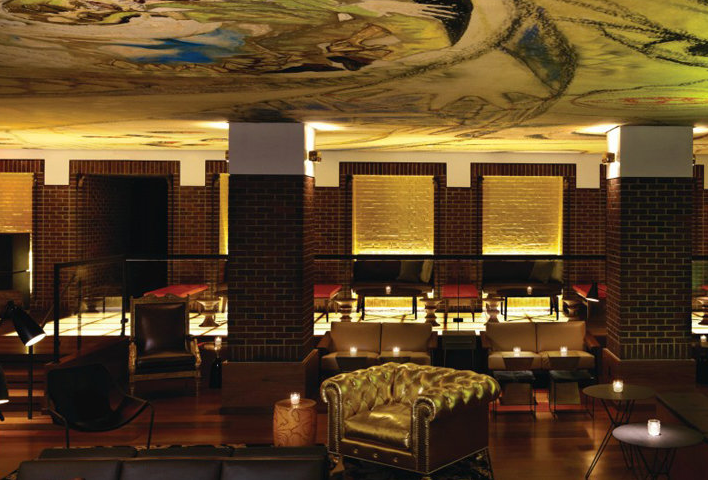 Photo via Hudson New York
We recommend the Jasmine Bellini and the Rumtopf Smash, and we recommend you drink them whilst discussing your favorite jazz musicians and poets. Or, you know, just people watching.
Where to take in the view
Bar 54, 135 W. 45th St (between 6th & 7th) // We've been forever searching for a new rooftop hangout since our old favorite, The Beekman in Midtown East, closed its doors. And then along came Bar 54, the highest bar in all of Manhattan, and now officially one of our favorite places to take in the city skyline.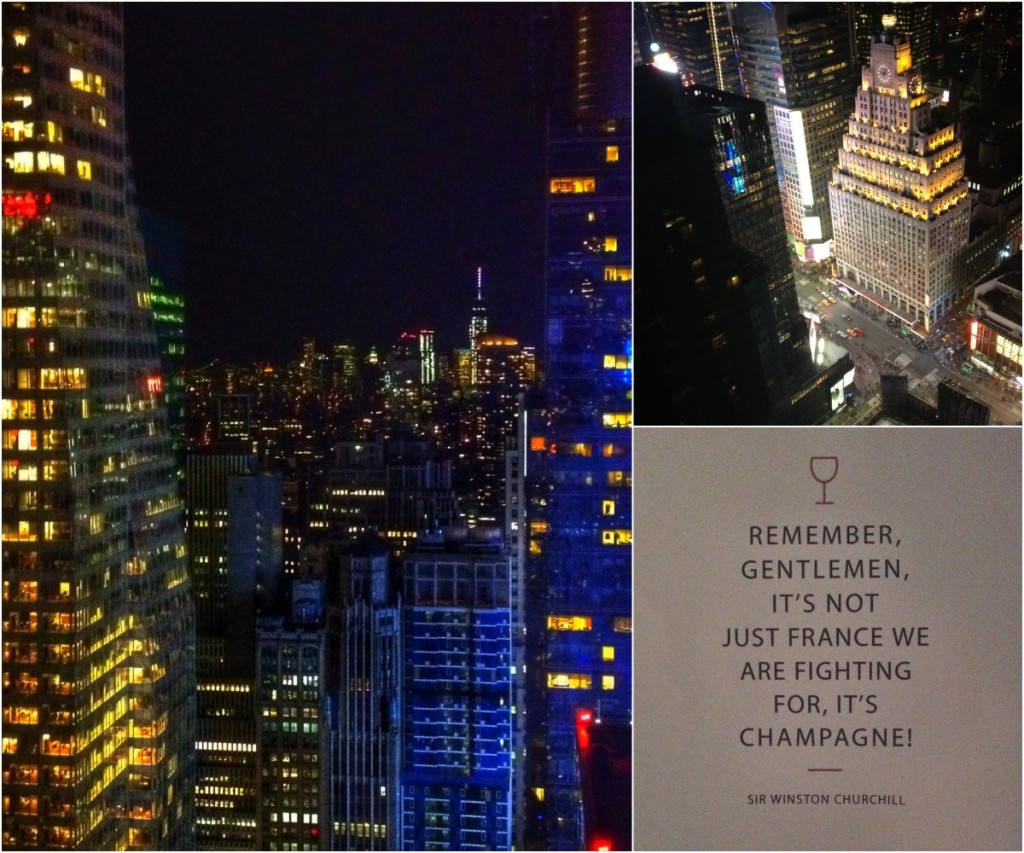 You know its an amazing view when even shoddy cell phone pictures capture a bit of the magic.
Though Bar 54 is smack dab in the middle of Times Square, the bar is situated atop the Hyatt Times Square and… can you guess?… 54 floors above the madness! This means serene views of the city and a laid-back atmosphere, far from the crowds. For those who have wanted to see the ball drop on New Years Eve but can't imagine standing in the crowds of people, this is your spot. The bar has a completely unobstructed view, AND every night they serve complimentary gourmet popcorn to accompany your libations. Win/win.
Not to mention, we couldn't stop giggling at quotes scattered throughout the cocktail menu, natch.
Where to eat
The Smith, 956 2nd Ave (between 50th & 51st) // The Smith has a few locations in Manhattan, but its 2nd Ave spot is tucked a bit away from the craziness, so it's usually easier to get a table. The atmosphere is cozy, the decor is about as New York as it gets, and the menu offers casual bar food at its finest, which we mean as a very sincere compliment.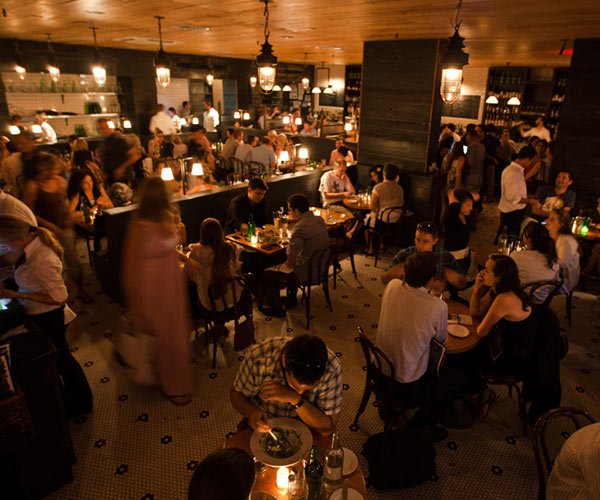 Photo via The Smith
It's a worthy brunch spot, but no matter which meal you go for, get the mac and cheese. Its rich, so sharing might be necessary… but we promise it's worth every bite.
Where to shop
The Shops at Columbus Circle // As New Yorkers, we don't really miss the concept of malls. The entire city is basically one big mall. However! When the weather is crappy, but you have to run some errands, battling the sidewalks with an umbrella is hell. Enter: the Shops at Columbus Circle. There's a huge Williams-Sonoma, a multi-floor J.Crew, a new C. Wonder, AND it's home to some amazing bars and restaurants when you need to refuel… most notably Landmarc for the view alone.
Also, it's adorable at Christmas!: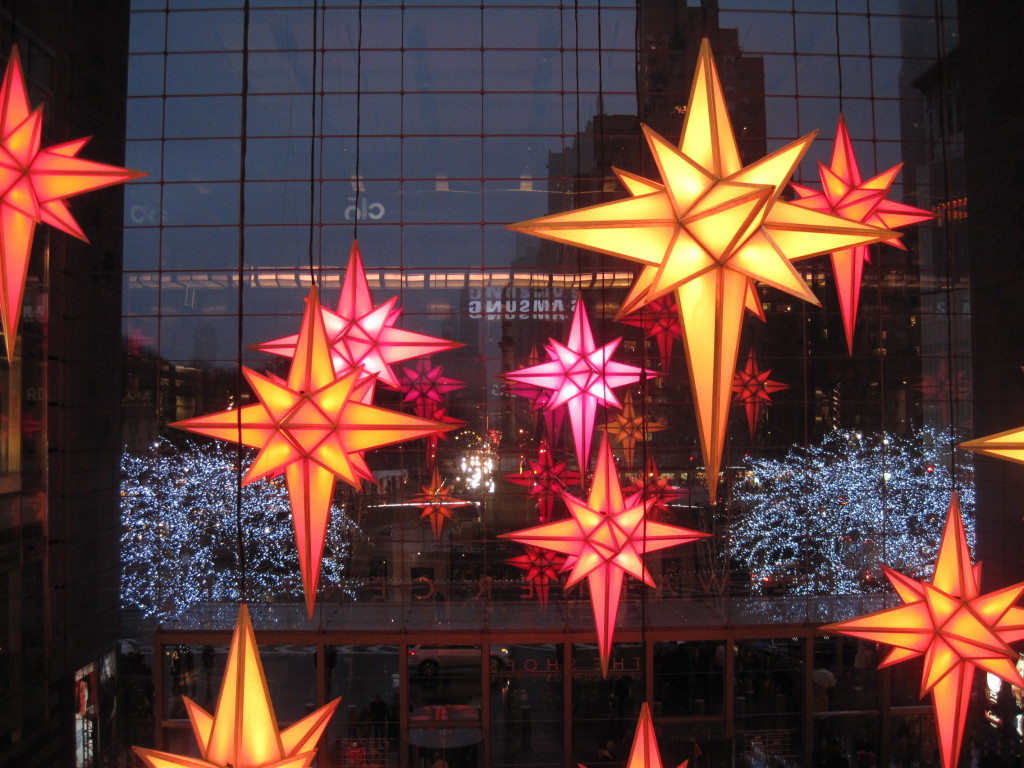 Where to send the boys
ALL THE PUBS // Ok, so, we don't really have an exact recommendation here. We're not sure why this is, but there really are more pubs than even WE know what to do with in Midtown. And they all have the best Irish names! O'Brien's, Rosie O'Grady's, Emmett O'Lunney's. It's all entirely ridiculous, but clearly worth mentioning.
What you must see
If this is your first trip to New York, Midtown is most likely at the tippy top of your list. And with good reason! You can't leave Manhattan without taking your picture in Times Square. You MUST peer up at the Empire State Building. AND you have to pass through Grand Central (ideally without getting elbowed in the face because those commuters are no joke.)

Here are just a few things in Midtown worth adding to your little Big Apple bucket list:
The Great White Way // We were unexpectedly invited to join our friends to see Les Misérables on our second night of #LTnyc. To be perfectly honest, we were both EXHAUSTED. It had been a long time since we'd seen a show, though, so we bucked up. And… we basically sobbed through the entire performance.
Bryant Park // We love Bryan Park in the winter when the holiday village and ice skating rink is set up! We love it in the summer when they show free movies on the lawn!
Lincoln Center // The Opera House is just stupid gorgeous, especially at night. Take a stroll around the fountains, people watch, soak in the magic.
Hell's Kitchen // Just, um, watch out for flying saw blades?
Top of the Rock // We've said it before and we'll say it again. The Empire State Building gets too much glory. Why climb the city's most famous skyscraper, only to look out and see… a bunch of less famous skyscrapers? Eff that noise, go to the Top of the Rock instead.
And that is that! Our ode to Midtown. So, share. Love it? Hate it?
xo!
the romantic & the wino
– Thank you to The Library Hotel Collection, Bar 54, and Henry for entertaining us during #LTnyc. We love you all, and we say that as unbiased patrons who promise to return.