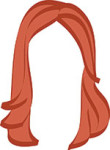 Remember last night's travel law where we bemoaned the whole "don't go there unless you have AT LEAST x amount of days" mentality of travel?
I may have been projecting.
You see, everyone and anyone who has been to Thailand was appalled to find that—not only were we not dedicating the required three month minimum it apparently takes to "properly" see Thailand—we would be skipping the beaches.
The thing is… I love a gorgeous beach. I love relaxing in the sun, listening to the ocean and dozing in and out between pages of a good book.
 But, I also know that I am VERY, VERY PALE.
This means that I love that whole experience, like, twice a year. So when we started planning our trip and realized we'd be kicking it off with almost three full weeks spent exclusively on the beaches of Hawaii and Fiji, I knew we wouldn't be aching to dip our toes in the sand anytime soon. We'd get our Southeast Asia beach fill in Nha Trang, and that would make us content.
"But there's nothing like a Thai beach!!!!!," you say, slurping your Thai iced tea as some mango sticky rice hangs from the corner of your mouth.
 Yeah, well, there's nothing like a punch in the nose either, so cram it.
Our plan was perfect for us. We split our time between Bangkok and Chiang Mai, and upon reflection, I preferred Chiang Mai's ambiance and Bangkok's food scene. Ignoring the lack of Full Moon parties and white sandy beaches, there are now a few experiences I—a city dweller through and through—think are a must in Thailand.
1. Visit the temples // Temples are on every corner in Chiang Mai, and there's a major tourist loop in Bangkok that takes you to the biggies. Though we saw quite a few, one was my absolute favorite: Wat Phra That Doi Suthep in Chiang Mai. Honestly, after we saw this, no others really compared…
2. Experience a gourmet Thai meal // In Thailand, street food is king for a reason. There's nothing like pad thai and spicy mango salad from a stand at the night market, and we enjoyed most of our meals this way. But even though this is a worthwhile and necessary experience, I'd argue that a sit down meal in Thailand is far too overlooked.
The hubs and I were invited to lunch at Sala Mae Rim at the Four Seasons Chiang Mai, which is just outside of the heart of the city, close to Tiger Kingdom (which we skipped, because…not my scene). It was a seriously educational meal—especially for two English speakers with an American concern regarding food preparation.
Though the street food experience was consistently delicious, we were usually left feeling a little in the dark. We walked away from most stands on our first night wondering what, exactly, we were eating, and skipped more than a few things when we couldn't tell what they were (or how they were cooked).
Cue Sala Mae Rim. Along with Satay Ruam and an amazing papaya salad, we also tried a medley of traditional Thai sausages—something we had seen all over the markets. Normally, I would have skipped these because I'm not really a pork eater, but I was particularly leery of this Thai must-try because one of the most popular sausages is served raw. Raw pork from a street vendor? No thanks, trichinosis. Raw pork from the Four Seasons. WELL, why not?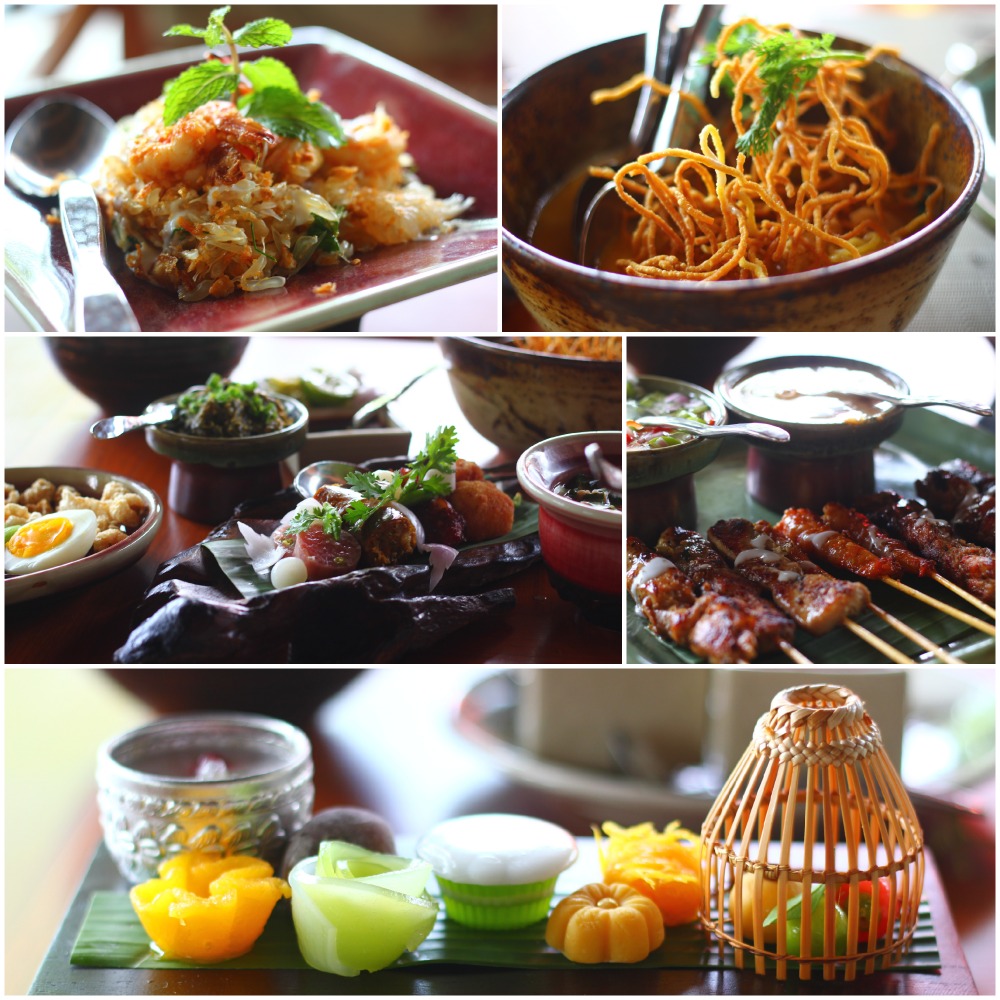 Also… how adorable are these desserts? It was all 100% worth it.
Not to mention, the grounds of the Four Season were absolutely incredible. The top picture is the view from our table at lunch:
 And! An albino water buffalo! Under his own little rice barn, where you can enjoy a private meal and overlook the gorgeousness that is the Four Seasons Chiang Mai.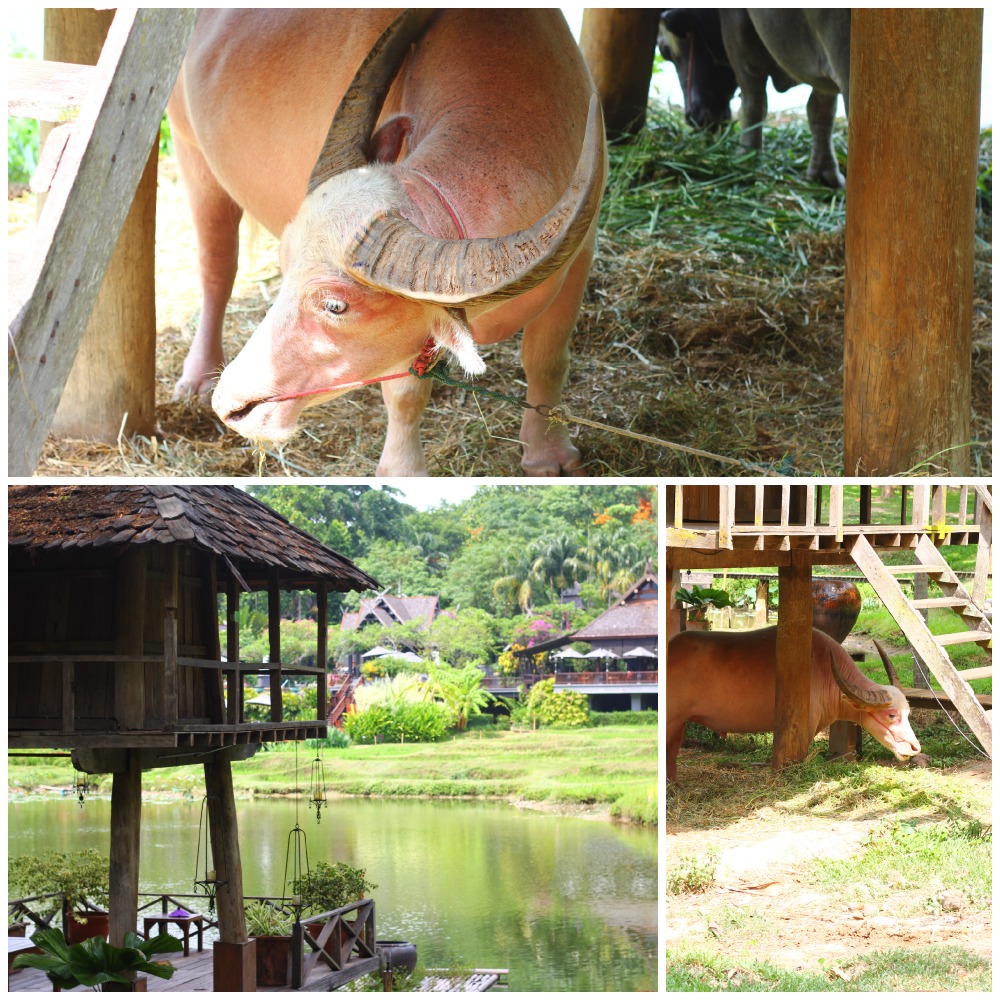 Thank you to the FS Chiang Mai for inviting us to join you for lunch and a tour of the property! I solemnly swear we will return to help tend the rice paddies. 
3. Escape the city and hang with the elephants // So, if we're being totally honest here… if it weren't for the fact that the Elephant Nature Park is in Thailand, we probably would have skipped it, spent more time in Vietnam, and made the trip to Laos instead. It's not that I didn't want to go to Thailand! It was just that, on my personal list of most-desirable SEA countries, Thailand was in the "meh" pile. There's no real reason for this, and I ended up loving the country, but, meh! I don't know!
Either way, I went in with a pro-ENP bias and I came out with an ENP OBSESSION.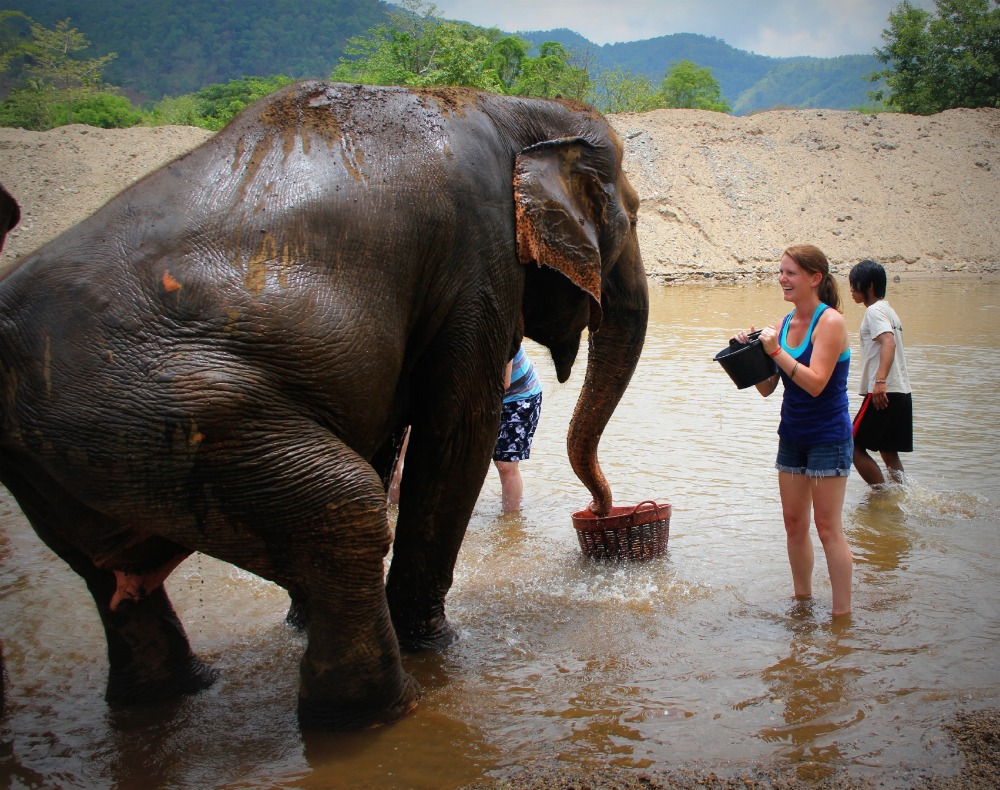 I mean, that is not the face of a sane person who has a general affection for these behemoths. Guys, that is pure bliss.
I first learned about ENP from this post on D Travels Round. As we planned our SEA itinerary, the hubs and I learned more and more about just how terribly animals are exploited throughout Southeast Asia. It was important to us that we didn't fund any activities that promoted unhealthy living situations for the animals in question. (Hence, the reason for skipping Tiger Kingdom, though I do understand that that's a bit of a gray area.)
Anyway, the main facts that I learned–and that I hope other people will understand as well–are these:
Not all elephant preservation centers have the interests of the elephants in mind.
No respectable elephant sanctuary will allow you to ride the elephants, because elephants are not meant to be ridden.
The more research I did, the more I wanted to cry. In order to get elephants to listen to their "mahouts," or their leaders, they're forced into a "crush" where they are tortured for days–literally until their spirit is broken. Lek, who founded the ENP, started the sanctuary as a place to rehabilitate these broken elephants and give others a place safe from a life of forced work in either tourism or logging camps. You can read her story here.
If there's one thing I hope more and more tourists realize, it's that it is never ok to ride an elephant.
If there's another, it's that elephants are just giant puppy dogs in hilarious costumes. Let's review:
They love treats.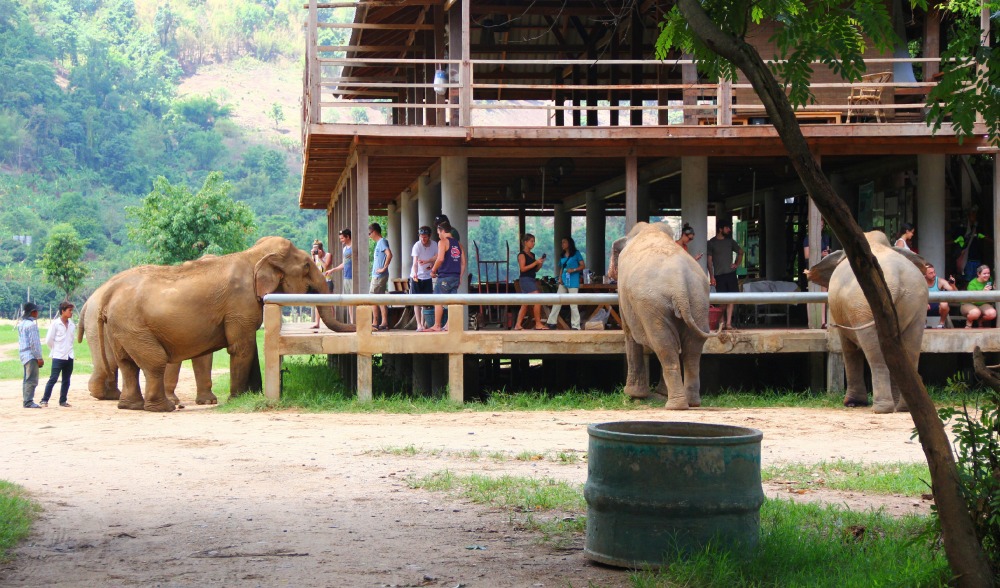 …and they will use their big sloppy tongues to take said treat, if you let them. You can click to enlarge for our full range of emotions regarding elephant tongues: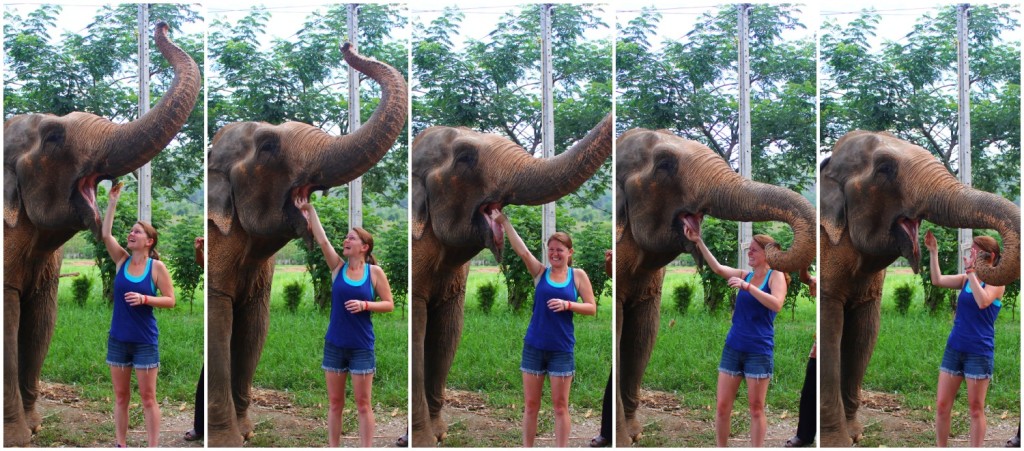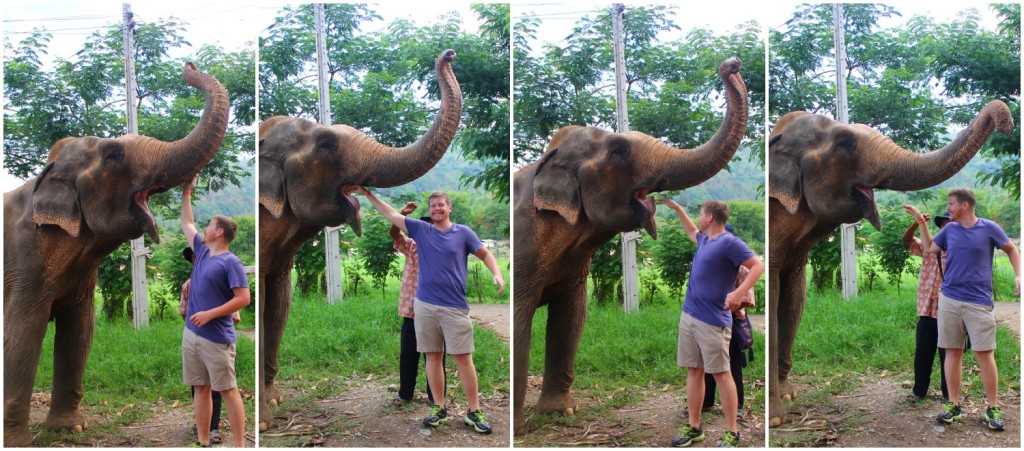 They need a good scrubbing sometimes.
(and prefer it if there's a reward involved… you know, like treats)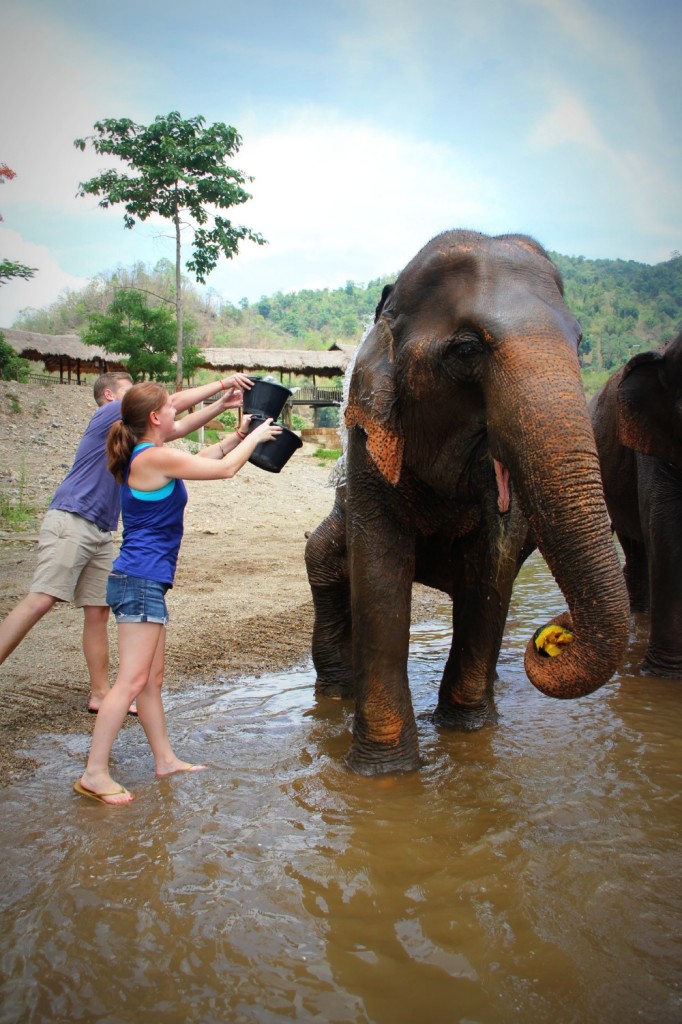 The love a good head/nose scratch combo.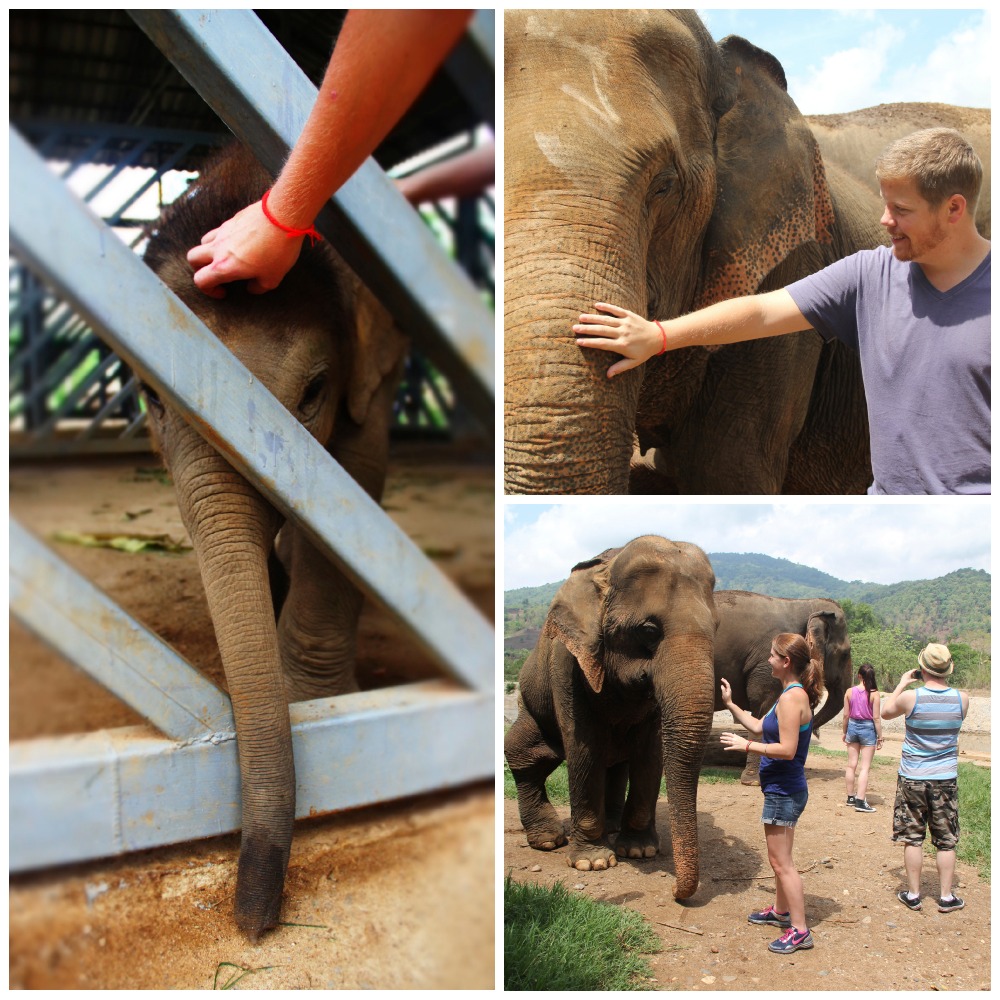 They love attention.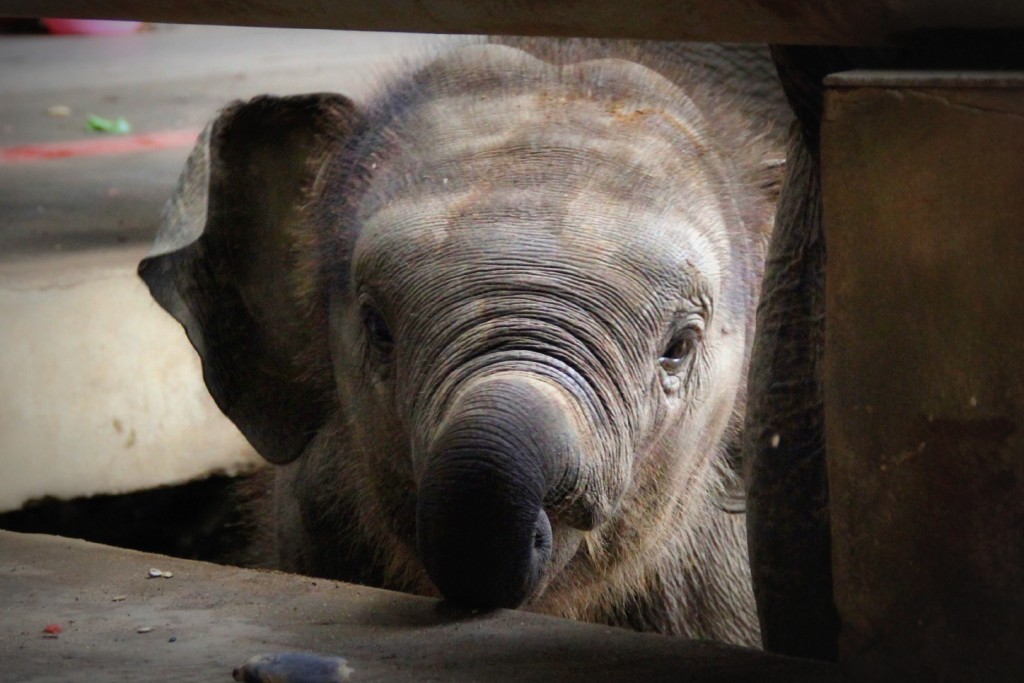 They're really cute all grown up, but they're really, REALLY cute as babies.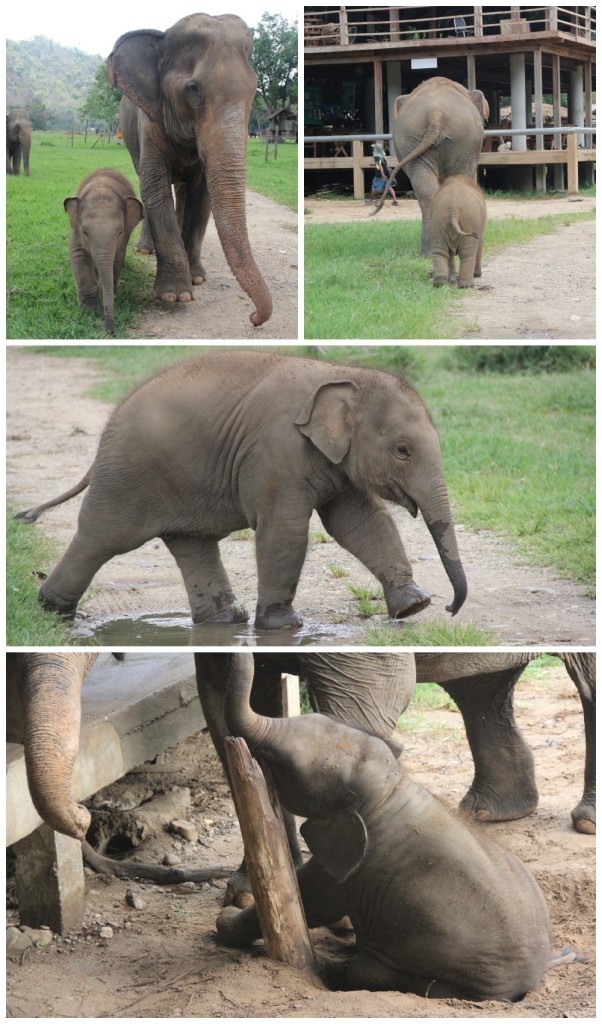 They form unbreakable bonds with one another.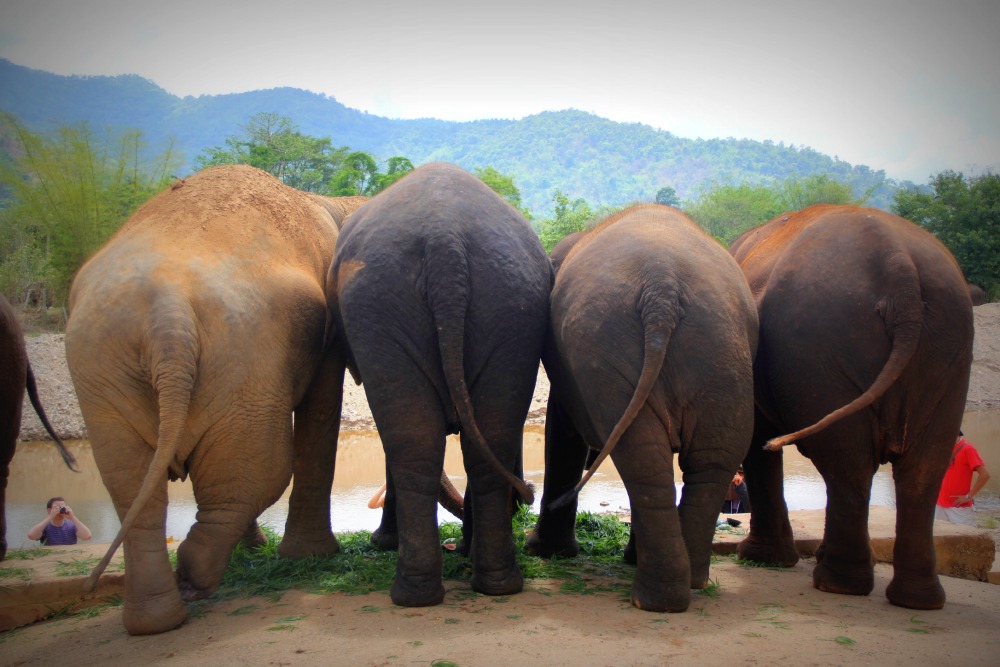 So many of the elephants had these horrible histories–such as Jokia who was blinded in both eyes by vengeful owners at work camps, or Medo, whose hip was broken in a forced breeding incident (she's the one we bathed above). And still, even after being treated so terribly, they were completely loving, gentle, and trusting of all of the humans around them.
Lek unfortunately wasn't there during our visit, but we watched an incredibly inspiring video about her journey with the elephants, and I can't recommend a visit here enough. We did a two-day/one-night visit (the accommodations and meals were all very basic but great, in case this is a concern), and I'd love to return someday for a longer stint as a volunteer.
4. Take a cooking class // When we got to Bangkok, we did a lot of walking and eating… and not too much else. That is, until we signed up for a half-day class at the Baipai Thai Cooking School. Then we did a lot of cooking and eating! After the elephants, this was our second best experience in Thailand.
We started with the basics, and discussed how to create the sweet, salty, sour, and bitter flavors that are key in a Thai meal.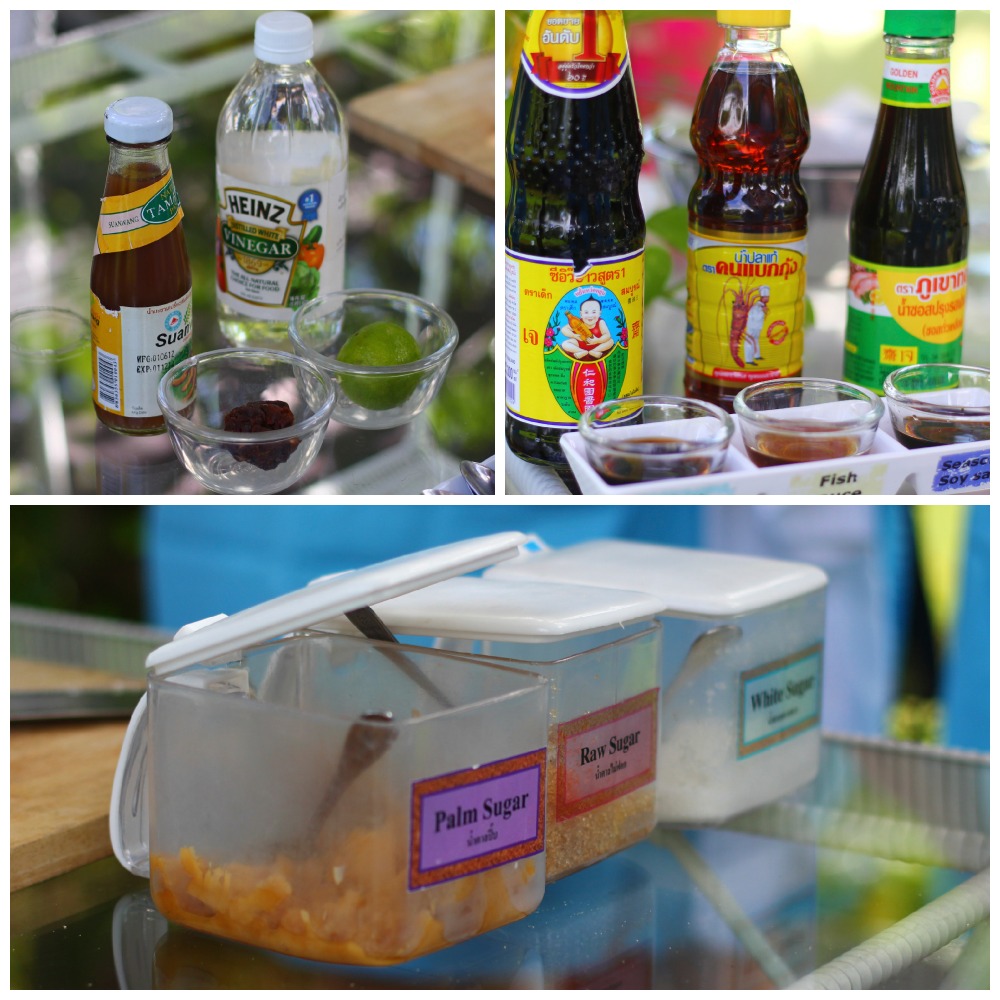 There were about 10-12 people in our class, and though we each had our own prep station, we came together to learn the steps. This meant a lot of awkward interactive experiences, like sitting on a rabbit-shaped block of wood and shaving coconut for the camera. I won't bother showing you the head on pictures (because I am too vain), but I think you can sense our awkwardness enough in these….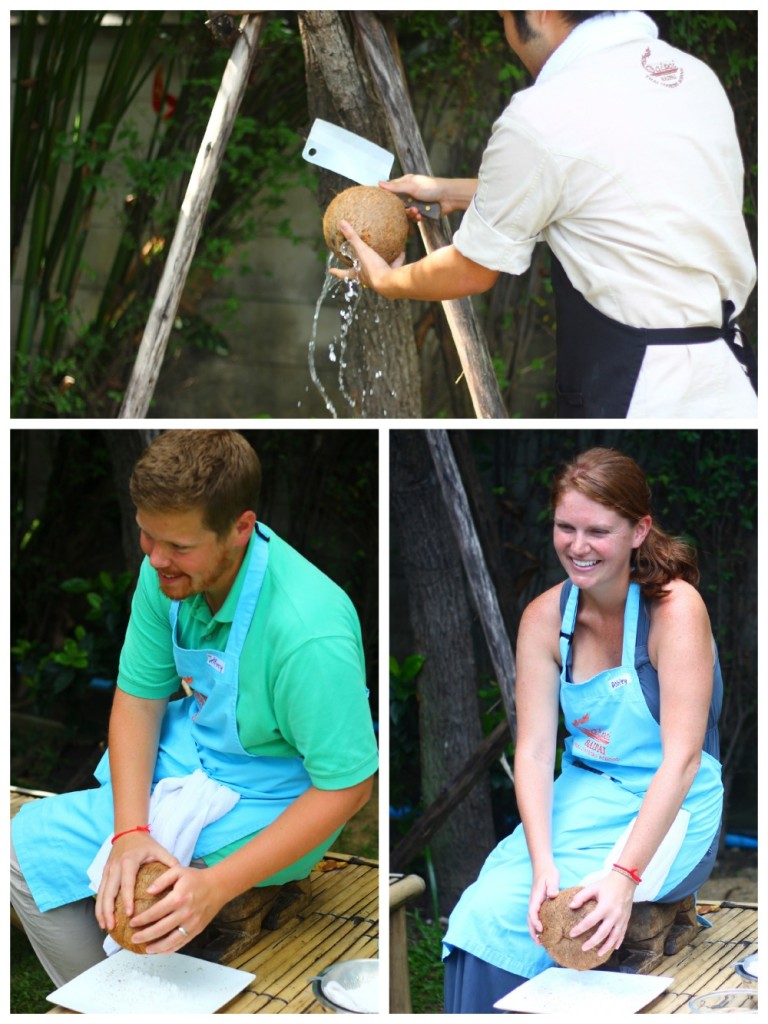 When all was said and done, we learned how to make papaya salad, Thai chicken wings, red chili curry, and caramelized bananas in a coconut cream (all paired with an extra large Thai iced tea, le duh). I need to find a local Asian market in our area, and perhaps then I'll share the recipes with you… because seriously? Amazing.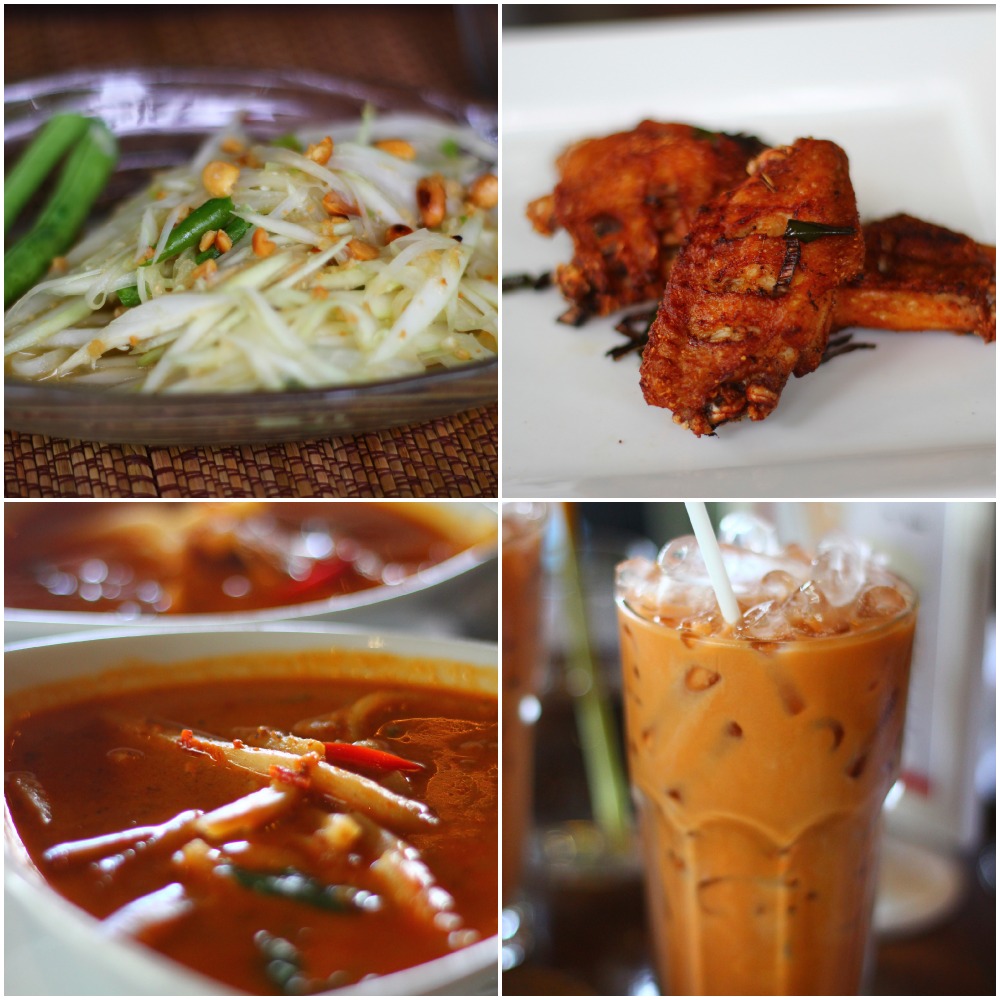 5. Visit a floating market // The hubs is going to laugh that I even included this. By laugh, I mean steam is going to come out of his ears… this was easily one of the worst days of our entire RTW.
We planned to head to the Amphawa market around mid-day, leaving at 2 PM. It takes about two hours to get there, and we heard it was best around 4 or 5 PM. We talked to our concierge at the Aloft to try and nail down directions because we were finding mixed info online, and lo and behold! He offered to drive us himself! He was a very sweet budding photographer, who had been dying to get out to the market to take a few photos.
Once we agreed, he told us we'd be leaving at 5 PM… when he got off work. I thought this sounded late, because of everything we read and the fact that Bangkok is famous for traffic, but this guy was a local AND offering us a free ride, so why not? He let his co-workers know the plan, marked it in the calendar, and we were set.
Yea, well, fast forward one rear-ending of a Thai businessman's Mercedes, major traffic jams leaving the city, and about four hours… and we got to the market right as all the stands were closing up for the night. The guy felt horrible, but I was about ready to start punching babies, I was so irritable. Hanger is no joke, friends.
Then, when I realized that by "budding photographer" he meant "I take photos on my iPAD," I almost snapped his "budding camera" in half.
And still. Still! After all of this, I would advise you to visit a floating market. The brief (brief) bit that I saw made me ache that we had no days left to try again. It just looked so quintessential Bangkok!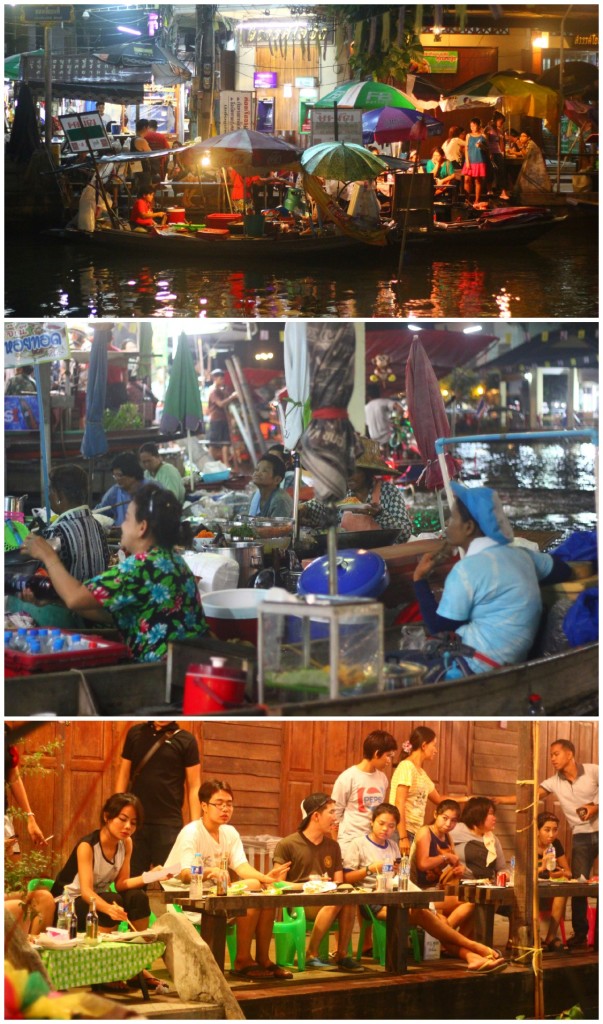 So please, go. And then report back to me and tell me if it's worth it on my next visit to Thailand. Because for pete's sake, I already know the beaches are a second-time must!
Next on this RTW adventure, we make it to Europe… but not after almost buying oversized Mentos, Tic Tacs, Nutella, and a Corvette at the Doha International Airport. STAY TUNED.
xo!
the romantic